1. World's First 3D Printing Restaurant
Dating a Silicon Valley tycoon / hot tech geek who works by the Old Street – sorry, Silicon – roundabout? They'll love this. It might sound like gimmick, but we're v. intrigued to try out this insane sounding restaurant, where not only the food is created through 3D printers, but the furniture and utensils too. Mind = blown. Find out more at FoodInk.
25th-27th July
8 Dray Walk, London E1 6NJ
2. 'The Gin Market' pop-up bar – NOW – 30th July
***2-4-1 G&Ts with BarChick y'all *** 
DIY G&T bar, bang in the middle of Covent Garden? Er, we're so there. Portobello Road Gin have launched a summer pop-up 'The Gin Market', with gin gurus on hand to help you knock up something pretty special, – play with a load of different tonic waters and some insane garnishes (we're talking asparagus, melon, or go safe with lemon).
BAG YOUR 2-4-1 G&Ts –
Here's how: Text BarChick Concierge on 07481 341284 (hi there). Say you want in on the gin and we'll send you a SECRET PASSWORD that will get you 2-4-1 on your first round of G&Ts (one drink per person obvs).
Unit 3, The Market Building, Covent Garden, WC2E 8RF
3. Friday Drinks Market – NOW-every Friday 'til 26th August
A market dedicated to booze – that's what it's all about. Come for beers at tap room prices, vodka jelly and natural wine. Plus banging French charcuterie and live music. A great one for your cheapskate mate.
Fridays: 5pm-10pm
75 Shelton Street, London, WC2H 9HE
4. Night Tales – NOW- 28th August 
The awesome street party pop up Night Tales is pitching up at Hackney Wick in a former car scrap yard with sh*tloads of food, booze and DJ action. All the gang will be there – Lucky Chip, Wingmen and Rudies – serving up some killer street food. Then there's the Lazy Flamingo Bar for Pink Pina Colada's and Watermelon Sherbet Daiquiris. Hello good times.
Friday: 5pm – 11.30pm. Saturday: 2pm – 11.30pm
1-2 Hepscott Road, London E9 5HA
5. Dead Rabbit at Big Easy Canary Wharf – NOW-13th July
London is already home to the No.1 best bar in the world (Artesian), but now it's hosting No.2 as well – NYC's Dead Rabbit – which has a residency at Big Easy Canary Wharf 'til mid July. If you can't be a*sed to head all that way though, head to the Covent Garden Big Easy where you can still get hold of the cocktails, just minus the hot Dead Rabbit bar guys.
Upper Level 1, Crossrail Place, Canary Wharf, London E14 5AR
6. Pop-up boozy wine exhibition and wine bar – Thurs 21st – Sun 31st July 2016
See July out in style with this interactive wine exhibition – with art pieces you can smell, touch, and hear – you can even climb into one of them apparently (?!) It's all about discovering the wine region of Rhône, and getting boozy at the same time – 'cause naturally there's a Côtes du Rhône pop up bar there too. Art has never been so fun. There'll also be a burger grill on the terrace and a pop-up restaurant from fusion chef Adam Rawson – with a delish menu paired a load of wines. Get your ticks here.
Exhibition – Central Saint Martins, Platform Theatre Foyer
Bar – Handyside Street, King's Cross, London, N1C 4AA
7. Sipsmith Summer Punch House – Every Sunday from NOW-7th August
Sipsmith have done their own take on the classic Pimms. It's called the London Cup and they've set up a 10-week pop-up so you can try it. The drink is made with Earl Grey tea, and with hints of marmalade, it's gotta slightly bitter edge, so it's not so sickeningly sweet – it's just delish. You'll find it at public minded member's club The House of St Barnabas, which is opening up its doors just for you gin lovers. Oh and it's all for charity baby. Ticket sales will be directly given to the venue's cause – which aims to break the cycle of homelessness.
The House of St Barnabas, Greek Street, W1D 4NQ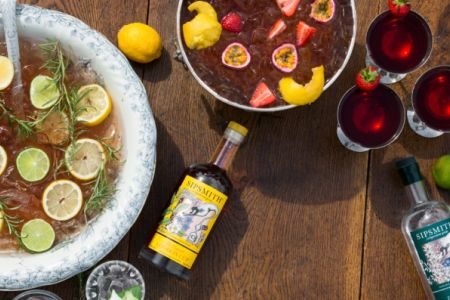 8. British Street Food Awards 2016 – 8th-10th July
There's been heats up and down the country for the British Street Food Awards – and the London sesh is happening 8th-10th July at Blackheath. Those battling it out include Cheeky Indian with their slow-cooked Hyderabadi pulled lamb served up in a flatbread and drizzled in spiced plum BBQ sauce. Then there's Cheeky Burger, with freshly pressed patties, a 12-spice mix and homemade bacon and Jack Daniels jam. Yes! They're all dishing up to try and win your vote, although you might be bored of democracy by now.
Granary Square, King's Cross, London, N1C 4AA
9. Bloody Oyster – NOW-18th September
This Thames-side pop-up combines all the things that BarChick loves best. Customised Bloody Marys, seafood and hot boys who know how to serve them. Head down to the Southbank to find out first-hand what all the fuss is about.
Southbank Centre, Belvedere Road, London SE1 8XX
10. Searcy's Sky Rivera pop-up at The Gherkin – 25th July to 1st September
Head up to the 40th floor of the Gherkin for a bit of 1950's Riviera action in the sky. Inspired by the Côte d'Azur, it's all about glamour here (so make sure you ditch the trainers).  There'll be palm tree reflections and fun striped sun loungers – so kick back and tuck into some summer gin cocktails while you check out that view. YES. Message BarChick and we'll book you right in.
Level 40, The Gherkin, 30 St Mary Axe, London, EC3A 8EP
11. Tottenham Green Market  – All summer long baby
Chances are that, until now, you never had much reason to go this far north. Don't worry, you won't need your passport (not just yet anyway). Head here for street food and a banging Sunday session. BarChick is hitting up the Sunday Heroes bar, for locally brewed craft beer and cocktails. Or check out the Biltong Jerky Bar for all your dried meat needs, paired up with a chilled glass of vino.
Every Saturday, 11am-4pm
Tottenham Green, High Road, London, N15 4RX
12. Model Market – Every Fri and Sat all summer
Going south of the river is getting sexier by the second. Model Market is an abandoned indoor and outdoor market just off Lewisham high street with fantastic street food, delicious drinks and banging tunes.
6pm – 1am // Free entry before 7pm, £3 after
196 Lewisham High Street, London SE13 6LS 
13. Bonnie Gull at The Sampler – NOW – 'til 30th September
Seafood legends Bonnie Gull are popping up at The Sampler wine merchant for a nine-week stint. There'll be an awesome wine list and some sexy seafood in the form of antipasti's, small plates, and luscious fresh rock oysters. Hot date = sorted.
Every Tuesday – Saturday evening 5pm-9.30pm.
35 Thurloe Place Mews, London SW7 2HP
FESTIVALS
14. Somerset House Summer Series – 7th-17th July
Set bang in the middle of Somerset House's iconic courtyard, this is one hellava gig. There are a load of wicked acts playing throughout July – the likes of James Morrison has sold out, but you can still snap up tickets to Laura Mvula. You gotta be quick though.
Strand, London WC2R 1LA
15. Wireless – 8th-10th July
THIS is what summer's about – partying to some sh*t hot dance and R&B in a (rainy) field with a warm beer in hand. Bring on Chase & Status on the Friday and Calvin Harris on Saturday. See you in the front row.
Finsbury Park, Seven Sisters Road, London, N4 2NQ
16. Lovebox Festival – 15th-16th July
A mega weekend of raving in Viccy park, and you get your own bed at the end of it all – winning. BarChick is all over LCD Soundsystem on the Saturday. Tickets are almost gone, but you can snap some up here.
Victoria Park, Tower Hamlets, London, E3
17. Citadel Festival – 17th July
This one's less about the moshing in the front row, more about the chilled, hang out and actually remember the day-kind-of-vibe. As well as some top acts, there's also awesome cocktail stalls, a tequila tent and street food (Bubbledogs, Patty & Bun, Voodoo Ray's). Or keep it calm with theatre stuff and yoga on the grass – we're also psyched for the roller disco.
Grove Road, London, E3 5SN

EVENTS
18. River Stage Weekends – NOW – until 29 August
Spanked all your money on Field Day and Lovebox? Well this festival is totally free baby! Bang on the South Bank, outside the National Theatre, there'll be epic takeovers from the likes of Latitude Festival and Mayfest. There's also an apothecary cocktail bar with bottled sharing cocktails you mix yourself with fresh botanical ingredients and The Understudy Riverside pop-up bar for awesome craft beer. There's a pizza van too. YES
Every Friday, Saturday and Sunday night.
The National Theatre, London SE1 9PX
19. Thames Lates -30th June-3rd September
Speedboats, sunsets and sexy cocktails – we're onto a winner. First you'll be zooming along the Thames on a speedboat (waaah!) and as if you need more adrenaline pumping through you, there'll be summer tunes blasting out too. While you cruise back to dry land, tuck into London Cocktail Club cocktails. ACTUALLY loving life. Get your ticks yo.
London Eye Millenium Pier, Boarding Gate 1, London, SE1 7PB
20. Disco Yoga – 30th June + 7th, 14th, 21st July
BarChick's squeezing into her Spandex and digging out the glitter for this outrageous yoga session. Think flow style yoga along with a pumping disco soundtrack with all the classics like Diana Ross and Jackson Five. Yeah baby. Finish off with some superfood cocktails – we'll have a Tequila Sun Salutation. BarChick never felt so good post raving. Get your tickets here.
7.30pm-8.30pm
89 Great Eastern Street, EC2A 3HX
21. Four Thieves Fringe – 10th-14th July
You don't have to leg it all the way to Edinburgh, 'cause all the comedy talent is pit-stopping right here just before the big festival starts. Head over to see big names like Simon Evans and Seann Walsh. Get those hot stuff tickets here.
Four Thieves Pub, 51 Lavender Gardens, London, SW11 1DJ
22. Cocktails In The City – 29th-30th July
London's best bars are setting up alfresco style at Bedford Square. Loads of BarChick faves will be there, including Blind Pig, Cocktail Trading Co. and Rev JW Simpson – and we're gunna have to taste them all. As well as top class booze, there'll also be DJs and awesome street food – see ya there. Tickets are £15 and you can nab one here.
Bedford Square, London, WC1B 3ES
SPORTY ACTION
23. Tour de France – 2nd-24th July
Finally, some guys that actually look good in lycra. Head to Pop Fields to check out some Le Tour action in the sun.
You should also check out: