It's Brunch Time…
Hell yes, it's brunch time! As the most important meal of the day, it's no surprise Britain's breakfast scene is booming and we're not talking about juicing, muesli and some friendly bacteria. Oh no, this sh*t just got serious. Whether it's over that all important morning meeting, the daytime date, on the walk of shame home, solo with the supplements or getting stuck in for a Sunday session, everyone's doing it and doing it well. This my friend is how to do it good n proper.
With all day breakfast menus on the up, you don't even have to get up early anymore, let alone rush out in last night's clothes. Get up, dress up and eat up.  Sip on Champers, mix it up Mexican style, posh it up and poach it, or be bad with the butter and bacon. We came, we saw, we conquered and these are our breakfasts of champions:
FOODIE
Brunch in London isn't all bacon and eggs, sometimes you need to spice life up a bit and where better to start than on a Sunday at brunch time? Exactly. The legendary Flesh & Buns now does a brunch of champions, with two menus to choose from (are you hungry or starving?). Once you have your drink in hand (Raspberry E-mule or Bloody Mary) take your pick from amazing hot and cold small plates to kick off proceedings (don't neglect the corns or those sushi rolls), wash it all down with the UNLIMITED prosecco, red or white wine and get stuck properly into the legendary Flesh & Buns for the ultimate Sunday munch. Want more? Then have s'mores; flaming and delicious. See you in there.
41 Earlham Street, London, WC2H 9LX
Disclaimer: You're going to need to bring a hipflask if you want a boozy brunch here. This place is all about the health. Inspired by LA and embarking on a mission to fill the gap in the UK market for a quick, healthy bite, brunch here promises cold pressed juices, smoothies, gluten free treats, sugar free desserts and a whole load of eggs, quinoa and fish. Bring your girlfriends or your mum and leave your man at home… unless he's the yoga loving, matcha tea drinking type.
59 Sloane Avenue, Chelsea, SW3 3DH
Want the mother of all brunches? Start your day like a champion at the mega brunch pop-up Tahini at The Shop. Brought to you by Josh Talmund, trust this guy with your breakfast, he's spent the last year travelling around Isreal with his family so he knows the score. We're talking a badass brunch with a Middle Eastern influence, full of fresh flavours and spices, delivering a healthy start to your day.
75 Chamberlayne Road, London Nw10 3ND
Blackfoot, the pork restaurant from Tom Ward and Allegra McEvedy on Exmouth Market, is now serving brunch… boom. A pig–laden menu is offset by freshly squeezed juices and a 'hair of the dog' list with a bold and spicy Bloody Mary, Red Snapper and Salty Dog. Baked clams with shallot and bacon gratin anyone?
46 Exmouth Market, Clerkenwell, EC1R 4QE
Cut from the same silk as Soho's Ceviche, Martin Morales has cast his net over Shoreditch with his restaurant Andina. Brunch here is fresher than wet paint; think sourdough bread with Peruvian jams and Egg Benedict with smoked trout and quinoa pancakes. Drink the Bloody Andina with fresh tomato, beetroot, red pepper, cucumber and pisco infused with celery, smoked vodka and rocoto tiger's milk.
1 Redchurch Street, Shoreditch, E2 7DJ
TO SHARE
Let us paint the picture for you – you're hungover, you need salty, greasy and eggy goodness and you want it preferably served on a large slab of wood that you can enjoy with a group of mates – YOU'RE IN LUCK. Red Dog Saloon have got the Fully Loaded Breakfast Platter, for a minimum of 2 people which is decked with fried eggs, bacon, sausages, home fried potatoes and French toast with whipped butter and blueberries – dig in people.
37 Hoxton Square, London, N1 6NN
Sharing's caring and Hawksmoor Guildhall want to take care of you at breakfast. Get the Hawksmoor Breakfast for £35 which is for 2 to share. In this you get smoked bacon chop, pork, beef and mutton sausages, black putting, short rib bubble & squeak, grilled bone marrow, trotter backed beans, fried eggs, grilled mushrooms, roast tomoatoes, UNLIMITED toast and HP gravy – phwoar.
10 Basinghall Street, London, EC2V 5BQ // Monday to Friday 7am –10am.

THE MORNING AFTER 
Hello Mare Street and thank you Advisory for upping the Hackney brunch game. This is a serious breakfast of champions, they even do home-made hash browns – need we say anymore?! Portions are huge, plus they serve brunch till 1pm which is great for the hungover locals and those still up from the night before. With poached eggs, avocado and smoked salmon on toast, or pancakes with blueberries and maple syrup, the menu caters for any ones needs. We say go for the beastly plate of bacon, eggs, sausage, mushrooms and roast tomatoes… even when the plate's filled it somehow still looks healthy… can't go wrong
161 Mare Street, Hackney E8 3RH
After a big night you want a big breakfast… that guilty conscience ain't gonna feed itself. Head to Dukes Brew & Que for that slap in the face you're after. Sure they have normal breakfasts but we're chatting about the BBQ omelette. Picture this… a big folded omelette stuffed with pulled BBQ pork and beef burnt ends smothered in KC sauce, bell peppers, mushrooms, mixed cheddar cheese & Monterey Jack with diced home fried potatoes. BOOM, you're welcome.
33 Downham Road, De Beauvoir Town, Hackney, London, N1 5AA
Dotted all around London so you'll never be too far from one. These guys have a menu filled with classics and favourites, all in big portions so they won't disappoint. Sit back on the comfy sofas in the kitsch surroundings and start piecing together the night before with your mates. Want a suggestion that isn't your average run of the mill fry up? BarChick could live on the Huevos al Benny which is chorizo, avocado, roast peppers, chillies, eggs and hollandaise on a toasted muffin. If that doesn't sort you out then nothing will.
Hoxton //  Angel // Soho // Spitalfields
 A FOREIGN FLEX
Dishoom does some damn fine curries so clearly their breakfasts were gonna rock. Wanna know how they do their bacon butty?! Order the bacon naan roll, it's freshly baked naan wrapped around The Ginger Pig smoked streaky bacon straight from the grill with a seriously banging combination of chilli tomato jam, cream cheese and herbs. Or their Full Bombay, abundant akuri (some kinda of spicy Indian scrambled egg to you and me) bacon, peppery Shropshire sausages, masala beans, pau buns and mushrooms.
Shoreditch // Covent Garden
An award winning fine dining restaurant with one of the best breakfast offerings in London? Yes please. The menu here changes daily but you want to stick to what we class as their best dish; the Turkish eggs from Changa restaurant in Istanbul is where it's AT. Two poached eggs with whipped yoghurt and hot chilli butter with sourdough (or seeded granary toast for those wanting to act all healthy). Want something meatier? Get involved with the grilled chorizo with sweet potato and miso hash, a soft boiled egg, garlic labne (whatever that is) and star anise cashew nut praline… dear LORD, keep you're fried eggs cos we're loving this!
109 Marylebone High Street, London, W1U 4RX
COFFEE FIX
This is one of the only places you can sit down and have brunch in a place that has its own on site coffee roaster. If you can't function until you've been fed and caffeined up, then Caravan is the place for you. They roast the coffee on site daily using 100% Arabica beans, plus their blend of coffee is designed to match the season. Fancy. The menu boasts some serious dishes. We loved the On Toast section but had to dive into the raclette and spinach French toast with bacon and watercress. That being said everything looked unbelievable so go nuts.
11-13 Exmouth Market, London, EC1R 4QD
These Kiwi kids ain't p*ssing about. Oh no they take their coffee so seriously they even roast it in-house. Enter Ozone the ever so cool warehouse style hangout. With coffee roasting below, we say soak it up with one of their killer breakfast and brunch menus, no one will leave disappointed. We ate eggs in every style, sides of chorizo, sour dough bread, kedgeree and some dude even had the Szechwan pepper squid. Don't neglect the Bloody Marys either. What a wake-up call.
11 Leonard Street, London, EC2A 4AQ
With a branch by the BarChick office this is a firm favourite. They are dedicated to serving the best quality coffee in Soho and they always deliver, scouring the world hand-picking the fittest, ripest beans for their roastery. With all the late nights and hangovers we usually wake up with, these guys fix us every time. Plus teamed up with one of their fresh banging brunches we feel a million dollars. We love the courgette, feta and mint fritters with Greek yoghurt, red pepper coulis and watercress, the scrambled eggs are on the money and the toasted banana bread with honeycomb butter is perfect for that sugar boost you need. 
Brick Lane // Soho
BOOZY DEALS
Weekends are the perfect chance to lull away the day with mates, food and some unlimited booze… who cares about work tomorrow? We can sleep it all off later. Head down on a Saturday for their brunch matinee, 11.30am – 5.30pm for £38-£48 (depending on which sitting) and enjoy unlimited prosecco and Bellinis with a delicious menu of cured meats, breakfast pizzas (get the Bunga Royale with hollandaise, spinach, smoked salmon and egg…. mmm), some damn fine dessert, entertainment and karaoke. Yes, karaoke… don't pull that face. So gather your mates and make a day of it.
37 Battersea Bridge Road, London SW11 3BA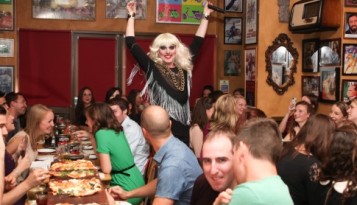 BRITISH
Sometimes you just want some good old fashioned English grub. Nothing wrong with that, us Brits do it damn good. Head down to this Colonial British and Victorian inspired hangout, make friends with the taxidermy and let's bring this day in with a bang. Tuck into the beef hash with greens, poached eggs and seriously creamy hollandaise, and team it up with one of their 6 varied Bloody Marys… brunch should be enjoyed all day so you have time to try them all!
147 St Johns Hill, London, SW11 1TQ
24 HOUR
The night sometimes gets a bit out of hand and brunch needs to be in the EARLY hours or sometimes late afternoon/night again. Duck & Waffle hear you and have made sure they are ready for you whenever you are ready for them… perfect! Take the fastest lift in the land up to the 40th floor and get yourself fed (this lift is as much of an occasion as the meal). The views here are unbelievable, drink them in, take a seat and order. We suggest the all-day foie gras breakfast (you're here now you may as well go all out).
Heron Tower, 110 Bishopsgate, London, EC2N 4AY
GREASY SPOONS
Arthur's Café
Arthur is STILL running this joint at eighty-four years old, what a G….that's dedication right there, and dedication to a greasy spoon is what we like to see. Sometimes poached eggs with beautiful trimmings is not what we're after, we want a plate filled with shiny, greasy goodness to wipe that frown off our face. We suggest the ham, egg and chips. This place has been open since 1935 so they've gotta be doing something spot on… right?!
495 Kingsland Rd, Dalston, London E8 4AU 
Bit of an institution in Soho, this has been a family run hangout for three generations. They've got the grease or the fancy (always with free range… obv), whichever you fancy they've got it. We like the Termineater (like whatcha did there..) with two eggs, two sausages, bacon, beans and chips. Wash that down with tea or coffee… or beer and wine? Whatever, you're in Soho, anything goes.
 22 Great Chapel St  Soho, London, W1F 8FR
Cafe 338
This corner cafe is cheap as chips, and will sort out your hangover and tastes better than any breakfast you try to cook after a night out on BarChick. Its greasy spoon vibes and their English breakfast is killer, mix it up and choose any combination you want. It's definitely not a spacious spot, you'll have to squeeze through the red chequered table clothes and find a seat (tables are shared), so leave your laptop and morning paper at home. Plus there is fresh and industrially squeezed OJ in the corner! Not into eggs? They do everything from lasagne to chicken curry too. It can get busy, sometimes being one in one out but worth it.
338 Bethnal Green Rd, London, UK E2 0AG
POSH
Nothing beats a brunch with a decent view to soak it up with, and Paramount is just the place for that. Located at the top of Centre Point, even the dappiest of dates would struggle not to find it. Book ahead, and arrive hungry, then hop in the lift and a breakfast of champions awaits. Kick off with some Bellinis and Bloody Marys and then take your pick from boiled eggs and soldiers to the full English. The view's killer, the service charming and you'll be set for the day. Do it.
Centre Point, 101-103 New Oxford Street, London, WC1A 1DD
Possibly the hottest place in town right now is still only serving dinner, but give it a week or so and get ready for a serious session. If their American Breakfast and Sunday brunch menus are anything to go by, expect steak tartare, corned beef hash and eggs, eggs Norweigen, Oysters, Lobster, need we go on? Whatever you do, do NOT neglect that bar, Brian Silva is king of the bloody marys, go see him and get your fix, you will not be disappointed. Balthazar, as you were.  
4-6 Russell St, London, WC2E 7BN
Brunch isn't generally the time we want to look immaculate, but it's worth sprucing up last night's party frock for a Wolseley feast. This is the breakfast of birthday treats, the one to impress your lovers, mothers, best friends and pretty much everyone else you feel like telling. In what looks like a Parisian grand café, they treat you just as special as the fat wallets and famous faces in attendance. The Eggs Benedict is the superstar with a glass of champagne, naturally. If you need to hide your hangover, go for one of the art deco booths in the bar room…
160 Piccadilly, London, W1J 9EB