The Scots amongst you will no doubt know all about Burns Night but for those of you not from the land of the brave, Burns Night is a festival that celebrates the birthday of famous Scottish poet Robert Burns. It's basically a darn good excuse to fall off the wagon in Jan and hit up some of the best whisky bars in the city. So don some tartan, chow down on some haggis and have a few wee drams all in the name of a birthday bash!
1. Learn how to cook Haggis with a masterclass at Mac and Wild Devonshire Square
Our favourite strapping Scots, Mac and Wild are going all out this year for Burns Night with a whole week of celebrations. Kicking off their 'Week of Burns' they're hosting a Haggis Making Masterclass where you can learn to make it. Eating blood not your thing?  They're also running a whisky and beer pairing evening and a celebratory Scottish feast on actual Burns Night. Message us for info and tickets. 
Haggis Making Masterclass, Monday 23rd Jan, £40pp //Events running until Friday 27th January// Mac and Wild 9A Devonshire Square, London EC2M 4YN// For event info and to buy tickets click here 
2. The no brainer: London's oldest whisky shop, Milroy's
Where better to raise a celebratory toast on the 25th then at the whisky mecca Milroy's? Where else are you going to try a haggis cocktail? It's a peppery play on the classic 'Bobby Burns'. It's made using the hot newcomer of the whisky block R&B Distillers' Raasay While We Wait whisky and it's been inspired by the spicing used in haggis. Tasty. To get the party started the bartenders will be giving out a few free drams. See you there! Want in… message us. 
Wednesday 25th January 6pm – late// Milroy's 3 Greek St, Soho, London W1D 4NX// For more info and to book in talk to BarChick
3. Become a single malt buff at one of London's most exclusive members bars, Keystone Crescent
If whisky is your thang or you just fancy knowing a bit more about the amber nectar in time for the big day itself then get yourself down to Keystone Crescent's Scotch tasting. Just in time for Burns Night they're hosting a Macallan Masterclass (Macallan is one of the finest Scotches FYI). After a brief history, you'll get a chance to sample a few drams from different variants ranging from a 12-year-old Fine Oak to a Rare Cask – boom! Not a member? No problem BarChick will sort it for you.
Scotch Masterclass, Tuesday 24th Jan, £10 pp // Keystone Crescent 28 Keystone Cres, Kings Cross, London N1 9DT// Non-members ask BarChick to book you in
4. Take a whisky flight over dinner at the Singer Tavern
All week long the lovely folks at the Singer Tavern are serving up a Scottish feast of Haggis, neeps & tatties. Plus you can add a whisky flight to your dinner – hells yeah – and the whole thing cost you a bargain £20.  Perfect place to toast Robbie Burns without breaking the bank. It is January after all.
Burns Night promotion run from Monday 23rd – Sunday 29th Jan// Prices start from £12// Singer Tavern, 1 City Rd, London EC1Y 1AG// Ask BarChick to book you a table
5. Enjoy an evening of whisky and words at Below and Hidden
Lads & Lassies wanting to keep it sophisticated this Burns Night are invited to join the city's party purveyors, Bourne and Hollingsworth for a colourful hour of Scotch and poetry in their sexy secret bar. In the subterranean surrounds of Below & Hidden, B&H are celebrating the genius of Robert Burns with a tasting of four of Bruichladdich's best whiskies, before rounding the evening off with gin tasting. Want in? Better be quick, tickets are selling fast.
Wednesday 25th January 6.30pm-7.30pm// Tickets £25 pp// Below and Hidden 42 Northampton Rd, London EC1R 0HU// Tickets include a welcome cocktail and a tasting flight. Buy tickets here 
6. Sit down to a Scottish banquet at Merchants Tavern
Bringing a slice of Scotland to the streets of Shoreditch, Merchants Tavern are paying homage to the humble poet with a specialist Scottish menu and optional whisky pairing. It's pretty hearty so come hungry! Expect game sausage rolls, haggis (of course!) and they're rounding dinner with a deep fired mars bar. YES.
Wednesday 25th January // Prices from £45pp // Merchants Tavern, 36 Charlotte Rd, London EC2A 3PG// BarChick will get you a table
7. Wash down your whisky with some haggis nuggets at Hawksmoor Spitalfields
Anything these guys get up to is BarChick approved, and Burns Night is no exception. They will be serving a whole host of whisky cocktails alongside lamb and haggis nuggets and other inspired Scottish small plates. With free entry it's gonna be busy so ask BarChick to book you a table.
Wednesday 25th January// Hawksmoor Spitafields, 157A Commercial Street, London, E1 6BJ// Free entry
8. Dust off your dancing shoes at the Ceilidh Club
Given that the Ceilidh Club exists solely to show English folk exactly how fun Scottish dancing can be you know that they're gonna be pulling all the stops out for Burns Night. Determined to show Southerners how to celebrate Scottish style, they're laying on an evening of booze, bagpipes and boogying.
Events throughout January and February// £34.50 // The Ceilidh Club, Hammersmith Town Hall, W6 9JU // Book your tickets here 
9. A night of tartan revelry at Burns Baby Burns
Putting on surely the most raucous Burns Night event in London. A party in an East London Church with a load of tartan clad revellers and multiple whisky toasts – it's going to be insane. Expect roaring pipes, twirling fire sticks and a thunderstorm ceilidh. And of course, they're serving haggis for dinner. Theirs is apparently the size of a sofa! Challenge.
Thursday 26th- Saturday 28th January // Tickets from £38.50 pp // Burns Baby, Burns, St John At Hackney Church, Lower Clapton Road, E5 0PD // Buy tickets here 
10. Fill up on Scottish street food at KERB and Monkey Shoulder's Burns Hootenanny
We doubt you'll find a tastier Burns Night than KERB and Monkey Shoulder's pop-up. For one weekend only, foodies can fill their boots on Scottish twists on street food dished up by KERB vendor favourites. Slow cooked venison tacos, fresh oysters with a whisky dressing and haggis scotch eggs are all on the menu. As are Monkey Shoulder Old Fashioneds and a whole heap of other whisky based cocktails. As if the food wasn't reason enough to go there's also live music and highland games to keep you entertained.
Friday 27th & 28th January from 6pm // Tickets from £20 pp // Burns Hootenanny, The Biscuit Factory, 100 Clements Road, SE16 4DG // Buy tickets here 
11. Wrap up with a whisky at J Sheekey's Winter Terrace
Hunker down under a blanket and make your way through a badass list of single malts at this institution's Scottish-themed winter terrace. All in the name of Robbie Burns, the infamous J Sheekey have put together a selection of seafood dishes which are served alongside their drams. This is date night stuff.
Winter Terrace is open throughout January 12pm – midnight// J Sheekey 28-32 St Martin's Ct, London WC2N 4AL// Ask BarChick to book you a table
12. Become a whisky buff with Little Bat
This hot little cocktail hangout in Islington have teamed up with Glenfiddich this Burns Night to offer whisky lovers a chance to learn all about this famous brand of Scotch. In the hour long masterclass, guests will be invited to taste three variations of Glenfiddich. One of which is from their freshly launched experimental series. The evening is presided over by Mark Thomson – a serious single malt buff so be sure to stick around and have a drink with him afterwards off the bars special menu.
Glenfiddich Masterclass 8pm Tuesday 24th January // Little Bat, 54 Islington Park St, London N1 1PX// Ask BarChick to book you a table
13. Indulge in a stylish Scottish supper at 108 Marylebone
This super chic brasserie is serving up banging three-course traditional Scottish dinner to celebrate Burns Night. They've even enlisted the help of renowned whisky expert David Miles to host the event, so you can learn a thing or two about the good stuff whilst you chow down on your haggis.
Wednesday 25th January// Tickets from £60 pp// Pantry at 108 Marylebone Ln, Marylebone, London W1U 2QE// Buy your tickets here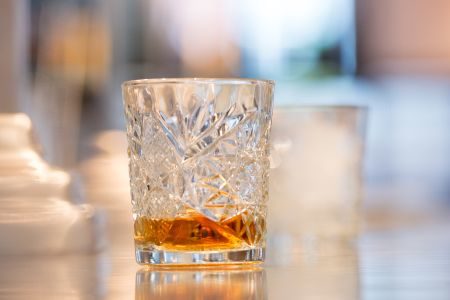 14. Sip on something real special at the Zetter Townhouse
Whisky connoisseurs this one's for you! To celebrate Burns night this super cool hotel bar in Clerkenwell has collaborated with indie distiller Gordon & McPhail and created a special menu of rare and vintage whiskies. POW. They're also adding a few tasty Scottsih specials to their food menu, so you can wash down your wicko with a Haggis Scotch Eggs and Single Malt cured & smoked Scottish salmon.
Wednesday 25th January // The Zetter Townhouse 49-50 St John's Square, London EC1V 4JJ // Ask BarChick to book you a table
15. Raise a toast and party hard at London Cocktail Club
Our favourite team of party bars LCC have created a special drink the 'Hot Bobby' to celebrate Burns Night. Listed under their flavour of the month section it doesn't need to be the 25th of Jan for you to sip on this fine lil' drink but we say get down their this Burns Night and really celebrate.
London Cocktail Club // Various Locations // Ask BarChick to book you a table