Our favourite pop up of the year House of Peroni is BACK and it's got its Italian summer hat on. Masterclasses, Peroni Negronis, pasta, floating bars on a lake… it's all here. 
There are FREE GONDOLA RIDES this weekend. No you're not in Venice, but you might feel like you are with all the flooding. Plus book in through BarChick and you'll get a kick ass surprise…. chat to us in the bottom right of the screen.
1. There's a Floating Negroni Bar
You heard us right.  You're a nobody if you haven't a Negroni in your hand these days, so Peroni have gone next level with their Negroni bar ON the canal where you can try five different Negronis and learn from the best. Try not to topple off. It's £15 for a ticket, it'a hosted by the ledge Simone and you get to try Nergonis served 5 ways before choosing your fave. We're in.
2.  You get an awesome surprise with BarChick Concierge!
Wanna kick off your night the right way? Message BarChick Concierge for free on 07403 922 903 or sign up online tell us when you're heading to The House of Peroni and we'll hook you up with a surprise that'll make your night.
3. The boozy flower garden is what Instagram dreams are made of
Book a ticket for an Italian session in the greenhouse where you can tuck into floral inspired cocktails in test tubes hidden in a flower garden and go wild on the flower power selfies.
Tickets: £12 per person, plus booking fee. 1 hour sessions
Wednesday-Friday: 6-9pm. Saturday-Sunday: 12-9pm
4. Cocktail GOD Simone Carporale is on the drinks
The badass Italian barman who led Artesian to global domination is back again heading up the cocktails for House of Peroni this summer. This guy is the master of imaginative tipples, so expect crazy drinks, beer-infused cocktails and other fun serves. See you at the bar.
5. The food's being headed up by legend Francesco Mazzei (from Sartoria)
Seriously delicious food. We're talking handmade gelato, wood-fired pizzas, freshly made pasta and Italian antipastis. There'll also be an Italian twist on the British brunch every Saturday and Sunday between 11am and 3pm. Tuck into your spicy baked eggs and njuda while you listen to acoustic sets from Italian-inspired bands. There's also Peroni-infused citrus punch to keep the fun going all day long. Or if you're in need, try the Italian take on a Bloody Mary – La Regina Mary, a savoury twist on the classic with the addition of Parma Ham. Ding-a-ling.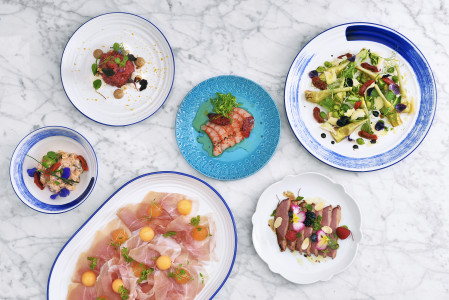 6. Always wanted to dine in a private beautiful Italian garden? You got it.
A private dining event in a secret garden that feels super exclusive. Sit with other randoms and tuck into a FIVE COURSE Southern Italian feast. This is your chance to experience the Italian family dining vibe, so ditch your London b*tch face and go hug your neighbour. There'll be dishes like artichoke and pea shoot salad, tortellini stuffed with soft burratta and roasted lamb. We've tried it, it's even better than it sounds.
Dates: Every Thursday, Friday and Saturday from now until 1st July 2016. Check out all the dates on the House of Peroni website. Times 7.30-10.30pm (arrive 7pm).
£65 per person, plus booking fee.
7. You can learn to make killer Italian cocktails
Be that w*nker at the barbecue serving up the excessively fancy tipples. Enrol in a cocktail masterclass and perfect the art of awesome Italian cocktails. They're running throughout the 6 week residency and if you want in just message BarChick Concierge and we'll get it sorted.
Tickets: £15 per person, plus booking fee. 1 hour session.
Friday: 6-8pm. Saturday: 6-7pm
8. It's going to be an absolute sausage fest
There'll be a fully stocked Italian deli, with all the cured meats, top notch Italian cheeses and pastas. Bring it on.
9. You can get lessons on how to become a pasta legend 
Book into one of the awesome masterclasses and pasta gurus Burro e Salvia will teach you everything you need to know about making pasta from scratch, while you top up on beer. Soak it all up at the end when you dig into your (hopefully edible) creation.
Tickets: £30 per person, plus booking fee. 1 and 1/2 hour sessions.
Thursday: 7-8.30pm. Saturday: 3-4.30pm.
10. Aperol Spritz + beer + sorbet = insanely good 
It's not all about drinking beer neat, sometimes you just need to spruce up that Spritz.  House of Peroni will be serving them up with zesty orange sorbet and a green olive. We'll take 10.
This Partner content was brought to you by Peroni Nastro Azzuro
Address: Proud East, 2-10 Hertford Road, N1 5ET
House of Peroni is on 19th May-1st July
Entry: FREE (but you pay for special events and masterclasses that you can check out on their site.)
Opening times: Monday- Tuesday: Closed. Wednesday-Friday: 5pm-11pm. Saturday: 11am-11pm. Sunday: 11am-10pm.
If you're digging this, you'll also love:
Where to take a: girl on a date or a boy on a date
Cool things to do in London this May