The Christmas cr*p has hit the shelves, so we thought we'd get in early too. You don't wanna miss out on an excuse for some festive debauchery: the accounts guys finally let loose and half the office get on their annual slutty Santa getup. Here is where us BarChicks think you can have the ultimate Yuletide times, from the sensible snug dinner parties, to big corporate gigs to the small raucous sessions… we've got it covered.
Lumped with organising? Message BarChick and we'll sort you with ideas and bookings. Yeah we rock.
0 – 10 people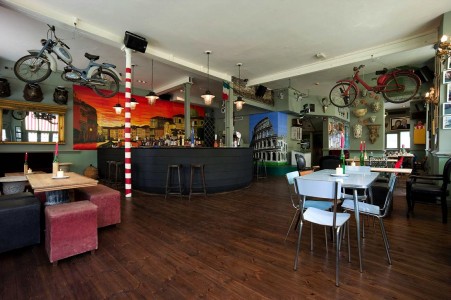 Bunga Bunga
£
What's not to love about this fun-filled, Berlusconi tribute, karaoke clad, pizza haven – we say nothing, so get the office involved this Christmas. There are loads of different packages to choose from all of which include a whole load of delicious Italian food, think pizza, focaccia and cured meats. Whatever you do, add the Emperor package to your table and bask in crackers, caps, props, shots and costumes. Message BarChick and we'll book y'all in.
37 Battersea Bridge Road, London, SW11 3BA
££
If you think the office party will go a hell of a lot better with a load of gin, then grab the crew and head down here for gin blending lessons at The Ginstitute. Tickets are £110 each – book soon before everyone else does.
171 Portobello Road, London, W11 2DY
£££
If your office is pretty small, these guys can accommodate up to 14 people in The Snug. It's pretty special in here, with delicious food and amazing cocktails all in a sexy dimly lit ambiance.
69-71 Dean Street, London, W1D 3SE
££
Hire the Dora Carrington private dining room – hidden just off from the main bar and restaurant, can be spruced up and decorated for the occasion. With space for 10 guests, you'll each get a festive cocktail and canapes on arrival, along with a three course meal and mince pies (love a mince pie). £45 per person + £300 for private dining fee.
15-17 Charlotte St, London W1T 1RJ
££
Probably one of the coolest places you can go to party – this secret bar has got amazingly inventive cocktails, a whole load of fancy dress and a cool crowd. Bring the office for cocktails, and cancel dinner out, they've got a wicked small food menu that includes 'around the world in 80 nibbles.' P.S don't go home wearing the lederhosen, they're BarChick's favourite.
Chelsea Cloisters, London, SW3 3DW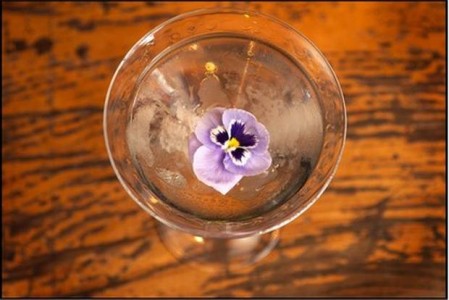 0 – 20 people

Set in a historic Soho townhouse, this hot new venue is opening its doors just to private bookings in December. There's a choice of different rooms on the six different floors, that can hold 20-80 people. Including The Lobby Bar, The Parlour for a bit of French magic and The Lounge for intimate candlelit soirees.
11 Soho Square, Soho, London W1D 3QD
£££
If you're an intimate office of 12 or less, hire the private media room at CUT. With amazing steaks, a fantastic wine list, impeccable service and a wicked Bang & Olufsen 3D screen, you can pop on some home videos (no not those ones) if conversation runs dry. Ping BarChick and she'll sort it out.
 45 Park Lane, Mayfair, London W1K 1PN
£££
These guys have a private room that can seat up to 22 people, so if you are an office of meat eating carnivores with a bit of cash to splash at the office party then DO IT. The steaks are mouth-watering and the cocktails insane. Start with a round from the Disco Drinks menu (the Nuclear Banana Daiquiri ought to get the night off to a flying start).
10 Basinghall Street, London, EC2V 5BQ
££
We love this mega Peruvian bar and restaurant and we know you will too. If you're looking to feed and water up to 18 workies then this is great. For £38.50/person you can enjoy a four course meal of yucas, don ceviche, huancaina macaroni and champus limeno – yup, we've no clue either but it all sounds too tasty. Once dinner is over hit the Pisco bar, we'll see you down there.
17 Frith Street, London, W1D 4RG 
££
This big industrial space is the answer to any of city life's worries, and now they've sorted Christmas for you. With a private room that seats 65 or 100 people standing. Tuck into their delicious £45 set menu – or throw in some fizz for £60 – (no one want to be that tight a*s boss). With sweets in the bathrooms and skinny cocktails, even the lettuce eating secretary will be happy.
58 Gresham Street, London, EC2V 7BB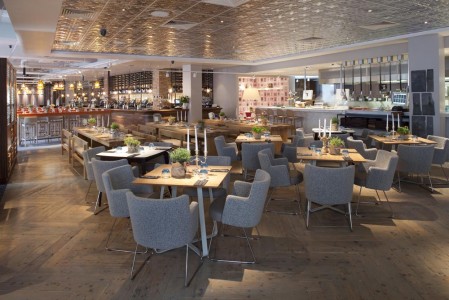 ££
Really get into the spirit of things this year and hire out the Stables, for your private office feast.  If there are 14 of you, it's the perfect place to dine with the added bonus of a plasma screen with surround sound. The Christmas feast at £55/ person includes baked Camembert, lamb tagine and a coffee and amaretti cheesecake – pow. Give BarChick a hollar and she'll run through your options.
43-51 Great Titchfield Street, London, W1W 7PQ
££
This place is pretty cool (it is in Shoreditch after all). The conservatory is awesome and can be hired out for 45 sitting, or 100 standing. Then there's their private apartment where there's a whole load of private spaces to hire in their swanky private apartment, we love The Play Room (for up to 14 people), where you'll find every fun boardgame imaginable, Twister is always a great way to break the ice. Or if you have too much cash, hire the whole apartment for 250 guests – it's yours 'til 1.30am baby! Prices range from £40 – £45 (that's the set menu, not the rooms!).
 81 Great Eastern Street, London, EC2A 3HU
£
Whether there are two of you or 300 of you, The Old School Yard will throw you a wicked party. Think table football, basketball hoops, 80s music and KARAOKE, plus whatever's missing they'll sort. Choose from buffet food, canapés or bowl food and crazy science experiment style cocktails.
111 Long Lane, London, SE1 4PH
£££
This private members venue can accommodate up to 80 for lunch or dinner, but if there's 24 of you then hire the private dining room. They can do a whole roast lamb or suckling pig for parties up to 12 – if you're an office full of carnivores this is for you! Message BarChick here and she'll see if she can work her magic.
 474-476 Fulham Broadway, London SW6 1BY
0 – 30 people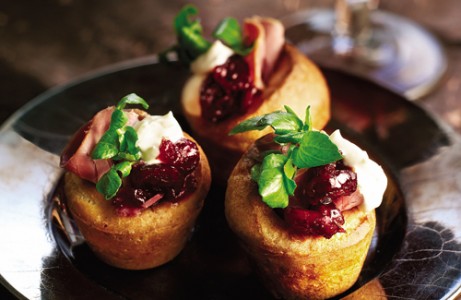 Pix Confessional Cocktail Club
£
You can hire out this secret lil' cocktail den, hidden within the foundations of an old church – it's all pretty eery and cool. There's just five booths – enough for 24 people, but it's a great shout if you're a smallish crowd. Foodwise, it's all about the tapas plates (pintxos) here, and there' a solid Spanish wine list too.
People: 24
185 Portobello Road, W11 2ED
££
If your office likes to get competitive then All Star Lanes is the party joint for you. Hire private rooms for over 30 people and take advantage of a shed load of bowling, karaoke, a private cocktail bar and either canapés or a sit down meal. Leave your stilettos at home because their shoes are way hotter.
Various locations
£
If your office fancy themselves as the next cast of Starlight Express… then put their skills to the test, here. These bar staff aren't your average, they're all singing, all dancing and as they place your cocktail in front of you will spontaneously burst into song. Hire out the private 'ski lodge' with fur-lined seats and a roaring log fire – should keep you cosy. Canapés, cocktails and bowl food available, packages from £19.50 – £25 per person (Plus service charge). Go on, serenade Pete from accounts. Drop us a message here and we'll sort out your night.
 3-4 Archer Street, London W1D 7AP
Gingerbread Cabin at York & Albany
There's space for up to 12 in this sugar-coated cosy cabin. With menus inspired by the cabin's storybook setting, like Butternut squash, with a gingerbread man crouton and venison croquettes. Feeling creative? Order a giant gingerbread man to decorate yourselves. And if you're all about the ginger, go for the Gingerbread Afternoon Tea. We're after a Gingerbread Espresso, with Gingerbread-infused Grey Goose l'Orange, Kalhua, Amaretto and espresso. 
127-129 Parkway, London, NW1 7PS
0 – 50 people 
££
We all love a secret bar, and especially one that we've got all to ourselves 'til 1am baby. Wherever you do, don't miss out on the Rhubarb Bellinis, they're the goat's bollocks.
The Goat, 333 Fulham Road, London, SW10 9QL
£-££
This pub has a wicked room called the Bookcase Bar (hidden behind a bookcase) which you can rent for up to 60 people for a sit down dinner (120 if you're just on the booze). It's got its own table tennis table and bar so you can take over and get challenging your workmates. Menus start at just £15 per person for a hot buffet (cheapskate boss's dream)  – but we say go the whole hog with a roasted pig (minimum of 80 guests, and maybe check with the office veggies first).
13-19 Old Town, London SW4 0JT
££
If your office are all minimalist loving minions, then Village East is the perfect joint, it's like a Scandinavian styled warehouse with an extensive cocktail list and a private room for up to 14. Go for the Village Feast for £50/person and dine on pork and veal meatballs, confit turkey leg and sherry trifle. Plug in your Spotify and away you go (maybe delete your favourites first, just in case).
171-173 Bermondsey Street, London, SE1 3UW
££
One of the daring original speakeasys, and still one of the best. There's snug lil' coves for small groups, or they can cater for groups of up to 50 people (if more, you might be able to hire out the whole joint). Their cocktails are pretty inventive and they promise their sharing boards will be just as good. Drink Nitro Egg-Nogs and Blue Blazers and we guarantee a lot if sh*t will go down.
50 Blandford Street, Marylebone, London, W1U 7HX
££
Private hire for bookings of up to 50 people. There will be pizzas in full swing, and even custom made menus to suit your office, so if you're a multicultural office, there will be something for everyone!
202 Brick Lane, London, E1 6SA
0 – 60 people
££
Hidden through a secret wardrobe this bar is as close as you're going to get to Narnia people. The cocktails in here will turn your world upside down, and your secretary's Friday night Revolution trips will quickly be abandoned. Hire the Back Lounge for 50-60 people (they have other rooms for different numbers – just message BarChick for all the lowdown). Head here and expect an Christmas party like no other.
65 Rivington Street, London EC2A 3AY
£££
If your office is full of fish heads then spoil them by doing your shindig here. The Crustacea room for example hosts 14 people and is like dining in a Victorian living room, with views over Swallow Street or there's the Rib Room for up to 40 people. 3 course menus start from £49 and will be all about banging seafood – remember to bring some Tic Tacs in case things kick off later with Jared from the second floor.
11 Swallow Street  London, W1B 4DG
For a crew of 60 hire this party basement for £1500 on weekend nights and £1200 in the week and all your food and drink will be covered. Pow!
411 Mare Street, London E8 1HY
0 – 70 people

££
Why not sex things up this Christmas and whisk your office away for a spot of burlesque. If there's over 60 of you then you can book the Cabaret Salon and have a good old private dose of burlesque, cabaret, mind blowing magic, sexy songs and live circus acts while you drink, eat and get saucy. Grrrrrr.
9 Norwich Street, London, EC4A 1EJ
0 – 80 people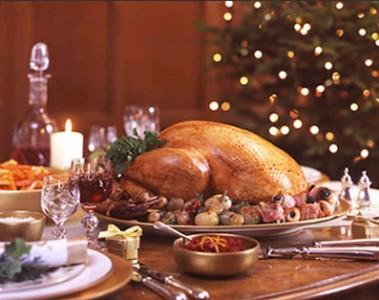 The Water Poet
£
They boast a number of rooms available for private hire for anything up to 80 people. With anything from 3 course menus, sharing boards and a buffet option plus a well-stocked selection of craft beer, even Ted from accounts will be happy.
9-11 Folgate Street, Spitalfields, London, E1 6BX
80+ people
£
BarChick's absolute fail-safe fun night out. Stuff your face with messy BBQ food then load up on cocktails and listen to epic live bands on the sweaty dance floor (a.k.a guaranteed snogs). For a big crew you can hire the downstairs room – which comes with animal heads on the wall and a dodgem. But if there's not too many of you, we say nab the silver caravan at the back for your gang. Get BarChick Concierge to book you in on 07481 341284. Bundle in, plug in your phone and listen to some bangers while you work your way through the stocked fridge. Then stumble out into the carnage. Loving life.
134-146 Curtain Rd, London EC2A 3AR
The Worship Street Whistling Shop
££
This bad boy can accommodate up to 130 of your colleagues (assuming you have that many, Google?) so if you're looking for a Victorian gin palace/Dickensian theme this year then look no further. Amazing cocktails (they have an in-house lab), we're booking anyway. (£40 – £60pp). Need help booking? That's what we're here for.
63 Worship Street  London, Greater London EC2A 2DU
££
With a private dining room this place is great for parties and can offer space for up to 96 people seated or 150 standing. Choose from different menus ranging from £42 per person. Plus go all out and hire a pianist for £450.
23–27 Wadeson Street. London E2 9DR
HIRE PRICE TAG: ££
A smart but affordable option. Right in Soho. Pow. It's a big space but split into two floors, so pick your poison at the door! Downstairs is a wine bar selling an insane range of wines from all over the globe, with a whole load you'll find for £20 per bottle – winning. Upstairs is the cocktail den and on weekdays the drinks are dangerously affordable. There's all sorts of rooms and areas you can hire out – message BarChick for the lowdown.
5 Greek St, London W1D 4DD
Grand Union Brixton
£
If you're all about an outside space (brrrr), book yourself a hut outside. The garden can also be booked if you're planning a big bash they put up a big cover thing during winter, and there's a private room upstairs too for a big gang of 200 (you're popular).
123 Acre Lane, London SW2 5UA
You're on a boat! No, seriously. If there's around 200 of you, hire this Dutch barge moored permanently between Lambeth and Vauxhall Bridge for a swimmingly swell time aboard this floating pub. If you want a weekend slot for your birthday party you'll need be turning 25 or more.
Tamesis, Albert Embankment, London, SE1 7TP
£
If you're office is bigger than the Shard and you're looking to entertain them all (without renting a stadium) then the social in Soho can be hired for 250 people. Drinks, dancing and an outside kitchen can be provided for party food – probably a good call.
5 Little Portland Street  London W1W 7JD
££
If you work in Battersea and your office isn't full of your average suited and booted types then this is where to party. This hippy-style haven can hold up to 200 peeps and it's always wicked fun, with party vibes and good DJs. Get creative, they'll decorate for you and dress the hell up. Want help with this booking? Just ask BarChick – we'll sort out your life.
231 Battersea Park Road, London, SW11 4LG
££
Oh my god there's a bar through a cupboard. If you really want to impress your colleagues then book out the whole of the world's 48th best bar (!) and hey it's Christmas so why not throw in a DJ too. Hell yes, this is how to do it. Get food and a tea cup punch reception, canapés and bowl foods, and you will be hands-down the coolest kid in the office.
65 Rivington Street, London EC2A 3AY
You should also check out:
Best places to dine in central London
B
est date-night restaurants