In case you hadn't heard, brunch is kind of a big deal. We're not talking about juice, muesli and some friendly bacteria. Oh no, this sh*t got serious. Us BarChicks love a good brunch: the daytime dates, the hungover feasts, the local heroes and the all-you-can-drinks. (If you're looking for bottomless check this hot list out) 
So get up, dress up and eat up.  These are our brunches of champions.
Want us to get your brunch plans sorted? Message BarChick Concierge and we'll get on it.
For When You Want It All:
The Mondrian London, Southbank
You know you want brunch but then what brunch? That's when the Mondrian's "every corner covered" menu saves the day. It's made up of five or so sections and they're all winners; there's the bakery (waffles and pancakes), the eggs section where you can have insanely tasty scrambled eggs with crab or a full English with the worlds best tasting mushrooms. Got mates? Check out the "For the table" with seafood platters for two or "Mains" which includes badass burgers or an amazing sobrassada sausage flatbread. That's just the food, they've had the drinks and juices designed by Ryan Cheti who's knows a thing or two about good tasting drinks. The "Classic Mary" with a garnish of bacon is spot-on, same goes for their Bellini or the Spirulina, spinach, banana, maple and apple juice that will bring you back to health in seconds.
When: Saturday and Sunday from 12pm – 5pm
Where: 20 Upper Ground, London, SE1 9PD
Seasonal, locally sourced, organic, communal… they've got every hipster-fied buzzword on lockdown in this glass fronted tapas hangout, but we're into it. Poco's exactly the kind of neighbourhood eatery you'd expect from Broadway Market, so hop on your 2 wheels (that's probably how you should arrive if you wanna fit in) and squeeze onto one of the long wooden tables for some organic eggs mopped up with fresh sourdough. Their coffee is spot on, everything comes with a slap of harissa and they've got gluten free on lockdown. It's the kind of place you'll probably lose most of the day to, but then again you're in London Fields so the party's just getting started.
Where: Broadway Market, 129 Pritchard's Rd, London E2 9AP
Bad Egg, Old Street 
If you don't fancy just one plate, Bad Egg is for you. Like a sort of tapas of epic offerings… you won't find a full English in here, we're talking more breakfast tacos, cheeseburger hash and avocado and poached egg on sourdough. You choose three plates from their menu then choose the sober (yawn) option for £22 or side your bacon with booze (yes) for £30. So brace yourself for two hours of Bloody Marys, Mimosas and a side of fried chicken on syrup brioche.
When: Breakfast everyday from 8am – 11am
Where: City Point, Unit 1B, 1 Ropemaker Street, London EC2Y 9AW
Brunch with a view:
Duck & Waffle, City
Still out at 5am? Take the fastest lift in the land up to the 40th floor and get yourself fed (this lift is as much of an occasion as the meal). The view across London is unbelievable, and watching the sunrise from up here is well worth staying out all night for. As well as drinking in the incredible view, hit their cocktail list and tuck into brunch; we suggest their all-day foie gras breakfast – you're here now so you may as well go all out.
When: 24 hours a day, baby.
Where: Heron Tower, 110 Bishopsgate, London, EC2N 4AY
Sky-high OXO not only has a sexy little terrace looking out on top of The Thames, but the brasserie's new brunch menu is good enough to peel your eyes away from the view. Like everything else about this place it's classic; fat rolls of smoked salmon and poached eggs, full English served inside a giant mushroom and bacon loaded waffles. With floor to ceiling glass windows and a live jazz singer to serenade you it's a special occasion / feeling a bit fancy kind of brunch, one that definitely requires a bottle of two of their wicked English Sparkling Wine and an Espresso Martini to finish.
Where: Oxo Tower Wharf, Barge House St, London SE1 9PH
Sharing is caring:
Hawksmoor smash everything with their meaty goodness, and brunch is no exception. Get the Hawksmoor Breakfast for £35 which is for 2 to share; smoked bacon chop, pork, beef and mutton sausages, black pudding, short rib bubble & squeak, grilled bone marrow, trotter baked beans, fried eggs, grilled mushrooms, roast tomatoes, UNLIMITED toast and HP gravy. Probably more than enough for two. Wash it down with Shaky Pete's Ginger Brew, obvs.
When: Monday – Friday 7am – 10am
Where: 10 Basinghall Street, London, EC2V 5BQ // Monday to Friday 7am –10am.
The posh ones:
It's worth sprucing up last night's party frock for a Wolseley feast. This is the breakfast of birthday treats, the one to impress your lovers, mothers, best friends and pretty much anyone else you feel like telling. In what looks like a Parisian grand café, they treat you just as special as the fat wallets and famous faces in attendance. The Eggs Benedict is the superstar with a glass of Champagne, naturally. If you need to hide your hangover, go for one of the Art Deco booths in the bar room.
When: 7 days a week 8am – 11.30am
Where:160 Piccadilly, London, W1J 9EB
Quaglinos, Mayfair
Want some lobster with those scrambled eggs? Of course you do.  As well as a swanky Mayfair setting,  live music and BOTTOMLESS bubbles (that's right) the huge Saturday brunch menu's got it all: scrambled eggs with lobster & a spinach muffin, caviar omelette, poached pears on french toast and don't forget the Omelette Arnold Bennett, darling.
When: Saturday 11.30 – 3.30pm (launching 9th May 2015)
Where: 16 Bury Street, London SW1Y 6AJ
Coffee fix:
Caravan, Clerkenwell
Not socially acceptable until you've had caffeine? Caravan is your brunch mecca as there's a god damned coffee roaster on site. They roast the coffee on site daily using 100% Arabica beans, plus their blend of coffee is designed to match the season. Fancy. And yes, this means a killer Espresso Martini (a brunch necessity). That and some French toast and you can take on anything.
When: Brunch: Saturday & Sunday 10am – 4pm Breakfast: everyday 8am – 11pm
Where: 11-13 Exmouth Market, London, EC1R 4QD
Where else can you get a brunch burger? Exactly. Peckham's coffee hangout has a new Chef in that open kitchen and he's cooking up one hell of a brunch. Kedgeree, Cilbir (two poached eggs, herbed labneh, chilli butter, chimichurri, sourdough toast) and french toast with caramelised apples and bacon, it's not surprising there are queues for this place. We wait it out with a flat white and slice of cake in the sun-trap conservatory out back that in the summer opens up to become a little courtyard garden.
Where: 139 Bellenden Rd, London SE15 4DH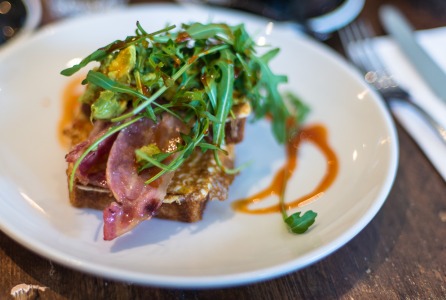 For health freaks:
On a gluten free flex? This is where it's at. Ceviche, grilled octopus, quinoa everything, Andina's keeping it fresh 'n healthy. If you're a carnivore or need something to soak up all last night's booze, it probably isn't for you but hot chilli baked eggs and juices (spiked with pisco) are then get in here. They've got a wicked juice selection and the south American coffee will kick off your day the right way. Expect hot chicks in workout gear.
Where: 1 Redchurch St, London E2 7DJ
Grab a DIY counter brunch of yoghurts, cereals, dried fruits and soya milks. Take as much as you want and it's only £6. Boom.
45 Redchurch Street, Shoreditch, London, E2 7DJ
The boozy ones:
South Place Hotel, Moorgate 
To do the weekend in style, dress chic, pretend you've just rolled down from one of the sexy rooms upstairs and settle into the hotel lobby for a long afternoon. If brunch for you is as much about Bellinis as it is about Benedicts then you're in the right place. Choose from 2 or 3 courses, with free flowing prosecco, Bellinis and Mimosas, and whatever you do make sure you keep some room for the banana and butterscotch waffles for dessert. Don't want the party to stop? There's a secret garden bar upstairs. Sure it's for members only – but mention BarChick & they might just sneak you through.
When: Saturday & Sunday 12pm – 4pm
Where: 3 South Place, London EC2M 2AF
The greasy spoon:
Arthur's Cafe, Dalston
Arthur's cafe boasts 'proper authentic English fare – no b*llcks' and Arthur is STILL running this joint at 84 years old, what a G. Sometimes poached eggs with beautiful trimmings is not what we're after, we want a plate filled with shiny, greasy goodness to wipe that frown off our face. This place has been open since 1935 so they've got to be doing something right.
When: whenever Arthur feels like it
Where: 495 Kingsland Rd, Dalston, London E8 4AU
For party animals:
BUNGA BUNGA, Battersea 
Not for the faint hearted, Saturday brunch at Bunga Bunga is one helluva party. Drop some dollar upfront (£40-50 per head) and leave your dignity at the door; we're talking unlimited prosecco and Bellinis, cured meats, breakfast pizzas, ice cream, drag queens… YUP. And karaoke. So gather your mates and make a day of it, by 5 you'll be p*ssed and partying like it's 2am – but hell, at least you'll have lined your stomach in style.
When: Saturday 11.30am or 2pm sitting
Where: 37 Battersea Bridge Road, London SW11 3BA
Bloody good Bloody Marys:
Beagle, Haggerston
Nothing says brunch like a Bloody Mary, and Hoxton hangout Beagle is nailing it with a whole BM menu. Stick classic with chorizo infused vodka, go Racy with jalapeño and harissa or get loco with smoked garlic tequila in the Maria Maria. You might need to wash down those Bloody Marys with a side of fried eggs and homemade hash (potato kind), buttermilk pancakes or Helford oysters.
When: Saturday 11am – 5pm, Sunday 11am – 2pm
Where: 397 -400 Geffrye Street, London E28HZ
The Lido Cafe, Brixton / Herne Hill 
Perched up poolside of the Brockwell Lido, this epic people watching (swimmer perving) spot isn't just for post workout juices. These guys have one of the best brunches in south London and as well as Breakfast Negronis and health-kick juice led cocktails they go all out on the Marys… there's a whole menu for them. Work it alongside fluffy buttermilk pancakes and poached eggs atop haddock fishcakes. Nice.
Where: The Lido Cafe, Dulwich Rd, London SE24 0PA
Foreign flex:
Dig your bacon butty? Say hello to Dishoom's bacon naan roll; it's freshly baked naan wrapped around The Ginger Pig's smoked streaky bacon straight from the grill with a seriously banging combination of chilli tomato jam, cream cheese and herbs. If you're feeling spicy it's got to be the Full Bombay made with an abundance of akuri (spicy Indian scrambled egg to you and me).
When: Mon – Fri 8am – 11.30am Saturday & Sunday 9am – 12pm
Where: Shoreditch // Covent Garden // Soho
Showcasing the vibrant colours of the West Indies, this place is known for its chocka rum collection (they're currently on 200 bottles). But this place has recently added a bangin' brunch menu to its list (which you can only get it at this Rum Kitchen venue – so don't turn up at Carnaby Street all hungry and excited). From the full Jamaican fried breakfast, to healthy acai bowls – they've got it covered.
6-8 All Saints Road, London W11 1HH