Pop ups are still a thing, but only if you're going to the best.  Here are London's hottest temporary fixtures for booze, food and other weird and wonderful residencies going on in the city this month.
THE BIG BOYS
It's a bottomless crayfish party at Fika and they're waiting for you to descend into the food pit. From July 30th to August 16th, this Nordic enclave on Brick Lane'll be plating you up massive amounts of chicken liver pate, pickled herring, cured salmon & crayfish, naturally. Snag your tickets, whip out the loose jeans (you'll need em) & say yes to the traditional Swedish party hats & bottles of shnapps.
From 20th July 2015// 161 Brick Lane, London E1 6SB
A Walk in Cocktail Cloud – Bompas & Parr's Alcoholic Architecture
From 30th July, for 6 months, a cocktail cloud is gonna hit Borough Market – it's an alcoholic weather system where meteorology and mixology collide. Yeah.  Basically it mixes up some badass cocktails and creates a 'fully immersive' environment where the booze seeps in through your nose, eyes and in to your lungs so it hits your blood stream pronto. You'll have to don a sexy suit and there'll be sh*t loads (140 percent) of alcohol in the air that you won't be able to see more than a meter in front of your face.
Hour slots start from £10.00 off peak. Get tickets HERE. 
From 30th July 2015  // 1 Cathedral Street, Borough Market, SE1 9DE
Camden Beach Presented by Stoli

Rooftop vodka views
Beach pop ups may be on every corner in London right now, but if an oyster card can get us to deckchairs, sand and cocktails then we'll grab our bikinis and race you there. Camden Roundhouse terrace (did you know it's the neighbourhood's biggest outdoor space?) has been transformed into a seaside with beach huts, sexy views and a Stoli lemonade van mixing up an awesome summer serve. Go get a round of the fanciest vodie lemonade you'll have all summer – fresh mint, fresh lemon juice and a generous serving of Stoli vodka – it's way more refreshing than any you'll get at your mates barbeque's this month. Cool down with Stoli lemonade sorbet after filling up on fish and chips at Fishy Business, sausages at Pork and, if you're not a vodka fan (or went too heavy on the stuff last night) join the queue at Rum Shack a Lack instead.
17th July – 23rd August // Chalk Farm Road, London NW1 8EH // Opening times vary
A disco paradise on the Old Street roundabout
It's a freaking party on Old Street roundabout! This is the Kickstarter project from the dude behind Burger Bear, Tom Reany, who wanted to create a burger joint that doubles up as a 'disco paradise'. SOLD. Get stuffed with Burger Bear's famous Bacon Jam and Norweigan King Crab from Prawnogprahy (don't be tempted to knock down the giant pink mascot). It's open every day, so you can drop in from 7am and grab an espresso from Relax to help you get your buzz back, then again after work before the beats kick in and party really starts. Honk if you're feeling lucky.
Opens 12th June // 7am-11pm // Free entry
It's back, baby!
Remember Night Tales? Well it's got it's sandals on and has gone all summer on us. It might just be even better than it's epic predecessor. With heaps of food to feast on including offerings from Burger and Lobster, the Bonnie Gull seafood shack and toasties from Morty and Bob's, awesome cocktails available from the Frozen Punch Bar and a big Lazy Flamingo Bar as well as a load of DJ's to keep the party going 'til late, it's gonna be a big one.
288 Old Street, Shoreditch, London EC1V 9DP // 22nd May – 29th August // Tickets cost £4 before 9pm, £5 after or buy a queue jump ticket for £10 (incl a cocktail) to guarantee entry
A summer of hot tubs and tiki bars
The last time this pop up took place 2,000 people rocked up and road blocked the street! We're all over it. The chicks behind The Wick have hosted areas at Glasto, Burning Man and Secret Garden  Party (yup, they know their sh*t) and this urban east London festival is just as banging. Grab a slice from Pizza Surgery or get stuck in at Danger Dogs Hotdogs and shop around at the huge outdoor market where you can buy tonnes of vintage clothes and cool stuff for your house. More important, though, a beach has been created in the space, complete with the king of all summer boozers; a tiki bar. There are hot tubs too. Time to get your kit off.
The Old Baths, Cre-8 Centre, 80 Eastway, E9 5JH // Every Sunday from 3rd May – 25th October, midday-11pm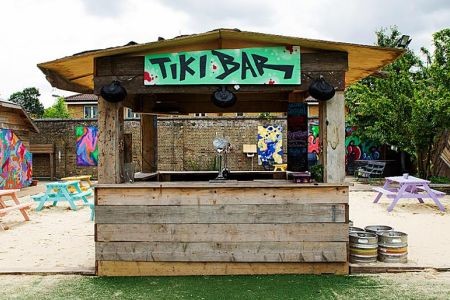 The party on a museum roof
Things are getting wild on the rooftop of the Brunel Museum where a campsite has pitched up complete with live music and marshmallows ready for toasting over the logfire. Even if the great outdoors scene isn't your thing, this one's worth it for the sunset view alone.
Brunel Museum, London SE16 4LF // May – September
Killer cocktails and craft beer in SE13
Who'd have guessed the party was in Lewisham these days? After a banging summer last year, Model Market has headed back to SE13 for street food, drinking dancing and great vibes. They've got craft beer, wine bars and slushy cocktails on tap – as well as a 'rooftop bar' where you can catch the action going on below. Hungry? It's all about the food with 10 micro diners serving it ALL from brownies to beefsteaks and burgers. This is perfect for whiling the summer nights away.
196 Lewisham High Street, Lewisham, London SE13 6LS // 17th April – 25th September, 5pm – 1am
Movies, sunsets and hot hot pizza
RFC is back for another summer of epic film screenings atop some awesome  rooftops. This year four venues; The Queen of Hoxton in Shoreditch, The Bussey Building in Peckham, Roof East in Stratford and The Roof Gardens in Kensington will be serving hot pizza to guests chilling under blankets and watching classics including Casablanca and The Graduate and amazing new movies like Birdman and The Theory of Everything. Tickets sell out pretty damn fast, so book yourself up and get a sexy date – they'll think you've smashed it.
Various Locations // From 1st May
FOR BOOZE HOUNDS
Miami paradise on the Southbank
Thought you had to leave the city to find a beach in London? You're wrong! Grab your sunnies and something skimpy and head towards the light – a giant, bright pink neon sign – at this pop up kitchen and bar to order a round of Piña Colada's served in fresh pineapples. These guys have got all your summer booze cravings sorted, from tropical Cîroc serves to the pre-bottled goodness from the guys at Craft Cocktail Company in Bethnal Green. Hungry? Join the queue round the side for Mediterranean feasts including dips, mezze and salads – we recommend slow roast lamb shoulder with shawarma spices. F*ck expensive holidays, get your suntan and sexy instagram pictures here.
Queen's Walk, More London, London, SE1 2DB
Peanut butter & jam hardshakes
This oasis in the middle of central London feels like a little relaxation retreat. But with booze. Grab some space on the scattered floor cushions and start the night by ordering a PBJ hard shake – the hard bit's bourbon, baby. Hungry? Show the punters what you're made of and go for the giant pulled pork and cheddar 'manwich'. Wash all that down with something refreshing from the cocktail menu, like a Lady Garden (don't worry, tastes of strawberry's) or a glass from the wine menu – they do 'Nice', 'Nicer' and 'Nicest' bottles of red and white, cutting the sh*t out of trying to order fancy. We like their style.
Open until September // 535 Oxford Street, W1C 2QW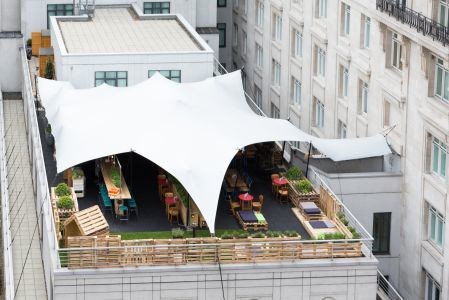 Spritzers for a fiver!
Go explore behind Bow Lane and you'll find sexy winding alleyways like something out of a Dicken's book. Follow them away from the madness of the main road and you'll reach Merchant House, where this cosy spritz pop-up is serving £5 drinks all summer from midday – now that's what we call a liquid lunch! Fill yer boots with Aperol Spritzs and Negronis and party under the red umbrellas all night.
From 2nd June Tues-Fri Midday-sundown // 13 Well Court, Off Bow Lane, EC4M 9DN
Vodka lessons, cocktails and brunch
Time to brush up on your vodka knowledge. The Folly are holding masterclasses on the Dutch vodka throughout Summer, featuring killer new drinks and a lesson in the good stuff from expert mixologists. Get there at the weekend for the Bloody Mary masterclass and end the morning with a cracking brunch. Sweet.
The Folly, 41 Gracechurch Street, London EC3V 0BT // May – September // Bloody Mary Masterclasses take place every Weds & Thurs 4pm-late and cost from £20. The Weekend Brunch Experience, a Full Bloody Mary Masterclass and choice of sumptuous new brunch dishes, costs from £15.
It's champagne. On a rooftop. Go.
OK, so it's not BarChick's usual digs but when the sun's out and there's a massive rooftop in the city serving up Champagne, you go. Just be on w*nker alert, get popping the corks and you'll be fine. Moët's ice themed pop up at Madison has giant penguin figures, Champagne cocktails. seats made of ice and panoramic views of the city.
May-September // One New Change, 1 New Change, EC4M 9AD
Gin plus epic views equals a very happy BarChick
When the sun shines and things hot up, we head straight to a rooftop. If there's gin, that's even better. Bloom Gin is popping up at Trafalgar Square's Vista Bar on top of the Hilton and it promises specially created floral cocktails and some totally sexy garden vibes overlooking Big Ben and the London Eye.  Remember access is subject to availability, so book your table now or spend summer in a dark, sunset-less pub. Your choice.
2 Spring Gardens, London SW1A 2TS // From April – September
Clapham's sexy speakeasy 
This 1920s-inspired bar has popped up in Reece 79 hair salon in Clapham, filling the cool London bar void previously present within the area. Expect imaginative cocktails and live 20's-style piano playing, which can only lead to regrettable dancing and hilarious times. A proper speakeasy.
79 Abbeville Road, Clapham, London SW4 9JN // Last Saturday of every month from 21st March
£5 cocktails in Notting Hill
…Yes, you read that right! One of our favourite rum companies, The Duppy Share, have got a brand new event of boozing, eating and live music sessions in W10. The old school social club venue will put you smack bang in the swing of things with street food, amazing cocktails and tunes to make you dance even if it isn't your thing.
Maxilla Hall Social Club, Notting Hill, London W10 6NQ // Every second Thursday 12th March-13th August, from 6pm // Tickets £10 incl. your first drink
Bottomless boozy teapots
After moving from Deptford to the sunny streets of Shoreditch, Little Nan is pouring out bottomless cocktail teapots and giving out unlimited pick 'n' mix and popcorn to everyone who pops by. The ultimate kitsch p*ss up, you can expect to meet Little Nan's pals Vince the Cheetah, Jeffrey the Gnome and Luxury Addiction the Pony too. Seriously.
And even better, we're giving away some freebies! For two tickets to their launch night including unlimited teapots and pic'n'mix, click here and RT!
A secret Shoreditch location // 13th May – September, Thursdays & Saturdays, 5pm – 1am // From £35 per person
FOR FOODIES
Bacon Bloody Mary's
So hungover that you managed to sleep through brunch? Classic. Step away from the frying pan people, we've found the perfect place to get your cure in the evening. The guys at Oink have combined the two day-after-the-night-before culinary champions – a bacon sandwich and a Bloody Mary – and you need it in your life. Go try the Bacon Salt Bloody Mary at Oink, the new pork pop up taking over the kitchen every week this summer at Crisis Cafe on Commercial Street. Get a group of mates together and fight over sharing plates like Pig's Cheek & Black Pudding Nuggets, Pulled Pork Shoulder and Sweet & Sour Glazed Chilli Ribs and keep those salty Bloody Mary's coming all night. If you manage more than one sharing plate, at least you'll of achieved something that day.
From 3rd July // Fri-Sat 7.30pm-11pm // Crisis Cafe, 66 Commercial St, London, E1 6LT
See you on the naughty step
Revisit a simpler time (we're talking about school days, not last night in the beer garden) and get tickets to the latest party from The Art of Dining. This time the interactive theatre, food and music pop up is taking place in a school hall, where guests will be served a 5 course dinner inspired by the retro greats. You've never seen Alphabet Spaghetti and fish fingers like it. Do keep an eye out for strict teachers during the interactive art class, don't forget to snog the class hottie behind the bike shed.
22nd, 23rd, 24th, 27th, 29th, 30th,31st July and 1st, 3rd, 5th, 6th August // 7.30pm-11pm // The Round Chapel Old School Rooms, Clapton, London, E5 0PU// Tickets £55 per person and includes food, a cocktail and an art class
Rooftop feasts in the City
Pan-Indian joint is sacking off Soho after a fire on Wardour Street and upping their game (literally) at a sky high pop-up on the One New Change rooftop in St Paul's. Go check out views of the cathedral and panoramic east London sights while munching down a plate of chicken winglet lollipops.
Rooftop Terrace, 1 New Change, St Paul's, London, EC4M 9AF
Fusion feasts
Any place that serves a 'snack' course is a place you'll find a BarChick. They keep business in the family at Sabel, where the head chef (who's worked with Ottolenghi and Simon Rogan, to name a few) takes inspiration from travelling all over the world and puts it straight back into his feasts. Book tickets for the pop up at Palm2, running all summer, where you'll be greeted with a super fresh Rose and Gin Rickey when you arrive and served all kinds of fusion food, including glazed pork belly and crackling crumble. Immense.
From 12th June // 152-156 Lower Clapton Road, E5 0QJ // Tickets £35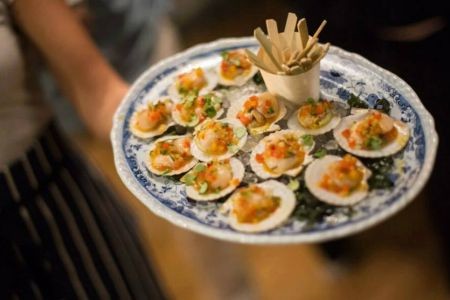 Pimm's ice lollies!
Camden's going to the seaside at this coastal courtyard of deckchairs, real sand and candy-coloured beach huts. Grab a Seaweed Martini (served up in a sandcastle bucket!) and get in line for a Pimm's ice lolly. Trust us, you don't want to leave without trying one. The food will be whipped up by experts at York & Albany too, so order mini fish 'n' chips and nab yourself a deckchair – this one's about as close to a boozy holiday as you can get on a night out in the city.
York & Albany, 127-129 Parkway, Camden, London NW1 7PS // 22nd May – end August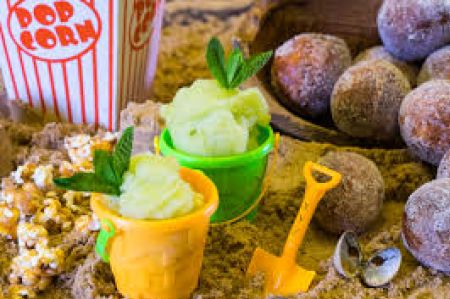 Smoke 'n' Roll residency at The Dissenting Academy pub
Wanna smoke?
Smoke 'n' Roll have left their residency at The Black Heart while the pub refurbishes, but don't panic – they're moving to not one but two new kitchens to get their BBQ on. Head to The Dissenting Academy in Mildmay Park or The Elderfield in Clapton and get meat, fish, veg – you name it and they smoke it with hickory, alder, cherry, apple and mesquite wood. These italian boys use a combination of flavours inspired by their heritage and authentic Louisiana style barbecuing and are open everyday. They'll put your disposable tin foil nonsense to shame.
The Dissenting Academy, 92 Mildmay Park, London N1 4PR // The Elderfield, 57 Elderfield Rd, Lower Clapton, London E5 0LF
Lobster mac'n'cheese
It's no secret that London's summers are usually a let down, so when you're feeling particularly p*ssed off about it head up to Skylounge for some laid back Nantucket vibes. They've got a bowling alley, a shuffleboard area, vodka slushies and mothereffing lobster mac'n'cheese. See y'all there.
Skylounge, 7 Pepys Street, London EC3N 4AF // 1st May – 30th September, 3pm – 10pm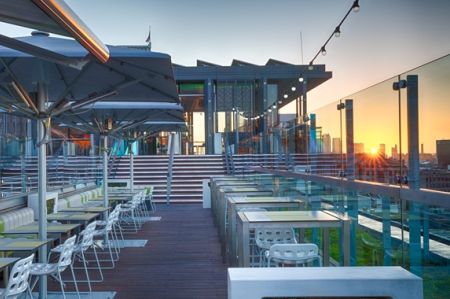 Veggie heaven
Not a standard risotto with a side of leaves in sight, people. The Moveable Feast is hosting four start up vegetarian and vegan food purveyors which constantly change to deliver fresh food ideas, each serving inventive, colourful, exciting dishes. Get stuffed with the chicks at Not Dogs (a proper contender for the whatever's-actually-in-them version). If you're a hardcore carnivore then there's not much here for you unless you're willing to go meat-free for one meal. Challenge.
21-27 St Thomas Street, London SE1 9RY // 9th March – September 2015
It's time to up your veg game
Big dog chef Bruno Loubet has brought the King's Cross Grain Store to central, taking up residency in the kitchen at Zetter's. His menu is banging, including kohlrabi and broad bean ravioli and parsnip and white chocolate ice cream – enough of the good stuff to make any meat-lover leave satisfied. If you've never had a glass of their Butter & Hay Champagne, here's your excuse.
St John's Square, 86-88 Clerkenwell Road, London EC1M 5RJ // 13th April – end of August // Tickets from £28.50
Weird, Wonderful and a Bit of Everything Pop Ups
Squid ink cocktails, an underground maze and flamingo croquet
Escape down the rabbit hole and into a wicked cocktail bar at The Vaults' Wonderland pop up. This place has got installations, a hedge maze, flamingo croquet and aerial acrobats all inspired by Alice in Wonderland. Now that girl knew how to party! Go try cocktails from Bourne & Hollingsworth, like the Black Snapper (Gin, Tomato Juice, Fresh Lemon and House Spice mix shaken with Squid Ink) and taste the new flavours at Pieminister including Off With Their Heads (butternut squash, feta and sundried tomato). It's live bands and DJ's here on Thursdays, Fridays and Saturdays until 2am, plus  interactive performances from critically-acclaimed theatre company Les Enfants Terribles. A pretty impressive first date bar, right?
Open now until end of August // Free Entry // Opening Hours: Tues – Weds – 7.30pm-11pm Thurs-Sat 7.30pm to 2am // The Vaults, Launcelot Street, London, SE1 7AD

Your summer evening sorted
Pack a boozy hamper, grab a picnic blanket and call a hot date – this summer Pop Up Screens have planned al fresco cinema parties across the city and they're guaranteed to get you laid. Watch classics like Pulp Fiction, Romeo and Juliet and Top Gun under the stars among trees in a load of London parks. There's food, popcorn and a bar on each site but we say make a batch of homemade cocktails and take 'em with you.
From 24th July // Various locations // Advanced tickets £10