Pop ups are still a thing, but only if you're going to the best.  Here are London's hottest temporary fixtures for booze, food and other weird and wonderful residencies going on in the city this month.
Belvedere Pop Up at Whole Foods Market
Belvedere and Whole Foods Market have got together to bring you a pop up Martini bar in one of their windows! It's all in the name of James Bonds SPECTRE movie with the likes of the Belvedere 007 Martini and Belvedere SPECTRE 007 Martini being served up for as steal at £7 each. It closes on the 3rd December but the best bit is we've got some to give away! Just email us who'll you'd like to bring along for a Martini pickme@barchick.com
63-97 The Barkers Building, Kensington High St, London, LND W8 5SE
THE BIG BOYS
They're pimping up French classics like Duck Fries Poutine and Le Benedict Bun are taking up a residency at Clerkenwell's The Zetter Hotel serving up brunch, lunch and dinner for five amazing weeks. Turning the space into a neon diner and crossing their French dishes with American street food, we're all over the Philly Cheese Steak, Le Truffle Double Double (double cheese, double truffle, double cheese) and Pig Cheek Hash. Add in French American twists on cocktails like Pinot New York Sours and the wicked Chipotle Cheeseburger Bloody Marys – and you've got one hell of a pop up.
The Zetter Hotel, St John's Square, 86-88 Clerkenwell Road, London EC1M 5RJ // From Thursday 12th November, Mon – Fri: 12-10pm, Sat: 11am-10pm, Sun: 11am-5pm
Wanna watch an iconic movie whilst eating a banging five-course meal that's paired with specific film scenes? Of course you do. Combining fine dining with Michaelangelo Antonioni's film, L'Avventura, House of Peroni are holding a Film Feast to do just this. Serving dishes created by Shoreditch House with different smells, textures and tastes at the perfect time during the screening, this is the ultimate celebration of Italian cuisine and culture.
64-66 Redchurch Street, Shoreditch, London E2 7DP // Sunday 22nd November, from 5:15pm // £35
BarChick f*cking loves all things Japanese so we're pretty damn happy that the Night Tales team have roamed around Tokyo for us to take inspiration from the restaurants, bars and markets for their brand new winter pop up. They've shaken up their massive Shoreditch space and turned it into buzzy Japanese back streets, five concept bars, a sake bar, eight private houses for hire and six food partners specialising in Asian and contemporary food. They've even getting a traditional garden with cherry blossom trees. Want in? You're gonna need to book 'cos it's gonna be big.
288-299 Old Street, Shoreditch, London EC1V 9LA // From 29th October
WINTER'S COMING…
The East End alternative to Winter Wonderland, this is the winter paradise that everyone is talking about this year. With fairground rides, street food, markets, DJs, roller discos, ice rinks, ferris wheels and so much more.
Victoria Park, Grove Road, Bow, London E3 5TB // From Thursday 26th November
South London Apres-Ski Boozing 
Taking over where Jimmy's Secret Garden took off, The Lodge has left the snowy (-ish) streets of Balham to the (not so) frosty pavements of Clapham North to keep SW9-ers toasty during those winter nights. That's right, it's about time you stopped living in denial, forgot those words 'Indian Summer' and got to this cosy spot for some sharing fondue alongside buckets of Jamaican Hot Toddies and Baked Alaska Buttered Rums as you gaze out over the (flat, paved) mountains of South London. The perfect après-ski lodge sans ski… Don't pack your goggles and snowboard just yet, you're gonna need to book ahead because last year's alpine alcove was chocked full of festive boozers.
409 Clapham Road, London SW9 9BT // From 8th October
A Goddamn Gingerbread Bar
Not only is Christmas coming but so is this motherf*cking gingerbread house bar. Yes, it's on the rooftop at Queen of Hoxton, yes it's in a wigwam. Total Hansel and Gretel vibes, they've got some kinda magical forest going on and lists of some killer winter cocktails like Hot Toddys and Buttered Rum. Christmas has come early, yo!
1-5 Curtain Road, London EC2A 3JX // From 22nd October – end of March 2016
It's all about the apres-ski shacks this winter and this one is a badass.  Bringing the festive vibes to Brixton, this food & drink pop up will fill you up with Dip & Flip burgers & Crust Conductor pizzas throughout the Christmas period as you neck back all kindsa festive booze to keep you feeling toasty in this south London South Pole.
Valentia Place, London SW9 8JH // From November 2015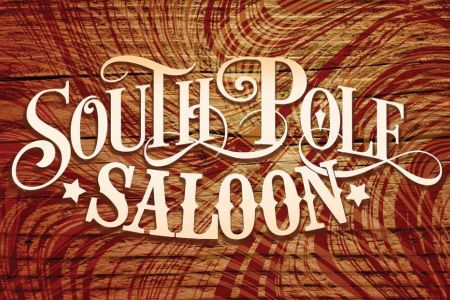 Want more winter pop up action? Head here!
FOR BOOZE HOUNDS
Our favourite p*ssed up grandma is back and this time she's hitting the streets of Peckham. Hiding away in the secret rooms at the Golden Anchor Caribbean pub, she'll be dishing out her signature cocktails in teapots as well as tropical craft lagers, Caribbean dinners and a motherf*cking Pat Butcher Vs Del Boy photo booth! Get in for tiki tunes, a load of fun and tropical boozing.
The Basement at The Golden Anchor, 16 Evelina, Road, London SE15 2DX
Not been to Broadway Market's sexy jazz and Juleps bar Kansas Smittys? You're doing it all wrong 'cos you've missed some seriously banging blues beats coming from their house band. Luckily for you, they're touring around London's finest cocktail joints to bring their distinctive sound and, most importantly, their favourite booze. Connecting the city's hottest underground bars like Basement Sate and Nightjar every week 'til winter with the sounds of Smitty's, this tour would be nothing without their signature drink; the Julep. Each bar they hit will create their very own bespoke mix so we'll be at every single one to give 'em a try. See you there.
Various Locations // Wednesday 23rd September – Tuesday 24th November
The Tick Tack Club 
Rumour has it that Londoners are soon to be bequeathed another period-themed pop-up. Where will we transported to this time? 1920s Edwardian society gambling den via an old Edwardian wallpaper printing shop: upstairs will be all art deco and silver-plated high society and downstairs will boast grittiness and low-brow gambling antics. Whether you fancy cocktails on trays or no fuss ale spilling on wood, you're sorted. We hear that there'll even be a piano for crooners. Cole Porter, cocktails and chain-smoking anyone? Grand.
Unit 3, 8 Holyrood Street, SE1 2EL // From 5th November 2015
FOR FOODIES
Claw has just started their 3 month residency at Dalston's The Three Compasses and their kitchen is emanating the kind of magical smell that arises when you put a bunch of crab burger connoisseurs together in a kitchen with loads of fresh meat and crafty tools. There will be a continuing mass exodus of crabs from Start Bay in Devon to East London until the end of January, so BarChick recommends clamping yourself on a bar stool and noshing on all the Devonshire crab with Claw sauce till the end. The Padstow Octopus will also be making an appearance by burrowing inside a brioche bun with BBQ, pickled cucumber and coriander. Side of tarragon salted fries and crab arancini with harissa mayo, you say? Banging.
The Three Compasses, 99 Dalston Lane, E8 1NH//16th November 2015 – 31st January 2016//Mon – Fri: 5pm – 10pm, Sat – Sun: 11am – 10pm
Dram & Smoke are back, bringing the best in Scottish food to fill you up alongside killer whisky cocktails, beers and banging tunes. Serving up hot toddies on arrival as well as ping pong tables to keep you busy before you fill your face. The food will be out of this world. We're talking duck donuts served with Irn Bru chilli jam, potted smoked mushrooms and lobster broth followed by trays of whisky bread & butter pudding, get involved! Tickets are just £40, go!
2-3 Black Swan Yard, London Bridge, London SE1 3XW // From Friday 27th November – Saturday 19th December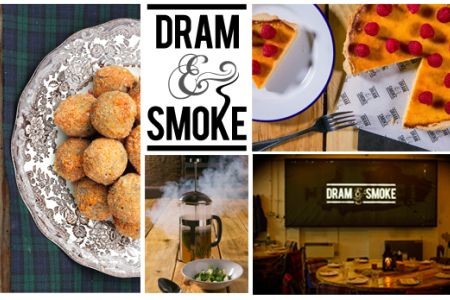 Le Bao Truck at The Duke's Head
You can't move in London for tripping over bao buns these days and BarChick is loving it. Le Bao's truck is pulling up in Highgate to stuff buns with chorizo and burgers as well as rice dishes and brunch on the weekend. Boom.
The Duke's Head, 16 Highgate High Street, London N6 5JG // From Tuesday 2nd – end of November, 12-10pm
Weird, Wonderful and a Bit of Everything Pop Ups
Get soaked in Hackney Wick at these outdoor hot tubs on the canal. They're throwing epic parties with music and booze served straight to the tub. With bookings from a minimum eight people per tub (or you can buy in pairs and share with strangers, awks) this is the perfect stop for birthdays, hens and cosy Christmas parties.
90 Wallis Road, London E9 5LN
UNDERGROUND FILM CLUB – FROM WEDNESDAY 11TH NOVEMBER
Those babes from Rooftop Film Club are getting their heads out of the sky and taking it underground for a winter of underground movies. Screening classics from Casablanca to Clueless, there's a movie for everyone. Grab a cocktail from Spirited Mixer's bar and get involved in some street food from Hawksmoor chef Richard Sandiford before settling down for a movie. This one's got date night written all over it.
The Vaults, Launcelot Street, London SE1 7AD // Wednesday 11th November – Sunday 20th December // From £13.50
BIRDIES CRAZY GOLF – FROM WEDNESDAY 11TH NOVEMBER
Where else would you head to for a night of street food, cocktails, music and crazy golf than under Waterloo station? Hosted in The Vaults by the people who brought us Rooftop Film Club will be Spirited Mixers serving up cocktails in their paradise Caddy Shack as well as two insane bespoke menus from HIX and Hawksmoor Knightsbridge. There's a nine hole course to work around with loops, hidden putts and elevated drops.
The Vaults, London SE1 7AD // Wednesday 11th – Sunday 20th December, from 2pm // From £9
A disco paradise on the Old Street roundabout
It's a freaking party on Old Street roundabout! This is the Kickstarter project from the dude behind Burger Bear, Tom Reany, who wanted to create a burger joint that doubles up as a 'disco paradise'. SOLD. Get stuffed with Burger Bear's famous Bacon Jam and Norweigan King Crab from Prawnogprahy (don't be tempted to knock down the giant pink mascot). It's open every day, so you can drop in from 7am and grab an espresso from Relax to help you get your buzz back, then again after work before the beats kick in and party really starts. Honk if you're feeling lucky.
Opens 12th June // 7am-11pm // Free entry