With the cold weather settling in and no summer dresses/speedos to slim down for, BarChick has been enjoying some of the AMAZING winter food that's been going around. Ok, so usually eating is cheating but with food this good, alongside all the hot drinks and delicious punch bowls about, it would have been rude not to check them out… right?
Pop Ups
Sake & Kurobuta Canapés Night (24th Feburary )
We've already given this place a lot of love and this event sounds right up our street. They've got head guy from the Hayashi Honten brewery in Japan over to talk Sake, give you a tasting of five of his favourites and generally entertain. On the food side of things will be Kurobuta chef Scott Hallsworth, he's ex-nobu and killing it… this place was only meant to be a 3 month pop up and it's still going strong. Some of the canapés in store will be Squid Kara-Age with Jalapeno Dipping Sauce, BBQ Pork Belly in Steamed Buns with Spicy Peanut Soy, Tea Smoked Lamb with Smokey Nasu and Spicy Korean Miso. We'll see you there.
251 King's Road, London SW3 5EL // 7- 9pm // Email Alice at Kurobuta for bookings: manager@kurobuta-london.com
Platterform's Sea Adventure Series (16th Jan – 1st April)
Bringing a 13 week seafood extravaganza to the top of London Fields are the guys behind Platterform. This pop-up will be divided into two week chapters that will see some of the best seafood dishes from the best of 'em. Kicking things off are the in-house team with chowders, pickled salmon and fish and chips. The following weeks will see the Yorkston Smokehouse, Ayam Legend, Vinn Goute and The Foragers behind the wheel. For £30 you will get a four course meal and an after dinner drink. There's also gonna be a Shanty Shack with rum rations, craft beers and surprises. Oh and if you're not so into the food you can just hit the bar for snacks and shots. BarChick will be there.
274 Richmond Road, London, E8 3QW // Time slots for each night are as follows: 7pm, 7.30pm, 8.30pm, 9pm // Get tickets here
Peters & Co Gin Palace (Feb – July)
F Cook's Pie and Mash Shop on Broadway Market is one to watch for pop-ups. It does exactly what the sign reads in the day and transforms itself in the night. This time around it's the turn of a Gin Palace. Peter's & Co are bringing 30 of their finest gins, cocktails, local craft beer, English wine and homemade cordials to this East End institution. Reckon you'll get peckish? They'll be food boards of local cheeses, charcuterie, Peters & Co gin & juniper home-smoked salmon and pudding!
Thurs –Saturdays 7pm till late
F. Cooke, 9 Broadway Market, London E8 4PH // Thurs –Saturdays 7pm till late
Smoke'n'Roll at The Black Heart
BarChick came across The Black Heart pub only last year and oh what a find it was…. You want craft beers, slush puppies and live music? They've got it. They also have rotating chefs in the kitchen and this time they've got in the guys from Smoke'n'Roll who do a LOT of smokin'. Meat, fish, veg, you name it and they smoke it with hickory, alder, cherry, apple and mesquite wood. Grab a lunch to go or settle in and check out their awesome beer selection while you're at it!
The Black Heart, 2-3 Greenland Place, NW1 0AP // 7 days a week, Friday from 3pm – Sat & Sun from 12 noon
Kurobuta  15th Jan – TBC
If a Japanese pub sounds like your kinda boozer then you're going to love this place. It's a preview to The Kurobuta that is set to open in Marble Arch from Scott Hallsworth (ex Nobu and Wabi). There's a whole load of Japanese pastries, Monmouth Coffee, flamed endamame beans, killer sashimi, BBQ pork belly in steamed buns and tea-smoked lamb. The cocktails are what to get stuck into though, go for their range of sake based concoctions or the Kirin Frozen Head beer that comes ice-chilled and topped with a frozen head of foam. Try THAT.
251 Kings Road, London, SW6 2EB
Tommi's Burgers at The Princess of Wales (Thursday 16th January and every third Thursday of the month)
The Icelandic burger masters, Tommi's Burger are rocking up on the third Thursday of every month to do their thing at The Princess of Wales in Primrose Hill. On the menu will be their usual range of simple and delicious burgers, with fries and sides.  All this in the comfort of this BarChick's great little local boozer. Don't miss it.
Burger, fries and a skinny cocktail for £14.
22 Chalcot Rd, London NW1 8LL
Churchill's Port House (7th November – 22nd February 2014)
Christmas and port, it's a match made in heaven. Luckily for you, Max Graham, son of the founder John has opened up a pop-up in Soho until the end of February. He's taken over a three floor house on Greek Street and filled it with his delicious port as well as some tasty tapas. The first floor is white and where you want to be if you really want to learn, the second floor is where you'll find the chefs at work (lend a hand if you want) and the top floor is dark and calling out for a candlelight session with mates. The port is white or red and can be tried in flights if you're a real enthusiast. Eat tapas alongside the good stuff: spicy chorizo, chilli and garlic prawns, foie gras as well as some delicious puddings. Perfect winter evening.
12pm – 12am Thurs, Fri and Sat. 26 Greek Street, W1D 5DE 
Purl at The Bedford (27 April 2014)
Hot cocktail joint Purl is taking things down to Balham to show south Londoners exactly how hot their cocktail making skills are. On the menu will be a some of the bar's Forgotten Purls, a range of some of their most popular cocktails they have had in their time. Tweet them if you want one of your favourite (Purl) cocktails on the list!
77 Bedford Hill, Balham, SW12 9HD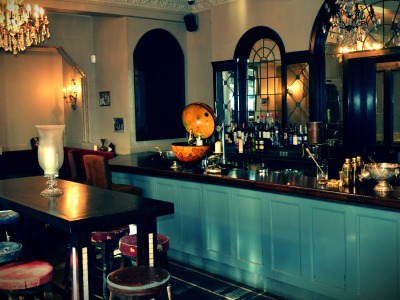 Stew House at the Dolls House (until Spring)
To take you from Winter to Spring is one of our favourite comfort foods. Check things out at The Stew House (where they'll be shacked up at The Dolls House) and get stuck into their seasonal starters, big bowls of steaming stew and pudding if you've got the room…
The Dolls House, 35 Hoxton Square, London, N1 6NN
Mussel Men (27th Nov – Spring)
We've loved these guys for a while and now they're settling their shellfish in for the winter. They've got the usual mega deal of £45 for two to share 1 kilo of Shetland mussels and frites, 1 bottle of prosecco, two waffles with chocolate cream and fruit compote. They'll be introducing a Saturday brunch with the likes of kedgeree, kippers and eggs royal. Oh and London's first seafood roast! With big plates of sustainably sourced fresh fish, cocktails and some more cocktails. With a 2am licence at the weekend, we'll see you there!
428 Kingsland Road, Dalston, London, E8 4AA
WigWamBam The Eastern Lights @ The Queen Of Hoxton (October 2013 – March 2014)
Want some of that Northern Lights vibe without having to leave the country? This roof top tipi has got you covered. Think Alaskan settlement meets Nordic tribe… and if you're having trouble then think deer hide, candlelit lanterns, indigenous wall hangings and a roaring flaming grill in the middle. This is the spot to hit for grub too: wild boar burgers with forest fruit chutney, leg of lamb with rosemary and garlic stuffing and hot smoked salmon and dill burgers. We'll be there for the Hot Gin Punch and Hot Buttered Rum… just don't forget to get your toasted marshmallows on.
1-5 Curtain Road, London, EC2A 3JX // Open Monday – Saturday 5pm – 10pm and Sundays during event times