Pop ups are still a thing. Here are London's hottest temporary fixtures for booze, food and weird and wonderful events. Hit 'em or miss 'em, you decide.
Booze Pop Ups
This 1920s-inspired bar has popped up in Reece 79 hair salon in Clapham for some high-quality, central London bar atmos that SW is somewhat lacking. They'll be serving up imaginative cocktails alongside some live 20's-style tunes from the piano for some killer old school speakeasy vibes.
79 Abbeville Road, Clapham, London SW4 9JN // From 21st March
One of our fave rum companies, The Duppy Share, are rocking a brand new event to bring you four of the newest distils in the industry for a night of boozing, eating and live music sessions. They've got street food, amazing spirits and tunes to take you through a banging night in W10.
Maxilla Hall Social Club, Notting Hill, London W10 6NQ // Every second Thursday from 12th March, from 6pm, tickets £10 incl. your first drink
Food Pop Ups
This is all about American flavours thanks to Disappearing Dining Club and Woodford Reserve. They've worked together to make the ultimate all-American four-course menu with matching cocktails, authentic dishes and plenty of bourbon. Get on it.
Mystery location in Hoxton // Friday 17th and Saturday 18th April // Tickets £45 here
What's better than cakes, cheese and chocolate bars? Deep-fried cakes, cheese and chocolate bars, that's what. This pop-up of battered glory is down to London Mess and Miss Cakehead who will be sending all kindsa food to their oily death all in the name of Easter dinner. This is not for those sugar-free raw food eaters, this six person feast will be clogging up your arteries with deep fried lamb joints, roast potatoes and veggies too. Go FryHard or go home.
Box Park, 2 Bethnal Green Road, London E1 6GY // Thurs 2nd April – Sunday 3rd April, 11am – 7pm  
Last Sipper: Easter Sunday Lunch
Dram & Smoke's Scottish winter pop up is so over and they've moved on for some Easter lovin' with Brewdog for a one-off Sunday lunch. Their six-course menu will include Scottish delights such as haggis and beer-battered Mars bars and will be paired with six Brewdog beers for all kindsa goodness of booze and fatty grub. Fill you face then hang around for some more booze.
The Doodle Bar, 33 Parkgate Road, London SW11 4NP // Sunday 29th March, 11:30am – 1:30pm or 2:30pm – 4:30pm // Tickets £22 here
Because things in buses are totally becoming a thing, why the hell not chuck a wood fire oven and a cocktail, beer and wine bar on the bottom deck? Add a DJ booth on the top deck, park it in Peckham and you've got yourself a pizza place and boozy bar in an old bus from the 80s.
The Brick Brewery, Blenheim Grove, Peckham, London SE15 4QL // Weekends from 6th February – April, 5pm – 9pm
The Art of Dining presents Abigail's Party!
Looking for some 70's inspired dining with some theatre, music and set design thrown into the funky mix? Well look no further! Expect no end of lava lamps, shag-pile, beige and retro boozing. The food will be classic 70's but with a twist so it's not all cheese and pineapple on cocktail sticks, and the drinks will keep you going til it's 2015 again. Grab your flares on go get some. Get your tickets here!
The Rose Lipman Building, 43 De Beauvoir Road, London, N1 5SQ // Weds, Thurs, Fri & Sat from 11th March – 4th April, 7:30pm – 11pm
The Mac Factory Pop Up at Earlham Street Clubhouse
Mac & cheese connoisseurs The Mac Factory and preppy hangout Earlham Street Clubhouse have teamed up to bring you the ultimate foodie pop-up. We're talking gourmet mac'n'cheese with insane combos like slow confit pork belly, truffle oil and parmesan and thyme crumble. BOOM. While you're munching on your mac, the Clubhouse's Soul Shakers will be mixing up a special menu of cocktails like Mac Shack, Return of the Mac and any other cocktails that they can put the word 'mac' into.
35 Earlham Street, Covent Garden, London WC2H 9LD // 14th, 21st, 28th March and 11th April, 12pm – 6pm, call 020 7240 5142 to book
Veggies, this one's for you. The Moveable Feast is rocking four start up vegetarian and vegan food purveyors changing on the reg to feed you all your veggie, vegan goodness as well as an Independent coffee roaster. If you're a hardcore carnivore then there's not much here for you unless you're willing to go meat-free for one meal. Challenge.
21-27 St Thomas Street, London SE1 9RY // 9th March – September 2015
White Men Can't Jerk's Tropical Takeover
Cheeky pop up White Men Can't Jerk are back with their banging blend of Caribbean food, epic parties and good vibes. Hit Bethnal Green, get your hands on Jerk Pork Rolls and Curried Mutton Shepherd's Pie and get rollin' to rare groove and disco beats.
The Star of Bethnal Green, London E2 6LG
Always wanted a million different options between grains, toppings and milks used in your porridge? Who hasn't, right? Well the Porridge Café in Shoreditch – where else – is rocking a daily-changing menu of the stuff with a load of different sh*t to chuck on it like bacon, pear, poached egg… Porridge fans, unite.
70 Paul Street, London EC2A 4NA // 2nd March – TBC 
Wingman's Chicken Wings Residency
Just "three bros making Korean Fried Chicken" at The Star by Hackney Downs, expect seriously next level wings, chicken and even something for the veggies.
The Star by Hackney Downs, 35 Queensdown Road, E5 8NN // Mon – Fri 6pm – 10pm, Sat 12pm – 10pm
The Wandering Chef at The Little Yellow Door
An eccentric concept that's based around a houseshare between five totally different housemates – all fictional, obv – they've got handwritten menus on the back of magazines, regulars who've got their hands on their very own key and cocktails based on the flatmates' favourite telly. Be sure to pop over find yourself with The Wandering Chef and the ultimate dinner party.
The Little Yellow Door, 68 Notting Hill Gate, W11 3HT // Fridays 6pm – 1am
Say goodbye to freezing outside eating, Street Feast is taking your indoors! With the finest selection of traders like Bleecker St Burger, Hanoi Kitchen, Yum, Bun, Bob's Lobster, Dogtown, Rola Wala and Busan BBQ you won't leave hungry. They've also got six bars serving up craft beers, hot cocktails and even on with a whisky roulette where you could win a dram worth £40! This is bound to be ten weeks of great food, banging booze and partying.
260 Kingsland Road, London E8 4DG // 5pm – 12am every Fri & Sat from 30th January until 4th April, £4 entry after 7pm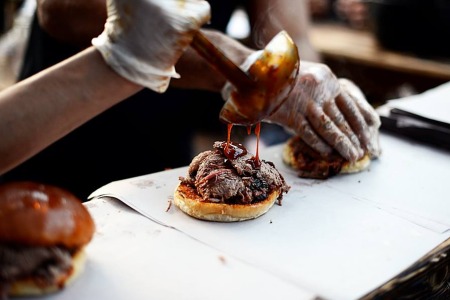 Smoke'n'Roll at The Black Heart
BarChick came across The Black Heart pub only last year and oh what a find it was…. You want craft beers, slush puppies and live music? They've got it. They also have rotating chefs in the kitchen and this time they've got in the guys from Smoke'n'Roll who do a LOT of smokin'. Meat, fish, veg, you name it and they smoke it with hickory, alder, cherry, apple and mesquite wood. Grab a lunch to go or settle in and check out their awesome beer selection while you're at it!
The Black Heart, 2-3 Greenland Place, NW1 0AP // 7 days a week, Friday from 3pm – Sat & Sun from 12 noon
Weird, Wonderful or a Bit of Everything Pop Ups
Y'know cinemas pop up now, right? Well this travelling big screen sitch is popping up at the Lexi Cinema for a showing of Blade Runner and the Hoxton Hotel for Napoleon Dynamite. Don't get too excited about Blade Runner, it's sold out but Napoleon Dynamite still has stuff to give so get involved. All profits go to The Sustainability Institute, an environmental and education charity in South Africa, so go and watch a movie for a good cause…
81 Great Eastern Street, Shoreditch, London EC2A 3HU // Sunday 26th April, 5pm // Tickets £12 here 
Who'd have guessed the party was in Lewisham these days? After a banging summer last year, Model Market has headed back to SE13 for street food, drinking dancing and great vibes. They've got six bars with craft beer and killer cocktails on tap and 10 micro diners with brownies and hotdogs for days. This is perfect for whiling the summer nights away.
196 Lewisham High Street, Lewisham, London SE13 6LS // 17th April – 25th September, 5pm – 1am
The Rhythm Parlour in Peckham's Bussey Building
Want some beard trimming disco bliss action? Who doesn't, right? Well this monthly pop up barbour shop The Rhythm Parlour is tucked away inside the Bussey Building just waiting for you to turn up, get your name down, get involved in the Vietnamese street food on offer and grab a cocktail. Follicle-trimming's never been so good.
133 Rye Lane, Peckham, London SE15 4ST // Tues – Sun, 12pm – 10pm
Redemption Alcohol-Free Bar & Restaurant
Loved Dry January and fancy giving the sober life a crack? Don't panic because Redemption is here. In partnership with the Cancer Research UK Dryathlon Campaign, you can get your hands on mocktails & raw food aplenty to ease the guilt of 2014.
Fairly Square, 51 Red Lion Street, Holborn, WC1R 4PF // Daily until 31st January then Sundays and Mondays thereafter, 12pm – 11pm