Pop-ups are still a thing. Here are London's hottest temporary fixtures. Hit it or miss it, you decide.
Pop Ups
Never got a drinking buddy or no luck pulling birds? Well Annie the Owl and her pals – including a goddamn beauty pageant owl – are flapping about in Soho for a week at their very own pop up cocktail bar. You have to enter to get the chance to booze with Annie and her mates so get clicking! All proceeds go to The Barn Owl Centre charity so you'll be raising cash for good as well as hitting the booze and making some flighty pals. It's bound to be a hoot! (Sorry…)
Location to be revealed to lucky winners // 18th – 25th March, 8pm – 2am, £20 includes 2 cocktails and some owl fun
Got a hankering for fried chicken and sour cocktails? Who hasn't, right?! Well you're in luck over at Chicks 'n' Sours. As well as some great bird and booze, they've got soft serve ice cream with some, erm, experimental flavours like Weetabix or Miso, and a selection of local beers and Chase Farm cider. With some tunes in the background, this has got everything you're gonna need.
390 Kingsland Road, London E8 2AA // From 17th April
White Men Can't Jerk's Tropical Takeover
Cheeky pop up White Men Can't Jerk are back with their banging blend of Caribbean food, epic parties and good vibes. Hit Bethnal Green, get your hands on Jerk Pork Rolls and Curried Mutton Shepherd's Pie and get rollin' to rare groove and disco beats.
The Star of Bethnal Green, London E2 6LG
The Rhythm Parlour in Peckham's Bussey Building
Want some beard trimming disco bliss action? Who doesn't, right? Well this monthly pop up barbour shop The Rhythm Parlour is tucked away inside the Bussey Building just waiting for you to turn up, get your name down, get involved in the Vietnamese street food on offer and grab a cocktail. Follicle-trimming's never been so good.
133 Rye Lane, Peckham, London SE15 4ST // Tues – Sun, 12pm – 10pm
One of our fave rum companies, The Duppy Share, are rocking a brand new event to bring you four of the newest distils in the industry for a night of boozing, eating and live music sessions. They've got street food, amazing spirits and tunes to take you through a banging night in W10.
Maxilla Hall Social Club, Notting Hill, London W10 6NQ // Every 2nd Thursday from 12th March, from 6pm, tickets £10 incl. your first drink
The Art of Dining presents Abigail's Party!
Looking for some 70's inspired dining with some theatre, music and set design thrown into the funky mix? Well look no further! Expect no end of lava lamps, shag-pile, beige and retro boozing. The food will be classic 70's but with a twist so it's not all cheese and pineapple on cocktail sticks, and the drinks will keep you going til it's 2015 again. Grab your flares on go get some. Get your tickets here!
The Rose Lipman Building, 43 De Beauvoir Road, London, N1 5SQ // Weds, Thurs, Fri & Sat from 11th March – 4th April, 7:30pm – 11pm
Curl's Best Friend: Pop Up Parlour
Them clever gals at Benefit are totally over the eyelash curlers and all about their brand spanking new mascara, Roller Lash. Don't just take our word for it, get to their three storey curl and cocktail bar, hit the booze and get a lashy makeover. FYI there's a secret floor right at the very top which is pretty damn sexy, it's the Noir Bar and it's got sultry cocktails aplenty. Want in? Call 020 3620 4747 or get their snazzy app (Android here and iPhone here).
26 Greek Street, Soho, London W1D // 27th February – end of March, 11am – 11pm (Noir Bar from 7pm)
Street food heroes KERB are rocking a new project in an old mirror factory, natch. With booze, music and heaps of epic food from Fundi, Bleecker Burger, Crabbieshack, Miss P's BBQ, Kimchinary and You Doughnut, you're gonna leave full and happy, we promise.
105 Monier Road, London E3 2PS // Fridays & Saturdays til March 2015, free entry
The 70′s gave birth to some seriously groovy stuff; flares, platform boots, disco balls… And now Christbels is taking inspo from the funky era to rock glitter cocktails, small bites and disco. Tickets are £45 and include four cocktails, a shot and six small bites. Get 'em here!
A Secret N1 Location // Fri 20th February, 7pm – 10pm
The Stevedores at The Pickle Factory
New pop up craft beer and whiskey bar The Stevedore is setting up shop in E2 for six weeks of booze, smoked and grilled food and live music. With a rotation of breweries, there'll be something different to try every time you pop in.
The Pickle Factory, 13-14 The Oval, Bethnal Green, London E2 9DU // Daily from Weds 4th February – Tues 10th March, 6pm – 12am
Not long since launching their latest restaurant in Knightbridge's Whole Foods, Bone Daddies are back in Soho with a brand spanking new pop up. In an Old Compton Street spot, the menu will be taking advantage of the on site pizza oven…
14A Old Compton Street, London W1D 4TH 
Craft beers are so hot right now. Good job Bermondsey's own craft beer company is setting up shop at the Love and Scandal coffee shop and serving up small batch beers from around the world. With tasters changing on the reg this is definitely one to hit for an after-work sesh.
Love and Scandal, 107 Lower Marsh, London SE1 7AB // 6pm – 11pm, Thurs & Fri from 29th February
Say goodbye to freezing outside eating, Street Feast is taking your indoors! With the finest selection of traders like Bleecker St Burger, Hanoi Kitchen, Yum, Bun, Bob's Lobster, Dogtown, Rola Wala and Busan BBQ you won't leave hungry. They've also got six bars serving up craft beers, hot cocktails and even on with a whisky roulette where you could win a dram worth £40! This is bound to be ten weeks of great food, banging booze and partying.
260 Kingsland Road, London E8 4DG // 5pm – 12am every Fri & Sat from 30th January until 4th April, £4 entry after 7pm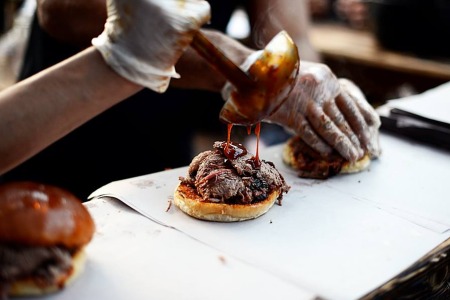 Focusing on high quality, locally sourced food, the five course tasting menu at Beehive changes every weekend and is served alongside a cocktail, craft beer and wine bar. They've got disco, hip hop and funk DJ's on from 10pm too so you'll never want to leave…
Beehive Place, Brixton, London SW9 // Every Fri & Sat until March
The Wandering Chef at The Little Yellow Door
An eccentric concept that's based around a houseshare between five totally different housemates – all fictional, obv – they've got handwritten menus on the back of magazines, regulars who've got their hands on their very own key and cocktails based on the flatmates' favourite telly. Be sure to pop over find yourself with The Wandering Chef and the ultimate dinner party.
The Little Yellow Door, 68 Notting Hill Gate, W11 3HT // Fridays 6pm – 1am
The Bell & Brisket's Salt Beef Residency
If you've been lucky enough to get your hands on some of The Bell & Brisket's salt beef at Kerb or Street Feast, then you'll know what it's all about. Out of this world delicious, get your chance to grab a taste, as well as getting dessert from Toastess who's whipping up kindsa tasty indulgent French toast, before it's gone!
The Grafton, Prince of Wales Road, NW5 3LG // Daily from 21st January for four weeks, 12pm – 10pm
Wingman's Chicken Wings Residency
Just "three bros making Korean Fried Chicken" at The Star by Hackney Downs, expect seriously next level wings, chicken and even something for the veggies.
The Star by Hackney Downs, 35 Queensdown Road, E5 8NN // Mon – Fri 6pm – 10pm, Sat 12pm – 10pm
Redemption Alcohol-Free Bar & Restaurant
Hit it a little too hard over the Christmas period or just giving Dry January a crack? Don't panic because Redemption is here. In partnership with the Cancer Research UK Dryathlon Campaign, you can get your hands on mocktails & raw food aplenty to ease the guilt of 2014.
Fairly Square, 51 Red Lion Street, Holborn, WC1R 4PF // Daily until 31st January then Sundays and Mondays thereafter, 12pm – 11pm
Just because it's goddamn freezing outside doesn't mean you have to say goodbye to the al fresco rooftops. Valhalla Vodka Bar's chocked full of heaters, sheepskin throws as well as the all-important mulled wine and vodka to warm those cockles. Overlooking Tower Bridge, The Shard and The Gherkin, it's the perfect place to grab that awesome view whilst keeping cosy and boozy.
Skylounge, 7 Pepys Street, EC3N 4AF // Weds – Sun until the end of February
CÎROC Vodka's Winter Pop Up Bar
Nothing makes those first few weeks of the new year go quicker than cocktails so CÎROC Vodka's Winter Pop Up Bar is perfect for some cosy boozy indulgence. Think furs and blankets under outdoor heaters, drinking exclusive vodka cocktails and staring up at the stars.
The Parlour, The Park Pavillion, Canary Wharf, 40 Canada Square, E14 5FW // Weds – Fri 4pm – 8pm, until the end of February
Le Chalet Pop Up on Selfridge's Rooftop
The perfect wintry retreat above the rooftops of Oxford Street, Le Chalet's cosy log cabin, hot chocolate cocktail bar and amazing Alpine-inspired BBQ grub will help you fend off the chill. The vibe is intimate and relaxed, focusing on great food, booze and a laidback atmos. Cosy up in their log cabin and wait for Spring to call… FYI, these things get busy so consider booking ahead.
Selfridges Rooftop, 400 Oxford Street, W1A 1AB // Daily until late February, Mon – Tues 11am – 9pm, Weds – Sat 11am – 11pm, Sun 12pm – 6pm
The Tasting Room at Broadgate Ice Rink
Brought to you by seasonal specialists Sourced Market, Peppermint Bars and Smokestak, you can expect authentic street food like pulled pork buns and beef brisket and doughnuts for dessert. On the booze side, they've got craft beers, winter cocktails, bourbon and signature wines, and all of this is alongside London's longest running outdoor ice rink. Such winter chic!
Broadgate Ice Rink, Exchange SquareEC2A 2BQ // Until 26th February
Forza Win's Marco's Meatball Pop Up
Some Italian maschio called Marco is about to blow Mamma's meatballs outta the kitchen. Think 1980s Mafia hangout chic – that's totally a thing – all red chequered tablecloths, black and white prints and low lighting, but most importantly, the authentic taste of Sicily's tastiest meatballs all served up around Waterloo.
The Vaults, Waterloo, SE1 7AD // From Weds 28th January – Sun 8th March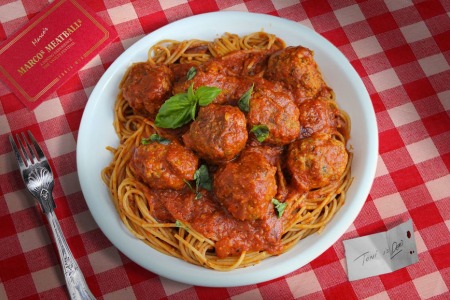 Smoke'n'Roll at The Black Heart
BarChick came across The Black Heart pub only last year and oh what a find it was…. You want craft beers, slush puppies and live music? They've got it. They also have rotating chefs in the kitchen and this time they've got in the guys from Smoke'n'Roll who do a LOT of smokin'. Meat, fish, veg, you name it and they smoke it with hickory, alder, cherry, apple and mesquite wood. Grab a lunch to go or settle in and check out their awesome beer selection while you're at it!
The Black Heart, 2-3 Greenland Place, NW1 0AP // 7 days a week, Friday from 3pm – Sat & Sun from 12 noon