Pop ups are still a thing, but only if you're going to the best.  Here are London's hottest temporary fixtures for booze, food and other weird and wonderful residencies going on in the city this month.
THE BIG BOYS
A Goddamn Edible Gingerbread Bar
Not only is Christmas coming but so is this motherf*cking gingerbread house bar. Yes, you can eat the bar, yes it's on the rooftop at Queen of Hoxton, yes it's in a wigwam. Total Hansel and Gretel vibes, they've got some kinda magical forest going on and lists of some killer winter cocktails like Hot Toddys and Buttered Rum. Christmas has come early, yo!
1-5 Curtain Road, London EC2A 3JX // From 22nd October – end of March 2016
South London Apres-Ski Boozing 
Taking over where Jimmy's Secret Garden took off, The Lodge has left the snowy (-ish) streets of Balham to the (not so) frosty pavements of Clapham North to keep SW9-ers toasty during those winter nights. That's right, it's about time you stopped living in denial, forgot those words 'Indian Summer' and got to this cosy spot for some sharing fondue alongside buckets of Jamaican Hot Toddies and Baked Alaska Buttered Rums as you gaze out over the (flat, paved) mountains of South London. The perfect après-ski lodge sans ski… Don't pack your goggles and snowboard just yet, you're gonna need to book ahead because last year's alpine alcove was chocked full of festive boozers.
409 Clapham Road, London SW9 9BT // From 8th October
FOR BOOZE HOUNDS
Bompas & Parr's Alcoholic Architecture
A Walk in a Cocktail Cloud
From 30th July, for 6 months, a cocktail cloud is gonna hit Borough Market – it's an alcoholic weather system where meteorology and mixology collide. Yeah.  Basically it mixes up some badass cocktails and creates a 'fully immersive' environment where the booze seeps in through your nose, eyes and in to your lungs so it hits your blood stream pronto. You'll have to don a sexy suit and there'll be sh*t loads (140 percent) of alcohol in the air that you won't be able to see more than a meter in front of your face.
Hour slots start from £10.00 off peak. Get tickets HERE. 
From 30th July 2015  // 1 Cathedral Street, Borough Market, SE1 9DE
West Side Rooftop Boozing
Ever wondered what you could get up to on top of the old BBC rooftop car park at TVC? Probably not but trust us, you want in because this is taking car park partying to the next level. With some amazing panoramic views of the city, this pop up has got a rotating line of dynamic street food traders serving up everything from crab burgers to buffalo wings to keep that stomach lined. Alongside whole cocktail menus dedicated to rum and Bloody Marys, this White City temporary hangout is where it's at.
Television Centre, Wood Lane, London W12 7RJ // Until mid-October
A tiki rum rooftop bar
The food 'arena' pop up isn't just about bringing together awesome street feast vendors, you know. Dinerama has a huge rooftop terrace that's definitely worthy of a night out. Start at The Pavilion Bar on Shoreditch Lawn is for sharing punch bowls and as many summer spritzers as you can shake a stick at. Next, head to The Baja-Marama Bar for refreshing tequila slushies (haven't had one yet? Here's why you should be drinking them) and Chillibacks before heading up to The Rum Rooftop Bar. This place rocks tiki bar vibes like no other – name any colour and they'll do it in a cocktail. We say go rainbow.
19 Great Eastern Street, Shoreditch, London, EC2A 3EJ
The Tick Tack Club 
Rumour has it that Londoners are soon to be bequeathed another period-themed pop-up. Where will we transported to this time? 1920s Edwardian society gambling den via an old Edwardian wallpaper printing shop: upstairs will be all art deco and silver-plated high society and downstairs will boast grittiness and low-brow gambling antics. Whether you fancy cocktails on trays or no fuss ale spilling on wood, you're sorted. We hear that there'll even be a piano for crooners. Cole Porter, cocktails and chain-smoking anyone? Grand.
Unit 3, 8 Holyrood Street, SE1 2EL // From 5th November 2015
For just a couple of days of illicit debauchery, these pop up babes wanna take you to 1870s San Francisco where hidden opium bars went on to become the city's Chinatown. Named after the most notorious, the Blue Lotus could be found behind a Chinese laundry that dished out everything from booze to prostitutes to dope. At this pop up you can get your fill of spice-infused cocktails, dim sum and live tunes downstairs at Carousel. Get involved!
71 Blandford Street, Marylebone, London W1U 8AB // Wednesday 30th September – Saturday 3rd October // 7pm – late
Miami paradise on the Southbank
Thought you had to leave the city to find a beach in London? You're wrong! Grab your sunnies and something skimpy and head towards the light – a giant, bright pink neon sign – at this pop up kitchen and bar to order a round of Piña Colada's served in fresh pineapples. These guys have got all your summer booze cravings sorted, from tropical Cîroc serves to the pre-bottled goodness from the guys at Craft Cocktail Company in Bethnal Green. Hungry? Join the queue round the side for Mediterranean feasts including dips, mezze and salads – we recommend slow roast lamb shoulder with shawarma spices. F*ck expensive holidays, get your suntan and sexy instagram pictures here.
Queen's Walk, More London, London, SE1 2DB
A summer of hot tubs and tiki bars
The last time this pop up took place 2,000 people rocked up and road blocked the street! We're all over it. The chicks behind The Wick have hosted areas at Glasto, Burning Man and Secret Garden  Party (yup, they know their sh*t) and this urban east London festival is just as banging. Grab a slice from Pizza Surgery or get stuck in at Danger Dogs Hotdogs and shop around at the huge outdoor market where you can buy tonnes of vintage clothes and cool stuff for your house. More important, though, a beach has been created in the space, complete with the king of all summer boozers; a tiki bar. There are hot tubs too. Time to get your kit off.
The Old Baths, Cre-8 Centre, 80 Eastway, E9 5JH // Every Sunday from 3rd May – 25th October, midday-11pm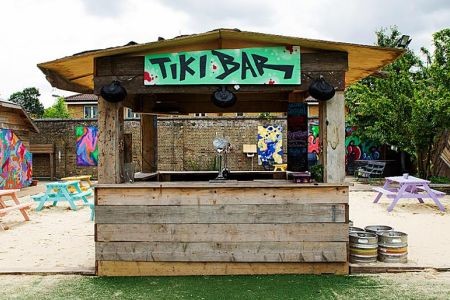 Peanut butter & jam hardshakes
This oasis in the middle of central London feels like a little relaxation retreat. But with booze. Grab some space on the scattered floor cushions and start the night by ordering a PBJ hard shake – the hard bit's bourbon, baby. Hungry? Show the punters what you're made of and go for the giant pulled pork and cheddar 'manwich'. Wash all that down with something refreshing from the cocktail menu, like a Lady Garden (don't worry, tastes of strawberry's) or a glass from the wine menu – they do 'Nice', 'Nicer' and 'Nicest' bottles of red and white, cutting the sh*t out of trying to order fancy. We like their style.
Open until September // 535 Oxford Street, W1C 2QW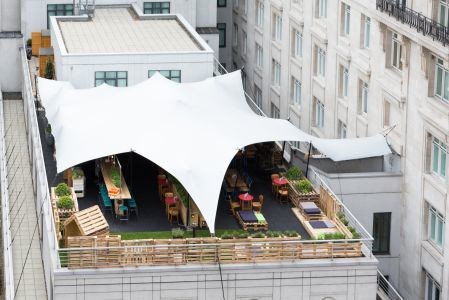 Spritzers for a fiver!
Go explore behind Bow Lane and you'll find sexy winding alleyways like something out of a Dicken's book. Follow them away from the madness of the main road and you'll reach Merchant House, where this cosy spritz pop-up is serving £5 drinks all summer from midday – now that's what we call a liquid lunch! Fill yer boots with Aperol Spritzs and Negronis and party under the red umbrellas all night.
From 2nd June Tues-Fri Midday-sundown // 13 Well Court, Off Bow Lane, EC4M 9DN
Clapham's sexy speakeasy 
This 1920s-inspired bar has popped up in Reece 79 hair salon in Clapham, filling the cool London bar void previously present within the area. Expect imaginative cocktails and live 20's-style piano playing, which can only lead to regrettable dancing and hilarious times. A proper speakeasy.
79 Abbeville Road, Clapham, London SW4 9JN // Last Saturday of every month from 21st March
FOR FOODIES
This fry truck will be checking into Broadgate Circle before it permanently parks in Covent Garden, so get to feasting before the restaurant gets rammed. Topped fries will run the gamut from truffle & parmesan to steak & stilton…cue salivation. Think one part vintage airline lounge two parts triple-cooked deliciousness.
Exchange Square, London EC2M 3TY // Wednesday 23rd – Thursday 24th September & (event postponed due to electrical issues) further dates in October to be announced 
Give peace a chance at this pop up that's all about charity. International Alert wanna get you celebrating the great food of wartorn countries like Syria, Nepal and Colombia and hopefully get everyone cahtting about conflicts worldwide and how we can help. Sounds easy to us. Chefs from Rajiv's Kitchen and Honey & Co will be cooking up a storm so get involved and get talking.
House of VANS, Arches 228-232, Station Approach Road, London SE1 8SW // Wednesday 9th September – Saturday 3rd October
Rooftop feasts in the City
Pan-Indian joint is sacking off Soho after a fire on Wardour Street and upping their game (literally) at a sky high pop-up on the One New Change rooftop in St Paul's. Go check out views of the cathedral and panoramic east London sights while munching down a plate of chicken winglet lollipops.
Rooftop Terrace, 1 New Change, St Paul's, London, EC4M 9AF
Fusion feasts
Any place that serves a 'snack' course is a place you'll find a BarChick. They keep business in the family at Sabel, where the head chef (who's worked with Ottolenghi and Simon Rogan, to name a few) takes inspiration from travelling all over the world and puts it straight back into his feasts. Book tickets for the pop up at Palm2, running all summer, where you'll be greeted with a super fresh Rose and Gin Rickey when you arrive and served all kinds of fusion food, including glazed pork belly and crackling crumble. Immense.
From 12th June // 152-156 Lower Clapton Road, E5 0QJ // Tickets £35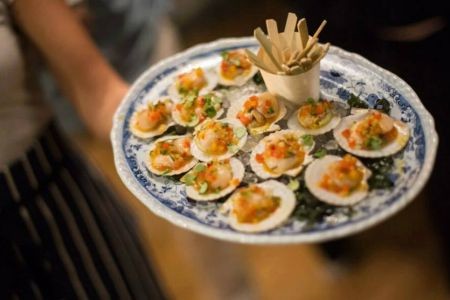 Smoke 'n' Roll residency at The Dissenting Academy pub
Wanna smoke?
Smoke 'n' Roll have left their residency at The Black Heart while the pub refurbishes, but don't panic – they're moving to not one but two new kitchens to get their BBQ on. Head to The Dissenting Academy in Mildmay Park or The Elderfield in Clapton and get meat, fish, veg – you name it and they smoke it with hickory, alder, cherry, apple and mesquite wood. These italian boys use a combination of flavours inspired by their heritage and authentic Louisiana style barbecuing and are open everyday. They'll put your disposable tin foil nonsense to shame.
The Dissenting Academy, 92 Mildmay Park, London N1 4PR // The Elderfield, 57 Elderfield Rd, Lower Clapton, London E5 0LF
Weird, Wonderful and a Bit of Everything Pop Ups
A disco paradise on the Old Street roundabout
It's a freaking party on Old Street roundabout! This is the Kickstarter project from the dude behind Burger Bear, Tom Reany, who wanted to create a burger joint that doubles up as a 'disco paradise'. SOLD. Get stuffed with Burger Bear's famous Bacon Jam and Norweigan King Crab from Prawnogprahy (don't be tempted to knock down the giant pink mascot). It's open every day, so you can drop in from 7am and grab an espresso from Relax to help you get your buzz back, then again after work before the beats kick in and party really starts. Honk if you're feeling lucky.
Opens 12th June // 7am-11pm // Free entry
Bubbles
Lovely jubbly, lovely bubbly, there's a Champagne bath bar coming to Shoreditch and it's not skimping on the rose petals, bath bombs or booze. There will even be butlers available on site to cater to all of your whims. Extra large bathtubs will be available for two or three to share for those who will be feeling, erm, adventurous. The fully-clothed will be welcomed with flutes as well. Email bubbles@frankpr.it with your name and contact details if you're keen on getting soaking wet. Eyyyy.
Arch 406, Long Street, Shoreditch, London E2 8HG // Wednesday 7th – Thursday 8th October 
Things were getting a bit too easy for us with pop ups like an owl Bar, Tiki spots and movies in a hot tub, it's about time we did some hard work for our booze. Bring on Hammerschlagen, the bar that wants you to hammer nails into a tree trunk in as few hits as possible in exchange for a cheaper bar tab. All you've gotta do is beat the bartender's number of nail whacks and your bill is cut down. Sure.
79 Stoke Newington Road, London N16 8AD // Thursday 1st – Saturday 31st October
The Owls Are Not What They Seem
Lynchian heaven 
If you've never watched Twin Peaks, you're missing out on one of the most awesome television series you will ever watch in life. Brought to you by the pop-up pros, Lemonade and Laughing Gas and Blanch & Shock, this pop up is going to thrust you into an eerie, bizarre, surreal American abyss that will leave you mind f*cked and it's gonna be BRILLIANT. You can pretend to be Agent Dale Cooper for a night and say things like 'that's a damn fine cup of coffee' and maybe even meet a 'man from another world.' Go trip out without shrooming from August 27th. Late-night drinking den, secret missions and a three-course meal for £65. You'll be talking about it for years to come and may be unbearable to be around, but whatever. Do it.
27th August – 17th October // Secret Location 
Your summer evening sorted
Pack a boozy hamper, grab a picnic blanket and call a hot date – this summer Pop Up Screens have planned al fresco cinema parties across the city and they're guaranteed to get you laid. Watch classics like Pulp Fiction, Romeo and Juliet and Top Gun under the stars among trees in a load of London parks. There's food, popcorn and a bar on each site but we say make a batch of homemade cocktails and take 'em with you.
From 24th July // Various locations // Advanced tickets £10