*COMING SOON* The Blend 
What could be more awesome than drinking drams of whisky in this slick new whisky bar pop up? Drinking drams of your very own blended whisky there, that's what. Chivas Regal is launching The Blend at the Truman Brewery on the 3rd October and it's going to keep you warm all winter 'cos it's staying put right through 'til 4th December. (Did someone say early work Christmas do?).
Geek out learning about the heritage, history and origins of whiskies and if you're less of a listener and more of a drinker then you're all good too because you'll be tasting your way through examples from Speyside, Islay, the Highlands and Lowlands as well as delicate grain Scotch whisky. You'll be taught by the pros how these are 'blended' to create the distinctive Chivas Regal house style and then it's over to you maestro for 'Art of Blending' session where you'll get to blend your own to take home, or to send to BarChick, whatever.
One hour 'Art of Blending' experiences start at £22. Get your tickets here!
You probably don't have a freakin' clue what a Shuffleboard is – that's probably 'cos it's a retro game hot stuff American sailors used to play on their battleships way back in the 1940s. But now it's heading over to London baby ('cos we're well over golf now). It involves sliding discs (known as Biscuits) with a fork thing (called a Tang) along smooth wooden boards and landing them in chalked up targets. Sounds easy enough right? There'll also be loads of booze, neon, disco choons – and even Prosecco served from a a vintage motorbike and sidecar. Yes date night!
Opening: 12th October
Courts: £40 an hour, no limit on the number of players (bookings open end of September – get BarChick Concierge to sort that) // Open 7 days a week
The London Shuffle Club. 91 Brick Lane, London E1 6QL
This tiki paradise pop up at Hawker House is all your childhood dreams at once – tropical huts, sand pits, trampolines and one mega fire pit for tribes, vibes and sacrifices. Plus loads of adult stuff, like booze stalls and a rum bar. The Chin Chin Lab guys are there too with their awesome nitrogen ice cream, plus crazy seafood from the epic Prawnography crew. Meet you in the tree house.
Closes: 17th September
Street Feast Hawker House, Canada Street, SE16 7PJ
Think Lewis Carroll brought to life in all its bat sh*t imaginings. Alice in Wonderland has followed the white rabbit all the way to an awesome terrace in Camden where cocktails are served in teapots, the Mad Hatter's hosting tea parties and the playing cards talk to you.  Drink Bloody Alices or Tweedle Dees and get trippy 'cos this is one of summer's ultimate fun hangouts.
Closes: 30th September
On from 1pm till 1am
Stable Market, The Horse Hospital, The Stables Market, Chalk Farm Rd, London NW1 8AH
The ABQ guys are back from Paris with their Breaking Bad themed pop up – locate the RV and jump inside to make some science baby! Expect lots of dry ice and colour changing sh*t.
455 Hackney Road, E2 9DY
Little Nan's Rio Bar
Cocktails in teapots, with a side of Spice Girls? Sounds like our kind of tea party.
Wednesday-Saturday: 5pm-12am (until 2am on Friday/Saturday ) // £39
Closes: Oct 21st
The Rio Cinema, 107 Kingsland High Street, E8 2PB 
AWESOME ROOFTOPS
Queen of Hoxton's Psychedelic Summer of Love
The Queen of Hoxton rooftop transforms itself twice a year with a new awesome theme each time. This summer it's going all flower power with 'a psychadelic Summer of Love theme'. Groovy baby! BarChick looks forward to soaking up some rays whilst scoffing retro boozy ice cream floats and psychedelic rainbow ice cream sandwiches. Booze slushies, BBQs and WIFI; we know where our meetings will be! Then we'll let out our inner hippy at yoga classes and tie dye workshops. Immense.
Closes: October 2016
1-5 Curtain Road, London, EC2A 3JX
Green lawns and epic views of East London, it's the place to hang this Summer. Grab a bottle of something and fill up at Le Bao – they do a Western twist on classic bao buns, think melted goat's cheese and pickle relish in a soft asian-style bun, hello. Burn it off at rooftop yoga sessions. Keep an eye out on their website for other crazy sh*t too.
Closes: 2nd October
Open: Monday – Friday 9am-11pm, Saturdays 3pm-12am, Sundays 3pm-10pm
18 Ashwin St, London E8 3DL
The really f*cking cool one. We're yet to hear what's in store for this unique multi-storey carpark bar, but judging by our experience last year it's safe to say we're pretty excited about heading back to Frank's this summer. See ya'll there.
Closes: 1st October
95A Rye Lane, London, SE15 4ST
If you're somehow caught up in the Oxford Street madness – wah! we know a place you can escape to. Last year it was Roofnic, this year it's an 'industrial playground' which means reclaimed school science tables, scaffolding and rooftop swings overlooking the street below. Japanese street food all day, pizzas, cocktails and sharing punches. Sold.
Closes: Late September
535 Oxford Street, London W1C 2QW
STUFF YOUR FACE
The Brew Dog crew have reinvented their North London digs (Dog Eat Dog) as Punk Kitchen – which will play host to a monthly rotating food pop up, along with matching craft beers (there's 10 of them). For September it's all about London Laksa – punchy noodles paired with the likes of spicy prawns, tofu, fresh fish and chilli – drool.
4pm-10pm Thursdays and 12pm-10pm Friday to Sunday
21-31 Essex Road, Islington, N1 2SA
This one's on the down-low yo, but head to 3/4 Battersea Rise and rub Buddha's belly – you'll find this secret curry and whisky house. If you find yourself sitting near the 'Lucky Buddha' then you can roll the dice; 2×6's your food's on the house!
Opens: 6th September until Dec' 2016 // Tuesday – Saturday 6pm to 11pm. No bookings.
50% off soft launch 6th and 7th September
Cornish Tiger, 1, Battersea Rise, London SW11 1HG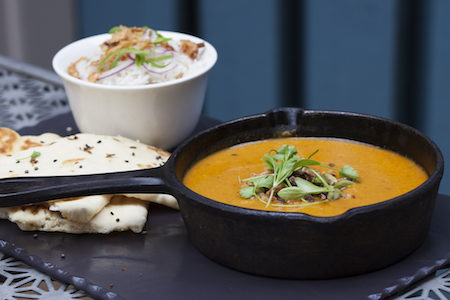 Taste of Kentucky at Joe's 
Bacon burgers smothered in bourbon? Chicken wings soaked in honey whiskey? Pulled pork laced with Jim Beam Apple. And then it's all paired up with signature cocktails like a Cherry Old Fashioned or a Honey Milk Punch that enhances the flavours of the dish. Yup, it's a whiskey lover's dream.
Wanna go get a taste of Kentucky at Joe's Southern Table & Bar in Covent Garden?Chat to us 'cos if you book in through BarChick that whiskey cocktail you're still thinking about is on the house when you buy a dish.  YEEHAH.
Closes: Mid September
34 King Street, Covent Garden, WC2E 8JD
Run by the same guys behind the epic Street Feast, think loads of drool-worthy food from the likes of Mother Flipper and Mama's Jerk Station and loads of booze stations like Rum Shack and Lewisham High Line.
Closes: Last weekend of September
Friday-Saturday: 5pm-1am. Free before 7pm, £3 after.
196 Lewisham High Street, London SE13 6LS
Get your a*s down to Nola where you have two hours to do your worst, knocking back as much Prosecco, whiskey punch and BBQ pork ribs as you can – all to the New Orleans funk and soul. YEAH. Taking place in a sun soaked (we're optimisitc) converted stable, it's the perfect place for a morning booze session.
P.S You're probably going to be left stuck for party ideas in Vauxhall after this afternoon jaunt, so make sure you message BarChick Concierge for some awesome tip-offs.
Closes: 1st October
The Yard, 4 Durham Street, Vauxhall, London, SE11 5JA
A disco paradise on the Old Street roundabout
It's a freaking party on Old Street roundabout! This is the Kickstarter project from the dude behind Burger Bear, Tom Reany, who wanted to create a burger joint that doubles up as a 'disco paradise'. SOLD. Get stuffed with Burger Bear's famous Bacon Jam and Norweigan King Crab from Prawnogprahy (don't be tempted to knock down the giant pink mascot). It's open every day, so you can drop in from 7am and grab an espresso from Relax to help you get your buzz back, then again after work before the beats kick in and party really starts. Honk if you're horny.
7am-11pm // Free entry
Old Street Roundabout (head inside the tube and hunt around for the entrance)
A huge Italian market hits Southwark this September – taking over a disused paper factory, it's got it all – an Italian supermarket, on-site pizza gurus running food masterclasses, plus there's a co-working space, a pop-up cinema, plus a barber shop and a boxing gym too – pow!
Opens: 15th September
Tuesday-Sunday: 11am, 11pm
42 Newington Causeway, South London, Borough, SE1 6DR
Want more? 
Best bottomless boozy brunches
Best bars for live music in London