1. Sicilian rosé, cocchi rosa and raspberries, in a slushy machine. Haven't tried Frose Yet? Get this summer's fad drink at 68 and Boston. And why has no one thought of Frozecco yet?
2. Do this pokemon bar crawl before you're too cold and grumpy to bother
3. Get in touch with your inner hippie at Queen of Hoxton – see you up there for some rooftop drinks of more wholesome downward dogging action
4. Have a sexy alfresco cinema date at Rooftop Cinema – you can even bring your pooch for a wooftop date!
5. Go for an outdoor dip at London Field's Lido (go before 9am and it's the worker crowd so expect to put in some serious lengths) but head down later for a chilled swim with a side of sunbathing. FYI Brockwell Lido's got deckchairs, cocktails and prosecco – you're basically in Miami.
6. Get tipsy on boozy ice lollies
7. Get some tiki cocktails down you before they're replaced with cinnamon serves and mulled wine. Dandelyan, Oriole and NightJar all do awesome ones.
8. Drink as much Aperol Spritz as you can
9. Eat alfresco as much as possible  – 'cos this just ain't happening for the next 8 months
10. Gin + rooftop action. There was a mega trend for gin rooftop drinking this summer and we still can't get enough – make sure you check out Sipsmith's summer terrace at CRAFT for a sh*tload of G&Ts, masterclasses and an epic view of Canary Wharf.
11. Frank's Café – if you haven't been yet, get you're a*s down to this epic rooftop bar ontop of a carpark. Head up the hot pink corridor and soak in that view over a hazy city sunset, with a White Port and Tonic in hand.
12. Finally head up to Hampstead Heath for a swim
13. Check out this insane alfresco boozy brunch Nola Rola – with all you can eat pork ribs and Prosecco and whiskey punch on tap – on a massive sun trap terrace
14. Get your hot shot mate to blag you onto the Shoreditch House rooftop while it's still nice up there
15. Hire a Boris bike (the name has stuck now) and cycle to Hackney Wick, then kick back on the riverside and dip into pizzas and beer at Crate
16. Have one last all day-er in a beer garden – before the all day-ers move inside
17. Pretend you're getting a fridge delivery next Monday, and then sneak off and work outside in one of these alfresco working spots (WIFI + booze = best work day ever).
18. See how much of this rooftop bar list you can tick off
19. Get on a boat – If you close your eyes and ask them to turn the music up you'll feel like you're on a yacht in Ibiza and not bobbing along the Thames. Our favourite boozy boats are the Tattershall Castle, Vestal Voyages and Tamesis Dock. River crawl anyone?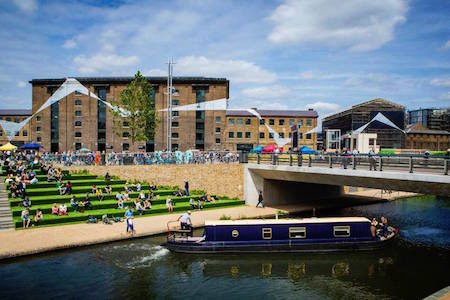 20. See some green before it all goes brown. Kensington Roof Gardens is where it's at AND they have real flamingos – bam!