Hot date on the horizon? Luckily for you it's set to be a smokin' hot summer in London, so there's tons of cool outdoorsy things you can do to impress them. Mostly involving booze of course…
If you fancy any of these or need suggestions you can message BarChick Concierge anytime on 07481 341284 for the best bar recommendations. We'll even get you booked in. And it's free, yo!
1. Rooftop Film Club – ultimate date night material: great drinks, phat pizzas, a stellar movie line up and getting close under blankets at a cinema on a rooftop. Oh hello..
2. If you want a party, head to this urban beach – Brixton's got a Miami-themed pop up with sand, frolicks and a sh*tload of coconuts – it'll be a stand out date for sure.

3. Head to a new part of town. Peckham gets our vote – it's f*cking cool, the Rye is huge and pretty plus we have the ultimate guide to Peckham with all the coffee, cocktails, pubs, wine and late-night partying you need. While you're there defo Check out the no-frills rooftop bar on a car park that everyone's banging on about – Frank's. Epic city skyline, amazing sunsets and loads of cheap booze, what can go wrong?
4.Steal your mate's dog and head to Hampstead Heath for a boozy picnic and finish it all up The Spaniards Inn, one of the oldest pubs in London.
5. Sushi Samba – if you're a baller or hooking up with a high flier this is where summer drinking's at. Two of the highest outside terraces in Europe, and there's fire, ridiculously beautiful views, fancy cocktails and some of the best sushi in town.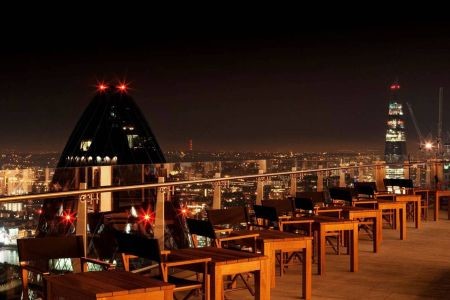 6. When you realise a walk along the South Bank was actually a pretty sh*t idea, message BarChick and we'll book you into one of the best bars in town, Dandelyan. Have a Negroni BC3 'cos cocktails don't get much better. 
7. A psychedelic rooftop in Shoreditch? Nice one. The Queen of Hoxton rooftop has turned into an awesome psychedelic paradise this year, with crazy coloured cocktails, multi-coloured ice cream sandwiches and chilled hippy vibes. 
8. No matter how long you've been a Londoner it's never not cool to have it large on a barge on The Thames. Tamesis Dock is a failsafe for a rocky date on the river.
9. Fancy swinging? Easy tiger. Head to Birdies for crazy golf on a rooftop. If you're sh*t that's cool too 'cos you can just get involved with all the great booze that's up there. 
10. Your date care as much about their Insta feed as they do your face? They'll love a Sunday stroll around Columbia Road Flower Market. Plus there are some killer places nearby for roast lunches and silly Sunday sessions. 
11. Two words: beer garden.  There are the sh*t one table in the sun ones and then there are the ping-pong tables, burger bar, BBQs, treehouse kind. We're about the latter. Check this awesome lot out or just message us and we'll hook you up with a wicked one. 
12. Grab a Boris bike and cycle along the canals, just don't fall in 'cos that's not a cool look. Cruise along and stop off at the wicked bars along the route between Angel and Haggerston and finish it all up in Hackney Wick and grab a pizza and ice cold beer at CRATE brewery. Probably don't try and cycle home.
13. Head to The Roebuck pub in Richmond – grab a beer and go sit on a bench across the road. Doesn't sound very classy but trust us it's one of the best views in London, overlooking the vast green park. 
14. While you're there, hire a boat down by the riverside and show off your muscle. Get all the boat-rental low-down here.  
15. Avoid the madness Borough and spend a morning at BarChick's fave Maltby Street Market – one of the more undiscovered ones. It's home to Little Bird Gin too so you can slip down a few G&Ts before snacking on all the samples.
16. Make your Kew Gardens visit a boozy one with hip flask in hand (BarChick sips bourbon if you're asking).
17. One of London's best wine bars Sager + Wild Restaurant in Bethnal Green has just opened a mega terrace for alfresco eating and badass bottled. BarChick Concierge will it book you in too. Easy. 
18. Head to Lido Cafe, pitched up on the poolside of Brockwell's Lido – so head in for a dip if you're keen to strip, or just lounge about by the waterside. There's a killer cocktail list and a seasonal British food menu. 
19. You can't go wrong with an all-you-can-drink brunch. 10 Mimosas in and some smashed avo and you're golden. Here are London's Best Boozy Bottomless Brunches.
20. Feeling cultural? Book seats at The Globe for a Shakespeare session (if you're tight, standing seats are only a fiver). Grab a drink upstairs at The Swan next door for cool views of the river.
21. Head to Sky Garden for an awesome view of London and it's completely free baby! (Book here) No need to tear yourself away from the romantic views – you can grab dinner up here too. Find delish seafood at Fenchurch or head to Darwin Brasserie for British oysters (wink, wink).
22.  Mr Fogg's has a new botanical gin terrace and it's nestled in the centre of Mayfair. Boom. Here you'll find quirky sh*t and crazy blooms, along with killer gin cocktails. Plus if you're short on chat this theatrical place will give you loads to talk about.
23. Pet the pigs at Hackney City Farm, oink.
24. Sign up to Hidden City and they'll send you on a crazy treasure hunt around the city. The questions are a good balance between difficult, but not impossible. There's also loads of bars along the way and you can pause your time if you're in need of  a 'hydration' stop. You can message BarChick and we'll point you towards your nearest bar. Pow. 
25. Get Lost in Hampton Court Palace maze. 
26. Book a canoe session along the Thames – but you know the rule, if they go in, you go in. Book a canoe here.
27. If you're more into metphorically pushing the boat out, head to Kensington Roof Gardens for lush gardens, waterfalls and motherf*cking flamingos.
28. Check out the dinosaurs at Crystal Palace. Let your inner Ross shine through. Then head for mega sourdough pizza and drink £3 Negronis (£3!!!) at Four Hundred Rabbits. 
29. Grab a swing and tuck into cocktails in jam jars at rooftop bar Notch. If you need something strong, the Old Fashioned in a tuna can will do the job, plus it's a sure talking point.
30. Head to the Oxo Tower Brasserie for dinner or Oxo Tower Bar for a killer view of The Thames. We can book you a table, all you've gotta do is turn up.
Need MORE ideas?
11 awesome things to do in London this May
And if it's going reeeeally well: Where to drink in London after midnight