Wanna be told about the best places to have fun this summer? Hell to the YEAH. Say hey using that 'lil box in the bottom right.
1. Bloom Gin rooftop 
We never get bored of gin on a rooftop. Head to this pop up on the top of Broadway House – with food and drink from the Broadway House menu and three killer gin cocktails on the menu.
Open from midday until 22.30pm// 
2. Camden Beach at Roundhouse Camden 
We're going to Barbados baby! (Well the next best thing). Roundhouse Camden has converted its beer garden into a smokin' sandy paradise. Come for Bajan BBQ action, loads of rum cocktails and parties in a Bajan bungalow.
On 'til: Monday 29th August
Chalk Farm Rd, London NW1 8EH
3. Sipsmith Summer Terrace at Craft
Catch London's hottest gin distillers for a sh*t tonne of G&Ts and epic gin masterclasses – under the sunny skies of Canary Wharf.
There's a winning cocktail menu, featuring all the Sipsmith gin, from their London Dry to their new London Cup (bit like Pimms, but not quite as sweet). Top that off with fresh ingredients and garnishes, foraged from the Craft grounds, and you're on to a winner. While you're there, would be rude not to check out the snacks from the restaurant's awesome all Brit menu.
Tuesday to Friday: 5pm – late. Saturday:  1pm – late
On from: 3rd August- 20th September
Gin on a rooftop is always a good idea. Come and swig some awesome summer cocktails while wooing your date with those killer Thames-side views. Plus, book in with BarChick Concierge and you might just get a little extra something. 'Cause we love to treat you.
OXO Terrace, Barge House St, South Bank, London SE1 9PH
On 'til: 21st August
This tiki paradise pop up at Hawker House is all your childhood dreams at once – tropical huts, sand pits, trampolines and one mega fire pit for tribes, vibes and sacrifices. Plus loads of adult stuff, like booze stalls and a rum bar. The Chin Chin Lab guys are there too with their awesome nitrogen ice cream, plus crazy seafood from the epic Prawnography crew. Meet you in the tree house.
Street Feast Hawker House, Canada Street, SE16 7PJ
On 'til: 17th September
6. Sipsmith Summer Punch House
Looks like Sipsmith are taking over the summer pop-up scene. They've also got a thing going on at The House of St Barnabas showing off their own awesome Summer drink – the London Cup. The drink looks and tastes similarish to Pimms, but, made with Earl Grey tea, and with hints of marmalade, it's gotta slightly bitter edge, so it's not so sickeningly sweet – loving it. Oh and it's all for charity, yo. Ticket sales will be directly given to The House of St Barnabas, a charity that pledges to break the cycle of homelessness.
The House of St Barnabas, Greek Street, W1D 4NQ
Its on: Every Sunday from 5th June-7th August. Tickets: £15 per person and include a tipple on arrival and a potted history and nosey around the club.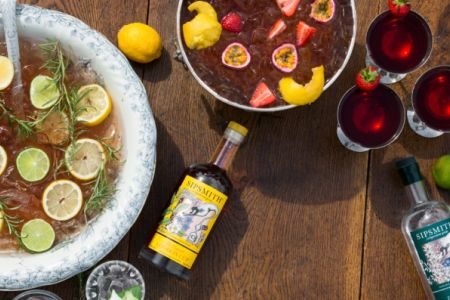 7. Brixton Beach Boulevard – Brixton
Let's go to Miami baby! Or at least Brixton's Miami 80's-themed Summer pop up. Think cool retro 80's film screenings, surprise killer DJ sets, live sport screenings, loads of food, and loads of booze. Book a ticket, buy some neon sweatbands, gather your gang and head out for good times.
On every Thursday-Sunday From 26th May-August 28th // Opening times: Thursday: 6pm – 11pm, Friday: 6pm – 11pm, Saturday: 1pm – Midnight, Sunday: 1pm – 11pm
Pope's Road, Brixton, London SW9 8JH – can be tricky to find, if you're facing Pop Brixton, turn right along Pope's road, and BINGO.
8. Proud Wonderland – Camden
Think Lewis Carroll brought to life in all its bat sh*t imaginings. Alice in Wonderland has followed the white rabbit all the way to an awesome terrace in Camden where cocktails are served in teapots, the Mad Hatter's hosting tea parties and the playing cards talk to you.  Drink Bloody Alices or Tweedle Dees and get trippy 'cos this is one of summer's ultimate fun hangouts.
At Proud Camden: 1pm till 1am
It's on: Until 30th September
9. Notch – Oxford Street
Oxford Street on a hot summer's day – Get. Me. Out. So head to Notch, where you can escape to a rooftop bar and smile smugly at the sweaty shoppers while you dig into cool cocktails in jam jars. There's a row of swings to frolick on and cool green areas to hang out too. Loving life.
It's on: Until late September
535 Oxford Street, London W1C 2QW
10. Frank's cafe  – Peckham 
An epically cool pop up bar on top of multi-storey carpark in Peckham. This place used to be kinda hipster and now it pulls in all kinds; it's worth the trip to see the look on city slicker's faces as they step up that p*ss smelling staircase. Once you're up there you've got the best sunset view in London, killer cocktails on the cheap and mega bbq'd grub. It's one of London's best summer hangouts.
It's on: Until 1st October
95A Rye Lane, London, SE15 4ST
11. Queen of Hoxton's Psychedelic Summer of Love – Shoreditch
The Queen of Hoxton rooftop has gone all flower power this summer with 'a psychadelic Summer of Love theme'. Groovy baby! You'll find BarChick up there scoffing retro boozy ice cream floats and psychedelic rainbow ice cream sandwiches. Then go be kind to yourself with rooftop yoga classes and tie dye workshops. Yes!
1-5 Curtain Road, London, EC2A 3JX
12. Dalston Rooftop – Dalston
Green lawns and cool views of East London, it's the place to hang this Summer. Grab a bottle of something from the bar and fill up at Le Bao, who do a cool Western twist on classic bao buns, think melted goat's cheese and pickle relish in a soft asian-style bun, hello. Burn it off at rooftop yoga sessions.
Open: Monday – Friday 9am-11pm, Saturdays 3pm-12am, Sundays 3pm-10pm
It's on until: 2nd October
18 Ashwin St, London E8 3DL
13. The Magic Roundabout – Old Street 
A party on the Old Street roundabout
We're talking mega burger action and cool cocktails on a sun trap in the middle of a roundabout. Woah yeah. See it's a project dreamt up by the dude behind Burger Bear, Tom Reany, who wanted to create a burger joint that doubles up as a 'disco paradise'. SOLD. It's open every day, so pop in early doors at 7am and grab an espresso and then drop by after work before the beats kick in and party really starts.
7am-11pm // Free entry
Old Street Roundabout (head inside the tube and hunt around for the entrance)
14. Night Tales – Hackney Wick 
London's first pop up sake bar, a Negroni station (toot toot) and filling-up on wicked street bites from the likes of Lucky Chip, Wingmen and Rudies.  London's badass pop up is back and it means business. BarChick's heading straight for the Lazy Flamingo Bar for Pink Pina Colada's and Watermelon Sherbet Daiquiris. Now it's a party.
Friday: 5pm – 11:30pm, Saturday: 2pm – 11:30pm – message BarChick Concierge in the box in the bottom right – or through Facebook – for guestlist and queue jump.
It's on: Until 27th August
1-2 Hepscott Road, London E9 5HA
 15. Model Market – Lewisham 
The Street Feast dudes have brought their epic street market to Lewisham. Think festival vibe, with cool peeps, bangin' DJs and loads of food and drink stalls. Fill up at Mother Flipper and Mama's Jerk Station and get tipsy at Rum Shack and Lewisham High Line. Way-o.
Friday-Saturday: 5pm-1am. Free before 7pm, £3 after.
On until: 1st October
196 Lewisham High Street, London SE13 6LS
Want more? You'll dig…
Best bottomless boozy brunches
Best bars for live music in London