Classic, bitter, sexy and perfectly balanced; it's no surprise that this old-school Italian aperitif is doing big things in the bar scene.
If you've ever tasted an overly bitter, warm or diluted version you'll understand.  From the classic and pre-batched to the Nutella: we've got London's most epic Negronis.  Plus if you want recommendations on where to get your favourite drink all over London message BarChick Concierge. It's free. 07481341284.
Keep it classic:
1. Bar Termini
Tony Conigliaro is the don when it comes to Italian cocktails and the master of mixology has a whole Negroni menu at his Soho coffee and aperitivo bar, Termini. When you're done with the espressos it's on to the aperitifs. All the Negronis are pre-batched for slick and speedy service and poured straight into a perfectly chilled glass, without ice to dilute the taste. Go classic. Go rose. Go peppercorn. And definitely buy a bottle of pre-batched to take home.
7 Old Compton Street, London W1D 5JE
2. The Sbagliato Negroni – Polpetto
The quaintest of the Polpo siblings, Polpetto is all pale blue peeled walls and lace curtains. The cocktail menu is short and sweet, work through it while perched in a fold out seat at the Aperitivo Bar. The Sbagliato Negroni is a delightfully simple mix of Campari, Mancino Rosso Vermouth and prosecco (Sbagliato means 'mistaken', hence the prosecco in place of gin). It's the kind of mistake you'll be happy to make.
11 Berwick Street, London W1F 0PL
The only bar in London where the bartenders are slicker than the designer clad guests. The Connaught's personalised Negroni starts with the well-experienced bartenders guiding you through your gin and vermouth selections (they recommend Martini Rosso, Gancia Rosso or Punt e Mes). These are then stirred in equal parts with Campari, and served over big chunks of hand-cracked ice, in a crystal glass with dehydrated orange slice. Perfection!
Carlos Place, Mayfair, London W1K 2AL
Campari, Tanqueray gin and the bar manager Myles Davies prefers to use Antica formula so we're talking dark and mysterious. It's served over a f*ck off ball of ice in a cut glass tumbler with a slice of orange. Classic all the way.
The wildcards:
5. Ristretto Negroni at Duck and Waffle
There aren't many things in life better than this Negroni. Fact. It's got all the usual suspects – Bombay Sapphire gin, vermouths, Campari – but the twist is the coffee.  It's dripped through crushed coffee beans (obviously) to give it a hint of the good stuff and served up with a hunk of ice and an absolutely killer view of London from 48 floors up as a side dish.
Heron Tower, 110 Bishopsgate, London EC2N 4AY
6. New Cross Negroni at MEATliquor
Can't handle the bitter taste? This old school MEATliquor classic is for you because they've swapped out the Campari for it's sexy sweet little sister, Aperol. Still as hard as they get, the New Cross Negroni is a mix of Tanqueray Gin, Aperol and Antica Formula served over a hunk of ice with orange. All you need now is a burger to go with it.
74 Welbeck Street, Marylebone, London W1G 0BA
7. Shoreditch Negroni at Jaguar Shoes
If you want your Negroni with even more of a kick, add in some caffeine; that's what the guys at Jaguar Shoes do. Gin, Campari, coffee syrup and orange beer mix up this bad boy that is still served up short, as a Negroni should be. This is the spot to hit for some after-work boozing in east London, the vibe is laidback, the crowd cool and the drinks edgy twists on the classics.
32-34 Kingsland Road, London E2 8DA
8. Smoky Negroni – Amaranto
Barely scraping through into the Negroni family, Amaranto's Smoky Negroni is with a mention for its creativity alone. A heady mix of Laphroaig 18 yr Whisky, Cazadores Tequila, Campari, Kahlua, cherry wine and bitters, it's served alongside a pot of chilled Lapsang Souchong tea to add to the remaining ice after drinking for an extended experience. Creative and we're into it.
Hamilton Place, Park Lane, London W1K 
9. BC3 Negroni – Dandelyan

An epic twist on a classic – Dandelyan adds beeswax and honey to their Negroni, then serves it all up in a honeycomb-style crystal tumbler. A soft sweet aftertaste that will for sure win over that mate who 'doesn't do bitter'. It means you'll have to share your drink though, so make sure you order two.
20 Upper Ground, London SE1 9PD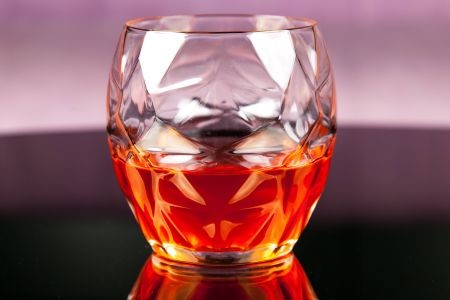 You should also check out:
How to make a Negroni
London's best gin bars
London's best whiskey bars