A UK heatwave feels more like an urban myth than legit event, so when one comes along you've gotta get out there.
Ditch the basic ice lollies (drink these booze spiked ones instead ), quit moaning about being sticky, and get to a pool/rooftop/terrace/garden pronto.
Get on a boat
Don't ignore the giant river flowing through the city, people. If you close your eyes and ask them to turn the music up you'll feel like you're on a yacht in Ibiza and not bobbing along the Thames. Our favourite boozy boats are the Tattershall Castle, Vestal Voyages and Tamesis Dock. River crawl, anyone?
Tattershell Castle, Victoria Embankment, London SW1A 2HR
Vestal Voyages, Granary Square Towpath, King's Cross, London, NC1
Tamesis Dock, Albert Embankment, London SE1 7TP
Get wet

So what if we don't live near the sea? This city's got tonnes of amazing outdoor pools you can go swim in. If you're confident in your breast stroke and wildlife doesn't sh*t you up, join the other hard nut swimmers at Hampstead Ponds. The new King's Cross pond looks epic (and a little less fish infested) too.  Rather be in Miami? Brockwell Lido's got deckchairs, cocktails and prosecco. Failing all that, have you ever stripped off and danced in the Appearing Rooms water fountain on Southbank? Us neither…
Hampstead Ponds, Hampstead Heath, London, NW5 1QR
King's Cross Pond, 20 Canal Reach (entrance on Tapper walk), London, N1C 4BE
Brockwell Lido, Dulwich Road, Brockwell Lido, London, SE24 0PA
Appearing Rooms Water Fountain, The Southbank Centre, Belvedere Road, London, SE1 8XX
Hit the roof
Whether you finally wanna take advantage of your monthly direct debits to Shoreditch House, kick back with the hip kids at Frank's or get your festival freak on at Queen of Hoxton, we've found the best rooftop bars in North, South, East and West of the city.
Shoreditch House, Ebor Street, Shoreditch, London, E1 6AW
Queen of Hoxton,1-1-5 Curtain Road, London, EC2A 3JX5
Frank's, 95A Rye Lane, London, SE15 4ST
Dine al fresco
Our rule is; drink in the sun, eat in the shade. Some of the best food pop ups in the city have got shady places to get stuffed and keep your stomach lined this weekend. Hit up Forza Win for pizza parties, Street Feast for weekend grub and a hot new kid Night Tales where you can wash it all down with pink Pina Coladas. In.
Want a guaranteed table? These are London's best dining terraces, so book in baby.
Forza Win, 133 Copeland Road, SE15 3SN
Ice that cocktail
Boozy slushies are where it's at this summer and we've found the absolute best. Catch some shade underneath The Big Easy and sip the ultimate summer slushy: the Miami Vice; half Pina Colada, half Daiquiri. Yeah. Or keep cool in a car park at Peckham Springs where they squeeze 'em out of an old school Slush Puppie machine. Way more refreshing than a cold beer.
The Big Easy, 12 Maiden Lane, WC2E 7NA
Peckham Springs, 22A Blenheim Grove, SE15 4QN 
Follow everyone to a park
A park crammed with half naked people secretly sippin' and getting merry in the sun? Yes. Please. Hit Hyde Park to embrace London summer and do the city proud: take a towel and sunbathe, check out the free entertainment in Speaker's Corner and fall off a swan pedalo on The Serpentine. Spending a sunny day in Hyde Park is a Londoner rite of passage and now's your chance.  Victoria Park is gonna be rammed so if bum cheeks hanging out of shorts and tattooed torsos are your thing, get to it.  When your cans of cider go warm and your mate is burnt, no biggie: hit the best bars by parks.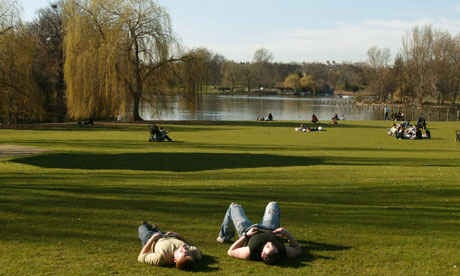 Watch a film al fresco
Screw the sofa, there are so many places to catch a movie outside this summer, and they've all got a bar.  Go eat Rockadolla dogs and watch the sun set behind the screen at one of Rooftop Film Club's four open air cinema's. Afraid of heights? Pop Up screens are showing films in London's parks this summer, and Luna Cinema's got all the romantic settings (like Kew Gardens and Regent's Park Open air Theatre) sorted. Bring a hot date.
Rooftop Film Club, 133 Rye Lane, SE15 4ST
Luna Cinema, Kew Palace, TW9 3AB
Pretend you have a garden
Regular gardens don't have bars, but The Culpeper roof garden does so go get that fresh air feeling without leaving the city. Wanna take it a step further? Email Jack or Janelle and they'll let you rattle around in the flower beds with a shovel in one hand and a cocktail in the other during the week. Now that's what we call a garden club.
The Culpeper, 40 Commercial St, London, E1 6LP
Email [email protected] to join the garden team.
 Chill in a pub garden
No brainer. A pub garden's got everything you need all weekend – food, drink, music and like minded booze loving people. Here are London's best.