Now that rain has stopped (for about five seconds) it's time for some tennis. Whether you love the game, those short skirts, the grunting girls or you just f*cking love Pimm's, it's time for some balls.
Wherever you are in London, get to these places to watch, celebrate and drink to Wimbledon.
After more ideas? Ping BarChick Concierge a text – or a message online and we'll sort your Wimbledon agenda.
OUTDOOR SCREENINGS
One New Change – St Pauls
Kick back on a Union Jack cushion while you catch the game on this six-storey rooftop – all with an epic view of St Paul's. After the game, head round the corner to Bread Street Kitchen and get Instagram happy with a Wimbledon Summer Cup, served up in a gigantic tennis ball. Pow.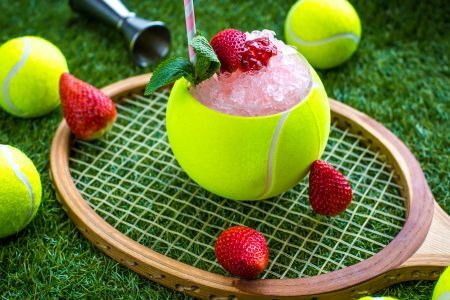 Lewis Cubitt Square – Kings Cross
Kings Cross has got it going on with this square; grab some street food from Kerb, get yours Pimm's fix from The Lighterman, and soak up some rays whilst you catch the action straight from the courts…
4 Stable Street, London N1C
New Street Square – Chancery Lane
Catch a few cheeky balls on your lunch break at Chancery Lane's outdoor screen, which is showing the matches Monday to Friday. Grab a gelato, or go for a Rum-a-colada at the Kanaloa pop-up bar (it was game over for the office anyway).
New Street Square, EC4A
Regents Place – Warren Street
Pull up a deckchair. There's all sorts of fun activities going down here and around the plaza too if you're over playing umpire.
Regent's Place, London NW1 3HF
Exchange Square – Liverpool Street
As ever, the restaurants and bars around here are going batsh*t cray for Wimbledon this year with themed menus, BBQs and tennis-inspired booze. You'll be spoilt for choice.
Exchange Square, Broadgate, London EC2A 2JN
Cardinal Place – Victoria
Who said nothing fun ever happens at Victoria? Head up to this rooftop and join in the tennis fun with Champagne ice lollies, boozy iced tea and buckets of Prosecco.
Victoria Street, London SW1E 5JD
Keep it al fresco in the heart of Canary Wharf for some Wimbledon watching in the sun (or rain, most probably). Grab a deli-picnic and head over with your mates for all the centre court action.
Canada Square Park, Canary Wharf, London E14 5AX
Red market – Old Street
A great place to hang when you're not up for fully committing to the game – there's a whole load more than just balls to keep you busy. Along with the 5m x 3m screen for Wimbledon watching, there's a shed load of loads of bars, booze, street food stalls, and even crazy golf to get involved with if you get bored after a never ending deuce situation.
288-299 Old St, EC1V 9DP
Pop Fields  – Brixton
This Brixton hangout also has a big screen showing the tennis, along with food, drink and good times.
49 Brixton Station Road, SW9 8PQ
Wimbledon Wonderland Picnic (Christabel's)
Catch the Wimbledon finals on the grassy rooftop at a secret location. your ticket'll get you a Fentimans cocktail and a hamper filled with an epic picnic, think green and purple sandwiches and edible tennis balls. Get watered up at the botanical tennis bar. (£60 per person – get your ticket here). 
Secret Location, Regent's Canal, London
PUBS AND BARS
EAST
Turn your lunchtime business meeting into a tennis fest on the Coq D'Argent terrace where they're screening the game and serving up loads of Moet and Chandon Champagne… well it is on the work account after all. Get BarChick Concierge to book you in – just ping us a free text, or message us online.
No.1 Poultry, London EC2R 8EJ
These guys are kitted out with a 3D TV so you'll feel like you can actually reach out and touch Federer's balls. Head to this St Paul's pub, grab a pint and get cheering.
23 Watling Street, London EC4M 9BR
If you're over the prim and proper English-style strawberries, cream and neatly mowed lawns – head to the outdoor terrace right by London Bridge for a little slice of Havana baby. Pull up a deckchair while you slurp on your rum and coke and take in all of that Wimbledon action.
110 Southwark Street, London SE1 0TF
WEST
Book a table on the 10th July final to catch all the action from centre court on the Goat's huge screen and hit the cocktails. Do a shot every time Serena Williams grunts.
But if Hollywood is more your bag, go watch 'Wimbledon' the movie with Kirsten Dunst and Paul Bettany at Goat. There'll be Pimm's on arrival and 50% off food.
333 Fulham Road, London SW10 9QL
This pub is ideal for Wimbledon watching; not only has it got central's biggest garden, but it serves up killer Mediterranean food hot off the BBQ and has a banging booze selection, come for gallons of Pimms and Aperol Spritzs. Hope they've got the the jugs in.
41 Bramley Road, Notting Hill, London W10 6SZ
The ultimate place to check out the scores when/if the sun's shining south of the river. Grab a cocktail from the garden bar and get a seat in front of that big screen.
16 Balham Hill, Clapham, London SW12 9EB
Forget 'Murray Mount' because this year it's all about 'Truscott Turf'!' This one-off pop up for the men's final will be almost as good as sitting courtside. All astroturf, deckchairs and boozy picnic baskets, this is the place to catch that final. FYI, y'all gotta book… message BarChick Concierge though and we can sort you out.
55 Shirland Road, London W9 2JD
Wimbledon on a rooftop? Holla! This members club is where it's at for tennis with a view. Order a Pimm's (or five) and catch all the match action from the terrace.
474-476 Fulham Road, London SW6 1BY
Always thought Wimbledon needed some Swedish vibes? Us neither, but go with it because these guys have got epic happy hours and ping pong tables for when you've had too many and think you can play just as well.
25 Newman Street, Soho, London W1T 1PN
It wouldn't be Wimbledon without an afternoon tea or two and nobody does it better than Dukes. With free Champagne and strawberries to hotel guests too, we say it's worth booking in for the whole championship…
35 St James's Place, London SW1A 1NY
If you're not on centre court this is the next best thing because there's nowhere better to watch Wimbledon that with a bunch of Sloanes on the King's Road. These guys always get it right, so find yourself a spot in the sunny courtyard, eyes on the big screen and hands armed with jugs of Pimm's. Check out the matches being screened on the Bluebird Twitter feed.
350 King's Road, London SW3 5UU
You should also check out:
London's best summer pop ups
Where to watch the football in London
London's best roof terraces