Martinis that taste of Christmas dinners, cocktails served in snowmen and the creamy cocktail that's had more upgrades than an iPhone... if you're looking for some extra Christmas cheer, these ten festive as f*ck cocktails should do the trick.
Paxo Martini
at The City Of London Distillery
It might not be a popular opinion, but the stuffing is the best bit of Christmas dinner, and that's a hill we're willing to die on. And so are the often sequin-clad creative crew at the City of London Distillery & Bar, who have been working their magic in the stills found right in the heart of their bar to create a gin distillate infused with sage and onion stuffing. That's right, they've made a stuffing gin using Whitley Neill Original Dry, and turned it into a kick-ass Paxo Martini, garnished with an After Eight (because you can't end a Christmas dinner without an individually parcelled chocolate mint, right?)
22-24 Bride Ln, London EC4Y 8DT 
Snowman's Land
at Sunday in Brooklyn, Notting Hill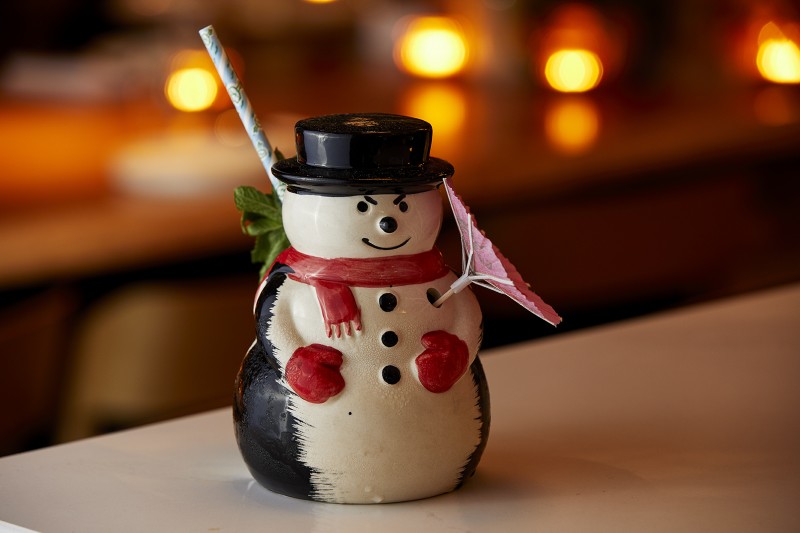 The cocktails at Sunday in Brooklyn are snow joke. You've probably already seen their insta-famous teddy bear cocktail chilling on your feed - now it's time to meet their Christmas upgrade. The Snowman's Land is a mix of Roku Gin, Cachaca, Falernum, Carrot, Macadamia, Lime, Passion Fruit served in a snowman glass. Sippin' on one of these is how to keep it chill this Christmas.
Sunday in Brooklyn, 98 Westbourne Grove, London W2 5RU
Sparkly Bauble
at St Pancras Brasserie & Champagne Bar by Searcys
You say festive, the team at the longest Champagne bar in Europe say fizz. The St Pancras Brasserie and Champagne bar by Searcys knows how to keep up the sparkle levels high at Christmas. Packed into a glass bauble you'll find Bramble Bombay gin with pear purée and vanilla, topped with Searcys Selected Cuvée Champagne, and finished with a dash of edible glitter. Beautiful.
St Pancras Brasserie and Champagne Bar by Searcys, London N1C 4QL
Orion
at The American Bar at The Savoy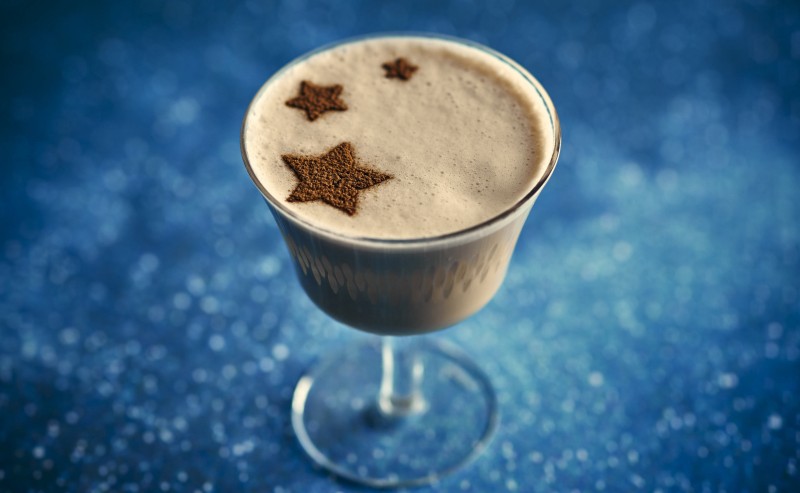 There are few places in London that deck the halls quite like they do at The Savoy, and few bars that can make a cocktail quite as magical as they do at The American Bar. Now the stars have aligned to bring you the recently reopened bar's take on the classic eggnog; The 'Orion', which comes served with stencilled cinnamon stars and features Michter's 10 Year Bourbon, Diplomatico Reserva Exclusiva Rum, Vintage Port, Earl Grey, Egg and Cream.
The Savoy, Strand, London WC2R 0EZ
Snowball Slushies
at The Standard
Just because it's cold outside doesn't mean The Double Standard is gonna divert away from its cult slushy cocktails. This Christmas, the terrace has been transformed into a festive yurt, complete with fire pit, toast-at-the-table s'mores and snowball slushies, a distinctly Christmassy take on what these guys do best.
10 Argyle Street The Standard, London WC1H 8EG 
Eggnog-arita
at The Sun Tavern
The legends at this Bethnal Green bar have created the Centaur of Christmas cocktails by combining our ride or die Margarita with the iconic festive classic to make this indulgent hybrid with Seven Tails XO Brandy and Cointreau. No, we wouldn't have thought citrus and cream would work together, but we also didn't think Christmas cake and cheddar would work, and trust us when we say: it's a game changer.
441 Bethnal Green Rd, London E2 0AN
Naughty or Nice
at Amazonico
Have you been naughty or nice this year? Us, we're always nice (have you seen the giveaways we're doing for BarChick Advent this year?!) which means we're very deserving of this v. cute and festive cocktail from the tropical Mayfair haunt, Amazonico. This gin-based cocktail has been created with Monkey 47, Chicha Morada, Mastiha, Amaro, Lemon and Christmassy notes of cinnamon, cloves and anise star. Keeping it light this Christmas? It also comes in a Low ABV version with South American notes and Seedlip Grove, Chicha Morada, Lemon and Soda.
Nelson's Column
at LSQ Rooftop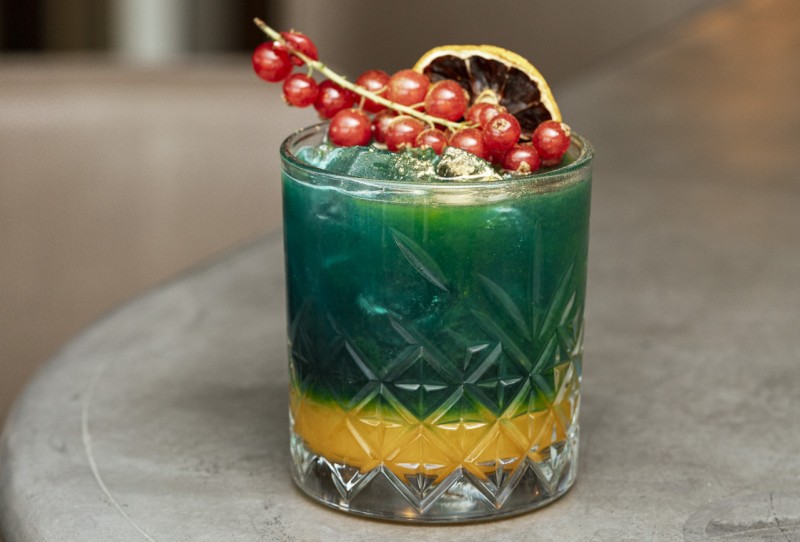 Wanna know where you'll find the perfect view of *that* v. lol Trafalgar Square Christmas Tree this year? It's from this awesome rooftop bar that overlooks the twinkling Christmas lights of Central London. Snap some stories for the 'Gram while sipping on this colourful and festive Nelson's Column, a two-toned build of Kraken, Midori Melon, Blue Curacao, Passion Fruit puree and Vanilla. Sexy.
1 Leicester Square, London WC2H 7NA
Riverside Remedy
at The Kings Ginger Winter Terrace at Mitre Hotel, Hampton Court
There are some drinks that are just synonymous with Christmas, and the King's Ginger liqueur is one of them. With a gentle flow of ginger syrup sweetness and a tingle of fresh ginger spice, this is how to stay warm in the winter. Wanna know where to try it? Head to Hampton Court where for the festive season you'll find a cosy winter terrace pop-up with Kings Ginger at the Mitre Hotel. There's plenty of cocktails made with the stuff, but as if you'll be able to resist ordering the dramatic and smokey Riverside Remedy made with The King's Ginger (obvs), Berry Brother's & Rudd Islay Whisky, Lemon, Honey, Crème de Noyaux and a  poppable smoke bubble.
Hampton Ct Rd, Molesey, East Molesey KT8 9BN
Chocolate & Red Wine
at Coupette
A roaring fire, Christmas movies on repeat, and more red wine and chocolate than is ever recommended for one person to consume. THAT is how we like to do Christmas. Ditto for the crew at Coupette, who has managed to condense all of those Christmassy vibes down into one deliciously festive cocktail made with Flor De Cane 18yrs, Chocolate Wine, Winder Chocolate Cacao x3 and Minus Cream. Ho-ho-holy hell, that is good.
423 Bethnal Green Rd, London E2 0AN
For more festive fun, check out these awesome festive pop-ups
Staying home? Stock up on these spirits which are bringing the true flavours of Christmas to your home bar