Lockdown may have encouraged you to nail those cookery skills, but you can't be in the kitchen every night. If you're missing visiting restaurants as much as we are (and BOY are we...) then get yourself a delivery from one of these London hotspots. 
For living la dolce vita
Still can't get your hands on a bag of pasta for love nor money? Sure, you might have attempted to make your own, but nothing beats the stuff made by the experts. That's where Chucs at Home have you covered. How does Maccheroni Alla Bolognese with Veal & Beef Ragu sound? Or Ricotta & Black Truffle Tortellini? Definitely better than spaghetti hoops for the third time this week.
What to drink: No decent Italian meal should begin without an aperitif first, and we vote Negroni. Order the Coastal Negroni from Tom Savano, or wait for June 2nd when Black Lines drinks drop their killer version of this classic cocktail. 
Check out the various ways you can order here. 
For an epic roast dinner
Is there anything more extra than having an entire Sunday roast delivered to your door? We say go for it, especially now masters of all things meaty Gaucho have got involved. From May 16th you can order beef or spatchcock chicken with gravy & all the trimmings for £20 per person. You can even add a side of Mac & Cheese and no one's gonna judge if you eat the whole thing yourself. 
What to drink: Red wine and roast all the way. Something juicy and Californian gives us the taste of sun-drenched vineyards without actually leaving the house, so a bottle of Talbott Vineyards Kali Hart Pinot Noir is perfect.
Roast delivery available via Deliveroo every Sunday from Gaucho at M Restaurants Threadneedle Street and Gaucho, Sloane Street 
For a first-class cook-a-long
Hame is the Scottish word for home, so bring some of the highlands into your house with a delivery from Adam Handling. He's tweaked his dishes so they're fine to travel (lucky them...) and now you can snack on his cheesy doughnuts or enjoy Nanny Sophie's Fried Chicken in your crib. What's more, each delivery comes with a QR code that you scan to watch a video of Ad showing you how to prepare the food. Nice.
What to drink: You can order his home-stirred cocktails with the meal - the Sazerac Bay, made from Woodford Rye, Hennessy VSOP, fresh bay leaf liqueur, dry vermouth and aromatic bitters, is right up our street. 
Order from their website here. 34-35 Southampton Street WC2E 7HG - Delivery available within a 10 miles but further can be accommodated if you contact them
For lockdown tapas time
Okay, so your dreams of heading to Catalonia might have been kyboshed this year, but that doesn't mean you can't bring a slice of Spain into your casa. Turn your living room into a by-the-sea taverna by ordering from Jose. Whether you fancy deep sea prawns or Presa Iberica (hey get both) this is first-rate food from the Godfather of Spanish cooking. 
What to drink: You can't have Spanish tapas without an ice-cold beer, so join us in cracking open a bottle of Estrella Galicia World Lager. They're known for loving their gin in Barcelona, so the new Grapefruit G&T in a can from East London Liquor Co should also go down very nicely.  
Order from the website here.104 Bermondsey St, Bermondsey, London SE1 3UB - Delivery available within 4.5 miles
For sensational seafood
This epic seafood restaurant & wine bar is coming to your rescue when you want to get cracking with crustaceans. Soft-shell crab and lobster with seaweed butter aren't exactly on our Ocado delivery, but you can get both to take away. Their delivery dishes change on the reg but examples include fresh mussels with saffron, and prawns with roast garlic & tomato. Oh, and their potato wedges with chip-shop curry sauce is a gamechanger. 
What to drink: Seafood and crisp white wine - divine. We're loving the light & zippy Zero-G Grüner Veltliner by Arnold Holzer - order here and 12.5% goes to the hospitality industry. Or order the bottled cocktails from their neighbours Little Mercies, which you can get direct with your food delivery. Dinner and drinks in the bag. 
Order via their website here. 1 Park Rd, Crouch End, London N8 8TE - delivery within 2-3 miles, possibly further with advanced notice
For all-out swank
Whether or not you've made it to this Michelin-starred Mayfair hotspot is irrelevant - if there was ever a time to have three-courses of posh nosh delivered to your door, it's now. Okay, so it's on the more spenny side (most of the mains are £30+, oof) but then again, who can put a price on enjoying wagyu beef meatloaf during a national crisis? One to set the table for & light some candles... or go rogue & eat suckling pig on the sofa in your pants. 
What to drink: You can order wine & bubbles with your food (anyone for a £344 bottle of Jacques Selosse "Substance" Champagne?), but we say save your pennies and instead head to themagnumcompany.com where you'll find magnums from only £38. Now there's a party. 
Order via their website here. 85 Piccadilly, Mayfair, London W1J 7NB - delivery within 7 miles
When noodz are necessary
Climbing the walls for your ramen fix? Going nuts without noodles? Say hallelujah to Bone At Home, the pickup & delivery service from Bone Daddies. You can get a selection of their signature ramen (make ours the Tonkotsu noodles in 20-hour pork bone broth, hell yeah), as well as Korean Fried Chicken, Sweet Spicy Pigs Bones, Tuna Poke... we want it all, and we're gonna slurp away like no one's listening.
What to drink: Sake and Japanese food - a pairing we're never gonna get bored of. Head to japancentre.com and browse to your heart's content, then order a bunch of bottles for a tasting at home. 
Order via Deliveroo if you're near their restaurants in Bond St, Kensington HS, Old Street and Bermondsey. 
For a veggie/vegan feast
Our favourite Greek food spot has gone one better and added a meat-free arm to its menu. The purely vegan options include the Signature Vegan Gyros, Tomato Croquettes Souvlaki, Courgette Fritters Souvlaki and THIS isn't Chicken Nuggets Souvlaki all available in a wrap or box. Ideal if you feel you've gone a bit OTT on the meat these last couple of months. They're also doing awesome things like delivering 2500 meals to the NHS, who also get 50% discount. Respect. 
What to drink: Greek food always makes us think of sitting in the sun in Mykonos, glass of chilled rosé in hand. We'll be cracking open a bottle of perfectly pale pink LOVE by Léoube and pretending we're on the island of dreams.  
Order on Deliveroo here if you're near White City, Victoria, Battersea, Canary Wharf and Swiss Cottage. 
When you can't decide between Indian or burgers
Get the best of both worlds by ordering these epic fusion burgers from the Million Pound Menu winning Baba G's. They've migrated from food stalls to pop-up kitchens in South London in order to get their brand of spice, flavour and aroma to your living room. The Cheeky Chicken Tikka burger is epic, but it's the Naga Dehli Double with fiery naga chilli sauce, an onion bhaji and mango pulp that has us getting hot under the collar. 
What to drink: We say keep mixing things up with botanically-infused fizz. Ginking blends sparkling wine and herbal-led London Dry Gin, with dreamy results. The Ginking Botanica Italia is summer in a bottle.
Order via Deliveroo from their pop-up kitchens in Bermondsey, Brixton and Crystal Palace
For that pho fix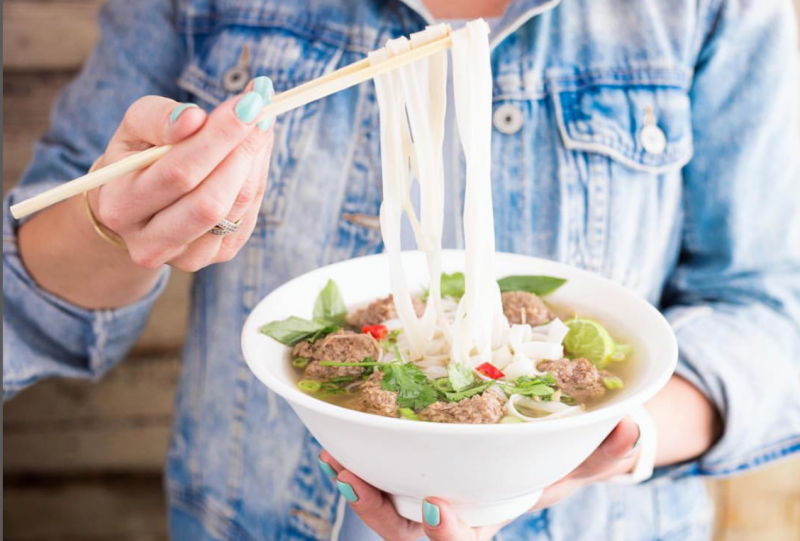 Vietnamese foodie legends PHO are back, baby! They've just announced they're up and running so you can get their pho, summer rolls, fresh salads and banging curries once more. It's also pretty healthy, is packed with vitamin C and antioxidants, and the chilli chicken pho will blast away any post-Zoom-quiz hangover. Pho-kin awesome. 
What to drink: Something light and refreshing is what we want with this - and if we're going healthy, let's go all the way and stay sober. Check out our guide to booze-free drinking and order a non-alc treat for your home bar. If you're more of a beer & takeout kinda person then Pho is celebrating by giving 50% off Beer Lao, Beavertown Neck Oil and Gamma Ray when you order food. Legends.
 Order via Deliveroo if you're near Chiswick, Balham and Battersea Rise, with Spitalfields and Islington coming next week...