BarChick was lucky to attend the 2014 Havana Club Cocktail Grand Prix in Cuba. We drank rum, there was a lot of music and there were some damn fine cocktails.
The Deal?
This years 10th Havana Club Cocktail Grand Prix saw 48 bartenders from 43 different countries hit Havana all in the name of finding the next Cuban Classic Cocktail. This only happens every two years and boy did BarChick have fun.
Who Was There?
48 bartenders from around the world and an all star line up of judges that included:
Tony Conigliaro, founder and owner of the Drink Factory and 69 Colebrooke Row.
Ian Burrell, the world's one and only Global Rum Ambassador
Alejandro Bolivar, Head bartender at El Floridita, Havana
Naren Young, Director at Empellon Cocina and Empellon Taqueria, NY
Jared Brown, cocktail and spirit historian
Juanjo, Gonzalez Rubiera, owner of Club Caribbean, Barcelona
Julien Escot, 2012 Havana Club Cocktail Grand Prix Winner
What Went Down
The world of bartending and rum got down and dirty in the city of Havana, taking over the Melia Cohiba hotel and exploring from there.
Havana is home to the "Museo del Ron Havana Club", which houses all you need to know about Havana Club Rum and the only place in the world where you can buy a bottle Havanista Rum. It's totally worth the flight. It's made especially for the US when it lifts its ban on Havana Club exporting over there.
Days were filled with talks from the most inspirational guys in the business. Dream team Anastasia Miller and Jared Brown talked about the Golden Age of Cuban Cocktails, Dave Broom talked Cuban tunes, Ian Burrell explained how NOT to win a cocktail comp, Naren Young demonstrated Molecular Cuban Cocktails and Tony Conigliaro spoke about Cuban Flavours... to name a just a few.
The actual competition was divided into semi-finals which took through 16 guys to the final the next day.
The Result
Winning recipes at the 10th Havana Club Cocktail Grand Prix
1st place: Andy Loudon (UK)
Jose Marti Especial
40 ml Havana Club 3 Year Old
4 cloves
2 ml Pastis
20 ml lime juice
15 ml Tio Pepe
20 ml sugar syrup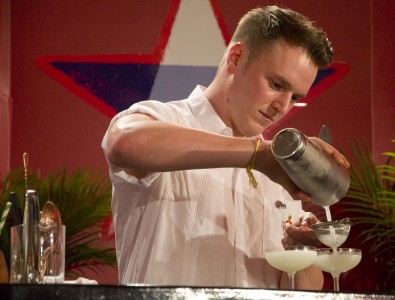 2nd place: Indika Silva (Germany)
Machetero's Punch
60 ml Havana Club 7 Year Old
30 ml Cuban Switchel
15 ml lime juice
2 dashes of Angostura bitters
Cuban Switchel
100 ml wine vinegar
70 g fresh ginger
120 ml honey
50 ml water
3rd place: Alessandro Palumbo (Cayman Islands)

El Cantinero
60 ml Havana Club 7 Year Old
10 ml honey
2 bar spoons coffee beans
4 mint leaves
Special Mention goes to:
Jared Brown and Anastasia Miller for hosting and entertaining the whole week.
Big up François Renié, communications director at Havana Club International, for introducing everyone on the trip to Havana Cultura and some of the most amazing Cuban music.