The sun has popped-up for the summer, and so have these awesome terraces. Here's where to gather your London crew when the mercury begins to soar...
York and Albany Rum Shack  - from April to 1st September 2019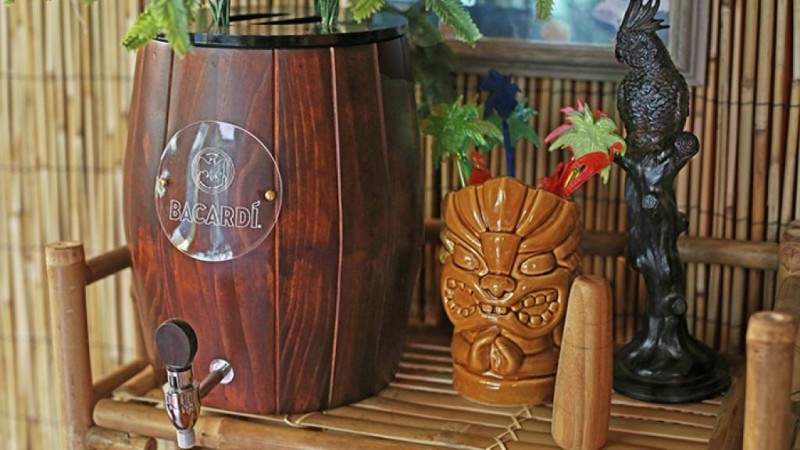 Feel like shacking up with some rum for the summer? Camden's York and Albany has opened up a wicked beach-style shack for you and your crew to chill in, complete with plenty of bamboo, palm trees, floral prints, plenty of caribbean-inspired food and summer vibes by the bucked load. And then there's the rum. So much rum. There's a dedicated Barcardi cocktail menu for you to order from. Share the love with the #RumShackalack Punch for 4; a pour-your-own cocktail served in a special Bacardi El Coco rum barrel.
127-129 Parkway, Primrose Hill, London NW1 7PS
Green Bar Summer Terrace at The Cafe Royal - from 24 May to September 2019.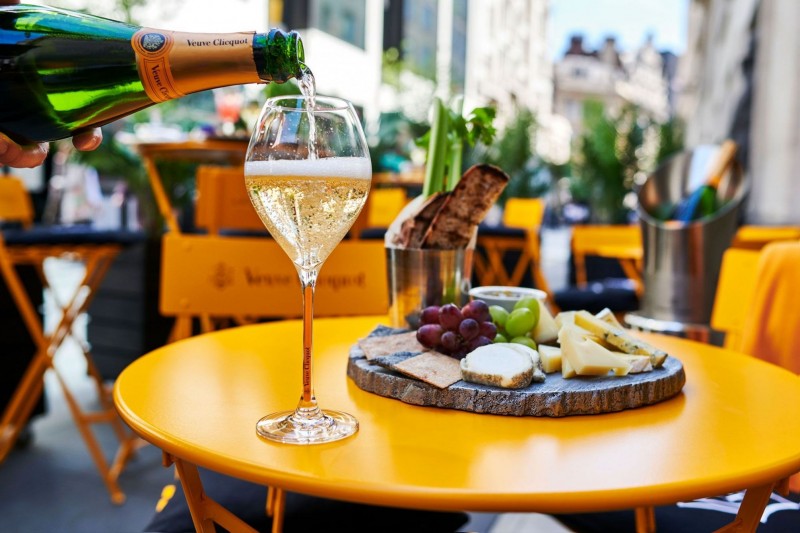 Itching for a restorative glass of champagne?  Dodge the tourists and bypass the floating human statues of Piccadilly Circus, and rock up to the new Green Bar Summer Terrace. They've partnered with Veuve Clicquot for a steamy Summer romance. They've got a new take on seasonal cocktails featuring plenty of the bubbly stuff, paired with some light dishes and new sushi creations.  Got a sweet tooth?  Grab a slice of Michelin-starred Albert Adrià's famous cheesecake and wash it down with a glass of Veuve Clicquot on the terrace. Couple goals!
68 Regent Street, Piccadilly, W1B 4DY 
Le Pont De La Tour Rosé Terrace - Saturday 11th May until Saturday 31st August 2019
BarChick can't get enough of the pink stuff when the mercury levels are high, and you know everything tastes better on a terrace by the water. Le Pont de la Tour have done a hot new collab with revered wine brand, Minuty Rosé, to launch their new rosé terrace for the summer season, La Maison du Rosé, and it's made this place serious hot property.  Serving up a three-course brunch menu which starts with all the big hitters; eggs benny, french toast and ice cream, there's also a pale and crisp glass of rosé to crank up the summer vibes. La Vie En Rosé, baby!
 36d Shad Thames, Butlers Wharf, London, SE1 2YE
ME at Radio Rooftop Spirit of Summer Terrace - May to October 2019
There's a cultural mash-up going down on the roof of the ME hotel this summer, and it's bringing some seriously epic drinks to match the city-wide views. The Spirit of Summer Terraces at Radio Rooftop is hosting a Mexican Hacienda and an English Botanical Garden for your crew to book through summer months, each with their own killer cocktail menu to choose from. Take a seat in the country garden in the sky with Bombay Sapphire Gin cocktails and Anglo-Indian fare, or get comfy in a scene straight out of Mexico with cacti, woven seats and bright trinkets, and of course, plenty of Patron Tequila cocktails and delicious Latin American snacks. Epic!
Radio Rooftop, ME London, Strand, London WC2R 1HA
The Mondrian Laurent-Perrier Midsummer Terrace - 2nd May to late September 2019
Treat yo self to some fancy-ass river side imbibing this summer. The Mondrian have brought back their colourful floral terrace, which this year is celebrating 50 years of Laurent-Perrier Cuvée Rosé.  Sitting pretty outside Sea Containers restaurant,  they're serving a Champagne themed menu amongst soft pink wildflowers in Laurent-Perrier flower boxes, with a sh*t load of dusky pink furnishings that you won't be able to resist snapping for the 'Gram. As the evening approaches, the terrace will be illuminated with candles and heated lamps, as well as Laurent-Perrier throws to keep you warm. Talk about a killer booze blanket. Take a date and cheers to the summer.
20 Upper Ground, South Bank, London SE1 9PD
John Lewis Roof Fest - 19th April - 29 September 2019
Didn't get Glasto tickets this year? No probs - John Lewis Rooftop on Oxford Street has you covered with their epic festival pop-up for the summer. Check out the live music stage fashioned from a vintage caravan and rock out to their ace line up of DJs and artists. Forgot to don your body glitter? No probs - there is a beauty crew on hand to get you festival ready with body and nail art. There are cocktails and street food courtesy of My Million Pound Menu winners Bong Bong's Manila Kanteen (we all love TV famous grub). Get yourself organised and reserve one of the and cosy flower-filled huts and rattan 'wigwams' for you and your crew. And unlike Glasto, the bogs here are fixed and you can go home and sleep in a bed at closing time. Winning.
5th Floor, John Lewis, 300 Oxford Street, W1C 1DX
The Montague on the Gardens Beach Bar - 1st June to 15th September 2019
Better get a booking in for them summer pedicures, cos this wicked Central London bar is bringing you a beach-hut style thatched roof, delicious cocktails, palm trees and real god-damn sand, you won't be able to resist kickin' of ya shoes and letting it squish between your toes. You'll feel like you're basking in the Bahamas rather than in the heart of Central London when you get sipping on the cocktails served in coconut shells. Make memories in the photo booth, shake what your mama gave you when the DJ gets going and tuck into the killer BBQ menu. This is the holiday you're craving, without the long-haul flight.
15 Montague Street, London, WC1B 5BJ
Neverland Fulham Beach - May to September 2019
Life's a beach if you live in the posh borough. Fulham Beach is returning for a third smokin' summer, so fly away to Neverland & find this beach meets jungle hybrid. It's here to pack your summer with a season-long tropical fiesta, so put your feet up with refreshing cocktails, bottomless rosé and insane beach brunches. There are also two epic street food vendors, live music, shuffleboard and beer pong for some healthy competition with your crew. This is the ultimate summer paradise with a full-blown festival feel. Extra bonus? If your drinking buddy is four-legged, bring 'em along. Pooches welcome. 
Neverland, Fulham Beach, Wandsworth Bridge Road, London, SW6 2TY
St Pancras Renaissance Hotel Roof Terrace - April to September 2019
We'll tell you what we want, what we really really want: A rooftop space in Kings Cross who have teamed up with Ketel One to serve a botanically heavy menu of ace cocktails. Niche? Yeh maybe, but The St Pancras Renaissance Hotel have got our back, cos they aren't just about *that* Spice Girls music vid. It's now also your new summer rooftop hang obsession. The drinks and food are as lavish as the hotel itself. BarChick's all about that nug life, so expect to find her with one of the confit Gressingham chicken nuggets in one hand, and a refreshing sundowner in the other. There's also a pizza oven and BBQ – summer sorted!
Renaissance Hotel St Pancras, Euston Road, London, NW1 2QR
The Churchill Bar & Terrace Cuba De Libre - May 15th to October 2019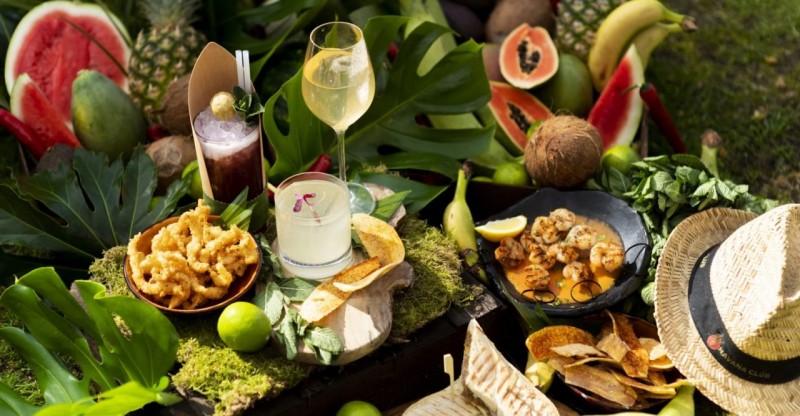 The snow on the Churchill Bar & Terrace has melted & the exotic Cuban vibes have arrived. The Casa De Cuba seasonal terrace has taken inspo from Churchill's travels to Cuba way back in 1895 where he observed the Cuban Independence War. Talk about a throwback. It's a full Caribbean sanctuary tucked back from Oxford Street, so expect insane dishes & tropical cocktails served up amongst the hella vibrant decor. Hot damn!
30 Portman Square, London, W1H 7BH, United Kingdom
The Courtyard's Aperol Garden - May to October 2019
The Courtyard ain't no ordinary cocktail bar, and the walled garden out the back is so epic they've named the place after it. This courtyard is a proper case of East meets West London.  Think quirky furniture, epic wall murals, lots of green and outdoor lounge seatings. It's a full-blown urban jungle ready to welcome your crew for a summer of al fresco drinking. It ain't summer without several glasses of the orange stuff. The Courtyard have partnered with Aperol to make sure your summer is brighter than an orangutan in a prison jumpsuit.
4 Fulham High St, Fulham, London SW6 3LQ
Night Tales - Open for the year
Occupying two railway arches and a vast terrace, Night Tales have given 4000 sq ft of space to their insane summer terrace. They've got private day beds, booths, street food & DJs. Want more? Well sh*t, they've got more.  There's the brand new Garden Spritz Bar where you can get yourself - you've guessed it - their killer Garden Spritz (Gin, Lillet, Peach bitters, Thyme, Grapefruit - epic!) along with a menu packed with other sunshine-friendly serves. When the heatwave hits hard, you should hit the Club Frozen Bar for frozen negronis, frozen iced tea and some smokin' frozen chilli & coriander mezcal margs. And if you want more tequila, you can't miss the Agave Bar lit almost exclusively in neon. Now that's f*cking cool.
Arches 14 & 15, Bohemia Place, Hackney, E8 1DU