Brunch
Everyone dreams of breakfast in Paris: large mugs of frothy coffee and buttery croissants whilst sitting outside a bustling Parisian café. Now Colbert has bought Paris to Sloane Square making the dream a reality. Sit outside on neat tables, sip coffee, eat eggs anyway you want or indulge in their selection of pastries. Kick back with the papers and let the morning give way to lunch.
50 - 52 Sloane Square, London, SW1W 8AX
Liquid Lunch
The Bluebird Stroll up the King's Road towards lunch (you deserve it after all that reading). It'll take you a good 15 minutes so you can work up an appetite, but after taking in a few shops and possibly the Saatchi gallery if you feel like a culture hit it could take hours. If you're playing yummy mummy or want to lunch with some then this is the ultimate pit-stop. Start with a round of Bellinis or go for it with a bottle of Champagne (you are on the KR babez), look fashionable with a small salad (carb-free obvs) or screw your fellow diners and order the fish and chips to soak up some of that booze. 350 King's Road, London, SW3 5UU
Afternoon Antics 
Curzon Cinema / National History Museum If you're in the midst of a post-lunch lull then go for a snooze in the Curzon cinema, it's pretty impressive and big enough to get away with a full on kip (who cares if you're snoring 40 seats away). If on the other hand you're feeling perky after the bubbles then the Chelsea Physic Gardens are well worth a visit if botany floats your boat, but if it's p*ssing with rain then us BarChicks can never get enough of that giant dinosaur in the Natural History Museum, and they usually have some exhibitions that are worth the trip. The South Ken area has got your back when you need a sit down. You've either got the tea and cake option, (a Red Velvet cupcake at Hummingbird or a Lemon Meringue Pie at Muriel's are dangerously good) but we suggest getting on it and where better than with Janet… Curzon Cinema, 206 King's Road, London, SW3 5XP // National History Museum, Cromwell Road, London, SW7 5DB
Afternoon session
This American lady is the ultimate chick to host a session, and she's more giving than Santa with her long opening hours which are from 12pm – 3am most days. The paraphernalia that lines the walls will keep you occupied as will the sport on TV, there's a sweet smoking area out front and the drinks will flow. If you're in luck Janis will be behind the bar dishing out PBJs and tales from her American days. 30 Old Brompton Road London, London, SW7 3DL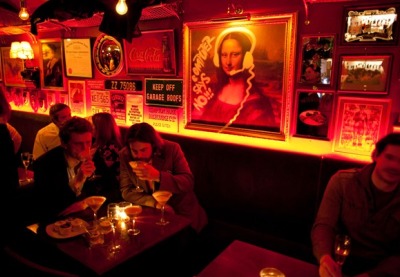 Pre-dinner drinks
Barts No session is complete without a bit of variety, so wave goodbye to Janet and head to Barts. Sneak inside the Chelsea Cloisters, locate the hidden door and beg entry (or swipe your card if you're down with the kids) to this very cool speakeasy. It's always brimming with hot people, so if you don't have a dinner date you soon will. Hit the cocktails, all mega, and spice your outfit up a bit with the help of the dressing up box: chain mail, wigs, lederhosen… get creative. Chelsea Cloisters, London, SW3 3DW  
Dinner
Bibendum If he or she is the one, then The Bibendum restaurant upstairs in the beautiful Michelin building is the ultimate spot for dinner. Everything about it is beautiful, from the food to the spectacular stained glass windows. Eat escargot, roast grouse and plum clafoutis, just make sure you bring a limitless plastic along. If on the other hand you've picked up a rowdy crew, then The Big Easy has got your back. Frozen Margaritas, mountains of ribs, huge steaks and lively lobsters. Grab a bib, get stuck in and sing along to the rocking band, they'll be sure to fire you up for the rest of your night. 81 Fulham Road, London, SW3 6RD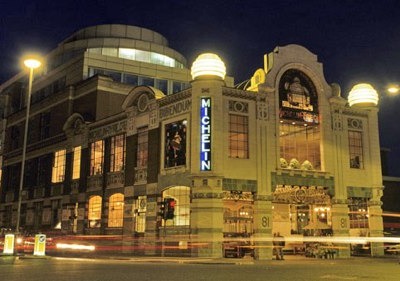 Tequila 
No night is complete without tequila, fact. Everyone knows that tequila makes you happy thanks to Terrorvision, and Azteca will make you happy too. Join the red trouser brigade in the King's Road's most rocking venue; the Margaritas will be flowing, the Latino music pumping and the shots slamming. Not to be missed.
329 Kings Road, London, SW3 5ES
Boogie
Maggie's It's 11.30pm, you're swaying, you know you should go home but you just don't wanna, there's only one thing for it… Maggies. Join Thatcher (kinda) and the MIC crew in this rocking basement bar, if you can't have fun down here then you've got no hope (at all). The old school hits will be pumping, Super Mario will be dancing and the whole of Chelsea will be swinging (each other around). 329 Fulham Road, London, SW10 9QL
Late night munchies 
VQ It's 2.30am on a school night – sh*t how did that happen? You need to sober up/drink on through if you've got any chance of making it into the office… 24 hour VQ will immediately become your NBF. For Sloane's this place is a godsend. Grab a table with the babes you've just picked up, hit carafes of wine, sweet potato fries, Eggs Benedict, burgers, pancakes and do your best to sober up/pull. 325 Fulham Road, London, SW10 9QL TAXI…