There are some city breaks around Europe which are pretty obvious choices. Then there are those which might seem like a bit of a plot-twist.
Well, BarChick loves a plot-twist. With a personal challenge of finding flights and weekend accommodation for less than £100, we ended up in Riga. Ri-where? It's the capital of Latvia, set on the Baltic Sea. You'll find it on a map next to Russia. In winter, it's f*cking cold. But get yourself some long-johns and a big-ass coat, cos you're set for a great weekend. 
Got a thing for museums, concert halls and really pretty architecture? Riga's your place. It's a mismatch of wooden buildings, art nouveau architecture and a medieval Old Town. As cities go, this one is small, so you can walk around most of it. Okay, so Eastern Europe might have a bit of a rep for being the mecca for stag dos, and Riga isn't completely free of Lads On Tour. But if you wanna avoid that scene, these are the spots BarChick recommends you hit up.
Coffee - Miit
Lacplesa 10, Riga, LV-1010, Latvia
So you had to get up at some unholy hour to nab yourself that seat on the first flight out of Luton. Now all you want is a coffee the size of your face. Head to Miit. Riga has a bit of a hipster culture and Miit can be found at the centre of it.  It started as a bar and fixed-gear bicycle workshop (that classic combo) and has now morphed into a trendy cafe. Coffee is made using a variety of bizarre methods with a decent collection of beans, and check out the freshly-made cakes and tasty vegetarian food. There's a bicycle wall mural at the far end, an area for all those laptop warriors to work from, and on weekends they even have live music sets & DJ's playing in the evening. You don't even need a moustache or a bike to get in - result. 
On that note...
If you're not feeling too snoozy and just wanna throw yourself into seeing the sites, start by taking a stroll around the pedestrian-only Old Town. It's basically the tourist quarter, with shops, restaurants, bars and nightclubs. Wander down its narrow cobble-stone streets, and make sure you look up at the Medieval-era buildings. They're colourful and pretty and great for the 'Gram. 
Lunch - Citi Laiki
Brivibas iela 41, Riga 1010, Latvia
Bargain hunters, this one is for you. Stepping into this pub is like stepping back in time. Long wooden tables; wooden and brick-clad walls; a wooden bar; and wooden ceilings. Seeing a trend here? They serve the local beer - a light, easy drinking lager- but there's also wine. Extra insulation is provided by horse hair, wedged between wooden pillars. Weird. But judging by ye olde photos hanging on the wall, this place used to be an old stable so... we guess that's normal? Food-wise, the menu is simple and a little hard to understand (unless you're sharp on your Latvian) but hey, you're here for adventure. The Vegetable & Chicken Ball soup sounded intriguing enough to us so we took a gamble and it paid off. It's big, filling, warming and bloody tasty. And at 4 euros, we're not complaining. 
On that note...
Riga has some really beautiful green spaces, and the Daugava river cuts through the centre. Perfect for some casual al fresco dining - if the weather is good (summers here sit around the 20°C mark, while winters are quite literally baltic) why not grab yourself the makings of a delicious and fresh picnic from Europe's largest market, the Central Market? The building which houses the market used to be an old airship hanger and has now been included in the UNESCO World Heritage Site list. A must-visit if you're into your epic structures. Oh, and your food, obviously. Find the market at Nēģu iela 7, Latgales priekšpilsēta, Rīga, LV-1050, Latvia 
Pre-dinner cocktails - Skyline Bar
Raddison Hotel, 55 Elizabetes iela, Riga, Latvia
Struggling to get your bearings?  The Skyline Bar on the 26th floor of the Raddison Hotel is an excellent place to go to check out the city from above. Get a bird's eye view and plan your adventures around the city over a cocktail.  See the colourful Old Town on one side, and the Art Nouveau district on the other. It gets very busy in the evenings, especially on weekends, but go at dusk and you should be able to get a table by the window. It's a bit fancy in here but there isn't a super strict dress code: BarChick was rocking her walking boots and thermals and breezed straight in. By Latvian standards, the cocktails are a little pricier (but by London standards, they're a goddamn bargain) and they're good. Really good. We tried the Ligo Spritz which celebrates 'Ligo', the shortest night of the year, made with Aperol, sour cherry gin, strawberry and Fentimans Rose Lemonade. While the temperature outside was dropping below zero, this tipple tasted just like summer.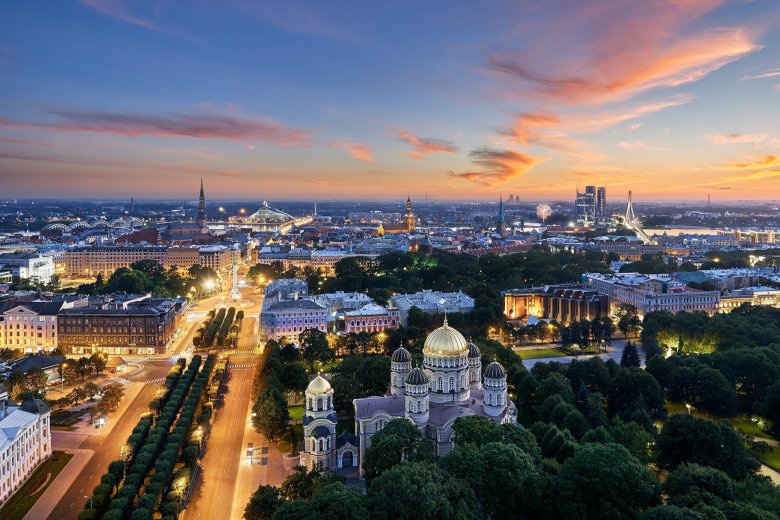 Image source: Skyline Bar Facebook
On that note...
If you want to get a different view of the city, you could head up to the Panorama Riga Observation Deck at the Latvian Academy of Science. It's a circular terrace which gives you some pretty epic 360° panoramic views of Riga. It's cheap to get up to and there is plenty of space so you won't be crowding to get the best view and city-scape selfie. Drawback: no cocktails though. 
Dinner - KOYA
KOYA restaurant & lounge bar, Str.Andrejostas 5k-15, Riga
KOYA is a super lush and chic restaurant located in the artistic colony Andrejsala, just a few steps away from Old Town Riga. You'll need to grab a taxi to get here though, 'cos it's basically in the middle of a technical facility's fortified ruins, which date back to the old port. It's industrial, modern and a must visit if you're looking for something a bit spesh. Think black wooden beam walls, a glass floor to ceiling window stretching the length of the room with an uninterrupted view of the river, and beautiful green Birds of Paradise lit up by candles for proper romantic vibes. The food is a variety of cuisines with a fine touch. A bit more on the spenny side than other places in town, but it's worth it. BarChick forwent pudding in exchange for a digestif Old Fashioned; turns out the cocktails here are as delish as the food. Win all around.
On that note...
Like we said, Riga is pretty small so you can easily get around it by foot, but there are some spots that are gonna require a taxi. They can be a little dodge here because there isn't really any way of monitoring cab licenses, which is a bummer. It's definitely better to use a taxi app like Uber or Taxify if you can, just to be on the safe side. Journeys are pretty cheap - you can get into town from the airport for around 10 euros. More money for dinner and drinks!
Late Night Drinks - Vest
Stabu iela 1, 1010 Riga, Latvia
BarChick always takes it as a good sign when we see industry folk in bars. We spotted the restaurant team from KOYA in Vest after dinner, so if a place is a hit with the locals, it should be a hit with us. And Vest definitely was a hit. It's super chilled with a DJ in the corner churning out some decent tunes while the bar team shake up classic cocktails. The Margaritas are cheek-suckingly good and the Negronis will keep you as warm as those fur coats you see the locals wearing. In between drinks, why not challenge your gang to a game of table football in the corner? Loser buys the next round. 
On that note...
If you really wanna drink like a local, you need to try out the Riga Black Balsam. It's a bitter liquor which can be had on its own, on the rocks, mixed, or even in a hot drink. BarChick tried it out in a Riga Coffee (the Latvian take on an Irish Coffee) and in shot form. It tastes like aniseed and liquorice, but if you want something a bit sweeter, you could try the Blackcurrant flavour which is a bit more palatable. You can even buy miniature bottles at the airport as souvenirs.  
Brunch - Makonis 
Sia "Dizaina Ministrija", Stabu 42, Riga, LV-1011
Makonis literally translates to mean 'cloud', which explains the lighter-than-air waffles they serve here for their weekend brunch. It's an all you can eat situation, which is great if you're wanting to soak up some of the booze from the night before. On our visit, 8 euros got you unlimited waffles from a circulating tray piled high with a mix of sweet and savoury topped goodies... and they keep coming 'til you say stop. Look out for the Latvian spread which tastes like buttery honey - it's f*cking delicious.  If you're in need of hair of the dog,  Makonis is pretty well known for their cocktails here, too. They don't offer a bottomless booze option, but the breakfast bellinis are around the 4 euro mark, so you can easily justify having a few.
On that note...
If you'd rather use your final morning to take in culture rather than food, well, Riga has it in heaps. The Art Nouveau museum (which is actually an apartment) is pretty gorgeous. It even includes live human exhibits who walk around or sip tea from little porcelain cups, dressed in clothes that were typical of the Art Nouveau and Jugendstill eras. If Latvian and European history is more your bag, the museum of the Occupation of Latvia covers the period during and following WWII, when the Iron Curtain closed in on most Eastern European countries. Great for history buffs. Of course, then there is the World of Hat museum... which is a museum about hats. Because, well, why the f*ck not?