Like a hygge in a glass...
Warm up in a blanket, take your position by the fire and say f**k yeah to the new season with these Autumn cocktails.
Chase Toffee Apple
Bonfires. Toffee Apples. This cocktail by the Chase Distillery crew is basically Bonfire Night in a glass.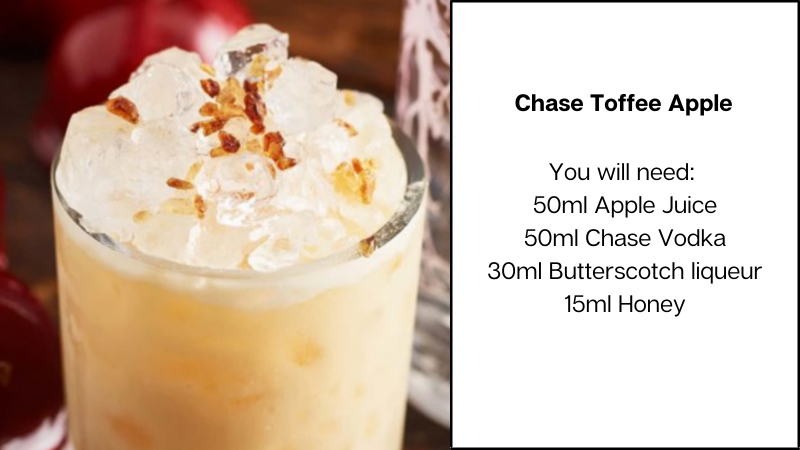 Put all ingredients into a cocktail shaker, add ice and shake hard. Strain into a rocks glass over crushed ice. Sprinkle with brown sugar crystals for a sweet, crunchy garnish. Ooh mama. 
Smoked Maple Old Fashioned
When the temperature drops, you want something that's gonna warm you to the core. Our answer: whiskey. Always whiskey. Better yet, whiskey turned into a flavourful, warming Old Fashioned like this one by Jessica Merchant from HowSweetEats. 
Use a kitchen torch (or a lighter if your thumbs can take it) to light the lemon or orange rind and place it in a glass, covering the top for a minute or two (you could use a coaster - whatever you have lying around). Remove the rind, run it along the rim of the glass and add an ice cube. Add a few drops of bitters, then add the maple syrup and then the bourbon. Stir down with an ice cube, add the cinnamon stick and serve. 
Boozy Pumpkin Spiced Freak Shake
If you get freaky for PSL season, you're gonna lose your god damn mind for this one. A couple of years ago, Baileys brought out their own Pumpkin Spiced edition, and it shook the world so hard the leaves dropped off the trees before Autumn solstice even hit. It's pretty hard to get ya hands on it these days, but we've got a hack so you can go extra this Autumn with this beast.
Aaaaaand indulge.
Bullshot
BarChick is a city gal at heart, but that doesn't mean we're not down with wanging on our wellies and donning some tweed for a walk in the countryside... especially if we can take a flask of this wild warmer with us. This recipe serves 4 so adjust to your party size if you're willing to share.
Heat up the venison stock and tomato passata in a saucepan, add the rest of the ingredients and then warm gently. Adjust seasonings to suit your taste. Serve in a mug/flask/hip flask and let it accompany you the next time you wanna go feel the crunch of leaves beneath your feet.
La Finca
If you wanna channel some world-class mixology this season, you gotta give this smasher a go. It's a creation by one of the world's leading coffee experts and Mr Black ambassador Martin Hudák. This creation is light on alcohol but big on flavour. The sherry-honey combo layers on top of the natural coffee 'funk' to create a sweet-and-savory flavour beast. And it looks f*cking ace.
Add ingredients to a mixing glass and stir over ice until properly chilled and diluted. Pour over an ice cube in a either a pony or rocks glass (whatever you have - you do you) and serve. Garnish with a fig slice for that autumnal juicy hit, or make it fancy with a floral garnish. Whatever. Its your drink now. 
Wanna know what else the BarChicks are drinking this Autumn? Click here.