This cocktail has one of the most iconic origin stories in the cocktail world. When a supermodel asked the late, great drinks legend Dick Bradsell to make her a drink that would wake her up and f*ck her up, he came up with the now world-famous Espresso Martini. We wouldn't usually recommend having more than a few unless you're planning on pulling an all-nighter... but these 5 might just be too good to resist.
Hazelnut Espresso Martini
Nuts for this caffeinated cocktail? Double down and bring those Nutella vibes to your cocktail hour with this Hazelnut Espresso Martini made with Mr Black Coffee Liqueur and Monin Hazlenut Syrup.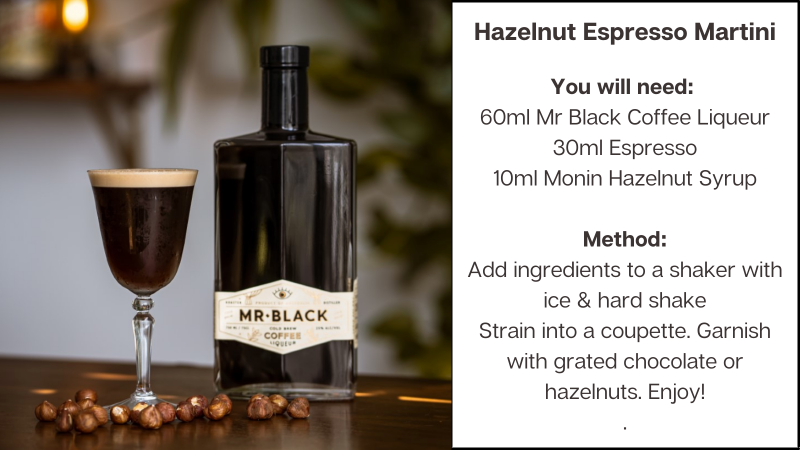 Dark Side Of The Moon
This Dark Side Espresso Martini combines two of our faves from the house of Aluna. Their OG Aluna Coconut Rum and a newer member of the collection: the Aluna Coconut Coffee Liqueur. Together they make for a delicious, more mindful serve.
Peanut Butter Espresso Martini
Does peanut butter & whiskey sound like a vibe to you? You're gonna dig this new whiskey liqueur from Sheep Dog. They've combined the unmistakable flavours of our fave nut butter with smooth whiskey resulting in this bad-ass silky liqueur. And it really barks in an Espresso Martini. WOOF!
Chocolate Espresso Martini
Chocolate and coffee go together better than Ben & Jen, so you're gonna love this rich, smokey Espresso Martini made using CUT SMOKED Rum. Yeah, this is the real deal couple goals.
Cazcabel Espresso Martini
Coffee with an extra measure of coffee? Sounds like a recipe for some serious heart palpitations... especially when you throw Cazcabel Coffee Tequila into the mix. That's one thing that'll always get our hearts racing.
Looking for an extra caffeine fix? Here's 5 more coffee-based cocktails you can try making this weekend.