So you took our advice and stocked up on a few epic rum bottles for your home collection. Good choice. Now, what are ya gonna do with them? You're gonna make a few of theses banging cocktails. Shakers & muddlers at the ready. It's rum time.
The Drumbeat
A few years back the crew at Hattiers Rum approached the Tiki Daddy himself Georgi Radev (you'll know his as the party starter and Creative Director of Islington's Laki Kane) to help them create an epic premium cocktail worthy of their rich aged premium rum. Needless to say, he NAILED IT.
You will need:
10 ml Lemon juice
10 ml Don's Mix (see below)
1 Lemon twist
Add the (heated) Don's Mix, rum & lemon juice to a cocktail shaker and shake well. Fine strain the mixture into a tumbler glass with an ice block or a 2-3 ice cubes. Garnish with a lemon twist. One the side, serve up a few triangles of Manchego Cheese and drizzle with truffle-infused honey. Trust us. It's worth it. 
To make up a batch of Don's Mix you'll need:
200ml of simple syrup (2 parts sugar to 1 part water)
1 Cinnamon stick - Crushed but not broken into pieces
1 tbsp. of Cacao Beans
Zest of a one pink grapefruit
To make, simply combine the ingredients and pop the mix in the microwave for 2 mins. Give it a good strain and away you go! Good to have a batch of this to hand if you like to experiment with rum cocktails on the reg. 
Pornstar Colada
We can never resist a naughty twist, and this Piña Colada has been well and truly P-I-M-P-E-D. This is what happens when you cross the ultimate party cocktail with the ultimate beach cocktail. Did someone say... beach party?
You will need:
60ml Aluna Coconut
30ml passion fruit juice
20ml pineapple juice
15ml coconut milk
15ml juice
Dash vanilla bitters 
Combine all ingredients in a shaker and shake HARD with ice. Strain into a chilled glass and garnish with half a passion fruit.
Want a few more Piña Colada recipes? This ultimate guide is everything you need.
Rum Swizzle
This is the cocktail to make when you've got all the crew together. We got this recipe from the shakers at The Swizzle Inn - THE bar to hit up if you're ever in Bermuda and where this fruity punch was created. 
You will need:
Fill a pitcher ⅓ full with crushed ice and then all the ingredients and churn vigorously until it gets a lil bit frothy (you could do this in a shaker first if you want). Strain into a martini glass. You'll swizzle into the party, before you swagger out.
Hemingway Daiquiri
Pink grapefruit juice is the key ingredient for this Daiquiri cocktail guaranteed to cure writer's block - we'll remember that for the future! This was one of several variations served up to Hemingway at El Floridita.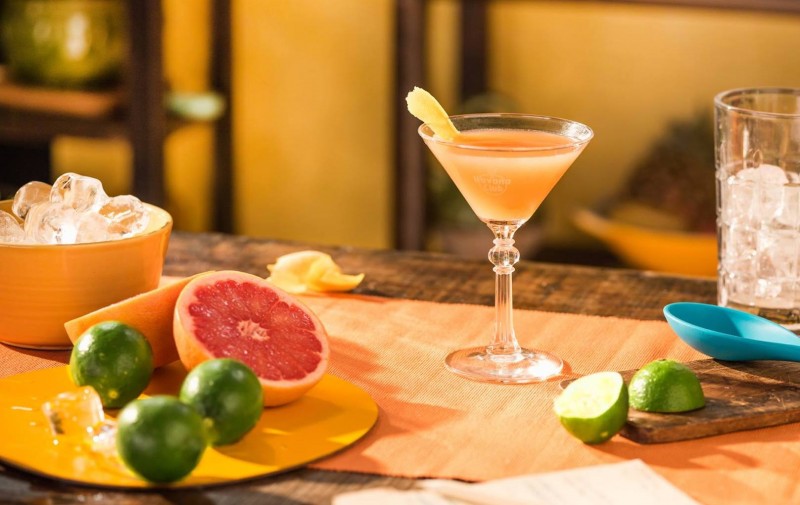 You will need:
Juice of half a Lime
5ml Maraschino liqueur
35ml Fresh pink grapefruit juice
Into an ice-filled shaker, pour this colourful collection of ingredients together and shake it before double straining into a coupe or martini glass. Drink and then go and start that novel you've been talking about writing through the whole of lockdown...
1796 Spritz
Ya want something refreshing? We'll give you something refreshing. This simple Spritz is next level - the ultimate thirst quencher.
Mix 1796 and umeshu (it's a Japanese liqueur and it's banging) in a spritz or wine glass over ice and give a quick stir, then top with the soda and tonic. Stir again and garnish with a purple shiso leaf (if you have one of those just lying about, a twist of orange peel will work perfectly, too).
Wanna know which rums you should have in your home bar? These are our favourite 20
Seeking a bit more rum-recipe inspo? Check out our low-down on the iconic Mojito or get a lil bit tropical with our guide to the Piña Colada