Put the lime and salt down, we're mixing things up a bit.
Margaritas are great. We love 'em. Can't get enough. But sometimes when mixing up tequila cocktails, it's fun to take the untrodden path...
Añejo Manhattan
A tequila as smooth and suave as Casamigos deserves a cocktail to match. This Manhattan uses the Casamigos Añejo aged for 14 months in premium American white oak barrels. It has a gentle hint of spice and vanilla making it the perfect whisky substitute for this classic cocktail.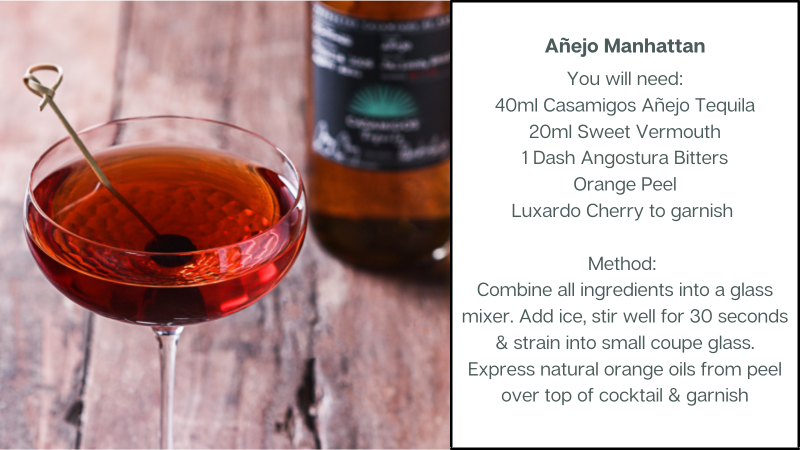 Hibiscus Sour
Sometimes all ya need to perk you up is some pretty flowers and a bad-ass tequila. This cocktail combines both. With its pretty pink hue and floral sweetener, you'd be forgiven for underestimating this one, but with the double measure of Ocho Blanco, it's got a hit that'll knock your petals off ya.
Paloma Negra
This recipe by the Mr Black squad takes the classic fruity Paloma and puts a caffinated rocket up it. It uses El Rayo Plata as it's agave base and is then topped with a hit of their iconic Mr Black Coffee Liqueur for a bittersweet hit. If you wanna make it even more impressive, add your Mr Black hit at the end and let it float on the top to create a sunset in a glass.
Mijenta Summer In Arandas
Whether you're trying to cool down from a UK heatwave, or desperately seeking the vibes of Mexican summer, this refreshingly sweet and fruity cocktail using the new artisanal blanco tequila by Mijenta is the answer.
Reposado Old Fashioned
An "Old Fashioned" is a cocktail made "the old fashioned way" - that's spirit, sugar, bitters and water, but we bet you've never given it a chance with tequila. The reposado by Panchos Datos has a caramelly oaky spice to it that means it bangs in this classic cocktail.