Quirky, quality, bonkers and bizarre - you're gonna want to hit up these unique hot spots around the globe.
BarChick's list of bars she wants to hit up is never-ending. But these are some of the bars YOU need to start ticking off.  Something to think about for your next escape...
AUSTRALIA
End-of-war Parisian party perfection 
Raising a glass to the end of the war has never felt so sexy. KittyHawk is designed around the Liberation of Paris in 1944, and it looks pretty damn hot. It balances old-world charm with some f*cking good drinks. Dip into their Rum & Rye Old Fashioned list (there's 10 to choose from, epic), or drink for victory by popping a cork on the Champagne. Live music nights just add to the good-time vibes - we love it. 
16 Phillip Ln, Sydney NSW 2000, Australia
No membership required, good times guaranteed 
Get ready for a little slice of Beverly Hills in Sydney. With peach-coloured walls, high ceilings, and all the greenery you could ask for, it's the kinda place to settle in for an all-day affair. The guys over at Lobo Plantation are responsible for the drinks, so you know they're gonna be good and tick all the boxes from serious to silly. Not leaving anything out, they also have totally moreish food, live music and DJs - plus they're open till 2am!
235 Victoria St, Darlinghurst NSW 2010, Australia
Vintage vibes in this pretty as a picture 50s bar
In the mood for a bit of elegant time travel? Good. Maybe Sammy was named Best Bar in Australia only 9 months after opening, and takes inspo from the roaring Fifties; the rebirth of cool. We're talking about a time when The Rat Pack and Hollywood glamour were revered and admired. Woof! Their signature drinks are named after some of "the boys" favourite haunts on the Vegas strip. Check out the Mini Martinis list and you will instantly recognise our ode to the most iconic cocktails of all time. 
115 Harrington St, The Rocks, Sydney
Europe
Chill the f*ck out in the world's first frozen bar
Taking it back to the original G, this was the world's first permanent icebar. The interior of ICEBAR Stockholm is carved out of 40 tons of natural ice by sculptors from ICEHOTEL - we hope they were wearing their thermal underwear. The bar has a constant temperature of -5°C, but don't worry cos you get a snazzy cape and pair of gloves to keep yourself warm. You're gonna need it - even the glass your drink's served in is made of ice ice, baby. Flaming Sambuca shots not on the menu, we assume. 
Vasaplan 4, 111 20 Stockholm, Sweden
Kick back in the world's smallest drinking den 
Be warned - this isn't somewhere to roll with your crew. Backdoor 43 only has 4 stools, tucked inside a space the size of a wardrobe. But if you're flying solo or with a couple of mates, book ahead to visit this dinky spot that's vying for the name of world's smallest bar. At only 4 meters square they still manage to cram in a bunch of curious and curiosities. Your bartender keeps anonymity by wearing a Guy Fawkes mask, so let the debauchery begin for the 90 minutes it can be booked. Can't nab a spot? Door 43 also serve takeaway cocktails from a slot window so you can get a taste of what they're all about. 
Ripa di Porta Ticinese, 43, 20143 Milano MI, Italy
One of the most exclusive bars in the world? Hell yeah
Hey, if a bar is good enough for Kate Moss, Liz Taylor and The Rolling Stones, it's good enough for us. How you get into this mad exclusive member's club is down to you... we recommend polishing up those blagging skills, or finding a friend with access. Once inside, it's bling bling galore baby. A recent makeover cost a cool £100 million, and you can eyeball wallpaper featuring hand-printed birds of paradise and gold leaf, a framed Picasso, oh and the uber-exclusive secret club featuring a blue crystal floor and solid-silver bar. Don't forget to take a bathroom-selfie to prove you were there, yeah? 
46 Berkeley Square, Mayfair, London W1J 5AT
Multiple personalities mean you're never gonna get bored
This split personality of a bar in Madrid makes everything a conversation piece. With three rooms each with its own vibe and decor, you could come back here every night of the week and never run out conversational queues. When it comes to the cocktails, they go hard on the classics but each comes with a twist and served in epic custom glassware. WOW.  
Calle de Echegaray, 21, 28014 Madrid, Spain 
The Americas
Combine history and drinking at America's oldest boozer
Those Americans love a bit of history, don't they? Well at Bell in Hand Tavern it practically oozes out the walls. This place has been around since 1795 (which is a long time in the States) and bills itself as the oldest tavern in America.  The first owner, Jimmy Wilson, was Boston's town crier for fifty years, hence the name. You'll be in good historical company, as this was the meeting place of printers and politicians, sailors and students, and now a ton of tourists looking for a cold beer.
45 Union St, Boston, MA 02108, United States
Take a 'shining' to this bar based on Stephen King's creepy novel
Ever watched Stephen King's The Shining and wished that mysterious hotel actually existed? Well it kinda does now thanks to long time bartender Jacob Trevino. Expect simple, easy craft cocktails, exotic jerkies and decorations that would make Stanley Kubrick proud.
6083 Montgomery Rd, Cincinnati, OH 45213, United States 
Rum-soaked island vibes make this a tropical paradise
After getting us properly Tiki'ed in Vancouver, we're pretty excited to see this sister joint come to Toronto to bring you a little bit of the tropics and a whole lot of rum. Pufferfish lamps. carved totems, island-centric garnishes and actual fire mean there's plenty to gawk at and help you pretend the outside world doesn't exist.
1378 Queen Street W., Toronto, ON M6K 1L7, Canada 
Kicking back in a cave never felt so fun
Fancy going deeper underground? Alux is for you. Head inside this 10,000-year-old cave, pick your poison, then chill on the rocks (you, not your drink) as you take in the subterranean vibes. Exotic Mayan cocktails are the name of the game here and if you fancy stretching to dinner they have a full-blown restaurant too. Epic.
Av Benito Juárez Mz 217 Lt2, Ejidal, 77710 Playa del Carmen, Q.R., Mexico
Asia
The London inspired multi-level bar putting dark spirits on top

Not experienced the South-East china bar scene for yourself yet? Well honey, we're here to tell ya: it's giving Hong Kong a run for its money. Shenzhen is the first city you get to when travelling from Hong Kong to mainland China and is home to 15 million people AND Obsidian, the sexy bar led by award-winning bar manager Paul Hsu. It has plenty of striking interiors including a 12-meter tall double mezzanine and plenty of crafted ironwork set off against the backdrop of Shenzhen's neon lights. Here you'll find a cocktail menu inspired by post-industrial age London, plus a painstakingly curated list of Scotch & Japanese whiskies, and fine rums. Fan of dark spirits? This is the destination for you. 
Old-school glam & the world's first in-hotel rick house = killing it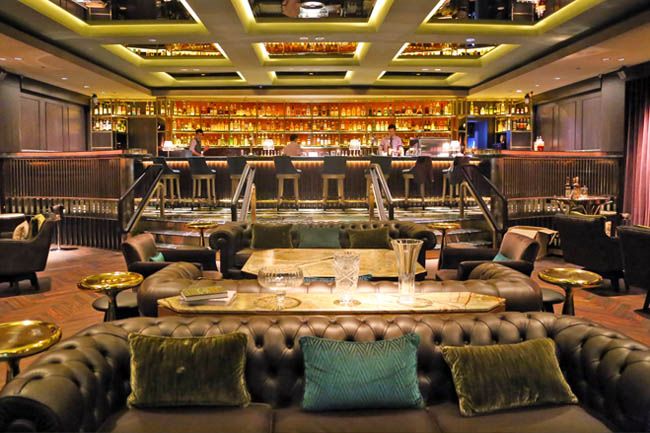 Dust off those glad-rags, because it's time to get your swank on. Manhattan bar - located in the uber swish Regent Hotel - is all about the old-school glamour. Studded leather Chesterfields, sexy dark wood and seductively low lighting all give this a suitably elegant edge. Its position as No 5 in 2019's World's Best Bars list confirms its chic cocktail credentials. 
Regent Singapore, 1 Cuscaden Road, Singapore 249715
A secret jazz bar & quality cocktails offer something a little slicker in Bangkok 
We reckon anywhere you have to push past a huge black velvet curtain to enter has gotta be hiding something good, and when it came to Iron Fairies we were totally right. The cocktail menu reads like a spellbook of potions, and we're pretty sure whatever absinthe creation we drank gave us wings. They also do a mighty, fabulous burger too, which makes a welcome change from all the noodles. 
394 ซอย สุขุมวิท 55 Khwaeng Khlong Tan Nuea, Khet Watthana, Krung Thep Maha Nakhon 10110
Intimate Japanese cocktail den where the real mixology magic happens
This isn't so much a bar as it is a temple to cocktails, and Hiroyasu Kayama ain't so much a mixologist; more like an alchemist, deeply versed in the classics, but with a gift for creating epic cocktail blends. This moonshine den with its dark n' mysterious vibes has plenty of dusty 19th-century bottles on the back bar (which are for actually drinking, not display). But its that difficult mix of popular and intimate - getting a seat can be tricky when there's only 8 available. 
Yamatoya Bldg. 9F 1-13-7 Nishi-shinjuku, Shinjuku-ward, Tokyo
Drinks with a view at the world's highest bar
Don't like heights? You might wanna have a bit of Dutch-courage before whizzing up to Ozone bar at the Ritz Carlton HK. It's the world's highest bar and rooftop bar, a staggering 480 meters up on the 118th floor. Whoof. Once you've got over the dizziness then take in the awesome view of Hong Kong from the blue-lit ambiance of this super-slick bar. They hold epic parties and the Sunday brunch has free-flowing Dom Perignon. 
13 Old Bailey St, Central, Hong Kong 
Africa
One of the most beaut bars in the world - rock on
Perched on a rock off the East coast of Zanzibar, this is one restaurant & bar that's 100% worth getting your feet wet for. Expect epic seafood harvested from the reefs around the restaurant & wild cocktails to match the insane surroundings. When it comes to ticking off bucket-list bars, this is one baby to have high on the list.
pingwe michanvi kae, Michamvi, Tanzania 
Tropical Islands
Darlin' it's better, down where it's wetter, under the sea...
You might not be sleeping with the fishes, but you'll sure be drinking with them at this epic underwater restaurant and bar. It was originally the first-ever underwater nightclub, located nearly 20 feet ( 6 meters ) below the Indian Ocean. Now you can head down to the clam-inspired bar for a cocktail or glass of something sparkling. Accessed via a speedboat and down a dramatic three-tier staircase, visitors sit in anemone chairs and sip to their heart's content surrounded by tropical reefs. You might not wanna come up for air.
Olhuveli, Kudahuvadhoo Dhaalu Atoll, 13080, Maldives
Enjoy a pint in paradise at this castaway spot
Get in the sea - no, really. Floyd's Bar is a mile out in the Caribbean, accessed by a boat from shore. Hop aboard and soon you'll be chilling on this awesome bar that's built on stilts in the pristine turquoise ocean. It was started by Floyd the fisherman and you'll still catch pelicans hanging about on a nearby rock. Bring cash cos, duh, no ATM, and also a flag or a license plate if you've got one from home. Floyd'll most likely hang it proudly amongst the driftwood. Represent!
The Caribbean sea