Lacing cocktails, spritzing on pillows & even popping in pet treats: everyone's tripping out over CBD, but do you know the CBD basics?
What IS CBD and will it get me high?  
If you're here to get high, you're in the wrong place, soz. CBD is not psychoactive.
CBD is short for cannabidiol – one of the oils found in the cannabis plant (you know, that green leaf shape that all the stoners in your school had on their T-shirts). It's from the same family as THC only this won't make you trip the light fantastic. Cannabidiol is extracted from the marijuana plant, after which the CBD is diluted with a 'carrier oil' such as hemp seed or coconut oil and that's where you can get creative aka. its appearance in beer, bath bombs, and even breakfast cereal.
What does it do / why is it ace?
Given that it's supposed to help with anxiety, pain relief and a decent night's sleep among other things, no wonder we've all gone crazy for CBD. Some of the possible benefits are that it improves mood, helps you relax, eases anxiety, aids sleep, and boosts energy levels. It's purported to be an anti-inflammatory, anti-oxidant and antidepressant, and has also been used to treat epilepsy and as a pain reliever. The power of plants, hey? Sound too good to be true so we turned to the experts.
Tom Lorimer, co-founder and drinks director (nice) of one of CBD's hottest brands - OTO - filled us in. "OTO was born to allow people to discover the power of CBD through thoughtful and effective products that fit into our daily lives. Basically, the CBD market can be cluttered, but people are surprised when they see how effective, premium and accessible our range is," Tom told us when we asked about the common misconceptions of CBD. 
Research suggests that CBD helps the body process serotonin, the chemical that contributes to happiness and wellbeing. CBD also promotes homeostasis - or balance - within the body, which ultimately keeps our bodies functioning properly. We're starting to see why it's got such devoted fans.  
Why now is the time to go green
So first up, if CBD is such a miracle worker, why is it only big news now? Thank the boom of the wellness industry, which is now worth a staggering $4 trillion globally. CBD forms a part of this and is set to be worth £2.4bn in the UK over the next couple of years. Pow. Also, cannabis as a famous functional plant has been around for millennia, but it's now that more 'negative' connotations helped along by dudes like jay & Silent Bob are rapidly fading. And while the Californians might have been early adopters, the real innovation is coming from the UK. OTO shots have the highest CBD mg/ml ratio in the world. Nice one UK!
Finding it hard to nod off? Tom first started using CBD to help him sleep. "The results were almost instantaneous. CBD effects people in different ways and there is no one size fits all. Instead, CBD regulates hormonal balance in our bodies and has a wide range of applications, some that are proven and others that are circumstantial." If you're planning on getting into CBD, he recommends starting with CBD bitters or roll-on oils. Per application you're getting about 40-60mg per day, which is the body's optimum level. Head to their website and you'll see that 83% of their customers said that daily use of OTO helped reduce their stress & anxiety. Now we're no mathematicians but we like those numbers.  
Will it give you the munchies? No. It's the THC that makes you reach for the family pack of Doritos after your 2am zoot. Can you get addicted? Also no - CBD is just like a vitamin. You can't overdose on it and you can't become addicted to it. And yes, you'll be able to pass a drugs test on it.
Here's the nerdy bit. The cannabinoids (CBD) work with your body's endocannabinoid system (ECS) to aid muscle recovery and cell rejuvenation, as well as improving mental focus. The ECS consists of various types of receptors that helps regulate systems in your brain, organs, immune system and nervous system. Tiny amounts (microdoses) of CBD can help to strengthen your ECS and keep you healthy AF. 
Maybe now's the time to get hemp involved in your happy hour. 
CBD in cocktails – the new trend
If something is good the likelihood is we'll try and drink it with booze, so it's no surprise that we've seen a trend of CBD cocktails. But as well as giving cocktails an earthy herbaceous flavour, CBD's hot property in the NA world, working as a wicked alternative to alcohol in more 'grown-up' drinks that still give you a little extra something than your soda.
Think about it - you want the buzz without the booze, and with today's ever-more-mindful drinking culture, it makes perfect sense. Cami Vidal, founder of La Masion Wellness, loves to add the power of CBD to her mindful cocktails. "Often people drink to relax, to take the edge off and CBD does it in a much better way than alcohol and without giving you a headache the day after! I like the idea of creating cocktails that taste good and make you feel good. It's time we bring mindfulness into the glass."
Tom agrees. "Functionality is a crucial element of the mindful drinking movement and CBD provides that." OK, we're sold. But how do we get sipping CBD in our drink? OTO have launched the world's first CBD cocktail bitters, designed to amplify tonics, juices and cocktails. Plus you can grab shots in three different flavour profiles. Herbaceous Focus Spice for enhanced concentration, the floral Balance Bloom for relaxation and balance, and the citrusy Amplify Zest to get energised. 
How do I mix a CBD cocktail?
Want to give it a go? We've been drinking it in the killer CBDaiquirISH, made with a wicked booze-free rum alternative called RumISH.  They're selling it as a kit so it's a pretty simple way of giving it a go, grab one here.
CBDaiquirISH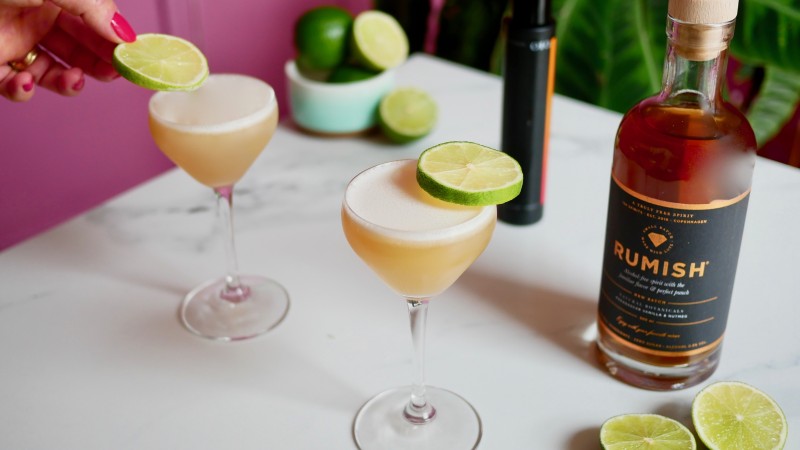 Ingredients:
60ml RumISH
20ml fresh lime juice
20ml sugar syrup
3 dashes OTO Bitters
Garnish: lime wheel 
Method: Build ingredients into a cocktail shaker, fill with ice & shake! Pour into a cocktail glass , garnish with a lime wheel and BOOM. 
Wanna bring a bit of focus to your day? Try this super refreshing non-alcoholic cocktail at home, created by Cami for La Maison Wellness.
FRESH FOCUS
Ingredients:
20ml Everleaf
20ml Lightly Sweetened Cucumber Juice
20ml Lime
3 dashes OTO Bitters
Top up with Dry Dragon from Real Kombuch
Garnish: Rosemary & Mint
Method: Build ingredients except the Kombucha into a cocktail shaker, fill with ice & shake! Pour into a coupette, top with Kombucha, garnish et voila! Feeling fresh (and focused) AF in no time at all.
Where can you try it in your cocktail?
The first place to add CBD cocktails to their menu was Farmacy back in 2017. This vegan temple to the power of plants serve There's Something About Mary (which we assume is a little nod to Mary Jane, Marijuana's nickname), and now you can get CBD cocktails anywhere from swanky Mayfair member's club Anabel's to kebab joint Maison Bab. Here's our lowdown on where to get your hit of CBD in cocktail form. 
The OG CBD cocktail to hit London -  a mix of CBD, vanilla vodka, lime juice, homemade hemp and bay leaf syrup, mango puree and a kick of chilli sauce. Bring it on.
74-76 Westbourne Grove, London W2 5SH
These guys win for the most Snoop-like name with their 'Gin & Chronic' cocktail made of CBD oil, Bombay Sapphire and lemon. Respect.
The crew at this Hackney bar have bought us everything from a CBD Pisco Sour to the 'Fo' Sizzle Dizzle Swizzle' with sake & Seedlip. You can even buy CBD syrups from their online store. Honey & Ginger CBD syrup to go with your whiskey nightcap, anyone? Count us in.
4 Mercer Walk, Covent Garden, London WC2H 9FA 
Head to Coral Room to try their menu of four non-alcoholic CBD cocktails made in collaboration with CBD Beverage Brand MEDA. This range of six carbonated mixers offer up states of mind such as 'CALM', 'FOCUS' and 'RECOVER'. Try the 'Glow Spritz', made with MEDA GLOW, elderflower syrup, lime and cardamom bitters.
The Coral Room 16-22 Great Russell Street, Bloomsbury, London WC1B 3NN
Another collab with MEDA, if you can blag your way into this chi-chi member's club then order this pre-bottled coffee mix shaken with vodka and ice.
46 Berkeley Square, Mayfair, London W1J 5AT
A cocktail in a bong – we've not seen one of these since uni. Made with CBD oil-washed Alipús San Juan mezcal, Green Chartreuse herbal liqueur, Acqua di Cedro liqueur, fresh lime juice, sugar syrup and fresh tarragon, this is smoky, aromatic and kinda… healthy.
48 Newman St, Fitzrovia, London W1T 1QQ