From a new bar that'll teach ya how to vogue like Madonna, to the Offy that has swapped out the booze for the 0%ers and the wine bar giving Valentine's day the middle finger. February might only be 28 days long, but honey, she's making the most of it.
NEW OPENINGS
The problem with secret bars is we can never keep them a secret, and this new hidden spot at The Cinnamon Club is too good to keep to ourselves. Rocking the vibrancy and warmth of an Indian bazaar, this new basement bar can be found tucked beneath the Cinnamon Club in the Grade II listed Old Westminster Library. It's seductive, it's sexy and it's intimate enough to have your next date spot written all over it. Complete with an Inopera terrazzo bar, curved archways and cosy alcoves that echo traditional Indian architecture, you can get yourself comfy in one of the seats upholstered in rich, vibrant velvets and introduce yourself to the drinks menu created by their leading mixologist Robin Honhold, formerly of Lyan Studio, which combines spices and ingredients from The Club's kitchen for a contemporary meets classic kinda vibe.
The Old Westminster Library, Great Smith Street, Westminster, London SW1P 3BU
There aren't many neighbourhoods in London with the character of Brick Lane, so it's a place that needs to be celebrated. That's what the crew at the brand new Common Counter are doing. Based within Brick Lane's Glass House creative space, Common Counter is a space for creativity to flourish and drinks to flow. Their M.O is all about the local community, so you'll find locally-brewed beers and spirits distilled on its doorstep chilling on the menu which has been designed as a celebration of queer history, all carefully curated to share stories of iconic queer figures, events, or folklore. They're kicking things off with six rotating cocktails, each inspired by the community, designed in-house and priced at £9.50, alongside an alcohol-free drinks offering, and a selection of classics. But this ain't just a spot for a drink. They're rocking an events schedule as vibrant as the graffiti found along the 'hoods walls, from weekly 'Voguing' dance classes, LGBTQ+ fundraisers, book club-style discussions, Bollywood dance classes, and poetry nights. 
Common Counter, Brick Lane and Bethnal Green Road, E2 6DG 
This slick new spot is the brainchild of Chris Tanner and Simo, AKA the two bad-asses behind both of the Milroy's venues, and they've also roped in Liam Broom, former Bar Manager at Callooh Callay, to bring a wicked sensory bar experience inspired by naturalism and the elements to life. Expect to see a few parallels with the whisky meccas of Soho and Spitalfields, with plenty of whisky on display as well as a sick menu of minimalistic cocktails that will make a maximalist impact. You'll either find us parked up in the secret room at the back where they keep whisky locker's for punters who love a dram from their own collection, or chatting with the bartender at the room-length bar built from striking split-rock edge face marble.
80 Houndsditch, London EC3A 7AB
Marsha - Opening 14th February
Love is in the air this Valentine's Day, especially if you're a fan of minimal waste and chicken. That classic combination. Marsha will be opening up their second eatery on Kingly Court this month, bringing a clever menu of small plates, roasted chicken and burgers to the top of Soho. They're not about that waste life here, using as much of the bird as possible to make their tasty plates of poultry, and they're also rocking the same ethos on their cocktail menu which looks to re-use ingredients from the kitchen. If January has hit you particularly hard in the wallet area, you'll wanna sign up for their newsletter and check this place out in their opening week as they're treating you to a tasty soft launch offer 50% off the food bill, PLUS on Monday 14th February they're sharing the love and giving every dinner guest a free dish of chicken hearts in blankets with chimichurri sauce, as well as a special Valentine's Day cocktail, the 'Love Bird', made from Pampero Blanco rum, almond syrup, pineapple, hibiscus, and maraschino liqueur. That's how to win our hearts, hbu?
Kingly Court, Carnaby St, London W1B 5PW
Ordering cocktails online helped us get through the lockdown, but browsing the shelves of an actual shop is always better, and the team behind the bad-ass East London bars The Sun Tavern and Discount Suit Company knows it. That's why this month they're opening Umbrella Workshops, their first bricks and mortar retail site in Shoreditch's which will give drinkers the chance to explore Umbrella Project's bottled cocktails, low intervention & natural wines, small producer spirits, Irish Whiskey, Poitin and more in the flesh. But this place ain't just for shopping. They're bringing interactive tasting rooms to the space so you can try before you buy at their sampling and tasting sessions, and explore the rare spirits stocked on the shelves. With room for up to 15 people, this cosy space is gonna be available for private hire events (did someone say birthday party?) and they've even got plans to add an external bar. Bring it on!
Umbrella Workshops, Unit 10, Cleeve Workshops, Boundary Street, E2 7JD
POP-UPS, TAKEOVERS & EVENTS
If you're a Canadian missing your home comforts, chances are you've already discovered West 4th, London's newest Canadian restaurant just off the new King's Road in Parsons Green. Their poutine has been causing quite a stir all Winter, and for National Poutine Week (yep, it has a whole week), they're bringing a bad-ass selection of mouthwatering and creative variations of the much-loved dish. We're talking fragrant Gochujang Fried Seitan Poutine; Crispy Duck Poutine topped with a tempting Fried Duck Egg; and for those with a sweet tooth, they're offering up a plate of 'Churros' Poutine with Chocolate 'Gravy' & Marshmallow 'Curds'. Oh, oh, oh Canada!
West 4th, 175 New Kings Road, London
Put ya hands up, this is a Chicken Heist. This month, the Chick 'n' Sours founders are launching a sick new series of epic collabs with some of their closest pals and favourite chefs in London. They're kicking things off with Jane Alty of Peckham's legendary Thai restaurant, The Begging Bowl, and she'll be taking over the Chick 'n' Sours Seven Dials restaurant on the 6th February before launching a wicked meal-kit based on the menu which will be available for UK-wide delivery, as well as a special chicken sandwich going on to the menu at both Chick 'n' Sours sites for the next month. Cluck yeah!
1A Earlham St, London WC2H 9LL 
Kicking off on the 7th of Feb and running all the way until June is a pink-hued pop-up at Selfridges in the form of a traditional romantic French cinema house. Rosé Limière is taking over the bar and retail space in Selfridges to showcase some of the world's most luxurious rosé wines in the biz. From the iconic rosé wine portfolios of Veuve Clicquot, Moët & Chandon, Ruinart and Château d'Esclans, you'll get the chance to learn everything ya need to know about the varying styles of pink plonk, from Vintage Rosé, Rosé Impérial and Côtes de Provence Rosé, to Ice Rosé; along with the rich histories of the maisons where these blushing stories originate from. From champagne tasting experiences to wine tasting flights and cocktail masterclasses with mixologists, there will be something to suit all discerning rosé palates... and it's starting just in time for romance season, in case you were looking to say it with rosés this Valentine's. 
400 Oxford St, London W1A 1AB
Get a pizza this, baby. The crew at Happy Face Pizza aren't ones to let a little thing like National Pizza Day pass them by without a full blown celebration. For the occasion, they're offering up a 2-4-1 offer on pizzas ordered between 12-5pm at its newly opened restaurant in Victoria, and all-day over at its flagship Kings Cross site so you can double down on their authentic Neapolitan pizza, made using a 72-hour dough. Our order? Always the Neapolitan sausage and fresh chilli. We like it HOT. Topping things off, Happy Face Pizza are also stiring up their perfectly balanced Negronis to wash it all down for just £6 a pop from 5pm at both restaurants. Salute!
Happy Face Victoria: 23 Eccleston Place, London, SW1W 9NF / Kings Cross: 14 Handyside St, London, N1C 4DN   
Dry January may be over, but Club Soda, AKA the Mindful Drinking Festival creators behind the UK's first alcohol-free off-licence just off Regent Street have decided to stay open for another month. The pop-up store, which opened its doors back in December, is the place to hit if you're looking to discover the wide range of booze-free drinks available in the UK and pick up a new favourite tipple to take home with ya. Among the 70+ brands on the shelves, you'll find old favourites, new launches, UK and International brands and several beers on draught, including the likes of Everleaf, Lyre's, Thomson and Scott, Big Drop, Lucky Saint, and Adnams Ghost Ship 0.5%. We expect they'll also be adding to their roster of cocktail making and wine and beer masterclasses that they've been running over the last few months so that sober curiosity itch can be well and truly scratched. 
59 Great Portland Street, London W1W 7LJ
This blue-hued Portuguese restaurant is bringing their chef's series back to the London Bridge restaurant this month, and they're starting off BIG and putting Kricket's main man Will Bowlby behind the stoves for one night on the 22nd. He'll be cooking a menu inspired by his time in Goa, with references to both Portuguese and Indian cooking found throughout the menu, to create the ultimate mash-up of the cooking styles of both Bar Douro and Kricket. All the proceeds from the evening will be going straight to charity so you can feel extra good about tucking into this epic menu for the night. Tickets for the Bar Douro x Kricket supper club are available to book here, priced at £60pp.
35B, Arch, 85B Southwark Bridge Rd, London SE1 0NQ
Chinese New Year
Forget Eye of the Tiger... it's the Bite of the Tiger that's tickling our tastebuds this CNY. The Tiger's Bite is a sweet serve with a snap, made from Grey Goose Vanilla Vodka, honey, elderflower and lime juice, garnished with red chillies. You can pick up this stunner at Ivy Asia St Paul's alongside a bunch of other sexy cocktails including Kind of the Mountain (above) - a delicious blend of Wyborowa Vodka, Akashi-Tai Umeshu Plum Sake, raspberries & lime juice that looks almost too pretty to drink. Well, what do you expect from an ultra-glam restaurant that has a glowing jade-green floor, luxury fabrics everywhere you look and 12ft antique samurai warriors holding the fort? 
20 New Change, London EC4M 9AG 
Rawwr, easy tiger. This is the first Lunar New Year the MiMi Mei Fair team will be celebrating at their elegant Mayfair Townhouse, so expect them to go BIG. Their exclusive Lunar New Year menu is all being served under a wishing tree canopy, stemming from within the heart of the house and spanning across The Drawing Room and The Parlour. Branches of Kamquat garlands, vibrant ribboned wishes and deep fuschia peonies and chrysanthemums have taken over with a colourful homage to the Lam Tsuen shrine in Hong Kong. Cameras at the ready - your mates won't believe you when you tell 'em about this one.
55 Curzon St, London W1J 8PG
There's a feisty guest arriving at Bun House for February, and he's expecting quite the feast. Good news for him (and you) is the team at this Soho-based Cantonese-style steamed bun specialist know how to put on a spread, and to celebrate the Year of the Tiger, they've created a playful twist on the British afternoon tea. With an animated mash-up of the traditions of British and Chinese culture, The Tiger Who Came To Tea menu will include a selection of sweet and savoury snacks and pillowy bao buns, including a savoury Tiger Bun with its very own tail alongside a chestnut and white chocolate bun, complete with a mini calligraphy brush and condensed milk ink for you to let your inner creativity rawwwr.
26-27 Lisle St, London WC2H 7BA
Mortimer House has revived their Guest Chef Series for 2022, and this February they've got themselves a two-night residency from the renowned Chinese restaurant family Poon's to celebrate Chinese New Year. Both nights are offering up a totally different vibe, so if you're a fan of both family-style and fine dining, you can double up on your visits and hit 'em both. The first night will be centred around the steamboat - a Chinese hot pot - where you'll be encouraged to gather around and cook your fave combo of ingredients at the table. The second night they're bringing out the big guns with a five-course tasting menu showcasing some of Poon's most iconic, time-honoured dishes, including Pork and bamboo shoot wontons with crack sauce (!), Braised beef flank with star anise and Chinese radish and Drunken chicken finishing with Tofu pudding.
37-41 Mortimer St, London W1T 3JH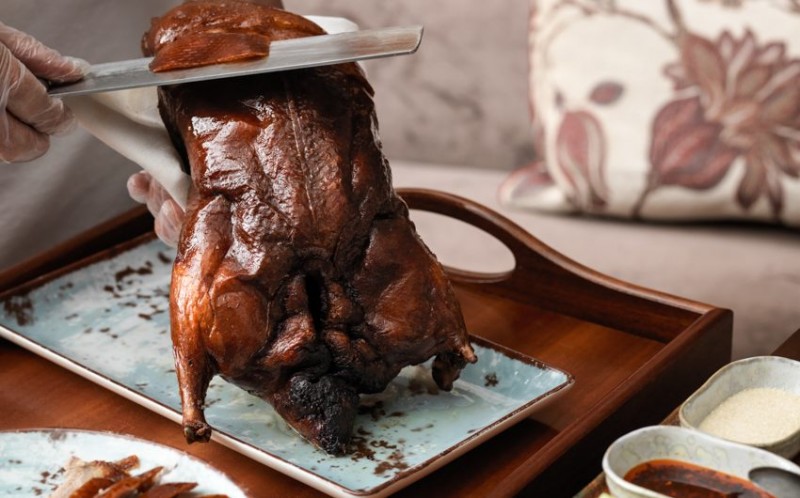 Lunar New Year is getting fancy over by Tower Bridge. The luxe high-end Mei Ume at the Four Seasons Ten Trinity Square is welcoming the Year of the Tiger with both a wicked tasting menu and an a la carte option from Head Chef Tony Truong. He's bringing a mix of traditional and auspicious plates eaten at the 'reunion dinner' on Chinese New Year, with dishes such as the 'Prosperity Toss Salad', the signature Peking Duck, Stir X.O Sauteed Dover Sole and Sweet Red Bean Soup with Sesame Dumplings to finish. Love a bit of ambience? They're pimping the place with intricate festive decor and offering up a speciality cocktail to wash the lot down with.
10 Trinity Square, London EC3N 4AJ
Galentines & Valentines
Spending Valentine's at home? Give your casa the 5* luxury hotel treatment and get The Savoy delivered straight to ya door with their extra fancy Valentines offering available to any crib found within the M25. Channel the vibes of their two epic, award-winning bars with their Valentine's Cocktail Box featuring two hella romantic serves; a Cupid inspired concoction of 'Desire' AKA a blend of malt whisky, red fruits, spices and sherry, creating the perfect chemical and physical balance; and La Vie En Rose, a bright and enticing cocktail which balances citrus and floral flavours, with a spicy pink peppercorn finish to bring love to life.  Be still our beating heart. If all this romance has worked up a hunger in you, you can also get their luxuriously romantic Valentine's Day afternoon tea delivered, too. You know what they say about chocolate being an aphrodisiac... did someone say tea in bed?
Available to order from The Savoy At Home website. RRP £38 for the Cocktail Box and Afternoon Tea from £130 for 2
With Feb 14th falling on a Monday, coupled up with the fact that Valentine's day kinda sucks if you're single (or not into OTT displays of affection), the guys at Peckham Cellars are doing something a little bit different this year and sacking off the traditional loved-up celebrations in exchange for championing the greatest loves of all: mates and wine. The Galentine's celebrations will be an evening for celebrating love in all its many guises (friend love, pet love, love of being single) with an evening of indulging in true Cellars style, so expect a delectable three-course meal with a glass of sparkling wine on arrival and an optional drink pairing for each course. Now ya just gotta pick a pal to go with you.
125 Queens Road, London, Greater London SE15 2ND
"To me, you are perfect" - us when we look at the selection of wines on the menu at the Valentine's Day wine tasting at Silver Lining. The Love Naturally wine tasting will focus on bottles produced by the power couples of the winemaking world and will be led by Silver Lining's Sarah Maddox and Chardonne Copper from Bright. Lovers will arrive to a chilled glass of champagne before enjoying a 1-on-1 guided tasting through four different wines. Then during the evening, you can get involved with Silver Lining's menu of delicious French bar snacks, including a whole baked Normandie Camembert and oysters. Ya can't have Valentine's Day without a bit of shucking. Alternatively, if your Valentine is working late on the big day, tap up Silver Lining's 'Cupid Service' and they'll deliver your beau a bottle of delicious Viñedo De Los Vientos Estival Pét Nat on your behalf straight to their door. If Love Actually taught us anything it's that nothing says I love you quite like turning up at someone's door unannounced - even better if it's a bottle of plonk.
Love Naturally tickets are £40 and include a cocktail and four generous tasting pours of wine. Bookings via Resy. Orders for Silver Lining's Cupid Service can be made via Silverlininge9.com RRP £20 (inc. delivery)
Tequila, Tacos and Tarantino. Now you're talking our love language. That's right, baby, date night = movie night at NINE LIVES in London Bridge, and you can't have a Valentine's movie screening without a bit of romance, right? Even if it does come with a healthy dose of Tarrentino style gore. Hey, no one ever said love was all sunshine and rainbows. Grab you and your date a ticket and get comfy in the back row for a screening of the classic tale of True Romance, a Blood Orange Negroni or Margarita Picante cocktail, ceviche from the Tigre Tacos truck outside, plus a bucket of popcorn! And this is one date guaranteed to have a happily ever after with a 'Happy Endings' Ice cream sundae to share with your bae. Dressing up in your best Clarence Worley and Alabama Whitman get-ups is encouraged, snogging in the back row isn't. Get a room.
Tickets are priced at £22. 8 Holyrood St, London SE1 2EL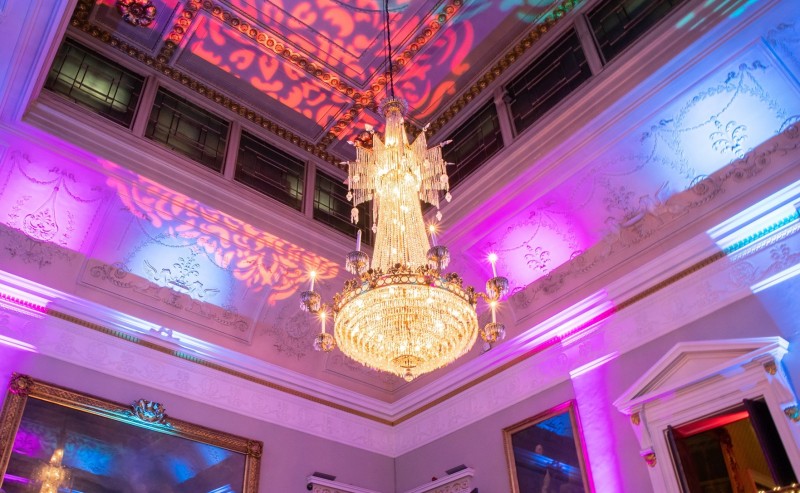 Thinking of dropping a knee this romantic season? We reckon champaign, oysters, and a stunning 15ft chandelier should do the trick. This fancy St James venue is opening its doors for the first time for an exclusive valentine's dinner service. After starting your evening with a glass of Ruinart Brut Rosé and a couple of perfectly chilled oysters, it's onto a hella fancy dinner for two featuring the likes of Seared diver caught scallop with lobster and pea shoot, followed by Rack of salt marsh lamb to share and a decadent Poached Lincolnshire rhubarb, raspberry and white chocolate pavlova. Just don't hide the ring in the pud, yeah? You're better than that.
116 Pall Mall, London SW1Y 5ED