Big Amsterdam fans go to the city to  party hard, but if you want to really experience one of Europe's biggest party places in all it's mad glory then get yourself there for King's Day this month. The nationwide festival takes the Dutch free-spirited mentality to another zenith, so get excited for a big one and make sure you pack comfy shoes - you'll be boat hopping beer-in-hand, and that ain't no easy feat.
WHERE: Amsterdam, The Netherlands
WHEN: Monday 27th April 2015
WHY: This nationwide holiday celebrates King Willem-Alexander's birthday, but it's far from your typical 'let's lie-in and get a late breakfast' bank holiday day-off. Remember how much we partied on the Diamond Jubilee? Well, the Dutch ingeniously decided they want to do that once a year, rather than every quarter century (come on Liz, get your sh*t together).
WHAT: Amsterdam is known for its anything-goes vibe, but King's Day is when they make it official - expect partying of stratospheric proportions. It's like the entire city jumped on the bonkers bus and turned Amsterdam into one massive street (canal) party, and everyone is welcome. The brightly decorated canal boats become floating raves, DJs dominate the city squares and high times overflow (unofficially) from the cafés onto the off-limits streets. King's Night (27th) kicks off the two-day royal bonanza, so be prepared for a long one. This is the one time of year when cafés and bars are open 24/7, and boy do they make the most of it.
DRESS CODE: Orange! Paint yourself orange, wear orange clothes, be orange - essentially, the rule is throw on something silly (ideally orange) and enjoy. The Dutch Royal family is the House of Orange-Nassau, hence the colour scheme, and the same goes for every element of the day right down to the food -  think orange jelly and pumpkin soup.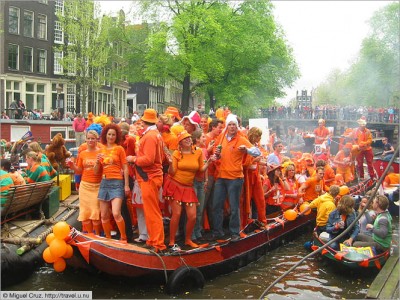 WHAT TO BUY: The vrijmarkt (market) takes place during the day and turns the entire city into a flea market, where you can sell anything on the streets from old pyjamas to compliments from strangers. Ever wanted to pay €1 to smash an egg in a stranger's face? Well, now's your chance.
WHERE TO STAY: Make like a rock star and hole up at the Backstage Hotel. You'll meet roving bands, who crash out in the five-berth rooms, at the 24-hour guest bar and watch impromptu performances as guests fire up the communal guitars and amps.  Need we say more?
HOT TIPS:
This is the one time of year when you don't want to be on a bike in Amsterdam. The city's just too crowded for wheels.
By law you can only carry one plastic bottle of alcoholic drink while in public, and be warned; street stalls sell watered down beer.
It's all about the boat parties! Book ahead or wheedle your way onto a barge early, that way the rest of your day will be sorted.
Read up on Amsterdam's awesome bars in our BarChick guide here.