These little piggies went to market...
Sun-drenched rooftops, slick riverside diners, cool community projects and a wicked European inspired terrazza - if you're with a group of mates who are all on a different foodie flex, these are the best alfresco canteens to hit.
Paddington is on the up, gang. What used to be a sad corner of Central London only good for trains to the West Country has become a slick food and drink destination for chilled after-work socialising, and the leafy alfresco vibes of Pergola Paddington, tucked away near the canal, are what we dig the most. This Summer they're hosting some pretty slick bookable beach huts in partnership with Miraval Rosé, bringing French Riviera vibes to W2 for groups of 6-10. They've also hooked up with Moët & Chandon to create a luxe Champagne Garden Terrace, taking you from the vineyards of Provence to the beachside parties of The Hamptons.
4 Kingdom St, London W2 6PY | Monday to Sunday from 12pm-11pm  
From an old, faded Victorian boozer to a 3-floor English garden space filled with three bars, four restaurants and a canopy of cascading flowers, The Prince is less a bar, more an entire street transformed into a wicked botanical paradise in West Brompton. Rolling with a crew? The benched seating fills the "street" style venue so there's plenty of space for group hangs, including a dedicated space for watching "the big match" on the big screen. If your crystal ball is on the blink, don't worry - they've got a retractable roof that'll protect you from the unpredictable British weather, but if the sun is shining, you're gonna look fit in that dappled light.  
14 Lillie Rd, Hammersmith, London SW6 1TT | Monday to Sunday from 12pm-late
We can think of a lotta places in London we don't wanna get lost in (Bank Station, we're looking at you), but this rooftop paradise hidden above Brixton Village isn't one of 'em. In fact, we'll delete Google Maps right now if it means we can lose ourselves with the Latin American inspired cocktails and local craft beers served up here.  When it comes to the food, expect all the goods available in the Village downstairs, including Caribbean plates from Fish, Wings & Tings; killer Mexican flavours from Jalisco Brixton; fresh as Hell Japanese dishes from Okan; and bad-ass family-style BBQ from The Joint. Party people will dig the live beats from local musicians and the DJ keeping the decks spinning all Summer. Time to get lost, honey.
Brixton Village, Coldharbour Lane, SW9 8PS | Monday to Thursday 5pm-12am  Friday and Saturday 12pm-12am / Sunday 12pm-11pm 
If this brand new canal side destination looks kinda familiar, that's cos it's got the rugged designers behind POP Brixton and Peckham Levels calling the shots. It's got everything, from a ultra cool workspace, public facilities, events, markets, restaurants and bars - the one stop shop for your day to night chilling. Hot damn. They're bringing you a season to remember, launching their courtyard pop up, complete with an outdoor bar to quench your thirst alfresco, and a collection of street food traders to tame your hunger, from Neapolitan pizzas to fresh pasta, stuffed tacos to Filipino BBQs. Rawwr. Hackney is famous for its local craft beers, so obviously they're serving up some of the best at the Hackney Bridge Bar. The same goes for wines and spirits, with bottles from the skin-contact wine experts Silver Lining who will be popping up in the space from Friday 19th until July 31st.
Wednesday - Friday 15:00-23:00, Saturday 12:00-23:00 and Sunday 12:00-22:00. Bookings are recommended and can be made via the Hackneybridge.org Walk-ins also available.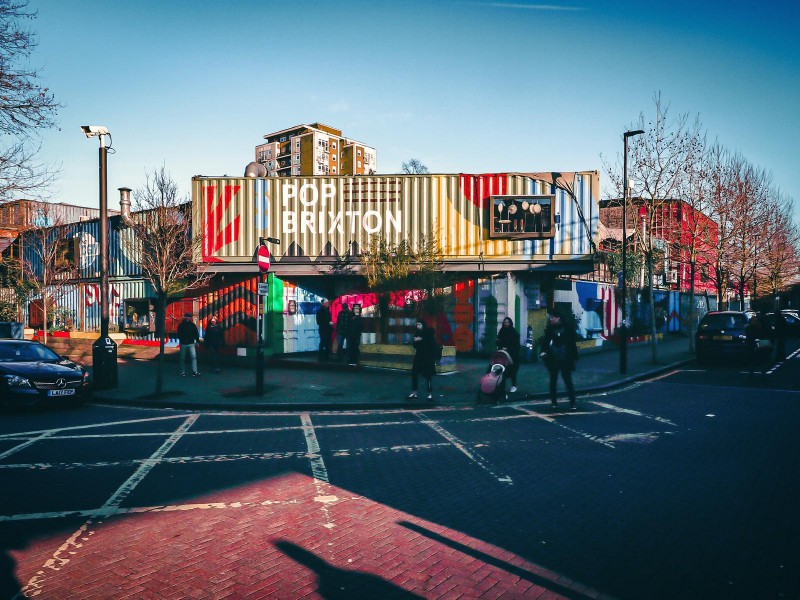 As if Brixton Village and Market Row isn't rammed enough with fly bars and restuarants, there's even more going on inside POP. They call it a "temporary" project; a jungle of repurposed colourful shipping containers which have transformed a disused plot of land into a bad-ass space showcasing cool indie businesses from Brixton and Lambeth. It's kinda like the ultimate campus for food and booze start ups with fresh on the scene independents having battled it out for a space. Some of London's hottest restaurants found their legs here (shout out to our homies at Kricket and Smoke & Salt), so if you wanna be the first to try the next big thing, POP is where its at.
49 Brixton Station Rd, Coldharbour, London SW9 8PQ | Mon-Wed 9am-11pm / Thurs - Sunday 9am - Midnight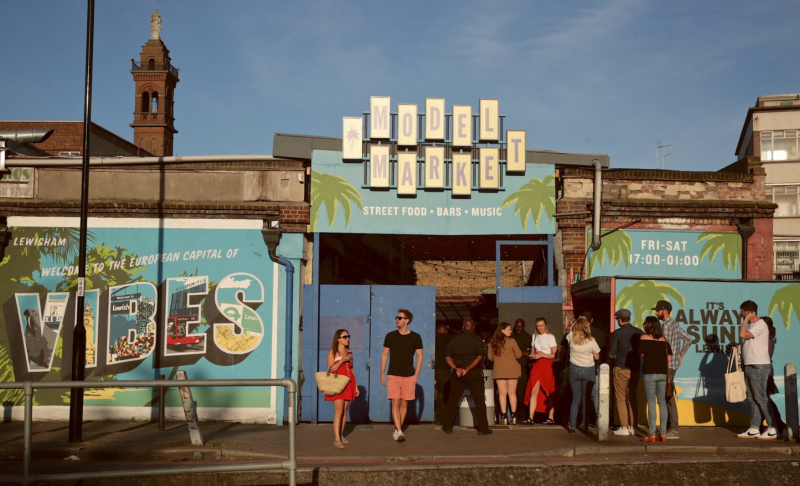 This former 1950's market AKA The European Capital of Vibes can be found in the heart of Lewisham. With 400+ outdoor seats, five killer street food traders, top-drawer drinks and live DJs, this is what the Street Feast legends do best. Model Market's former shopfronts have been turned into a 1000 capacity venue with seated micro-diners, with covered areas for when the weather sucks, and open-air space for when it doesn't. They'll hook you up with a reservation pre-7pm for your crew of up to 6, and there's no time limit on enjoying those SE13 grooves. You'll find us at the Tequila High Line Bar cos you know we're all about those views with our booze.
196 Lewisham Highstreet, Lewisham, London SE13 6LS | Thursday: 5pm - 11pm / Friday: 4pm - midnight / Saturday: 1pm - midnight
The MM fam have managed to fit a sh*t load into this disused paper factory in Elephant & Castle. That round-the-world trip you've been fantasising about for the last year can be realised if you hit this place up for dinner, with vendors serving up dishes from Italy and Japan to Colombia and Germany, stopping off in Vietnam and Argentina for good measure. There's also a fly micro-brewery, a wicked gin distillery and live music from "the next big thing" artists.
42 Newington Causeway, London SE16DR | Monday - Wednesday: 8am – 11pm / Thursday - Friday : 8am – 12am / Saturday: 11am – Midnight / Sunday: 11am – 10pm
Good news for wanderlusters: Italy has just moved to Liverpool Street. Eataly AKA the world's largest Italian food market and restaurant has opened its market & retail area, bringing the flavours of Italy across 2 floors with over 5,000 Italian products to buy, 6 eateries and 3 restaurants & bars including the brand-new outdoor dining concept La Terrazza di Eataly. Mamma mia! La Terrazza is bringing an exclusive Italian menu of sharing dishes for the hotter months, and we all know it ain't summer without several glasses of the orange stuff, and whaddya know - they've got a dedicated Aperol Spritzeria. For those who like to take la dolce vita home, the market offers quality Italian and local food products, including fresh goods from their butcher, fishmonger and cured meat and cheese counters, and more than 2,000 wine labels making Eataly London's biggest Italian wine cellar. Cheers to that, bambino.
135 Bishopsgate, London, EC2M 3YD | Opening 29th April. Bookings are open now via Eataly.co.uk
If Pergola Paddington is the leafy playground for West Londoners, then the new bricks & mortar site of Pergola on the Wharf is gonna be where City suits go to let their hair down. This grown-up waterside Eden opening in June is gonna rock some sick panoramic views over the city from a cool wrap-around terrace, along with three internal bars and a cornucopia of food pop-ups all flooded with natural light from floor to ceiling windows.
Crossrail Pl, Canary Wharf, London E14 5AR