Festivals, Instagrammable installations & the launch party you don't want to miss...
We've got an extra-long Bank Holiday on the horizon and longer, warmer (maybe) evenings to fill. We'll be packing our April with these awesome events... which ones will we see you at?
Mei Ume Celebrates Sakura Season - 14th March - 29th April
Hands up who had cherry blossom installation on their Spring bingo card? Yep, it's that time of year again when bars and restuarants get the pink and white makeover destined to be snapped for the 'Gram, and one of the best can be found at Mei Ume, the Chinese and Japanese restaurant at Four Seasons Hotel London Ten Trinity Square. It's not just the blossoming canope cascading over the bar that'll transport you to the Sakura groves of Japan. The exclusive a la carte menu of traditional Japanese dishes comes with optional sake pairing, with plates including Wagyu Beef Yaki Gyozas and artfully crafted Sushi. We think they call this Japan without the jetlag.
Mei Ume, Four Seasons Hotel London at Ten Trinity Square, 10 Trinity Square, London EC3N 4AJ 
Croydon Whisky Festival - Saturday 2nd April
Croydon, AKA the unofficial whisky capital of South London is hosting its inaugural whisky festival, featuring some of the best progressive and craft whisky brands from across the UK, Europe, USA and beyond. Expect to see 24 whisky brands and other spirits in attendance, including Swedish producers Mackmyra, Israeli whisky brand Milk & Honey and a selection of liquids from England's hottest distilleries. Like your barley in a different form? You can also check out the beer from Sydenham's Ignition Brewery, and hot & cold refreshments from Croydon's own Mr. Tinto. We'll see ya there.
Tickets are £35 each and include a tasting glass for you to use to sample all the whiskies on show. Purchase yours here
The Venue on Middle Street, 3-7 Middle St, Croydon CR0 1RE
Manteca Sundays - Launching 3rd April
Your Sundays are about to delicious with this whole new family-style lunch menu launching at Manteca. Opening the doors on Sundays for the very first time, the team here are taking cues from the convivial family feasts found in Rome and Napoli. Expect quality produce and hearty cooking (just like-a mamma used to make). To recreate the vibe of those Italian lingered-over lunches, head of wine Emily Acha Derrington is uncorking different magnums each weekend, and will be pouring glasses all afternoon long to help you wash down snacks like fried Nocellara olives stuffed with Italian sausage; focaccia made with Wildfarmed Grain flours; plates of house mortadella and salumi; and a choice of Manteca cult favourite tonnarelli with brown crab cacio e pepe, or a simple yolk-rich rigatoni, served with vibrant kale sauce, chilli and Parmigiano.
Manteca Sundays will run every Sunday, 12noon - 5pm, from Sunday 3rd April. Bookings can be made at mantecarestaurant.co.uk.
Manteca, 49-51 Curtain Road, London, EC2A 3PT.
Dinner Experience with Adriana Cavita and The Lost Explorer Mezcal - 5th April
We've been waiting for the opening of Adriana Cavita's new restaurant now for what seems like a lifetime, but baby, we're on the home stretch and there's only one more month between us being able to walk through those Marylebone doors. Until then, we're gonna be getting our Mexican fix at her final pop-up dinner hosted in collaboration with The Lost Explorer Mezcal at Hacha Brixton. The dinner will be showcasing some of Adriana's favourite Mexican dishes with a street food twist paired with innovative The Lost Explorer Mezcal cocktails prepared by agave expert Deano Moncrieffe, including a sparkling twist on his famous Mirror Margarita.
The dinner will take place from 7pm on Tues 5th April 2022. Tickets are available here priced at £65pp.
Hacha Brixton, 12 Market Row, Brixton SW9 8LD 
Invasive Species Series - 5th April
Ready to have your perceptions challenged? Douglas McMaster, chef and owner of Silo AKA the world's first zero-waste restaurant, will be hosting his inaugural invasive species series this month, kicking off with a dinner centred around any homeowner's worst nigtmare: Japanese knotweed. This is the first in his series of dinners which will focus on invasive ingredients, ones often perceived as destructive to our native species and natural habitats (expect future dinners to focus around the likes of crayfish, jellyfish and venison). He's modified them into the key components of his epic new menus in the hope to challenge public perceptions, and help to give an insight into how best to manage their rapid spread whilst simultaneously reducing the ever growing waste pile. Intrigued? We definitely are.
The first invasive species dinner in the series, featuring Japanese Knotweed, will take place on Tuesday 5th April. Tickets can be booked here priced at £65, plus £50 for wine pairings.
The White Building, Crate Brewery, Unit 7, Queen's Yard, London E9 5EN
Burger & Lobster x Max's Sandwich Shop - 6th April - 6th June
The TV chef behind London's most OTT sandwiches has teamed up with the makers of London's best lobster rolls to create two limited edition servings championing two of Britain's finest dishes: Fish & Chips (we're talking juicy chunks of lobster meat bound with tartare sauce and garnished with lime pickled onions, a vibrant pea and mint purée, shredded baby gem lettuce and finely diced gherkins) and the 70's fave, Prawn Cocktail (built up with lobster claw and knuckle meat dressed up to the nines with a retro Marie Rose sauce & finished with a dash of tabasco and brandy.) Available until June, Max Hailey of Max's Sandwich Shop's exclusive Burger & Lobster creations (accompanied by fries) can be ordered at all nine of their locations for lunch and dinner. 
Both limited edition lobster rolls are available for two months from April 6th.
Two Tribes Taco Takeover with El Pastor - 6th April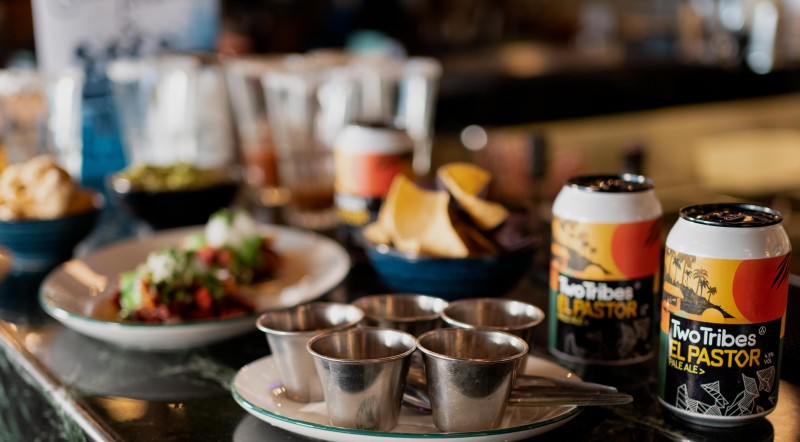 What do you get when you cross one of London's finest breweries with one of our favourite taco joints? The El Pastor Pale, a full bodied hazy Pale Ale utilising a Mexican-sourced corn masa used in tortillas for an extra twist. And when two such venues collide, it makes the perfect excuse for an awesome launch party. That's why the Two Tribes Brewery will be firing up their Campfire grill for a one-off event this month for an evening of beer, music and some of the city's best Mexican food from El Pastor. In addition to the Pale Ale, there will also be a Michelada bar slinging the iconic Mexican cocktail throughout the night, made with the El Pastor Pale, the perfect base for this spicy serve. With DJs on hand to soundtrack the evening, this is a party not to be missed.
The launch party Tileyard Studios, Tileyard Rd, King's Cross N7 9AH London
Disco Drinks + Swift x Two Shefs Easter Brunch - from 8th April & Easter Weekend
You hear that? That's the call of the Disco Drinks launching at Swift Shoreditch on 8th April. Hosted every Thursday and Friday night from 8pm-midnight by DJ Vivien Solak (and featuring some very special guests), the exclusive cocktail offering dreamt up by the award-winning team will make this the place to wrap up your week. The Disco Drinks menu will be £9 per cocktail or 3 drinks for £20 so if you're looking for an excuse to let loose, this is it.
Looking to make some plans for the long weekend? From Friday the 15th until Sunday the 17th of April, these guys will be hosting the dynamic culinary duo Max & Ed from Two Shefs. Expect brunch-inspired dishes that will satisfy all those wonderful Spring foodie cravings, like a Hot Mustard Macaron layered with Black Pudding doused in rich gooey egg yolk, or if you're after something a bit more hearty, the pair are also creating a Tomato and Rhubarb Tartare with St Germain Sabayon. All of these will be served along with a complementary three drink menu from the Swift team which you can grab anytime during the weekend!
Reservations are recommended (make yours here), but walk-ins are welcome!
91-93 Great Eastern St, EC2A 3HZ
Endless Aperitivo - 5th, 6th & 20th April 2022
The problem with Aperitivo Hour is that an hour is never long enough. Renowned chef, Theo Randall agrees with us (good man) so he's teamed up with Crodino, the Italian Non-Alcoholic Aperitivo to turn bottomless brunch on its head and bring us what we dream of every summer: Endless Aperitivo. Launching on 5 April at the Fisheries in East London, you are your crew can book a table for two hours and indulge yourselves with endless plates of delicious, Italian bites, perfectly complemented by plenty of bittersweet Crodino. Finally an Aperitivo Hour that never need end (apart from when your time slot is up!)
Tickets are £10 for one person and include the Crodino and 12 Endless Aperitivo small plates. Grab yours for the 5th April 2022, 6th April 2022, 20th April from 6:30pm – 8:30pm
The Fisheries, Hackney, London, E8 3PN 
Double Standard Hotel Room Giveaway Brunch - Easter Weekend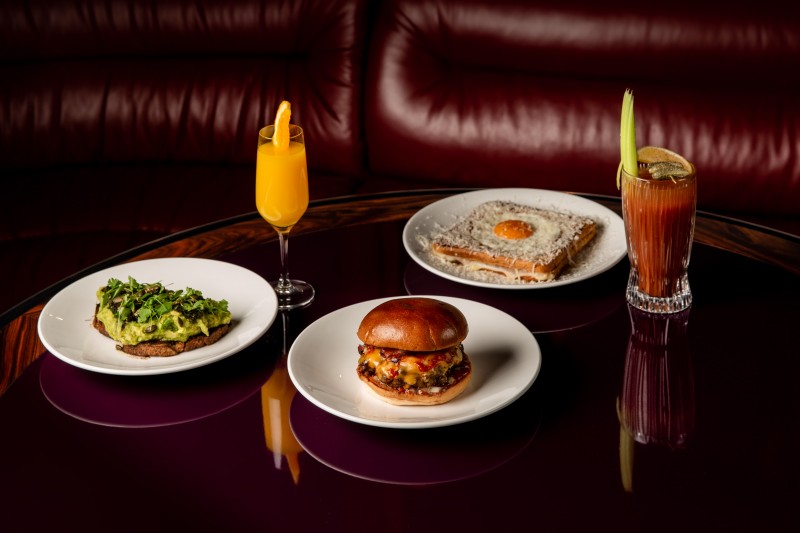 Ya know what they say: an extra long weekend calls for an extra long bottomless brunch. Over the Easter Bank Holiday, Double Standard AKA The Standard hotel's ground floor bar and terrace is offering up a weekend-long bottomless brunch. From midday to 5pm Friday, Saturday and Sunday, guests can brunch al fresco on Double's sun-soaked garden terrace with music from the hotel's resident DJs, or kick it indoors in the 70s-inspired bar space whatever the weather. You think that's great? Well if you're feeling lucky it might get even better, as three diners, one per day, will hit the jackpot if they find a Brunch Doesn't End Here card attached to their bill, giving them a one night's hotel stay with a bottle of fizz, so they can keep the party going into the early hours.
To be in with a chance of winning the room stay, guests should book ahead via SevenRooms to be entered into the room ballot.
10 Argyle Street The Standard, London WC1H 8EG 
Feel like spending your month checking out some hot new bars? Here's what April has lined up...