This is the first Bank Holiday of the year that we can actually enjoy, so you better go all out. Here's how to make the most of not having that dreaded Monday meeting...
Sure we missed our friends and family during lockdown, but oh man did we miss the excitement of bottomless brunch even more. Making up for all that lost time, our favourite Peruvian party restaurant Coya Mayfair is extending their legendary brunch with sittings on both the 29th & 30th, which means more Latin-American vibes, Latino tunes, live performers & Peruvian dishes. The sittings might be doubles, but the drinks remain bottomless! Expect endless Pisco Sours, Bloody Mary's, Tommy Margaritas, Mojitos, London Mules, wines, beers, house spirits & Veuve Clicquot. Might be worth booking Tuesday off work too, just to be safe...
These legendary brunches will be running Saturday and Sunday from 12:30pm until 4:30pm. £150 per person.
COYA Mayfair, 118 Piccadilly, Mayfair, London, W1J 7NW
So we might not be getting the dancing crowds, the colourful feather-lined floats and the thumping boombox music of Carnival this year, but that doesn't mean you can't recreate the vibes in your casa/garden/local park. Carnival is going off-road and online this weekend, with sound systems and costumed "mas" bands streamed across four channels on the Notting Hill Carnival website. Get in the swing and knock up some carnival cocktails at home with Aluna Coconut Rum's ready to roll kit containing everything you need to shake up an Aluna Colada at your substitute socially-distanced carnival party. Time to shake what ya mama (and Aluna) gave ya.
Notting Hill Carnival "Digital edition" will run from noon until 11pm on 30 and 31 August, with warm up events from 9am–noon and 6pm-midnight on 29 August. 
The name of this new-wave wine bar and shop in Elephant & Castle was inspired by the Greek philosopher who founded the philosophy of cynicism. Luckily BarChick's philosophy is that if the glass is half empty, it means there's room for more wine. Yeah baby! This weekend is the perfect opportunity to check out their first-ever house wine HARVEST 1 from the Morasinsi Winery in Puglia. HELLO. If you've got a few empty bottles kickin' about at home (of course you do), take one along and they'll fill it up for a tenner for you to take home, or chill in the bar and try it out in a glass for a fiver.
Diogenes The Dog, 96 Rodney Rd, London SE17 1BG
Who knew Rishi's super sweet deal would be SO popular that's it's basically impossible to get a table anywhere Monday-Wednesday now?! Well have we got good news for you. If you're into your Indian fine dining, you can hit up the beautiful Kahani in Belgravia this weekend AND get still get a tenner off! Say whaaaaat? This elegant restaurant reopened its doors for the first time since lockdown this week, and not only are they taking full advantage of the EOTHO Scheme, but they're extending the deal all the way through to Saturday too! 
1 Wilbraham Pl, Belgravia, London SW1X 9AE
Covid sh*t all over your holiday plans? No drama. Pick up those summer vibes closer to home at The Sipping Room's new Essence of Summer Terrace on West India Quay created in partnership with botanical mixer brand The London Essence Co. Their Insta-worthy floral terrace comes complete with beautiful blooms, green foliage and fragrant herbs. PLUS there are two Essence House Bubbles for up to 12 people that can be booked, each decorated with pastel pink & white blossoms, glowing lanterns and perfume diffusers to spritz beautiful scents. Essence-tially its the perfect ambience for going 'out out' with your bubble. 
West India Quay, 16 Hertsmere Rd, Canary Wharf, E14 4AX
If there is anything cooler than a vintage Harley Davidson converted into an Espresso Martini dispensing cocktail cart, we can't think of it. The world's creamiest vodka has partnered up with the über cool interior design brand Tom Dixon and created the perfect pit-stop for those summer evening strolls along the canal in Kings Cross. This awesome pop-up can be found in Coal Drops Yard outside the Tom Dixon shop, so if you're getting revved up for the long weekend, these guys will hook you up.
The Black Cow Vodka Pop-Up bar is open throughout the Summer season, Thursday – Sunday, 12 noon – 7pm. Cocktails are priced at £9.50.  
With clubs remaining shut, and bars limiting opening times, POLO Bar is here to fill that void for late-night drinks and snacks that we know you're feeling. Nothing is off-limits at this Liverpool Street venue; order a stack of their famous pancakes at 11pm & knock back Porn Star Martinis at sunrise - anything goes at POLO. Just how we like it. And as you can rock up at midnight this Sunday with no "school night" consequences the next day, you can also take advantage of the Eat Out To Help Out deal in the early hours of Monday. A discounted stomach-busting fry up at 3am you say? Count us in.
POLO Bar is open 24/7 at 176 Bishopsgate, London EC2M 4NQ
Hackney gem The Sun Tavern recently reopened its doors (we're talking its actual doors, not just the wicked hatch door that kept us in our frozen Irish Coffee habit throughout lockdown) and the crew will be keeping them open for an extra hour on Sunday 30th August. Prepare to make up for lost time and truly let ya hair down to continue celebrations into the night. Expect all the cocktail classics, along with plenty of poitin, Irish whiskey, craft beers and the East London good vibes this bar is known for.
441 Bethnal Green Rd, London E2 0AN
So 2020 and the UK weather overlords have conspired together to ensure the Bank Holiday is gonna be traditionally damp at best... but f*ck it. Us Brits won't let a little thing like rain come between us and a bloody good scotch egg, right? Right. If you're planning a big one in the park with your squad, step away from the supermarket value potato salad and let Le Deli Robuchon hook you up with one of their bespoke picnic hampers. Pimp it with your choice of freshly baked pastries, epic quiches, smashing cheeses and a bad-ass selection of wines for something really next level. This is the ultimate picnic-n-mix, baby.
Guests choose what they would like in-store or via calling, then collecting from Le Deli on Piccadilly. Prices vary depending on what you pick for your hamper.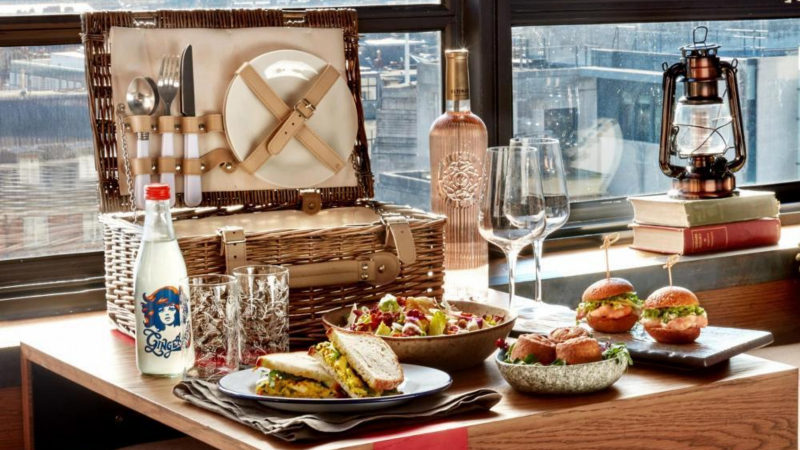 If a retro-style picnic is more your jam (mmm jam), you'll dig what The Treehouse Hotel has got for you. You'll get to your chosen picnic spot via memory lane with their al-fresco collection. This one is all about the classic British picnic champs: cheese & pineapple sticks; teeny sarnies; jelly pots and swiss rolls; and scones with all the creamy, fruity trimmings. Wanna whack some wine in there? They've got you covered (not literally though, so don't forget your umbrella). The picnics will be available for takeaway by click & collect, or as an in-room dining option for hotel guests, so if you've booked an epic staycay, you can have a teddy-bear style picnic on your room floor. 
The Treehouse Retro Picnic is £30pp. 24 hours notice is required when ordering.