Christmas aside, this is the last god damn bank holiday of the year people! So this means you've gotta take it seriously. Lucky for you we've hunted out the best that London has to offer, even if you're not hitting Notting Hill. Make plans, break plans, ditch plans for better plans, just party hard and get the carbs and Berocca in on Tuesday, cos it's gonna hurt! Not enough? Message BarChick Concierge in the bottom right 'cos we've got more ideas where this all came from..
NOTTING HILL CARNIVAL
Food stands, pan bands, floats, horns, the pungent smell of Mama's Jerk Station, serious sound systems - what do we not love about this epic weekend bender? There are some insane parties lined up, including... 1. Carnival Friday It all kicks off here, with four rooms of banging out vibrant tunes from Jamaica, Trinidad and the like. There's also an outdoor food bit to keep you going till 6am. Get your tickets now. 28 New Kent Road, Elephant And Castle, London, SE1 6TJ
2. Good Times Goes East Funk and soul legend Norman Jay MBE has held many Good Times parties and Carnival bashes our West, but had to bring the party East after the usual spot got sucked up in a redevelopment. This year you'll find the man (and the good times) at Oval Space, Bethnal Green for a day-to-night session. Snap up those ticks. Saturday 27th August // 2pm-12am Oval Space, 29-32 The Oval, Bethnal Green, London, E2 9DT 3. Paradise by Way of Kensal Green These guys are embracing their carnival proximity by throwing some wicked after parties and gigs. On Saturday evening head over for their Hip Hop and R&B Throwback Party. On Sunday, it's all about garage, with legend Mike Skinner on the decks, with you on the dancefloor till 3am - just 'cause it's late and it's a Sunday. And if a three night bender isn't enough, come back on the Monday eve for an epic Carnival After Party. Book your tickets here. 19 Kilburn Lane, London, W10 4AE 4. Hip Hop 'n' Bowl at Bloomsbury Lanes Bowling and hop hop, what a combo. Rock The Belles and their troop of DJ's take over the lanes at Bloomsbury, pumping out a hip hop and R'n'B soundtrack. Advance tickets are just £6/7 – pow! Message BarChick Concierge and we'll book you in. Bloomsbury Bowling Lanes, Tavistock Hotel (Basement), W1H 9EU 5. Faded - The Carnival Afterparty There's only one way to close down carnival weekend - it's big, it's loud, it's crazy, and it might get you in trouble when you stumble in on Tuesday after a 4am finish. Grab those tickets here. 28 New Kent Rd, London SE1 6TJ
MORE PARTIES
6. Boozy Bunga Bunga Supper Club It's fair to say with all the nude aprons, dancing staff and the token gyrating Elvis on stage, these guys know how to party; so come and get involved this Sunday bank holiday at their legendary Bank Holiday Supper Club. Get stuck into a sh*t tonne of pizza and Prosecco. We say hit it hard, you're going to need it when you hit the karaoke. 37 Battersea Bridge Road, London, SW11 3BA 7. Cahoots Get on your jazz pants, 'cos Cahoots is hosting a special session this weekend. Hang out in their vintage underground train carriage sip on boozy stuff from old mugs, hip flasks, vintage milk bottles and tins, and get ready for some sexy late-night jazz from 1940s NYC baby. Carnaby Street to Kingly Court, London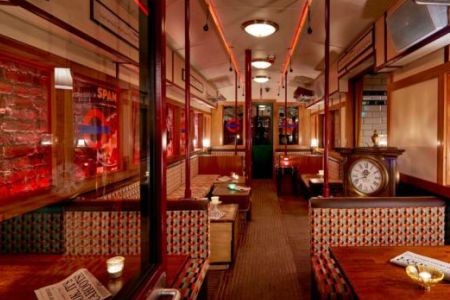 8. The Blues Kitchen BarChick's fun-time staple. Get down for some bank holiday specials. On the Saturday it's Atlantic Soul Orchestra and DJs till 3am, so party on people. Sunday, it's the Boogaloo Boil. Sip on bottomless Bourbon punch, and learn how to eat Crawfish the 'proper' way, with a stack of paper towels and a bib (maybe leave that hot date for another time). Then there'll be live music from The Old Dirty Brasstards, and partying till late. Come Monday, if you're still moving, it's a rib-fest with more live music - it's gunna be good! Book tickets here. 111-113 Camden High Street, London, NW1 7JN 9. Afrobeach Bank Holiday Beach Party Half of London is frolicking off on a beach somewhere, so you should totally get involved too. Head to Beach East for summer drinks, sh*tloads of sand and a carnival soundtrack pumping out bank holiday bangers. E15 2DU
MORE FESTIVALS
10. Cider fest at The Water Poet What better way to spend the weekend than drinking a tonne of cider? You'll find kegs of the stuff in the Water Poet's epic beer garden over the weekend, with a steel band and a hog roast in tow –it's a chill introduction to your bank hol partying. Saturday 27th-29th August from 12pm. 59 Newington Green Road, Islington, London, N1 4QU 11. SW4 Festival Rudimental on the Saturday = sold out, but it's all good cause there's Chemical Bro's on the Sunday and that's gunna be mega. Just don't rain yeah? Saturday 27th August: 11am-11pm // Sunday 28th August: 11am-10.30pm London SW4 9DE
OTHER FUN STUFF
12. Taco Party at Sager + Wilde
To celebrate the extra long weekend, S+G are throwing a taco party at their Paradise Row place. There'll be blood clams, tuna, red snapper and shrimp - all served with fresh beetroot and corn tortillas, tostadas and tortas. Pair that up with some top cocktails and a huge sun terrace and you've got yourself a winner.
Sunday August 28th // Monday Aug 29th // 2pm kick off
13. Not At Carnival Party at Callooh Callay
These guys are fully aware they are no where near carnival action, but still wanting to celebrate, they're throwing a #NotAtCarnival party. Teaming up with legendary rum brand Wray and Nephew there'll be five killer rum cocktails - plus you won't have to miss out on the jerk chicken action either, cos you can get some of that good stuff here too. Message BarChick and we'll book you in.
Sunday August 28th
65 Rivington Street, London EC2A 3AY
14. Bonus recovery day = Bottomless Brunch action 
With a whole extra day to get over it, mid-morning boozy time never felt so good. We've got 26 ideas for you to pick from. Message BarChick and we'll book you in.
15. Sunny forecast = Beer garden asap
We have high hopes for a sunny one, which means you're gunna want to be out topping up that fast- fading tan.
16. Check out the new Shoreditch's sexy new rooftop bar
Shoreditch just got a swanky new hotel, and naturally a rooftop bar to go with it, 'cos why the hell not. Message BarChick to get you in.But if it's too busy to breath up there, we have  tons more sky-high drinking ideas.
17. Drink vodka outta giant watermelons at Little Bat
What it says on the tin. Our mates at little Bat, Islington's hot neighbourhood cocktail bar, want you to stick your straw into a watermelon filled with booze. Make of that what you will. All we can say is we're excited. Wanna come play? Of course you do, message us through our new app for a booking or chat to us using the box in the bottom right.
Also check out:
What's kicking off this August