Stiff, Rich, Bright and Delicate. The new Bar Swift menu had us at stiff...
Bar Swift has been making some pretty big waves since it opened 2 years ago. They've got a rep for solid service and skilled drinks; It's already nestled comfortably on the 50 Best Bars list; a solid fave for Londoners and out-of-towners. And BarChick, natch. While the martinis and lighter serves are a hit upstairs, you'll usually find this girl below in one of the dark booths sipping on some darker spirits, which feature heavily on the killer new 24-serve strong menu which landed in February.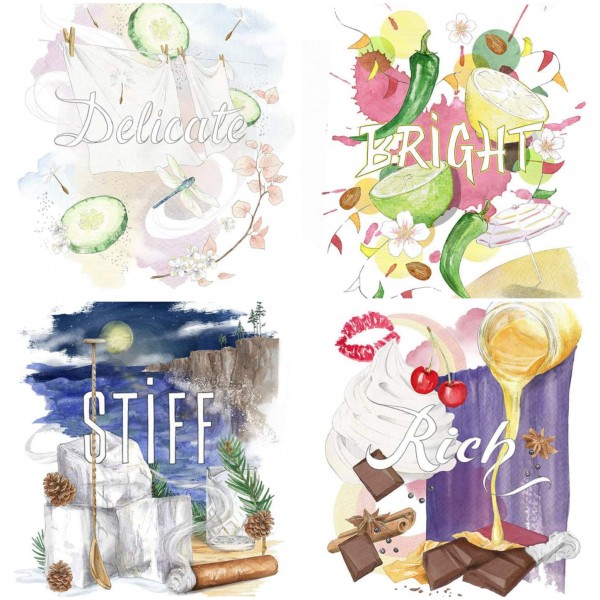 Pick up one of the craftily illustrated leather menus and you'll see the drinks are split up by flavour profile into four sections. Bright, Delicate, Stiff and Rich. That's out jam. The artwork is indicative of the ingredients you'll find in each section. Cucumber and blossom flowers reflect the flavours in the tipples like the Mountain Spring on the Delicate menu; The bold, colourful illustrations on the Bright menu mirror the flavours of the Ginseng Havana 3 rum-based Coral Reef. 
BarChick likes a Stiff one though, like the Jackdaw which has already been labelled as a customer fave from the new offerings. It's complex and vigorous, stirred down with Woodford Reserve Bourbon, Clos Martin Armagnac, Swift Jamaican rum, honey and allspice. Despite the big-ass cube of ice, it's hella warming. And then there's the Casbah, rocking away on the Rich menu with its Amrut single malt Indian whisky, Longrow peated scotch and Eastern spiced carrot syrup. The sweetness of the carrot lingers as the smokiness of the scotch sweeps across the mouth. We've never tried anything quite like this before but we dig it. Big time. 
A few other corkers to watch out for include the Sicilian Avenue which has a distinct breakfasty vibe with Monkey Shoulder scotch, toasted barley, Mr Black coffee amaro and bitters. It's like a wholesome cereal blend that we would 100% have to start the day. Watch out, Bloody Mary, this one's coming for your breakfast crown. There are, of course, a few of the old crowd-pleasers still chilling on the menu. The infamous Swift Irish Coffee still reigns supreme with its lush, syrupy blend of Jameson Caskmates with demerara sweetened filter coffee, and that float of chilled hand-whipped cream. Hell yeah!
If that peckish feeling starts to creep in, you can tuck into the new range of bocadillo style sandwiches. They've wedged seasonal produce between soft, shiny brioche buns – salty salami with cornichons, and smooth cream cheese with fresh salmon, or slide in between 3-6pm daily for their Oyster Hour. 
Book your own spot in the basement and crack on. As new menus go, this one's a banger.