What's better than one gift at Christmas? A whole box of gifts.
Hampers = the best way to cover the whole family with one gift. Fact.
The Gladwin Brothers Hamper
The Gladwin Brothers are three siblings who know the recipe for a banging restaurant. That's why they have four kickin' about in London's coolest neighbourhoods. Now they're bringing the local and wild vibes of each of them to your crib this Christmas, with a cracking Luxury Essentials Box... and never before have epically indulgent and expertly made dishes been more essential than in 2020, amirite? Pimp your Christmas in fine style with The Gladwin's famous Beef Welly & even a whole turkey, gammon and Christmas pork sausages. No more last-minute supermarket rush - instead kick back with a glass of Nutty Brut Sparkling Wine & wait for Santa. We like how they do things in the Gladwin household. 
The Christmas Essentials Box is priced at £220, or you can take it to the Luxury level for £520.
Tom Savano Hampers
Their bottled cocktails were a very welcome lockdown discovery, now Tom Savano is here to make your Christmas a boozy affair with plenty of delicious stomach -liners to see you through to New Year. They've joined forces with the finest small artisanal bakehouses, brewers and chocolate makers in the UK to craft a series of mega cocktail and foodie bundles. They even have a hamper curated for doggos so your pooch can join the festive fun. Woof! Even better: all their profits are going to charity, so if you wanna contribute to a serving of philanthropy, these hampers will get you on the nice list.
Hampers start from £130 and can be reserved here.
Signature Brew's Pub In A Box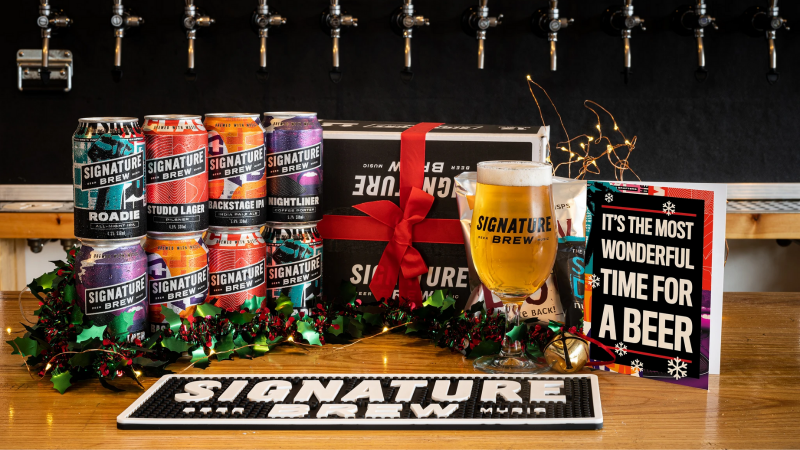 This is the ULTIMATE gift for that buddy who treats their local like a second home. The Signature Brew's Pub in a Box brings all the goods to your home to recreate that "night at the local" feeling (though you will have to supply your own sticky carpet and grumpy regular sat in the corner), from glassware to beer mats, pub snacks to an epic Spotify playlist - and of course a kick-ass collection of beers to work your way through. And the best bit? No closing time, baby!
Signature Brew's Pub in a Box can be ordered here for £28
Sacred Luxury Hamper
You might know Sacred as the makers of everything you need to recreate a legendary DUKES Bar Martini at home, and they are, but they're also behind one of the most lust-worthy Christmas hampers we've ever seen. They've got a bit of everything, not just Sacred products (though of course they have been packed with the boozy goods) but also carefully selected treats like decadent chocolates from Charbonnel et Walker and Rococo; cheeses, crackers and chutney from Godminster in Somerset; and charcuterie from Tempus Foods, plus Dom Perignon Champagne; Domaine de Chevalier 2006 and Chassagne Clos St Jean, Domaine Niellon, 2017. Ho-ho-holy sh*t that's good.
Both the Classic Sacred Christmas Hamper (£149.00) and the Sacred Luxury Hamper (£695) are available to pre-order now for delivery from December 1st.
Luxury Bombay Sapphire Hampers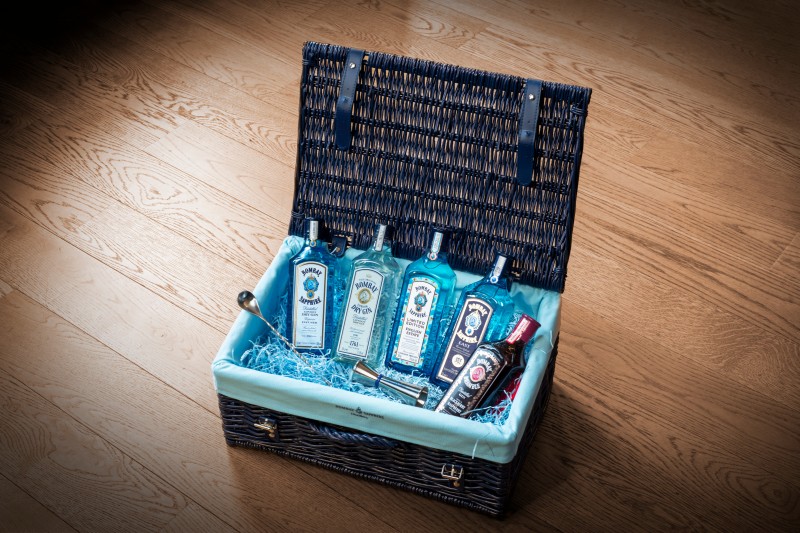 If you know someone who fancies themself as a bit of a cocktail connoisseur, these insanely beautiful hampers by Bombay Sapphire will get their creative juices flowing and bring out the home bartender in them. It features the full range with Bombay Sapphire, Bombay Dry, Bombay English Estate, Bombay Sapphire East and Bombay Bramble, plus a bar spoon and jigger so they can mix like a pro. Just don't forget to point them in the direction of these epic gin cocktail recipes when you give it to them.
This ultimate gin lovers hamper is priced at £120, and you can buy it here.
Salcombe Brewery Luxurious Beer Hamper
A Salcombe Brewery Christmas hamper is what we'll be gifting all our beer obsessive mates this silly season. The stylish grey wicker basket comes complete with 7 different bottles of beer from the bad-ass Salcombe Brewery range, as well as a pint glass and a half-pint chalice branded with the iconic Salcombe seahorse. Expect a killer range of different bottles, from the 4.9% Christmas Tide to the slightly less punchy but no less epic Devon Amber 3.8%. Oh and the hamper doubles up as a wicked way to transport your beers to the park when Spring returns. The gift that keeps on giving.
This luxurious beer hamper will set you back £50, available to buy from www.salcombebrewery.com
The Seven BRO7HERS & Four SIS4ERS Distillery Christmas Hamper 
When you can't decide between beer and gin: pick both. This is the gift for the indecisive mate who hops between juniper and wheat-based bevs quicker than we do between bars. This cool can-filled hamper features three of each SIS4ERS Distillery canned gin & tonics in both the Strawberry & Elderflower and Signature gin flavours, along with a beautiful Sis4ers tumbler glass; as well as two of each of the SEVEN BRO7HERS core family of beers, including the Hoppy Pale, Easy IPA, Amber Lager and Juicy IPA, as well as branded half-pint glass. Boxes: ticked.
Available for £40 from their website