You think you look good in your stockings, wait til ya see these...
Double Dutch Christmas Crackers
You've prob not been doing much pulling this year, so time to make up for it. Cross your arms, tighten your grip, and hope you get the goods on Christmas Day with these banging special edition Double Dutch crackers. Each of these super-luxe glittering boxes contains a wicked G&T set made up of a double shot of gin from 6 of our fave distilleries, and a 150ml can of Double Dutch tonic. That's one way to get start your Christmas lunch with a bang, and not a paper hat or sh*t joke in sight.
Double Dutch Christmas Crackers RRP £36 Available to purchase here
Drinks Biscuits
Eat. Drink. Repeat. That's the only way to spend your Christmas Day. Fact. Even a brisk walk with the fam should include a hip flask of something warming and a pocket full of snacks picked out of your stocking earlier that morning. We love these awesome biscuits from The Drinks Bakery, who have created a bad-ass collection of savoury snacks thoughtfully crafted to balance and enhance the character of your favourite drinks. Beats a clementine any day.
RRP from £1.49 Available to buy from The Drinks Bakery and Borough Box
Sipful Drinks Christmas Morning Kit
Christmas Day = airport rules, AKA it's totally okay to get on the bubbles before breakfast. We'd be pretty stoked to dig deep into our stocking on Christmas morning and pull out the perfect cocktail to kick the festivities off, like one of these Sipful Mimosas made using 100% natural fruit juice and Organic wine. It's part of the Sipful Christmas morning variety pack and also comes with some Doisy & Dam Chocolate Drops and Livias Chocolate Brownie Nuggets... We'd forgo a lie-in to crack on with these ASAP.
Christmas Morning Selection Box RRP £16.50 Available to buy from Sipful Use code SIPMAS for 10% off and free delivery.
Taittinger Champagne Half bottles
Some wanna find a net of gold chocolate coins in their stocking on Christmas morning. Us? Oh, we prefer a gold-topped bottle of Taittinger champagne. That's just how we roll. These elegant half bottles are the perfect size to slip into a stocking if you wanna make someone feel a bit special. Ice bucket and glasses at the ready, Christmas is about to get sparkly.
Taittinger Brut NV half bottle RRP £24.90 Available from Waitrose, Wholefoods & champagnedirect.co.uk
Stroodles (Pasta Drinking Straws)
2020 hasn't been all bad. Wait, hear us out! Harmful plastic straws got the boot for good back in October (excellent news for our planet!) which means it's all about the eco-friendly alternatives. These awesome Stroodles say pasta la vista to soggy paper and hard-to-wash metal straws. They're biodegradable, make no impact of the flavour of your drink and you can use 'em for an hour without them disintegrating into ya cocktail. They also double up as a bar snack if dried pasta is your thing... each to their own but we'll prob stick to olives, thanks.
Stroodles Pasta Drinking Straws RRP £9.99 Available from Borough Box
Slàinte Sauces
Time to get saucy! These boozy cocktail-inspired drizzles made on The Isle of Lismore (that's the West Coast of Scotland, y'all) will level up everything from your BBQs to your puddings, and obvs they work in your cocktails if you wanna get a bit experimental this Christmas. Splash the Port, Cherry & Black Pepper sauce over your steak or burger, or slosh the White Chocolate & Raspberry Martini over your ice cream for a grown-up twist. Each bottle contains nearly 3 nips of booze... those are measures we can get on board with.
Slàinte Sauces RRP £6.95 Available from Oystercroft.co
Hepple Douglas Fir Sherbet
It's not just Margaritas that get to have their rims pimped, ya know. We're big fans of the gin from the Hepple fam (and if you are too, you'll wanna keep an eye out for the return of BarChick Advent coming V. SOON) and now you can give your glass a tangy garnish to go with it. Their compact of Douglas Fir Sherbet is how to take a G&T to new heights, baby, with a light dusting around the rim of your glass to add a bit of zing. Ooof.
Douglas Fir Sherbet RRP £12.50 Available from HeppleSpirits.com
Linden Leaf Cocktail Elements
If you've got a pal who takes their home mixology seriously, they're gonna dig these pocket-size sprays of MASSIVE flavour. These awesome cocktail atomisers are the perfect hack for when you don't have fresh fruit on hand to scale up your Martini or G&T. Each one harnesses the flavours of organic, freshly picked, peak-of-season fruit into one convenient spray to add an expert finish to ya cocktail. Spritz us up, baby!
Linden Leaf Cocktail Elements RRP £9.95 Available via The Whisky Exchange
Copper Rivet Miniature Trio
Move over three wise men. This is the trio bringing the goods this Christmas. The Copper Rivet Distillery in Kent have shrunk down a few of their Dockyard Gin expressions, and what d'ya know - they're officially stocking size. Hell yeah! From the rich, fruity autumnal Damson to the bright and juicy Kent Strawberry bringing all the summer vibes, you could drink 'em all on Christmas Day and time travel through the seasons before you've even had your turkey.
Copper Rivet Miniature Gin Trio RRP: £15 Available to purchase here
Bloody Drinks Bloody Mary Salt
This is a Bloody game changer. For the mate who loves to go EXTRA with their Bloody Mary's, this handy tin brings a little flair to proceedings. This Bloody Mary Salt from Broody Drinks contains salt, smoked salt, celery salt, lemon pepper, mustard powder and smoked paprika - get on the rim of your glass to give an extra savoury accent to every sip. BOOM.
Bloody Mary Salt RRP £3.50 Available from Bloody Drinks
Northern Monkey Brewery
When it comes to beers with bold flavours, these guys really sleigh. Northern Beer Monkey is all about unique beer blends for those who favour adventure; from their Boats 'n' Hose with hits of melon and pineapple, to the Crank it Up a Gear with pineapple, passionfruit and pine notes. They've also captured movie night with their bottle of Film Club which smacks of popcorn and rich hazelnut, and each ranges between £3-3.70. That's a wallet and stocking-friendly gift right there.
Northern Monkey Brewery RRP £3.50 Available from their webshop
Christmas In A Bottle
This is one to save for Christmas Day evening after you've stuffed yourself with Pigs in Blankets, and before you've settled in to watch the Vicar of Dibley Christmas special (yeh that's happening, didn't you hear?!) Get the wood burner going and snuggle up - you're the pig in a blanket now, baby! Then simply pour and enjoy the warmth and toasty flavours of Christmas from this pre-batched stocking-sized cocktail for one, infused for several weeks with festive spices with the notes of orange, cinnamon and cardamom to literally make it bottle full of Christmas.
Bottle Bar & Shop Christmas In A Bottle 100ml RRP £9.50 (or 3 "stocking fillers" for £25) Available to purchase over here. Or size up for something to share with the fam.
Disco Cocktails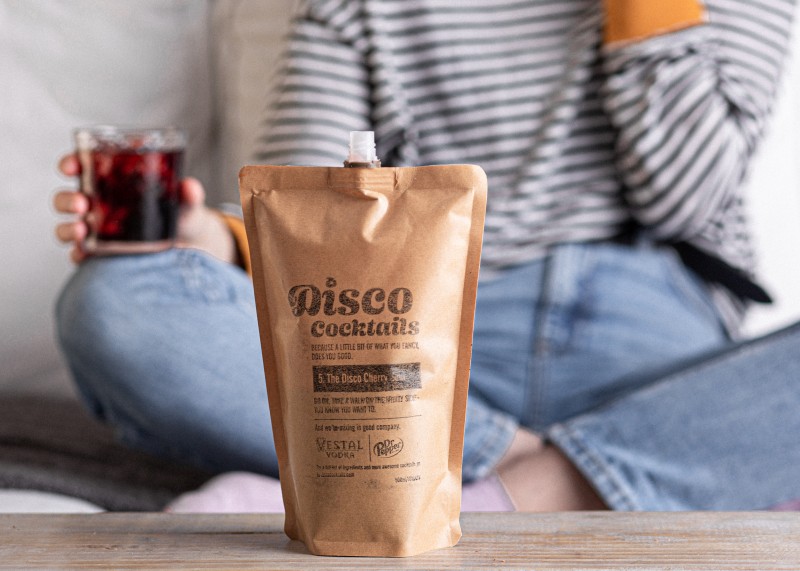 The festive party season prob won't be the same this year, but if you think we won't be throwing on our sequins & toasting the season with epic cocktails in our crib, you're one olive short of a Martini. That's right - we're getting disco delivered this year. Hell yeah! Awesome things come in small-stocking friendly eco-packages from the Disco cocktails crew. Save the shakin' for ya living room dance floor cos these cocktails are ready to roll, like the fruity Disco Cherry made with Vestal Vodka & Dr Pepper syrup. Oh and they're only a fiver. Bosh. 
Disco Cocktails RRP £5 +pp Available to purchase via Ladies & Gents Shop