AKA what the BarChick's want for Christmas...
We don't want a lot for Christmas, but if you're offering, we wouldn't say no to any of these awesome gifts that any cocktail lover would love!
Cocktail Smoker
We all know that smoking isn't cool. Unless you're a cocktail. We'd like to say that we know how to play it cool when our cocktails arrive at our table in a fog of woody smoke, but we're not gonna lie: it still gets our hearts racing (and our Instagram buzzing). So imagine just how psyched we were when we saw we could get the effect at home with our own cocktail smoker? Yeah, our own cocktail smoker is right at the top of our Christmas list this year so we can infuse the scent and flavour of oaky wood chips into our drinks. We'd dig a blow-torch of our own, too.
The Foghat drinks and cocktail smoker is priced at £65
Cocktail Making Kits
Sometimes it's just easier to have everything you could possibly need to make your favourite cocktail in one handy kit. Nothing worse than getting halfway through making your fave serve and realising you're missing that last key ingredient. So for Christmas we'd be very pleased to receive a cocktail kit like this one from Woodford Reserve which has everything ya need to make the perfect Old Fashioned, including a Woodford Reserve 20cl bottle, an ornate rocks glass and 60ml Old Fashioned Syrup; or this Apple & Elderflower Martini kit from The Cocktail Society, which is the UK's first climate positive cocktail kit in collaboration with Sapling Vodka. That's right, as well as providing enough ingredients to make four cocktails, they also plant two trees for every kit bought. Legends.
The Cocktail Society Cocktail Making Kits start from £39 while the Woodford Reserve kit is £28 available here.
Novel Mart Clothing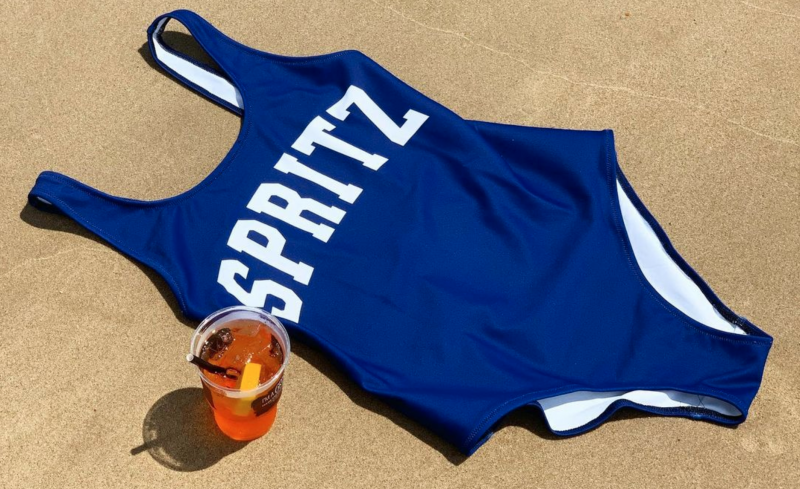 Wear your heart on your sleeve and your fave cocktail on ya chest. That's how we want to be rolling into 2022 - with MARGARITA branded across the front of one of these v. cool sweatshirts from Novel Mart. You can pick your fave cocktail, wine variety, dish or spirit and rep it like you did your fave band in the 00's. Get it on a hoody, rock it on a cap or hey, if you like to channel your inner Pamela Anderson, slow-mo run down the beach in a cocktail emblazoned cozzy.
Buying for a cocktail lover with a wide taste? Novel Mart gift vouchers start from a tenner
Canvas - Home Bar Experiences from The Store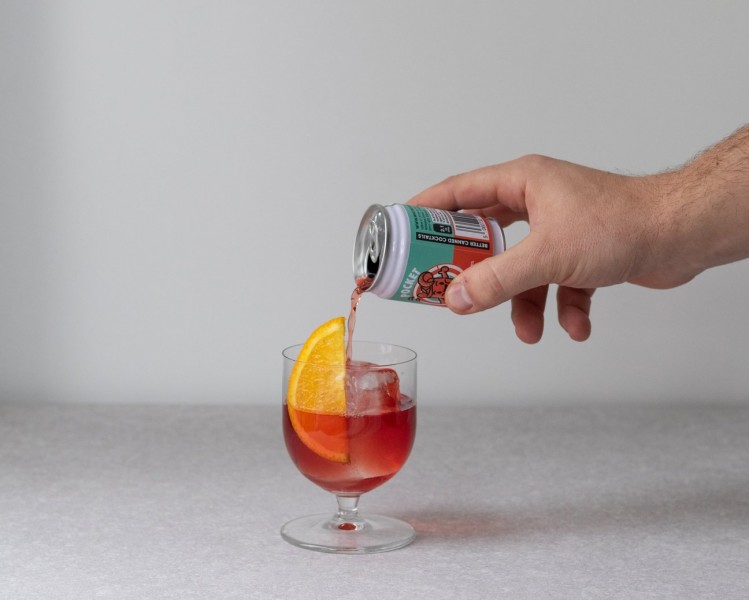 Our 2022 New Year's Resolution might be to stop buying glassware, but now that the crew at Canvas Bars have launched a webshop that provides everything you need for the complete cocktail bar experience at home, we don't think that's a promise we're going to be able to keep. The Store has everything you need to create the vibe of being in your fave bar, from tableware to fragrances, and glassware to the cocktails that go in them. Our eyes are fixed firmly on the stemmed rocks glasses - perfect for holding the liquid from a Whitebox Drinks Pocket Negroni.
Canvas' The Store's Gifting edit covers a range of price points for all cocktails lovers, starting from £16
Spirit Experiences
Ever wanted to try your hand at making your very own spirit? Us too. We'd love to have a bottle of something we've made ourselves chilling in our home bar, so we'd be very pumped to receive a voucher for an experience at the Portobello Road Distillery this Christmas (and we bet we're not the only ones!). This four-floor spirit mecca is the best place for learning about the history of drinks... and all lessons here are practical (just how we like it). The Whiskey Thing is the latest masterclass available to join here - a tutored tasting lead by industry legend Jake F. Burger through the world of whiskies, which results in you blending your ULTIMATE bottle to take home. Prefer gin? Head down to The Ginstitute where Jake will give you the ultimate history lesson in this botanical spirit before you get to make your own bottle of Mother's Ruin.
Vouchers for both experiences are available to purchase from £120pp, and includes a bottle of your own creation to take home.
Bottled Cocktails
We love making cocktails from scratch, but on Christmas morning, we wanna be able to just crack open a bottle and get straight to the drinking. Specifically, we'd love to find a bottle of the award-winning Mirror Margarita from London's dedicated Agaveria, Hacha, sitting pretty under our tree. This cocktail is such an icon, it's gone and become its own independent brand. Love it! Then when it comes to getting our stomachs ready for our Christmas feast, having a couple of bottles from the Charlie's Classic Cocktails line-up would have us sorted. Nothing kicks off a feast quite like a Negroni, right?
Mirror Margarita is available in a 500ml bottle priced at £36 with both Tequila and Mezcal Mirror Margarita variations, while Charlie's Classic Cocktails come in a range of varieties from £40 a box.
Tatty Devine drink-jewels
Christmas ain't Christmas without a bit of bling, but we like our jewellery to be a bit more fun this time of year. That's why we dig this sassy drinks inspired collection from Tatty Devine. With a glass of fizz swinging from our neck, a bottle broach on our collar, or some sparkly gin bottles swaying from our lobes - this is how we want to wear our drinks this Christmas.
Drinks themed bling from Tatty Divine starts at £15
Velvet Cocktail Chair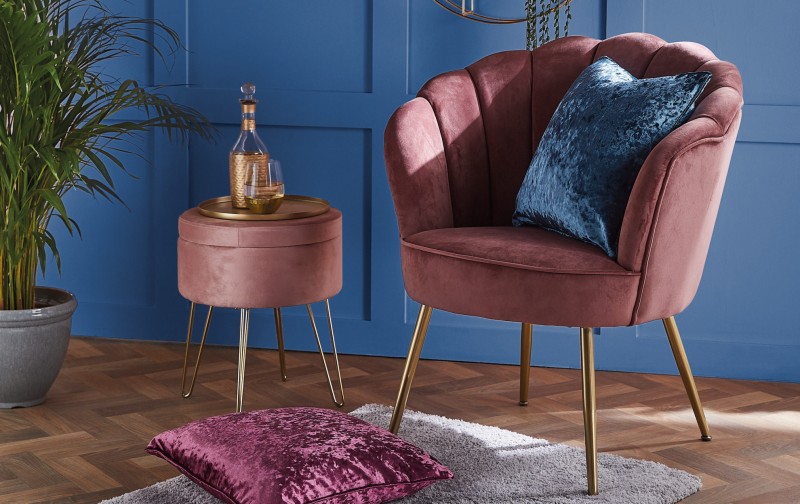 Who doesn't love a jewel-bright cocktail chair? The spot to lounge in while you sip your third Martini of the evening, these plush gems have everything you need to make a statement when sitting back sipping on a cocktail. They pop with colour, have that luxe velvet texture that immediately ups the boujie level of your boudoir & we're digging the Under The Sea vibes from these scalloped stunners. We've got our eyes on this Moss Green stunner, thanks (but we've heard there's a bargain to be had if you're quick enough at Aldi!)
Variety of colours available at Dunelm from £89
Christingle - Christmas Cocktail & Candle Making Kit
If your idea of self-care over the festive season is lighting a candle and kicking back with a cocktail then hey, we feel ya. In which case, check out this awesome kit that brings a yuletide candle-making and cocktail-shaking experience direct to your door! Included is everything you need to craft deliciously scented Mulled Wine Candles (so even when you're not mulling up a storm then the house will smell pleasingly boozy), so prepare to get crafty with wax. Enjoy hobbies more when you're on the sauce? The kits also contain all the ingredients to shake up Mulled Winter Warmer and Marmalade Martini cocktails. Excellent. 
Caorunn Christmas Crackers
We all know a hostess-with-the-mostess who's impossible to buy for. For that person... we have Christmas cracked. These 4 packs of Christmas crackers each contain a mini bottle of artisanal Scottish Caorunn gin, ensuring the festivities start off with a truly boozy bang. You'll either pull a classic gin, or get the Scottish Raspberry variety to sip on as your pre-lunch tipple. Just make sure you're around when the cracker-pulling commences...
Caorunn Cracker Packs £25 here.
Pub in A Box, Bells End Edition from The Darkness x Signature Brew
Buying for a friend who's more into their pints than their Palomas, or who likes a lager over a Long Island Iced Tea? Or maybe you just wanna break up the grape-fuelled wine guzzling with a trip to a fictional pub when Christmas afternoon hits. In that case, get your hands on this Pub in a Box, which comes with 8 cans of craft beer, a mini pint glass, beer mat and snacks. BUT WAIT. Did we mention it's also a collab between Signature Brew & The Darkness who, if you've forgotten, are responsible for one of the greatest Christmas tunes of all time?! Christmastime (Don't Let the Bells End) is a warming winter beer with a spicy blackcurrant fruitiness and a firm bitterness which balances the complex rich, sweet toffee flavours of the malt. Ideal for after that Xmas walk we're all so determined to have, right?
Signature Brew x The Darkness Pub in a Box £30 here.
Sloe Gin Chocolate Bundle from Elephant Gin
Gin, chocolates, elephants and wildlife conservation... no, not a list of David Attenborough's favourite things, but a unique combination that merges to create the ideal gift for the animal/booze lover in your life. This bundle contains 5 sumptuous choccies that are made of a double layer of meringue containing a melting heart of chocolate cream flavoured with Elephant Gin's very own award-winning Sloe Gin and coated in the finest extra dark chocolate... and if this wasn't enough to set your mouth watering and your heart racing, then you also get a 500ml bottle of Elephant Sloe Gin, custom-made and adorned with beautiful beads, handmade by three Maasai tribe members from Kenya.
Need even more reason to give this gorgeous gift? Don't forget that Elephant Gin donates 15% of all proceeds to African elephant conservation. So by buying this, you're essentially going onto Santa's nice list, right?