So, we've never been to Latitude before. We always imagined it was the sort of festival you took your mum; full of thespy types with folding chairs and highlighted programmes of avant-garde spoken word poetry. For sure you're gonna get this but that's no bad thing. More importantly this year there was a new kid (hot chick) on board to do the music booking and all of a sudden there were headliners like Yeah Yeah Yeahs, Bloc Party and Hot Chip, with daytime dance-offs thanks to newish acts like Night Engine and Rudimental. Basically, they got our attention, big time. We packed our folding chair and party pants, and jumped on the Latitude bus. Check out our best bits below.
Photo credit: Pooneh Ghana
Badass award goes to…Yeah Yeah Yeahs
We have a total girl crush on Karen O. She's everything our inner lesbian wants and everything we want to be. She totally smashed Latitude, shouting, dancing and generally rocking out in a custom-made sparkly yellow suit and Yeah crown. Quadruple yeah from us.
Photo credit: Jenna Foxton
Tripping out without the drugs
Now, LSD isn't everyone's cup of tea. Spending eight hours watching the walls drip while you fight off mind goblins with a flaccid daffodil isn't a walk in the park. But this show was like a trip without the chemicals. The Last Tuesday Society's American Asylum was themed around the work of Ken Kesey. Somewhere between a CIA experiment and a 1960s Acid Test party, let Nurse Ratched dose you up, and then bring on flashing lights, naked dancers and delusional cackling.
Photo credit: Danny North
Nothing wrong with regression
This festival is packed with DJ babies in pink headphones most likely from Stoke Newington. But where there are kids there are avenues for silliness. We slid down the helter-skelter and skipped through the woods with a satyr before being thrown out the adventure playground en masse, the affable security man told us to come back during adult's hour. From 5.30 on Sunday it's adults only. No joke. Cue one hour of back flipping off treetop monster nets and zip wiring.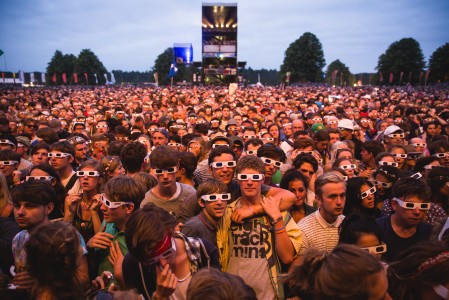 Photo credit: Danny North
3D glasses
Handed out at the gate in order to watch Kraftwerk's visuals, these were the go-to accessory for any dull moment. The gig was nothing short of surreal - thousands of 3D glasses stared back at you each time you looked over your shoulder. Who knew four pudgy middle-aged German dudes in Tron onesies could be so weird. Kudos.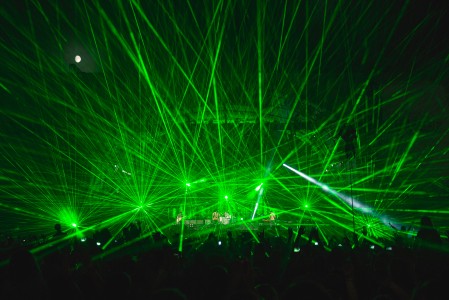 Photo credit: Danny North
Latitude gets ravey
Everyone was very nice, the knitting corner was popular and people clapped politely after gigs. But we wanted to dance until our feet bled, which there wasn't much of. That is, until Sunday at the BBC 6 Music Stage when Rudimental got everyone going only for the crowd to totally lose their sh*t at Disclosure, which was pretty much what we'd spent two sunny days waiting for.
In short, we had an awesome time. Thanks and see you next year, Latitude.
Main image credit: Marc Sethi