10th February 2013
Day 2, it's Sunday and there's no signs of it being a day of rest; outside my apartment the city is kicking off. I am still awake, I can't sleep... With too many places to go and people to see. No rest for the wicked. Plus, I have found the best drink ever! Its called Busca Vida: cachaca, lime and honey, similar to B Honey Sting but cheaper. It is soo good! It's time for some make up if I am ever going to find me a Mario. Sequins of course, glitter, naturally and a little crop top, I was ready to go. Getting in a sweaty, hot crowded bus for an hour was not my idea of fun but well worth it. As I got to the centre for 'cordão do boitatá' I saw party people dancing on the steps of the church, bumped into some nuns (possibly real ones) whilst gasping at a curvaceous lady in the tiniest thong I have ever seen. Wouldn't happen in London. Creations were all over the place, tiny little 4 piece bands on every corner with followers dancing to their beats. The main stage area was covered in grey, black sludge (this was one of few times to not wear the old havianas). The first song we heard the 12 piece band play was Bob Marley's  'Is This Love'. We got stuck in with more drinks and shots of cheap cachaca, some street food that I think could have been dog and more strange costumes, I was pretty done in by 5 pm.
Luckily for me, some local friends were throwing a BBQ. I ended the day in a penthouse rooftop with Cristo on one side and Leblon Beach on the other - oh and did I mention they had a jacuzzi?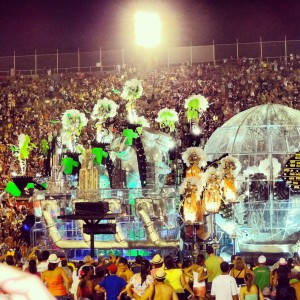 9th February 2013. About midnight
It's tough at the top, but I'd say the hardest thing I have ever had to do was get up for the bloco 'Ceu Na Terra' (Heaven On Earth) in Santa Teresa. Shaking from possible alcohol poisoning and eyes still asleep we arrived in the Santa hills. Crowded is an understatement. Nestled in between the cobbled streets and colonial building and squashed in between 20 smurfs we danced our little tits off to an array of samba songs. First beer of the morning was hard but at 2 reals a pop you soon get over it. There were hotties all over the place. And little old men dancing with hot sexy Brazilians wearing next to nothing. Bums shaking in all directions, smiles could be seen all around.  BarChick was in heaven. We saw some kickass costumes at this bloco, my favourite being a shower. Yup, some guy had come as a shower, with a running tap on his back. Genius! BarChick showered herself under this tap more than once. We paraded through the streets and down into Lapa flowing the tight nit band and colourful dancers. As the crowds started to disperse, it was time for a dip in the sea and a snooze on the beach. Heading back to Ipanema it was apparent that yet another bloco had started. I jumped in the sea for a wake up and then dived back into the party parading around in my wet bikini. Drag queens as far as the eye could see, dudes in tiny little ball crushers, mini children dressed as animals. Before I knew it I was hoisted up onto a car roof dancing in front of the crowd.  The sun was scorching and the party was wild. I think I've found home. As the sun set on Ipanema beach I ran back to my apartment to get changed into something more appropriate, an all in one green/ blue sequin bodysuit and a BarChick tattoo. Standard.
Now the rest of the night is a bit of a haze consisting of blocos, booze, bands and bums.
8th February 2013. 11pm
target="_blank">lada dada dee, lada dada dee.
That's me, every day. Wake up, walk around and shimmeying to drums that come in all shapes and sizes. Just give me a beat and I'm yours.
Pedra do Sal, where Carnival blocos were born is the place to be on a Monday night, especially when it's Carnival week. It's situated on a former slave market, partly uphill (walking shoes are a must have). We're looking for Mario, FYI, all hot boys are now referred to as Mario after Testino did such wonders with his Rio photography book, plus it keeps it simple right? Mario, Mario where for art thou Mario?? Must concentrate. So in Pedra do Sal… it's all swarming with hotties, sexy bums, cheap booze and lots of it.  So many people… do these people not work? Awesome.
Always a Caiprinha in hand,  we did the rounds once or twice… nope, nada. All with very protective quite scary looking females. Surprisingly the streets were filled with men in business suits, kids from the favelas and random gap yaar tourists all dancing to the same beat, we like this place.
As the Cachaça 51 kept flowing, the sticky rock ground started to slide from under my feet,  there is a big bruise, yes. Not sure how or when but we have now been flung out of Pedra do Sal and onto Copacabana beach. A new friend called Joel (pronounced "Joaowl") offered me a sniff of some Peruvian flake… when in Rome I thought, but perhaps not from him. He was a sweet guy, perhaps 21 years old, but he was definitely no Mario.
Next thing I know I'm swimming in a very aggressive sea with Joaowl. Oops! This quickly sobers me up, but not him, so after twenty minutes of some confusing and badly spoken Portuguese, I left thank fuck, that is not a bed notch I'm after. Now this was a walk of shame, I was wet but my clothes were dry, leaving a soggy bum mark on my shorts.  I grabbed a beer from the last cabana (beach shack) on Copa beach and headed towards home. I was starving after a mouth full of sea water and I had heard of an area near Copacabana fort where you can buy fresh ceviche from the fishermen. So I stumbled toward the little shack to see what could get. As all my money was soaked I ended up singing for the boys, I attempted Samba do Avião by Tom Jobim. I got some odd looks, some frowns, some laughs, but hey I got my fish in the end
7th February 2013. 11am
My legs are weary but my bum is made of steel. Only natural if you'd danced all Saturday night at the Salgueiro Samba School practice. We downed Smirnoff Ice mixed with beer to keep us cool, in every sense of the word. At least until we were found swaying by a table of Brazilians with someone's stolen birthday cake in hand.. good times Rio, good times.
With a shoe lost, it's time to take this  sweat drenched shirt off whilst getting destroyed in a dance off by some hot thin bendy queen dancing a mix of vogueing and samba in my face. Met some small bald Spanish dude who said he was a football agent and got a ride home in his Bentley, my wing man might have been a little sick on the side door, but if he didn't notice then it didn't happen, plus we were homeward bound. Phewf.
Woke to a pounding head ache only to realise that, nope it was not our heads just 80,000 people outside the window following a practice bloco in Copacabana. For all you who don't know the score, a 'bloco' is a free carnival party where samba bands, dancers and singers play to their followers as they walk around the areas of the city, aka epic party time. Sunglasses on, with a quick shot of  'B Honey Sting' (BarChick's new favourite drink - honey and cachaça liquor), we stumbled out the door in the shortest of shorts. Stumbling along amongst lots of armpits drinking warm beer and lime, we spot a herd of human tampons complete with blood faces and cotton string…really? Yes… gross.  Next is Snow White and her real life seven dwarfs, genius. After partying in the sun until 8ish we pluck up the courage to go home for the night's rest with a very red nose indeed. Next stop Pedra do Sal… oh and did we mention carnival hasn't even started yet…? Uh oh.