WELL… what a year twenty thirteen has been for the BarChick Massive. Not only have we hit hundreds of new bars, have had new BarChicks joining the crew, had record breaking hits and launched a slicker sexier new app, but we're also writing for even more big dog publications such as EasyJet Traveller Mag, Lastminute.com, View London, Elle, Maxim etc, so you shouldn't miss us! Plus we now have over 50 city guides on the site meaning BarChick's taking over the world one step at a time just like we planned…! Who knows where we'll be this time next year (probably working from our super yacht).
A year as a BarChick has many hangovers and highlights, so we thought we would give you a run down on why we thought this year ROCKED.
FAVOURITE BAR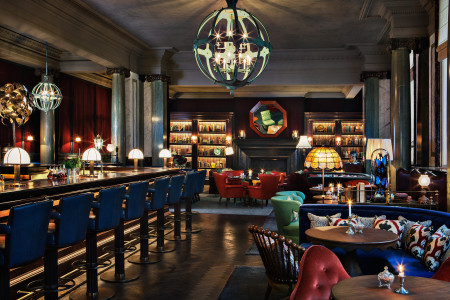 Tatiana @Hotbarchick - My new local Satan's Whiskers because it's the epitome of a BarChick bar.
Daisy @BarChicksBoss - Ruby's, it's always good to have a decent speakeasy on your doorstep.
Kim - Happiness Forgets. Great place with really lovely bartenders that always make you feel welcome and make cracking drinks.
Tyler @tylerwrites - I loved Door 74 in Amsterdam for sheer class, incredible cocktails and putting up with me hounding the bar, twice. But probably Comptoir des General in Paris wins for the beautiful madness of it.
Henry @HenryGriffin - Was impressed with 5cc Bethnal Green. A great little basement bar with good drinks.
Hannah @HannahGLodge - Oscar's Cerveteca in LA – it's all organic Margaritas, hot surfer bartenders and yoga pants. Gotta love California.
Lee - Crazy Homies - close to home and always sorts me out with a badass Margarita.
Leah @HotBarChica - Night Tales, I'm not sure what my weekends are going to look like without this lovable car park pop-up on my doorstep.
Mr G @HotBarChap - Vista at The One and Only in Cape Town.
Jennie Rae @HotBarChicklet - Satan's Whiskers – The BarChick mandem headed here for the Christmas after party – sexy neon lights, banging cocktails and some weird ass taxidermy (check out the squirrel with the huge dildo attached… why not?!).
Suzie @FatBarChick - The Blind Pig at Social Eating House. One of the hottest openings this year, and with Gareth Evans at the helm, the drinks were always going to be sublime.
Emma @EmmaehBell - The Dolls House, Hoxton Square – such a wicked place – just wait until the roof terrace is done though!
Gabriella @gabysimonian - Opium Cocktail & Dim Sum Parlour – I've found myself in here one too many times trying to learn Chinese through bleary eyes. And it's next door to my favourite Asian supermarket so that's always a plus.
Shannon @ProBarChick - The new Rosewood Bar for being the perfect combination of comfortable, stylish and friendly.
Louise @BarChickLouise - Sager and Wilde. When I'm not feeling the cocktails, this is where I go for delicious wine, it's impossible to order a bad glass here. It's got the vibe of a cocktail bar, has been opened by a super cool couple and is around the corner from my house.
Phoebe @PhoebeBibbings - Hoxley and Porter – I love the whole vintage-glamour thing they've got going on.
FAVOURITE BARTENDER
Tatiana @Hotbarchick - Simone from The Artesian.
Daisy @BarChicksBoss - Luca at Quo Vadis for consistently having the best Italian accent.
Kim - Shaky Pete Jeary, obvs. Because he's my husband and knows exactly how I like my Martinis.
Tyler @tylerwrites - So hard! Sarah Parniak from Cold Tea in Toronto was a total gem, and led me on the path of fantastic bar discoveries. Paul at The Union in CPH got me wasted in about 20 minutes, which wasn't such a help for the next six bars I had to review, but more fun. And Guillermo Gonzalez at HPS in Amsterdam for awesome style, an awesome 'tache and any man that pours whisky through bone marrow and serves it up has my attention.
Henry @HenryGriffin - My mate James Randall from HIX. Because if I don't say him, he'll probably get the hump. But apparently he's a pretty good barman too!
Hannah @HannahGLodge - Tim Oakly at House of Tippler in East Dulwich. This dude behind my new neighbourhood bar mixes up the best Manhattans.
Lee - Ali from Hawksmoor… DUDE!
Leah @HotBarChica - Marcis Dzelzainis, for introducing me to the Salty Dog at Satan's Whiskers.
Mr G @HotBarChap - Thobile from Vista. What a guy!
Jennie Rae @HotBarChicklet - Sam Fish from Mojo Leeds – partying with her in Ibiza… 'nuff said
Suzie @FatBarChick - Mr Leon Dalloway – he makes a damn good drink, runs a wicked gin tour (essentially it's a bar crawl), and it's always funny watching the ladies swoon when he's behind the bar.
Emma @EmmaehBell - Dominic Jacobs – through an affinity for the love of rose because best holidays involve long lunches with rose!
Gabriella @gabysimonian - Jesse Estes - cute as a button, loves a Tommy's Margarita and would make BarChick a cocktail entitled the 'Bow-"Chick-a"-wow-wow' – how can you not love this guy!
Shannon @ProBarChick - All of them deserve a mention, but if I had to pick one - Simone Carporale for being the ultimate host.
Louise @BarChickLouise - Marlowe Harris – Evans and Peel/Kench and Bibsey. Because he manages to open a wicked bar, be a dad, write for us, still answer my emails like he's sitting at a computer all day and make killer drinks. Hero.
Phoebe @PhoebeBibbings - Abdul from Union Street Café – never a dull moment when he's around!
FAVOURITE COCKTAIL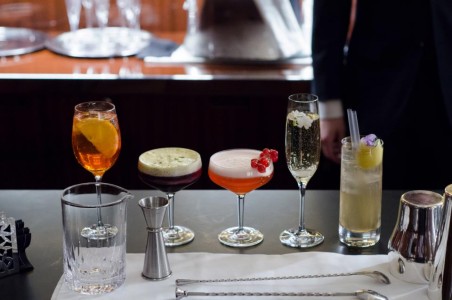 Tatiana @Hotbarchick - Hmm tough call. A  Boiler Maker (with Four Roses) gets a shout out, but it was the year of the Rum Old Fashioned for me. Ideally made with La Hechicera.
Daisy @BarChicksBoss - A Classic Martinez from Balthazar (Tanqueray Gin, Maraschino, Martini Rosso & Cocchi Redsay) – slick enough to suit the venue and punchy enough to start the party.
Kim - Wet Beefeater Martini with a twist, followed by another one.
Tyler @tylerwrites - The Basil Gimlet at Freddy's Bar in Amsterdam was so good, it has ruined every other Gimlet I've drunk since.
Henry @HenryGriffin - Anything from Meantime Brewery, but particularly their Pale Ale. The fact they have their very own beer tanker makes them hard to ignore. And Camden Wit beer deserves a mention for the taste and the genius bottle design.
Hannah @HannahGLodge - It was the year of the Aperol Spritz and I was ALL over it.
Lee - Anarchy in the Brûlée at Night Tales from God Save the Gin. Served long with a garnish of a smouldering of brûlée'd orange, sugar and cinnamon, damn good!
Leah @HotBarChica - Mezcal Bloody Mary, a smokier, naughtier take on the classic hangover cure with all the health benefits of the aloe vera plant, what's not to love?
Mr G @HotBarChap - Anything biltong infused.
Jennie Rae @HotBarChicklet - The Hats Off mezcal cocktail that Oscar created at Scarfes Bar, The Rosewood Hotel. Mezcal, Aperol and agave-sweetened citrus fruit juices, yeh baby!
Suzie @FatBarChick - The Domestic Bliss at Coal Vaults, made with raw and charred quince rum, caraway, cinnamon, sugar and egg white. Settle into a vault with your naughtiest mates and get some rounds in.
Emma @EmmaehBell - Rhubarb Cocktail from No. 11 Pimlico. I intended to taste a variety but they became a bit addictive. Stayed longer than planned.
Gabriella @gabysimonian - The Chasing Tail (vodka, coffee beans, orange vermouth) from Foxlow ticks all the boxes for me. Served in a Martini glass, it's both bitter and sweet with just enough kick.
Shannon @ProBarChick - Gin Mare and tonic sitting at the bar at Anonymous in Prague.
Louise @BarChickLouise - Spotted Lyan Martini at White Lyan: Mr Lyan Gin, vermouth, absinthe spot, twist and an olive. This place takes away the shaking, citrus and ice that you usually find in a bar and gives back perfect drinks, bar chat and a lap dancing pole.
Phoebe @PhoebeBibbings - Hibiscus Fizz at The Shop NW1 – elderflower, prosecco & hibiscus flower, delicious!