Like booze the morning after a heavy session, London is in our blood. And we love it.
One reason? The number of kickass bars it boasts. If you find the insane choice overwhelming then no worries. Sit back and chill, because we've roundup up 50 Bars that make for essential drinking in the capital.  
There's a lot to love about 69 Colebrook Row, aka The Bar With No Name. The New York Prohibition era vibe makes for some sexy sipping.  The drinks look deceptively simple - that's 'cos the real magic happens in The Drink Factory around the corner. Ingredients are seasonal and aim to surprise. Celery seed liqueur, yogurt syrup, tomato yolk… bring it on. Can't find it on first glance? Just look for the lantern.  Oh and don't leave without popping a Bloody Mary in your mouth. You have been warned. 
69 Colebrooke Row, London N1 8AA
If you're thinking this is going to be all Stars & Stripes and a mechanical bull in the corner, think again. You're about to enter one of the swankiest, most celebrated bars in London. It's hosted more stars than you'd find on Prof Brian Cox's physics report, and the cocktails are out of this world. Bartenders love it too - it's the birthplace of the Savoy Cocktail Book (aka the bartender's bible). With live piano music and staff that look as fly as the interior in their white jackets, this is a place to feel fancy.
The Savoy Hotel, 100 Strand, London WC2R 0EZ
Artesian have never shied away from being a bit different - remember that Dali inspired cocktail served in a giant ant?  They're all about quirky vessels served with a side of fun, but that should't detract from the killer drinks being served. They've won awards for them, dontcha know. Settle back in one of the lavender leather seats - some mind-bending cocktail magic is about to happen. This could range from a drink hidden in a house plant, to an inflatable pillow. Not the place for a sesh, but definitely the place to impress.
1C Portland Pl, Marylebone, London W1B 1JA
The Savoy was always going to offer up serious swank. A bar with £40k worth of gold dripping from the interior? We're living luxe. Interiors like this = prepare not to scrimp on the cocktails. These bad boys are around £20 each but you can drop serious cash if the mood takes you. Take a date who's willing to flex the plastic and, if it's all going well, book yourself into a room. The killer menu focuses on Music, Magic & Drama - a standard BarChick night out, then.
The Savoy Hotel, 100 Strand, London WC2R 0EZ
If you love whisky, this is the place to head in London. This 4 storey mecca around the block from Liverpool Street station is packed with 250 bottles from around the world and a stripped-back space to match. It's cool, chilled, and everybody is welcome. It's also home to an 18 foot 185-year-old oak tree trunk which acts as a cocktail ageing system with channels carved into the trunk and everything. We bet you've never seen anything like it, so def one for the bucket list.
9 Christopher St, London EC2A 2BS
A sign that reads 'Opticians' and a blindfolded pig on the door might not sound particularly hot. Trust us though, date night spots don't get much sexier. Cosy up in a booth or take a seat at the bar, which is where the magic happens. Cocktails are crazy innovative, so settle in - you'll want to try them all. Menus are built around concepts like favourite children's stories - we never thought we'd be getting loose with The Very Hungry Caterpillar, but there you go. Make sure to book - this place is popular. 
58 Poland St, Soho, London W1F 7NR
When all you wanna do is get down with your bad self, this is the place. Dirty food, soulful tunes, and a vigorous night ahead if you fancy dancing with that East London hipster in the corner. Get sweaty moving to the nightly live music, and get sticky fingered with the Texan-Creole snacks. Drowning the sorrows of your achin' heart? They've got London's largest whisky collection to sort you out.
134-146 Curtain Rd, London EC2A 3AR
Get your phone ready, you're about to get snap-happy.  This is interior inspo heaven. The conservatory, with emerald hanging plants and fern-patterned furniture, is straight up gorgeous. Then there's the beautiful mosaic marble bar top, the squishy wing-backed armchairs, and the open fireplace roaring with warmth in winter. If you manage to come away without a selfie sitting in the loo's bathtub, we salute you. 
42 Northampton Rd, Clerkenwell, London EC1R 0HU
All aboard the booze train - you're about to have the ride of your life at London's first tube-themed cocktail bar. Rock the victory rolls and don your best nylons for the night as you're transported to war-torn 1940's London for some drinking on the ration. A stiff upper lip has been replaced by stiff liquor and some kick ass cocktails served in everything from hip flasks to vintage milk bottles. Time to drink for victory. 
13 Kingly St, Soho, London W1B 5PW
It's no secret Lewis Carroll liked to get trippy, and this East London bar is harnessing some of that narcotic-fuelled surrealism. Mismatched furniture, vintage light fittings, and a secret bar hidden behind a mirrored wardrobe. Then there's JubJub - the secret bar in the secret bar. Sounds mental, and the drinks are suitably mind-bending. You never know quite what you're gonna get with these world-famous cocktails, and that's why we love it.
65 Rivington St, London EC2A 3AY
The guys at Cocktail Trading Co are pretty serious about having fun. You've seen the snaps - cocktails served in a giant hand; a ration tin; a takeaway box (complete with noodle garnish…that's right). These crazy serves still bring badass cocktails, and they've won awards, so don't be afraid of style over substance. Great for a date, or when you just fancy some good times with the crew.
68 Bethnal Green Rd, London E1 6GQ
Need an injection of glamour in your life? It doesn't get much better than this hotel bar. A Grade A showstopper, it's sleek and stylish, with cocktails to match. Make yours a martini and get that trolley wheeled over. It will be one of the best martinis of your life, but if you do fancy something else, Ago Perrone has created a seriously impressive menu with his awesome team. Not for just any occasion (you'd be bankrupt), this is for when you wanna feel extra special.
Carlos Pl, Mayfair, London W1K 2AL
No prizes for guessing how this bar got its name. BarChick wants to paint her entire apartment in the colour that adorns the walls of this Bloomsbury bar. Add chandeliers, awesome artwork and shell-like pastel velvet couches reminiscent of a mermaid's boudoir and your Insta feed just got lit. This is a goldmine for anyone keen on English sparkling wines, or check the cocktail menu. With a town vs country ethos, it's sure to please.  
The Coral Room 16-22 Great Russell Street, Bloomsbury, London WC1B 3NN
Take an old boozer on Bethnal Green Road and hand the paint brush to ex-Savoy bartender Chris Moore et voila, you've got Coupette. This relaxed cocktail bar is all about the French flair with understated, chic vibes. Coupette manages to fuse modern art with a pared-back design. Shelves are packed with tasty undiscovered French products and Barchick (like the rest of London) can't get enough of the Champagne Pina Colada which is as heavenly - yet not so naughty - as it sounds.
423 Bethnal Green Rd, London E2 0AN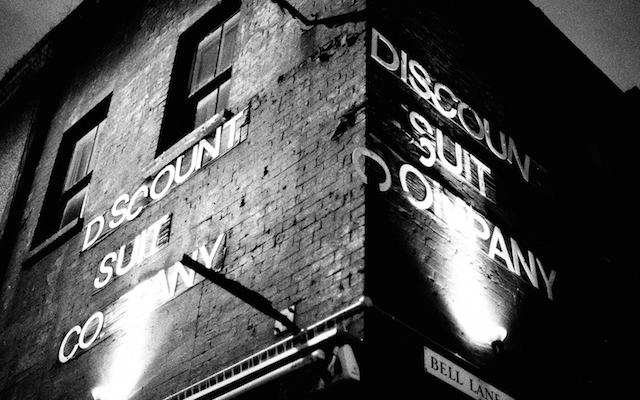 We're partial to a naughty little secret - and this is one of the best worst-kept ones around.  It's elusive, sexy, and tons of fun. Oh, and very easy to miss - but once you head down the staircase and through the black drape, the good times begin. The vibe is Parisian Prohibition, so practice that pout and order one of the signature cocktails. They're damned good - don't be surprised if this becomes a new favourite spot.
29 Wentworth St, London E1 7TB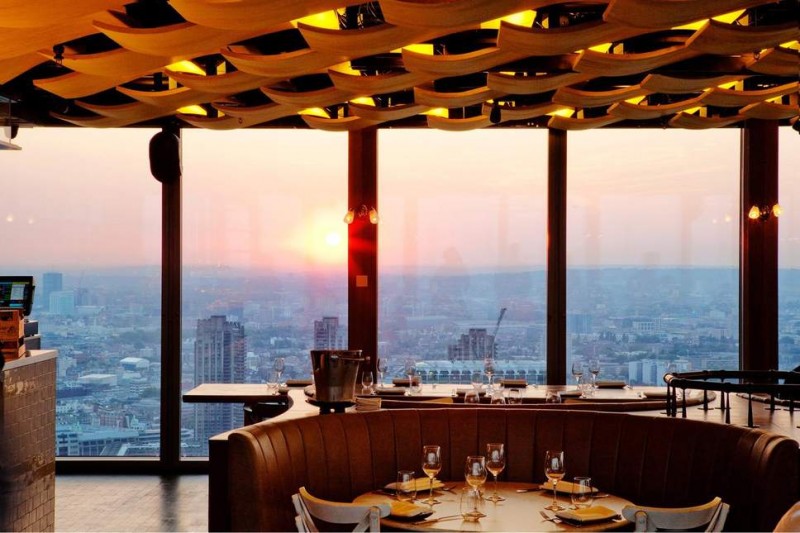 Sometimes London is best enjoyed when you're high at 3am. And for this, Duck & Waffle is the only place to head. Dizzyingly positioned on the 40th floor of Heron Tower, it's one of the city's highest bars, which naturally means mega views. The bar is also open 24 hours - just what London should have more of, in our opinion. Sleep is overrated, so forget bed and dive into Rich Woods' latest menu - you're guaranteed some wicked-good drinks.
110 Bishopsgate, London EC2N 4AY
This is the home of the Martini in London, and don't let anyone tell you otherwise. DUKES is the perfect place for when you want to put those seduction techniques in action. It's elegant, classy, and if that doesn't work then the half-liter of neat spirits you're soon to neck will do it. Alessandro is the godfather of cocktails, he'll look after you, plus he makes the best Martinis on the planet. Your role is to sit back and have your martini mixed table-side.
35 St James's Pl, St. James's, London SW1A 1NY
For those not in on the acronym action, ECC stands for Experiential Cocktail Club. Which tells you a fair bit about what you're letting yourself in for. Hidden in Chinatown, this is pure speakeasy chic, set over two stories of a townhouse. The vibe is super laid back Parisian cool - understandable since they've made their way over from France. They've got a 3am license from Thurs-Sat, so if you're looking for some sexy late night sipping, this is the place. 
13a Gerrard St, London W1D 5PS
Remember that time you got risqué with a bit of role-play? Time to get creative with the truth as you try and blag your way into Evans & Peel. Channeling all the fun of 1920s Prohibition, combined with a little Cluedo sleuthing, this detective-agency fronts a super-slick bar. Vintage typewriters, taxidermy animals and apothecary drawers give a real sense of period charm - ideal if you're unleashing your inner Miss Scarlett. Just make sure you make an appointment. 
310c Earls Ct Rd, Earls Court, London SW5 9BA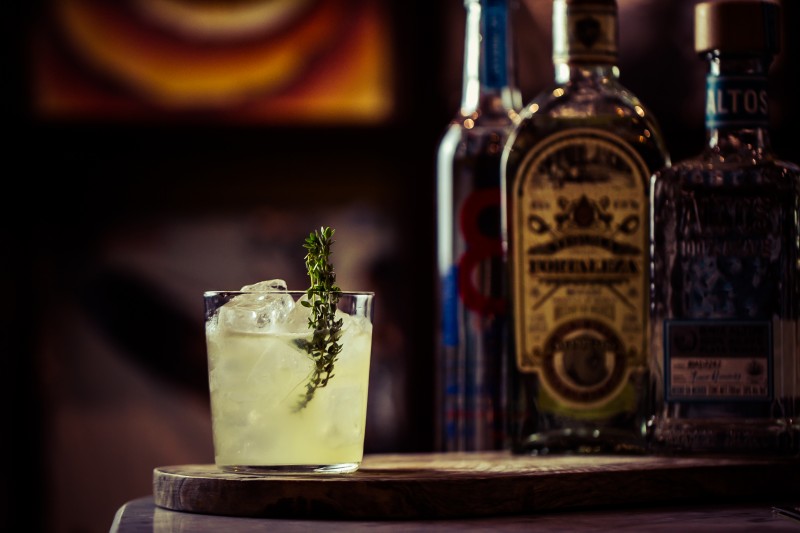 Sup, fam? This wicked bar rocked up behind Selfridges at the end of 2018, and it's got bad-ass babe Megs Miller at the helm. They want you to feel right at home here, so slide in, get comfy and let Meg and her crew serve you up a dose of home comforts. You can even pick your fave vinyl off the wall and they'll play it for you in full while you chill. Fleetwood Mac sounds epic when paired with a FAM Margarita, FYI.
Corner of Picton Place &, 31 Duke St, London W1U 1LG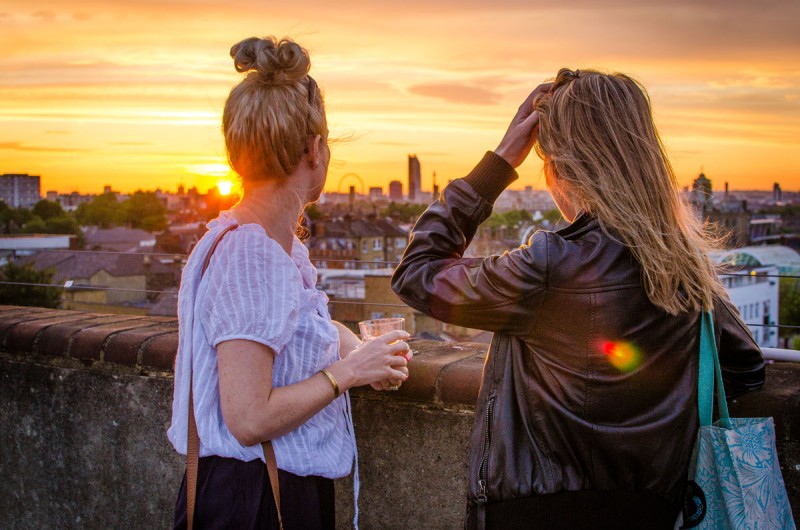 Remember when Peckham wasn't the hippest place in South London? Well, at one point it wasn't, and this is when Franks popped up and things began to change. For one thing, it's on top of a car-park - pretty weird when you arrive, but worth it for those views and those Negronis. It's only open for summertime though, so enjoy while the sun shines.
Bold Tendencies, 7th-10th Floor Multi Storey Car Park, 95A Rye Ln, London SE15 4ST
When a bar names itself after a cocktail, it sure as hell better deliver the goods. The Gibson do this and more, by offering up several awesome twists on this pickle-onion-laced martini. One even has bone marrow in it and is served with beef jerky on the side. Not into Gibsons? Choose from one of the many other inventive cocktails that booze legend and The Gibson owner Marian Beke is mixing up- seriously, the vessels they're served in are some of the balmiest out there. It works. 
44 Old St, London EC1V 9AQ
If you haven't been invited to Gordon's on a first date, have you even tried dating in London? This is classic pulling territory if you're trying to impress someone who likes wine, cheese, and dark damp spaces. Channelling a little bit of the 'Ello 'Ello French resistance vibes, it's a subterranean cellar bar that's hella popular with tourists and locals alike. Candlelight flickers against the walls, if you're tall you'll need to duck, and you just try and avoid the cheese & charcuterie alongside your bottle of vino. If you need some fresh air, they also have al fresco seating - perfect for a boozy lunch. 
47 Villiers St, London WC2N 6NE
This place is basically a tequila mecca, but they're heavy on the mezcal, too. With a rotating "Agave List" sitting on one long shelf behind the bar, it's got 25 bottles; industry faves, a few newcomers and a couple of rare bottles that even the most seasoned agave drinker might not recognise. They weave their way in and out of the cocktail menu or are paired with flavour enhancers to compliment the notes of the spirits. It's a full agave education and the learning never stops. Always easy for BarChick to justify a return visit.
378 Kingsland Road, London E8 4AA
Happiness is all about good drinks and good vibes, nothing too fancy or in your face; it's a small oasis away from the edgy haircuts and art collectives that usually fill this hood. All laid back, low lit and sexy, the small hidden tables are bang on if you're on a hot date and up at the bar you'll find drinkers who know what they're doing. Hit it up for laid-back cocktails to start off your night, or to settle in for a menu long session. Trust us, you'll want to try them all. 
8-9 Hoxton Square, London N1 6NU
Wandering down the stairs into Hawksmoor Spitalfields Bar, you might feel like you're in the library of an Oxford College. Dark wood lines the walls and floors, there are tiles from old tube stations, and there are three sexy booths to slide into. The bartenders are all cocktail legends here, providing flawless service and constantly nailing it with all sorts of original drinks on offer. You can't come to Hawksmoor and not try the legendary Shaky Pete's Ginger Brew - it'll blow any hangover out of the water.
157A Commercial St, London E1 6BJ
Last time Erik Lorincz was commanding a bar, it reached the No.1 spot on the 50 Best Bars list. Yeah, the guy knows his sh*t. Then he opened this place and it onto the 50 Best Bars within 6 months and we bet it's just gonna keep rising up the ranks. Boom! It's a classy, muted tropical haven from a whole other era. Above, it's all bamboo ceilings; below its a herringbone-patterned carpet. And there are palms everywhere. BarChick's dream living room.
25 Heddon St, Mayfair, London W1B 4BH
Looking for epic drinks in North London? You need to hit up Little Mercies in Crouch End. It was opened by Alan  who previously managed Scout,  at the end of 2018. He's made a name for himself in these ends. Don't be put off by the lack of tube station up here. It's so bloody easy to get too, so rock up to his cool bar with its grey bartop, dark blue walls and exposed brick on a Saturday afternoon for brunch like BarChick did, and you'll be amongst plenty of local regulars and drinkers from further afield. The cocktail menu reads familiar, but what is served up is nothing like what you'd expect. They've made it using all kinda gadgets. Centrifuges, clarification; serious Heston vibes. 
20 Broadway Parade, Crouch End, London N8 9DE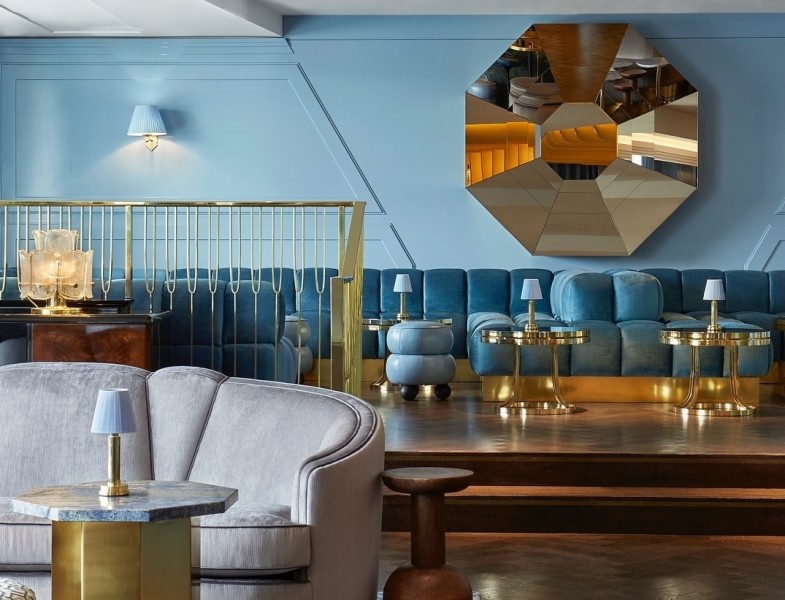 Dandelyan served its last Nitrate Manhattan in March 2019, and after a Renée Zellweger worthy facelift, it reemerged, 10 days later, as Lyaness. The same, but totally different. Some things didn't change. It still has all the characteristics of one of Mr Lyan's epic joints, but now with a striking blue and grey colour scheme. That green marble bar is still there though, and the drinks being served across it are still tear-up-the-rulebook insane, and like nothing you've had before. They haven't gone with a theme, or revamped classics, or stuck with anything tried and tested. In fact, you've probably never tried cocktails like these before and THAT is a vibe we are always down with.
20 Upper Ground, South Bank, London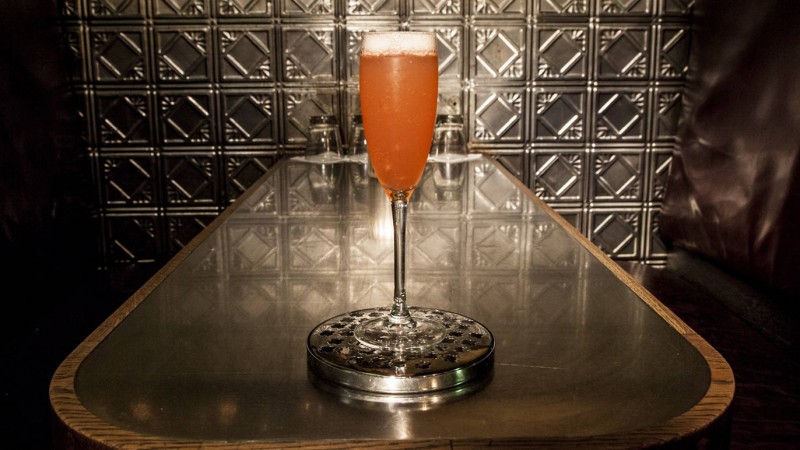 It might be the most talked-about 'secret' bar going, but this London/New York institution serves some of the best cocktails out there. They take the art of boozing very seriously indeed. Well, you would if you were considered by many as a grandfather of the modern cocktail movement. Okay so it's kinda a member's bar, but if you make a booking you're allowed to drink 'til 11pm. Then it's a case of trying to blag your stay for longer…
61 Poland St, Soho, London W1F 7NU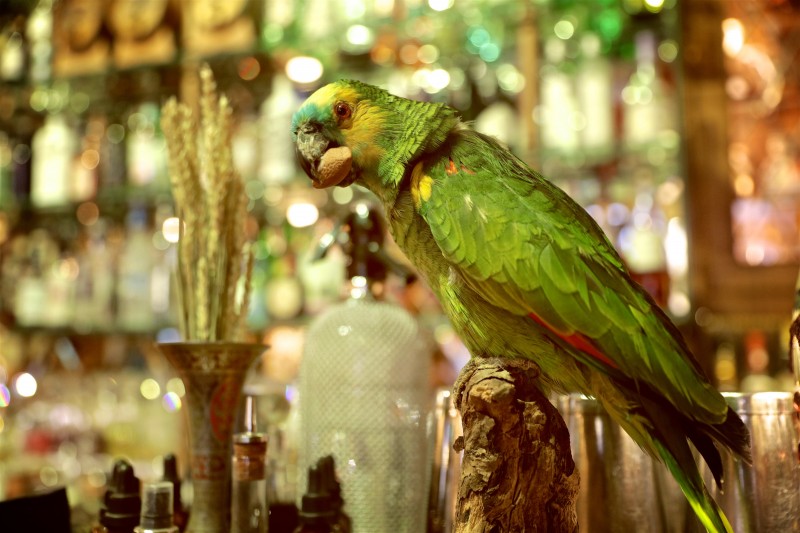 The first in the Mr Fogg's dynasty of bars that have now overtaken the city, this Mayfair haunt channels 1870s luxe. Beautiful, extravagant, and a little bit eccentric – the famous adventurer would be proud. Expertly-crafted cocktails are served from the antique bar, and there are souvenirs, taxidermy, and pictures of Fogg's relatives adorning the walls. We recommend you go explore for yourself. 
15 Bruton Ln, Mayfair, London W1J 6JD
Nightjar boasts some of the best – and most inventive – cocktails in London. Fact. This subterranean speakeasy is sexy, sophisticated, and serious about drinks.  The ingredients and vessels will blow your mind. We love the 1920s glam vibe – the live jazz music, pristine table service, and killer cocktails will guarantee you a night to remember. Just remember to book – the fat this is one of the best bars in London isn't exactly a secret. 
129 City Rd, Hoxton, London EC1V 1JB
Set amongst the bright red lanterns of Chinatown, this is the place to look for the famous jade door. Once inside, it's a bit of a Chinese puzzle box, in that there are loads of elements. Expect two floors of rooms with countless personalities. Don't leave without trying the A Class dim sum – Opium opens until 3am most nights, so you have plenty of time.
15-16, Gerrard St, London W1D 6JE
Rosie & Edmund (of Nightjar fame) have nailed it yet again with Oriole. Get down the stairs and through the curtain to find an upmarket tiki chic vibe with palm print walls and a touch of colonial; half the fun is scoping out the weird and wonderful objects about the place. Live music is still key so it's all centred around the stage. You'll be shaking your coconuts to jazz, funk, swing and blues before you know it.
E Poultry Ave, London EC1A 9LH
For when you just wanna dance (and sing/screech/holler at the top of your lungs), then this is the place. Leave the civilized chat at the door, don't expect any fancy drinks, and prepare for a hella load of fun. With a live band that takes music requests from the audience, you'll be swaying along to a whole mix of songs from ABBA, Christina Aguilera, and Aerosmith. Audience participation is encouraged, so don't be a wallflower.
113-117 Farringdon Rd, London EC1R 3BX
If BarChick's gone missing, it's likely you'll find us here.  You've not lived until you've woken up from a night on the tequila at The Pink Chihuahua and questioned your life choices. Fact. This basement hotspot beneath Mexican cantina El Camion is a 'member's bar' but smile sweetly at the bouncer, make friends with the staff, and you could be sitting pretty. It's got one of the largest tequila and mezcal collections in Europe, so you can be sure fun times are ahead. A true BarChick fave. 
25 - 27 Brewer Street London W1F 0RR
This might be hipster central, but trust us when we say the people at Sager + Wilde are serious about wine. With a sh*t load of varieties, winemaker nights, and awesome tastings, they're ripping up the rule book that says wine bars have to be stuffy. Exposed brick walls, small marble topped tables and a long bar made out of old street tiles makes for a pretty fly aesthetic. Plus, it's affordable. Third bottle, anyone?
193 Hackney Rd, London E2 8JL
Don't let the off-the-beaten-track location of this bar fool you. This is one of BarChick's favourite spots to hang when in East London, and she's not alone. We heart the taxidermy animals (uh, who doesn't love a badger in a fancy hat?) and check the illuminated icebox on the bar. Full of sliced tropical fruits, it's a shout-out to the old skool we can all appreciate. Bartenders are at the top of their game though - the cocktails are seriously impressive. 
343 Cambridge Heath Rd, London E2 9RA
Into your zero waste living? This one's for you. Everything on the menu is seasonal, foraged or sourced from as close to the bar as possible. Cocktails look simple but they're complex and delicious. That's to be expected - this is from the mixology masterminds Matt Whiley & Rich Woods, aka The Cocktail Guy. Don't be surprised if you find yourself wanting to try the lot. 
224 Graham Road E8 1BP
Keen to get your glam on? You're in the right place, 'cos Sexy Fish in Mayfair is swanky.  A waterfall, 20 insane Frank Gehry fish lamps, and Damian Hirst Mermaids make this one pimping hotspot. The cocktails are stunning, and anyone wild for Japanese whisky needs to get here ASAP - it has the largest collection of varieties in the world.   Woof.
Berkeley Square House, Berkeley Square, Mayfair, London W1J 6BR
Everyone knows where the real action happens at a house party.   The kitchen.  Shrub & Shutter have managed to merge cool-kitchen vibes with experimental lab in their hip Brixton bar.  The cocktails are here to make an impression - go for the F*ck a Duck.  Duck fat washed rum, sake, cured duck… and a side of duck terrine. Cocktails that come with snacks? F*ck yeah. 
336 Coldharbour Ln, Brixton, London SW9 8QH
The Venning brothers are a force to be reckoned with. Legends in the cocktail world, these two are responsible for a few of London's hottest drinking holes, including this banging award winner. It's found itself firmly parked on the World's 50 Best list, and the lads won big at the 2018 Class Bar awards. The drinks rotate frequently but the attention to detail stays put. They're big on pre-batched ingredients to keep consistency in the quality. It also means you're never waiting too long to get your lips on one of their sh*t hot cocktails. In this instance, we can get on board with a bit of speed.
510b Kingsland Rd, London E8 4AB
One you've dragged yourself away from those space-age egg-loos, it's time to discover a whole variety of drinking opportunities at sketch. There's the Parlour with its arty brocade and fizzing neon - think Mrs Dalloway meets EDM rave. Then there's the Glade, which is channeling sexy Midsummer Night's Dream vibes. Or be cocooned in pink scalloped booths in the Gallery… basically, Sketch is thr Narnai of the bar world  and your Insta feed will be on FIRE. 
9 Conduit St, Mayfair, London W1S 2XG
Time for a swift one? The name, like Nightjar and Oriole, is actually ornithologically-inspired. And having these legends as sister bars speaks very highly of this Soho addition. Upstairs there's a casual aperitivo atmosphere - bar stools, black and white tiles, light and long drinks. Downstairs it gets darker and sexier, with booth seating, live piano music, and more seductive cocktails. Their whisky collection is off the hook with over 250 to choose from, so settle in.
12 Old Compton St, Soho, London W1D 4TQ
Monica Berg & Alex Kratena have given us two concepts in one with this bad-ass Old Street bar. It's not an upstairs-downstairs situation but rather a front and back kinda deal, with some chic Scandi-Japanese vibes across both. At the front is Elementary, a bright and chilled all-day bar churning out bottomless coffee and light lunches through the day, and there are killer drinks on draught to give you a different kinda buzz in the evening. Meanwhile out the back in Tayēr, it's all about experimental cocktails with a daily changing menu of kick-ass drinks.
152 Old St, London EC1V 9BW
Searching for a Negroni in London? We've got you. Bar Termini) serves some of the best in the city. The intimate space is based on a cafe in Rome's central train station, and living la dolce vita is the aim of the game. The four pre-bottled house Negronis can all be tried in a single session, so get involved. Feeling the need to wake TF up? Termini know their beans, so the coffee's not to be missed.
7 Old Compton St, Soho, London W1D 5JE
Not only are the cocktails seasonal and zero waste at this joint, but the bar's hidden beneath a vegan burger joint. Top points for ticking all the trend-led boxes then. You know the drinks are gonna be epic when Carl Brown is in charge. Cocktails are centred around tinctures, and since good things come in pairs there are two kickass menus to choose from. Feeling the no-booze vibe? The "Alternative Speakeasy" is all about no-alcohol cocktails. For those wanting something that packs a punch, go for the "Modern Apothecary", offering serves on the stronger side of the ABV scale.
Basement, 202 Brick Ln, London E1 6SA
Like that dog-eared teddy we still have in our bedroom, Trailer Happiness occupies a special place in BarChick's heart. It's totally 70s retro and might remind you of a visit to your grandma's house, but this is part of the charm. Tikki-tastic cocktails dominate, so get involved for the long rum. When the weekend hits this is party central, so roll with your crew and order yourself their Zombie. Any cocktail that advices 'Proceed with caution' sounds like a challenge to us.
177 Portobello Rd, London W11 2DY
Ask your mates if they're a fan of TT Liquor, and you might get the side eye. We love a pun though, almost as much as we love this East London cocktail haven. There's a cellar bar and a specialist liquor store; monthly masterclasses and kitchen takeovers; immersive dining, tastings, and film screenings in their TT cinema. In short, BarChick could head into here on a Thursday and emerge, blinking, on a Sunday. And we won't have been bored once. 
17B Kingsland Rd, London E2 8AA 
Wanna escape the madness of Soho via a cosy basement bar where your every cocktail need will be met? We got you. Nudge through the bookcase in Milroy's whisky shop and boom, you're on your way. Decked out with old chesterfields and bare brick walls, it's an ideal date spot. Or hire the private room in the shape of a barrel and kick back with the crew. Hide and seek just got hella fun, y'all.
3 Greek St, Soho, London W1D 4NX