Party through the hangover, brunch is now an all-day boozing affair. Not hanging? Make the most of these menus and you will be tomorrow. 
 
CHEAP 'N CHEERFUL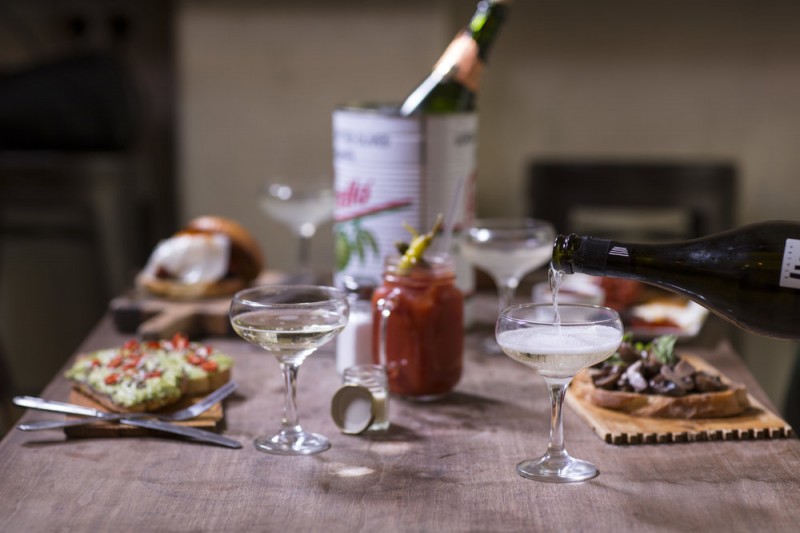 Say adiós to your aching head and hola to one helluva good hangover fixer. This is the place where Spanish flavours reign supreme, and they're gonna light up your tastebuds the way you lit up the dance floor with those Beyonce moves last night. Try the infamous Spain in a Bap - chorizo, morcilla de Burgos, tomato & fried egg in a sourdough roll. The Bloody Maria isn't included in the offer, but it's worth ordering one up anyway. Homemade peppercorn-infused vodka, Bloodshot vodka, tomato juice, Tabasco and Lea & Perrins, served with a Gordal olive & cornichons. Almost worth being hungover just to grab one of these babies.  
 
The deal: £25.00 for a two-hour sitting with limitless Prosecco and one brunch dish, Saturday and Sunday 10am – 1pm. 
Unit 7, Market Row, Brixton 
sevenatbrixton.com/bottomless-brunch

 
Sometimes BarChick's all about fancy flashiness, sometimes we just want f*ckin good no-frills food. That's where this East Dulwich pub comes in. They're channeling chilled local vibes and keeping things simple - think Full English, Eggs Benny, Florentine or Royale, and pancakes with bacon and maple syrup. It's the bottomless Bloody Marys and Mimosas that have our attention, though. Choose a dish, choose an unlimited cocktail, cough up £25 and you're good to go. Plus there's unlimited coffee and toast too – just what you need before pub crawling along Lordship Lane. Oh, and keep an eye out for their regular 'It's Britney, Brunch!' themed Saturdays. Yes, it's a brunch dedicated to the queen of pop. Yes, we are all over it.   
 
The deal: Saturday only, bottomless Bloody Mary's or Mimosas to be served with your choice of brunch dish, £30 all in. 
193 Crystal Palace Rd, East Dulwich, SE22 9EP 
www.greatexhibition.pub/bottomless-brunch

 
The Bad Egg crew aren't messing around when it comes to their brunch dishes. These are full on flavour bombs asking you to go hard or go home. Pulled pork with beans and kimchi on toast? A sausage and egg muffin with sriracha & cheese fondue? Epic Bloody Marys with spices that could singe your eyebrows? BarChick is all about shocking yourself out of the hangover by assaulting your tastebuds. The fact that on their website they say 'Saturday is not for the faint-hearted and we don't recommend bringing children' tells us all we need to know about the place. Instant love, basically.  
 
The deal: Two plates and bottomless Bloody Marys, Prosecco or Mimosas for £35 (or go virgin for £23.50). 
City Point, 1 Ropemaker Street, London, EC2Y 9AW 
www.badegg.london/weekend-brunch 

 
Fancy mixing up your usual brunch routine and want a fusion fix? How does Miami meets South America by way of Japan sound to you? Venice Beach + Peru = match made in hungover food heaven. The open kitchen dishes up a killer menu of brunch classics with a twist. Latin Benedict Royale is served with "Pink" yuzu salmon lox, and anyone with a sweet tooth needs to wrap their lips around the grilled honey crumpet. Anything with caramelised banana, set yogurt and salted toffee sauce has our seal of approval  - especially when there's bottomless Prosecco involved.  
 
The deal: £35.90 for a 1.5 hour bottomless bubbles, as well as 3 course Chef's selection brunch. Saturday and Sunday from 11am  
Mommi, 44-48 Clapham High St, London SW4 7UR 

 
Shakfuyu is bringing you the best reason to get out of bed on a Sunday that Soho can offer (probably). Japanese comfort food doesn't get much better than Korean fried chicken wings, Chashu pork buns and hot stone rice with beef and sweetcorn. It's the kind of rib-sticking fare that you need after a night spent solely on the hard spirits. Don't leave without finishing up Kinako French toast with soft-serve ice cream. So good it'll make everything right with the world - even that 4am text to the ex you definitely shouldn't have sent.   
 
The deal: Sunday only. 12pm – 4:30pm. Yuzu kosho Bloody Mary or strawberry Bellini on arrival choice of white wine, red wine or prosecco while dining. Two small plates and one larger dish.  £39. 
14A Old Compton St, Soho, London W1D 4TJ
www.bonedaddies.com/promotion/sunday-brunch 
This Brixton brunch is the ultimate party starter for your weekend. Rally your squad for an afternoon of epic Italian dishes, including steaming luscious pork & fennel meatballs with a slow tomato sauce and fat spaghetti, or the vegan ragu with linguine. You'll 100% wanna leave room for the Bombolonis at the end; some say these warm, sugar-coated doughnut balls dipped into salted caramel buttercream are better than sex. We'll let you decide. Wash all of this down with 2 hours of bottomless drinks and by 3pm you'll be ready to head into the basement where the party really gets going. Their epic weekly changing show has disco & cabaret through to Latin, Swing and Hip Hop... and the most flamboyant drag show this side of Soho. Yaas queens!
The deal:  2 hours of bottomless drinks, choose from Prosecco cocktails (with homemade cordials), Cattivo Rum Punch or Bloody Mary's from the kitchen bar for £25 per person.
207 Ferndale Rd, Brixton, London SW9 8BA
www.cattivobar.com/showtime-brunch
STRETCH THE BUDGET
Whether you're on a health kick, styling out a hangover or having a Treat Yo Self day, the new brunch menu at M Restaurants brings it. They've got a bit of everything, so your health-conscious mate can get involved with the pineapple smoothie bowl with a super seed mix while you get up close and personal with the indulgent pancake stack (served M style). When it comes to the drinks, you can keep it fresh and sober with the bottomless non-alc cocktails, take it boozy with their range of alcoholic numbers like Negronis, Espresso Martinis and Mimosas, or go all-out with bottomless Champagne. 
The deal: Served every Saturday from 12pm to 3pm in the M Threadneedle Street and M Victoria Street restaurants. Dishes start at £6-£16.50, with bottomless mocktails (£20), prosecco (£25), cocktails (£35) and champagne (£75) options
Unit 2-3, 60 Threadneedle St, London EC2R 8HP

 
Didn't think you could afford the roast beef tacos and a sh*tload of Margaritas at this fancypants joint? Think again, 'cos even Ella Canta – one of London's hottest high-end restaurants from renowned chef Martha Ortiz – is on the bottomless brunch wagon. To be honest, it's a steal, and possibly BarChick's favourite brunch in London (we've always been partial to a little tequila). Choose from 3 courses of the finest fare like soft shell crab, shrimp aguachile and Mexican bread stuffed with slow-cooked pork, then fill up on bottomless Margaritas. We're not talking sweet and sour mix here – you'll get to try 4 versions of the classic: pistachio, hibiscus, lavender and grapefruit. All EPIC. 
 
The deal: served from 11.30am every Saturday and Sunday.  For £55pp, guests can order three courses each with unlimited margaritas or sparkling wine. 
One Hamilton Place, Park Ln, Mayfair, London W1J 7QY

 
When you want to keep the decisions to a minimum, head to GOAT in Chelsea. Choose your booze, pick your main course, then wait as they ply you with bruschetta, brownies, and bottomless sides. There's an Italian theme here, so you can be chowing down on pepperoni pizza, chicken breast with puy lentil ragu, or pepperoni pizza. Way sexier than that guy who was trying to chat you up at the bar last night. If the sun's shining, get your alfresco chill on at one of their outdoor tables. Inside, sip away until the Chelsea Prayer Room opens upstairs and you can continue the party 'til late… 
 
The deal: Saturday from 11am and Sunday from 12pm, last sitting 4pm. 2 hour brunch £40 per person with unlimited prosecco, wine, Bloody Marys or beer.   
333 Fulham Rd, London SW10 9QL 

 
Want our advice? Counteract a night spent on the p*ss with a morning spent on the pisco. Floral by Lima is the relaxed little sister of the Michelin starred joint, so is ideal for chilled weekend vibes. The decisions are taken away from your fragile brain as you're presented with six chef's selection dishes. Sea bream ceviche with ginger tiger's milk and beef saltadito with creamed corn sounds suitably restorative. But it's the chocolate mousse at the end that's holding our attention - all washed down with limitless Prosecco, beer or Pisco Marys. Ready to get back on that horse? Head downstairs to The Lost Alpaca bar for more Latin American sass. Worry about the fuzzy head tomorrow.   
 
The deal: served 11:00am to 2:30pm every Saturdays and Sunday. For £44, guests can enjoy bottomless Prosecco, beer or Pisco Marys with three courses from a set menu.   
4 Garrick St, London WC2E 9BJ
www.limalondongroup.com/floral

 
Rise and shine on a Sunday with the Bunga Bunga La Famiglia brunch - promising a chilled out affair for you to nurse your aching head in Battersea. Bottomless Bellinis are accompanied by that hangover staple = pizza. You can also chow down on cured meat with melon and warm brioche with a selection of jams & Nutella - basically, comfort food at its sweetest.  Want something more wild? Head by on a Saturday for their Karaoke brunch. Not one for the faint hearted, Bunga Bunga brings the entertainment hard. You'll be screaming Spice Girls into your Bunga Florentine pizza before you can say Wannabe. If you're looking for a place to get crunked ahead of a night out, this is the place to book. 
 
The deal: Sunday La Famiglia Bottomless pizza brunch and 2 hours of Bellinis: £39. Saturday Karaoke brunch with three courses and 2 hours of Bellinis: £48 
37 Battersea Bridge Road, Battersea, London SW11 3BA 
www.bungabunga-london.com/la-famiglia-brunch  
HEY, BIG SPENDER!
You can do loads in two and a half hours. Get to Paris on the Eurostar; have a stellar cat-nap; binge three episodes of Love Is Blind. Or you could enjoy 2.5 hours of limitless Moet & Chandon, Asahi Beers and cocktails at Marylebone's XR. All tempting, but we choose the latter, every time. The epic bottomless brunch comes with a live DJ soundtrack and plenty of real-life food porn, including stacks of Fluffy Pancakes, Poached Egg & Avocado on Home-Made Bruschetta, the XR Full English Breakfast and their next level Truffle Scrambled Eggs.
The deal: 2.5 hours of Bottomless drinks is an additional £50pp on top of your chosen brunch dish. Available every Saturday & Sunday 11:30-17:00.
13 -14 Thayer Street, W1U 3JR London
Two words guaranteed to get BarChick out of bed, even on the most savage of hangovers? Bottomless. Sushi. You had us at that, but when you also factor in unlimited fizz, cocktails, and a dessert buffet to make a diabetic weep… well. Our heart just skipped a beat. And did we mention it's all orchestrated by Chef Nobu, widely thought to be one of the best Japanese chefs out there? It all seems too good to be true. We loved the fact that alongside bottomless bubbles and beer you can enjoy sip on unlimited Oni Negronis and Lychee Martinis. The perfect accompaniment to eating your weight in sushi, surely?
The deal: Weekends 12pm-4pm, £83 with bottomless Prosecco, beer and cocktails or £53 for just food. 
10-50 Willow St, London EC2A 4BH
www.nobuhotelshoreditch.com/nobu-restaurant-bar

 
Original boss of the unlimited London brunching scene, Aqua have been channelling Asian vibes for years with their ludicrously luxurious brunches. Their Ukioyo Brunch begs the question: Indulgence or purity? As if you need to ask BarChick. You get to choose two of your chosen dishes - go all out with spicy teriyaki chicken wings and rock shrimp tempura, or feel all saintly with dishes like buckwheat yakisoba and seaweed salad. Whichever you go for, it's not likely to be that virtuous. You're on one of London's best roof terraces with unlimited Veuve - live a little, yeah?  
 
The deal: Sunday only, £60 with bottomless bubbles or Bellinis or £80 for unlimited Veuve Champagne  
5th floor, 240 Regent Street, London W1B 3BR 

 
No one should have to choose between brunch and Sunday lunch. It's the Sophie's choice of the food world. Luckily Mews Brasserie get it, which is where their set menu is kicking ass. You can be living your best life with Eggs Benedict as a starter, followed by a Beef Sirloin Sunday roast. Order those pancakes for dessert, you deserve it, baby. Factor in the bottomless Bloody Marys, Bellinis, Mimosas & Prosecco, and your every desire has basically been met. We don't know about you, but we likes those odds.  
 
The deal:  Weekends,11am-5pm. Choose any 2 courses from our Brunch Menu along with unlimited Mimosas, Prosecco or Bellinis for £50.
10 Lancashire Court, New Bond Street, London, W1S 1EY 

 
You also can't argue with brunching it up in a swank setting that gives you scrambled eggs with truffle and sirloin steak with unlimited bubbles. The Q Brunch lets you opt for two or three courses from the uber-luxe menu, then whack on the bottomless fizz for an extra £25. By our calculations, that means at least 3 glasses of the good stuff need to be sunk to get your money's worth, and there aren't many more lavish places to get lashed. These guys are all about the glamour, so get dressed up or go home. The perfect place to start a night on the town… 
 
The deal: Q Brunch is available in the Restaurant from 11.30am-2.30pm on Saturdays. Free Flowing bubbles are available for £25 per person when eating two courses or more for the duration of your meal.  
16 Bury Street, London, SW1Y 6AJ 
www.quaglinos-restaurant.co.uk/brunch
Warning: this is not the brunch to head to if you're suffering a hangover from last night and want to nosedive into Eggs Benny while wearing shades. However it IS the place to come if you're after a mega dose of luxurious, glamorous hedonism. It's called the Coya Party Brunch, and it's in Mayfair. Come on. Enjoy three and a half hours of unlimited booze that includes Pisco Sours, Bloody Marys, Margaritas and Champagne (if you've gone for the fizz package - and why wouldn't you?). Food wise, there's a stunning assortment of Peruvian treats, including a ceviche buffet, glorious Chilean sea bass for a main, and a help-yourself dessert table. You're not gonna leave hungry. Worried about overindulging? Fear not. You'll be dancing it off in the windows to the tunes of a live saxaphone player anyway.
The deal: £150 per person, bottomless drinks from 12.30pm including bottomless Perrier-Jouët champagne until 3.30pm, last order at 4.30pm
118 Piccadilly, Mayfair, London W1J 7NW
www.coyarestaurant.com/london-mayfair-brunch/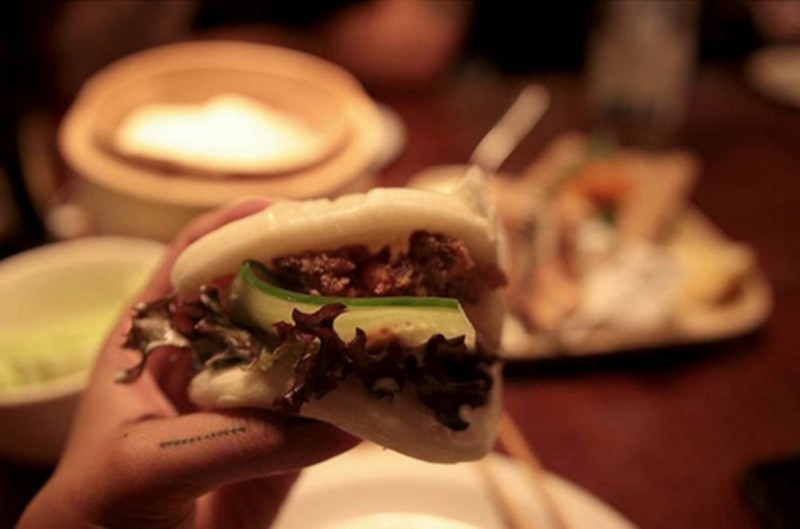 When all you want on a Sunday morning is someone to fill your buns, this subterranean restaurant is where to come. It's noisy, it's brash, it's not going to solve your hangover… until you get stuck into those banging Bloody Marys. The bao buns here are some of the best in London, and it's high time you got your Far Eastern freak on. Tuck into small sides like soft-shell crab or spicy tuna roll, then choose your flesh. Crispy piglet belly, duck leg, and even Wagyu beef are all on the menu, so pick wisely. You don't want hangover regret creeping in.  
 
The deal: Sunday only, £39 per person, with Yuzu Kosho Bloody Mary on arrival, unlimited small dishes, one big dish per person, unlimited Prosecco & dessert for the table
41 Earlham Street, London, WC2H 9LX 
www.bonedaddies.com/sunday-brunch

 
The best thing about going for brunch in West London is no one will look at you twice when you keep your shades on inside; you're gonna need 'em here. It's bright, loud, and don't be surprised if behind you there's a table of whooping hens making the most of the bottomless bubbles. The pumping DJ is intended to raise the heart rate - don't be surprised if you get Ibiza flashbacks. Avenue also realise that on a hangover, it can take time to mobilise (or maybe you just haven't been to bed). Their 'Late Brunch' goes on from 5-9pm, so you're basically just topping yourself up to get the party started again.  
 
The deal: Saturday brunch, 2 courses £25.50, 3 courses £28.50 with bottomless rosé or bubbles for extra £19 per person
7-9 St James's Street, London SW1A 1EE 
 
www.avenue-restaurant.co.uk/brunch-menu/