BarChick loves a brunch, of course she does; pancakes, eggs, blueberry muffins… booze, what's not to love? There's nothing that can scare off a hangover quite like it. Chug Bloody Marys and sip on Champagne because nobody can throw shade at you for getting crunk at breakfast as long as it's in the name of brunch, our favourite little proprietary loophole.
On an island defined by its late nights and even later mornings it's important to know where you can find a decent breakfast fix, whatever time you wake.
Rustic
For those who prefer their bling a little more rustic there's La Paloma. This place is all organic and family-run and is just what BarChick needs after a heavy night on the tiles. Breakfast changes daily but goes along the lines of homemade muesli and fruit for the healthy ones and goat's cheese and honey on toast for everyone else. Watch out for the stray cats, they may look cute and cuddly but if you're eating something yummy then they ain't ya mate.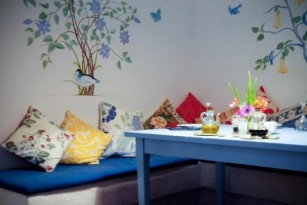 07812 Sant Llorenç de Balàfia, Illes Balears, Ibiza
The lie-in
Naturally it's not often that BarChick stirs before noon. Nights full of being fabulous don't exactly birth early birds but whatevs, we pref whiskey to worms anyway. New to Ibiza Town this year Urban Spaces serve the good stuff until 4pm a good 3 hours after most places (ridiculous, we know). Eggs, chorizo, avocado and croissants, it's the continental breakfast with a street food twist. Hang with the cool kids who stay in the inky graffitied bedrooms or rock-up after the after party with your crew to drink gin cocktails from spray cans, rad.
Urban Spaces Art Hotel Ibiza, Via Punica 32, 07800, Ibiza 
The Internet Café
Locals know that this is the best spot for wifi. Cheap but not so cheerful they've got a bit of a rep. for narky service, but whatevs it's still Ibiza's top meeting point and they'll cook your eggs any which way you want until 1:30pm. BarChick's made a bit of a habit of hanging here from breakfast through to lunch catching up on emails and sinking chilled rioja with her cheese on toast. Come with your iPad, it's the ultimate accessory.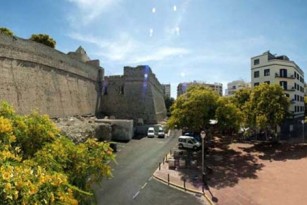 Hostal Parque, Plaza del Parque 4, 07800, Ibiza
For One Night Only
BarChick knows a good buffet when she sees one, hell they're pretty much her specialist subject and The Ibiza Gran's is as grand as they come. It's a guest only affair and rooms come at a colossal cost but if somehow you wake up here the morning after the night before, it's well worth putting off the walk of shame for. Rows of early morning options include mountainous scrambled egg, sausages, bacon and beans, whilst the continental corner overflows with croissants and all manner of pastries. Drench fruit in molten naughtiness from the chocolate fountain and wash it all down with some bubbles. A bloody decent way to start the day.
Passeig de Joan Carles I, 17, 07800, Ibiza
The Healthy One
Owner Lana Love was one of the first chicks to ride the raw food restaurant bandwagon into Ibiza back in the day. Selling juices and quinoa to Playa D'en Bossa's buzzing booze-heads can't have been easy, but years later it would seem that acai and spirulina's caught on. The new, grown-up Passion café opened in Botofoch Marina this year with more juices than you could wave a stick at plus a whole list of tantalizing breakfast options. There's some pretty pricy elixirs on the menu too that claim to cure your hangover for 15e, for those days where you'd pay literally anything to feel normal again. Breakfast is served until 1:30pm and juices are served throughout the day.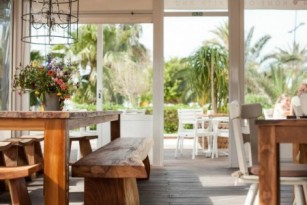 Avenida Playa den Bossa, Playa den Bossa, 07800, Ibiza 
The Brunch
This one's the only place on the island serving up the classic brunch; we're talking towers of pancakes, maple syrup, eggs Florentine the whole shebang. So you can imagine how much BarChick cries at the fact that it only serves until noon. All is not lost though; the key is to rock up around 11:30 to get your breakfast order in and power through with the booze until you're done. Drink Pina Coladas made from fresh, young Cocoface coconuts and Bloody Marys until you're red in the face. Then sleep it off in front of the sea, lush.
Es Cavallet, 07839, Ibiza, Islas Baleares