OK so, we all love a good bar, but you kind of expect the hot barman, banging cocktails, free bar snacks and good vibes. The thing that cuts the wheat from the chaff for BarChick is a wicked loo. By no means needed, it just makes a massive difference when powdering your nose or having lad chat over a long awaited pee. Any bar can redeem its dodgy service with an awesome pit stop, so here are our top places to take that break. Most seem to be for men, but BarChick's not afraid to hang out with the boys so let's check them out…
When else do you get to listen to "The Owl and The Pussycat" while going to the loo? If you've had one too many then the soothing voice could act as a bedtime story, so fight the urge to fall asleep. Nab one of their cheeky "Kiss Me, I'm Chinese" cotton hand towels, it's the perfect souvenir, and also a great prop to help you trace your footsteps back to where you were the night before!
53 Park Lane, London, W1K 1QA
Known as London's most eccentric dining room, it was clear that the bathrooms were gonna have something to offer. The restaurant is seriously extravagant with crazy ancient Greek and Egyptian décor. The toilets are splattered with racy saucy imagery, and will definitely distract you from what you actually went there for… be sure to warn your mates that you may be a while when you leave the table.
316 Queensbridge Road, Hackney E8 3NH
This place is quirky all over, so naturally they've carried it through to the toilets. Step through the wardrobe and into the loo, where the walls are covered from head to toe in old cassette tapes, retro!
65 Rivington Street, London, EC2A 3AY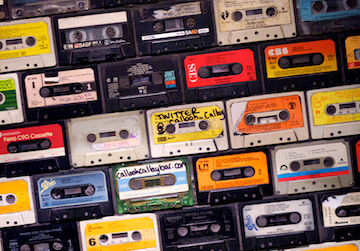 The Exhibit
Boys, you'll love this. Exhibit Bar has installed the first video game urinals. The urinals actually measure your accuracy, so you're learning as you play. Practice really does make perfect. Their reasoning behind this is that it will hopefully encourage men to drink larger quantities so that they can visit the loo more often. BarChick kind of wants a go….but then again maybe not.
12 Balham Station Road, London, SW12 9SG
The Bell in Ticehurst
This old East Sussex pub has been about since the 1500s but don't worry, it's been fixed up a bit since then. Some of its quirky imperfections have been kept for old time's sake but one thing's for sure: the urinals have definitely been sexed up. The men's toilets are now filled with huge trombones in place of your bog standard urinals so men can pretend to make sweet music while they pee.
The Bell Inn, High Street, Ticehurst, East Sussex, TN5 7AS
Not only is this place an old public toilet, but they also have the coolest loos in London: these bad boys are amazing. Enter the cubicle and you may feel a little on show, what with the door being one large glass panel. Not ideal for relieving yourself in a crowded bar, however, once the lock is in place the glass frosts up – dignity redeemed! Just make sure you remember to lock the door - after a few drinks it's easy to forget, just ask BarChick.
Zero Aldwych, London, WC2E 7DN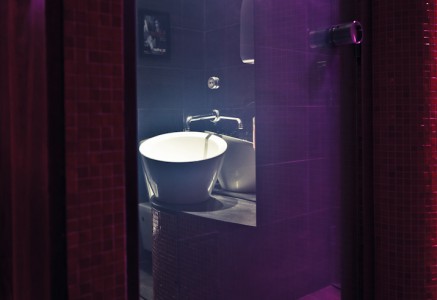 The Hunter S
Some people have their fetishes, and we ain't judging, but if peeing in a woman's mouth is yours and you're struggling to find that special one, then look no further. With urinals in the shape of big red lips/mouths and vintage porn all over the walls you will be in heaven.
194 Southgate Road, London N1 3HT
One of the tallest buildings in the country, has a loo RIGHT at the top  in the Gong bar with a full-length glass window… pretty sure no one can see you but…. smile/wax just in case.
96 Tooley Street, London, SE1 2TH
The Angelic has gone for a slightly different approach with its Heaven, Earth and Hell theme. They chose to take the bathrooms down the 'hell' route and have done them up like dungeons. Kinda kinky. Complete with old school episodes of Fawlty Towers and Blackadder playing through the speakers, so if your friend has been in there a while then don't worry, they're having a blast.
57 Liverpool Road Islington, London, N1 0RJ
Head up the huge sweeping staircase and feel like you're in the movie Cocoon. Eleven egg-like pods stand on this floor, and it's pretty surreal. BarChick once sobered up while in one of these and thought she had been abducted by aliens. But if you find yourself in the same situation don't panic, look out for the lady dressed as a French maid, she's there to help.
9 Conduit Street, London, W1S 2XG
The Mayor of Scaredy Cat Town
If hiding their bar through a SMEG fridge wasn't enough, head back in time when you enter the toilets at Mayor of Scaredy Cat Town, with their My Little Pony wall paper on the walls. Also, when you've reached your cocktail limit, you are asked to leave the bar through the loos so that the unsuspecting punters in The Breakfast Club remain none the wiser to the bar below them! Tuck your skirt into your knickers for added effect.
12-16 Artillery Lane, The Breakfast Club (behind the Smeg fridge), London, E1 7LS
Everyone says they're going to learn a new language, but let's be honest: no one has time and very few of us actually get round to putting the hours in. With Bunga Bunga you don't need to – keep spending your money on drinking and get some Italian lessons thrown in for free. BarChick likes to master a new phrase each time she visits the bathroom, the trick is to drop it into conversation on your return - practice makes perfect!
37 Battersea Bridge Road, London, SW11 3BA
The guys behind this idea are all about teaching you lessons while you take a pee; in their club Maggies, in Chelsea, they're pumping out history lessons in the form of Margaret Thatcher's finest speeches. Think we'll start with Italian and work our way to Maggie's!
329 Fulham Road, London, SW10 9QL
One of BarChick's favourite East End hang outs! The dim, sexy lighting and stained glass in the bar may come across as romantic, however the toilets are a whole different ball game. With skulls, taxidermy, prison cell doors and the chants of olden chatter, they feel more like the type of toilets from Jack the Ripper's day. Freaky!
43 Lower Clapton Road, London E5 0NS
OVERSEAS…
Does the sound of others peeing put you off?... worry not, in Brazil there is a bar that has solved this issue for you, making you able to play music WITH your pee. Oh yes, we're talking about a guitar urinal. Set up with a working guitar and amp, you can entertain the whole of the men's room. Get practising, we're thinking your aim is about to get better.
Rua Prof Atílio Innocenti, 277, Sao Paulo, 04538-000, Brazil
Barfly
OK so you need to head to Copenhagen for this one, and again boys it's for you. It's not only perfect, it's genius - with leather pillows attached to the walls above the urinals it is an excellent place for a quick ten second nap once you've had one too many.
Stortingsgata 12, 0161, Oslo, Norway
Hong Kong could be a little far to try out a quirky toilet, but you've got to stay committed to the cause. It's pretty liberating for a guy to pee all over a city from high above, and at the Peninsular Hotel this is now made possible. With their floor to ceiling windows you feel as though you're peeing over the side, onto the small buildings, trees, cars and people below.
The Peninsula Hong Kong, Salisbury Road, Kowloon, Hong Kong, SAR
Coming out of the loo two by two might usually be frowned upon, but not in this bohemian Ibizan restaurant. You'll find the Karma Sutra all over the walls and two loos in one cubicle here which can leave your mates wondering where you've gone. BarChick once ended up having hysterics in there for an hour with her wing man, and left with no grumpy attendant to answer to, just as it should be!
Carrer de Sant Joan, 07840, Santa Eulària des Riu, Ibiza, Spain