We've done the sums and these are the answers to finding love in London...
APHRODISIAC ACTION
Wander around Borough Market + oysters at The Wright Brothers + beers at The Rake = guaranteed second date
Day time dates can be awkward if too sober, but if done well you've got the night to play with too. While the morning away in Borough Market then head to the Wright Brothers Oyster and Porter House for lunch (make sure your date eats lots of the slippery guys). Spend the afternoon in pint-sized pub The Rake - their beer selection is enormous but the pub is so small you'll practically be on top of each other (not your fault).
SOHO SAFARI 
Pints at The Toucan + Dinner at Palomar + Drinks at Opium = you free this weekend? 
Kick things off at The Toucan with some pints and drown any pre-date nerves. Hit up Palomar for dinner, the counter is where you wanna sit to join in the chef's party, if it's full hit up Opium for some super sexy drinks while you wait. The food is up there with the best in London - every mouthful is like a freakin' party in your mouth.
SHOW OFFS
Drinks at the Mandarin Oriental Bar + dinner at Zuma + debauchery at The Welly = how do you like your eggs in the morning?
The Mandarin Oriental Bar is glamorous, decadent and expensive, but with drinks this good, who cares? Kick thing off there then head to Zuma for dinner, it's the definition of how the other half live and by this point your date will be eating out of the palm of your hand. Seal the deal with dancing at The Welly, just maybe don't blow this on a first date (unless you're taking out Kelly Brook), it's gonna cost big bucks.
HOORAY HENRY
Tequila at Azteca + dinner at Bunga Bunga + dancing at Maggie's = a lifetime ironing red trousers
Get loco in Azteca and sink some of the best Margaritas in town, this will get you firing on all cylinders and warmed up for some karaoke in Bunga Bunga (not for the shy and retiring). Eat some pizza, share some cocktails, hit the stage and try not to ditch your date for someone hotter. When it closes head to Maggie's and rub shoulders with the red trouser brigade. Memory loss but you won't go home alone. Fact.
ALL NIGHTERS
Drinks at Seven + chicken at Wishbone + Barrio Brixton for dancing = late night loving
Seven at Brixton is the perfect start to any evening. It's a friendly and buzzing bar with a vintage luggage theme, plus cocktails are a steal at £5. Next up hit Wishbone for your chicken fix, they've got the crispiest thighs, the wildest wings and damn good drinks. Finally hit Barrio Brixton for dancing - time to show 'em the moves you've got up your sleeve.
HOT N HIPSTER
Ruby's for cocktails + Dukes Brew & Que for feasting + Efes pool club = hot, hip and heavy (petting)
Ruby's is one of Dalston's favourite underground cocktail hangouts, it's bang on the money. Stick insect/veggie date? Ditch them… they won't be able to handle the ribs at Dukes Brew & Que, if they can then game on because they're for keeps. Finish up in Efes Pool Club, it'll be filled with a trashed and trendy crowd, just watch out for that inevitable drunk falling onto you as you take that winning shot. No one likes a loser.
BOOZE HOUNDS 
Cocktails at Satan's Whiskers + pole dancing at The White Lyan = anything could happen 
Make your way over to the dark side at Satan's Whiskers, brought to you from a trio of bartenders, it's impeccable and the drinks will blow your mind. Next up hop in a cab to White Lyan, where the art of cocktail making is taken to a whole new level, there's no off-menu so don't even go there, just drink yourself happy and have some fun in the naughty basement bar to get your party on.
ALL ROUNDERS
Colebrooke Row for killer cocktails + Screen on The Green for film and beers + Slim Jim's = get her kit off
It's all Prohibition styles in Colebrooke Row, so think flapper fringed fashion. Hard to find but make sure you do because the drinks will blow your mind. Next up catch a film, on a sofa with a bottle of wine (back seat action, tick). Finally it's time for Slim Jims, get your date to hand over their bra (unless they're male) and free drinks will be yours... ladies opt for Primark over Provocateur; you're not getting it back.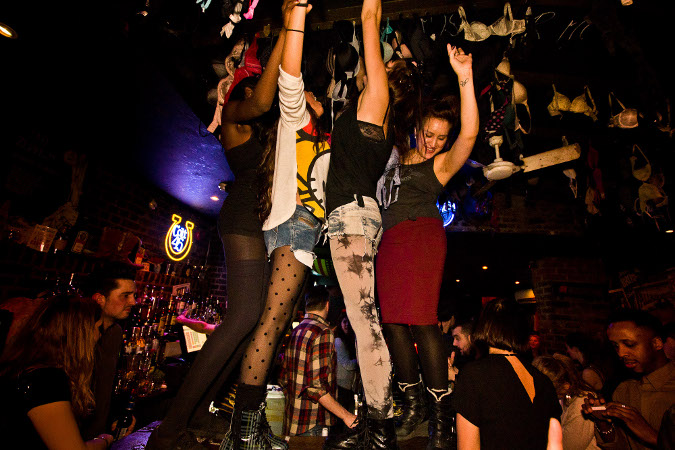 FOR ROLE PLAY LOVERS
Dinner at Evans and Peel + table tennis at Ping + Flaming Ferraris at Nam Long = If they're good with balls and role play then the house party should be rocking
Enter Evans and Peel and role play past the detective (we say leave this to your date so you can see just what they're capable of later on… grrrr). Once you're in it's about smoked food and sexy drinks. Hit Ping next and challenge your date to a game, get your game face on, get in the Slush Puppy Margaritas and screw letting her win. Wind down with Flaming Ferraris round the corner at the one and only Nam Long.
DRINK LOVERS
Drinks at LCC + hot dogs at Bubble Dogs + debauchery at El Camion = memory loss
The London Cocktail Club is like a Fat Duck for drinkers, and the coolness of this drinking den ought to set the tone just perfectly for the evening ahead. Hit Bubble Dogs for dinner, share some hot dogs and hit the Champagne… woof. Finish up in El Camion, it's the ultimate Soho bar for a boogie and it gets seriously loco. Go wild, but be careful, you've got to get both of you back up those stairs.
Keen for more date ideas? Hit these babies up: Activity Dates in London  / First Date Haunts / Where to go with your Hinge date