Chocolate is good but booze is better; combine the two and you've got yourself a par-tay. Admittedly Easter ain't as fun as when your gran used to hide eggs all over the house/garden, but that doesn't mean it can't still be just as wild. Make like Willy Wonka at a coming-out party and get down with these chocolate-based cocktails. 
Mudslide
Ingredients (serves 2)
50g dark chocolate
Ice
60ml coffee-flavoured liqueur
60ml vodka
60ml Irish cream liqueur
100ml double cream
Method:
Put two short glasses into your fridge over night or blast 'em in the freezer for half an hour til they're icy and chilled. Put 30g of the chocolate in a shallow bowl and melt in the microwave in short bursts so it doesn't burn (or over a bain-marie if that's more your style). Dip the rim of the chilled glasses in the melted chocolate, then stand them up so the chocolate drips down the side. Put them back into the fridge to chill. Lick the bowl.
Now fill your cocktail shaker with ice, then pour in the coffee liqueur, vodka, Irish cream and double cream. Shake it hard. This is your pre-treat workout. Put a few ice cubes in the prepared glasses, then strain in the cocktail. Finely grate over the remaining chocolate.
Nutella Martini
Didn't think there was anything better than scooping Nutella straight outta the jar with a spoon? Well there is. And it includes booze. Obviously.
Ingredients (serves 2):
400ml whole milk (or whatever milk you're vibing these days)
2 heaped scoops of Nutella (You can use store-branded hazelnut spread, whatever you can get your hands on. Just remember more is definitely more in this case)
1 heaped spoonful of cocoa powder
3 shots of vodka
2 shots of Frangelico or Amaretto (optional but good for an extra nutty flavour)
Ice
Extra Nutella & chopped hazelnuts (for serving)
Method:
Gently heat the milk in a pan with the Nutella and cocoa powder til its smoooooth n hot. Take it off the heat and leave it to chill the f*ck out. You need it completely cold for when you come to shake this bad boy up. While you're waiting you can prep your glasses by spreading some Nutella onto one side plate and another in chopped hazelnuts.  Dip the rim of your glass into the chocolate and twist before doing the same with the nutty plate.
When your chocolate milk is cold, pour into a cocktail shaker along with the vodka and a sh*t loada ice and shake it til its almost too cold to handle. Pour into your prepped martini glasses and indulge.
Image & Recipe by The Londoner 
Coconut Hot Chocolate 
Been wondering what the best way is to use up that bottle of Malibu leftover from house parties past? THIS is it. Whip up an indulgent batch of hot chocolate and give it a tropical spike. You'll never look back.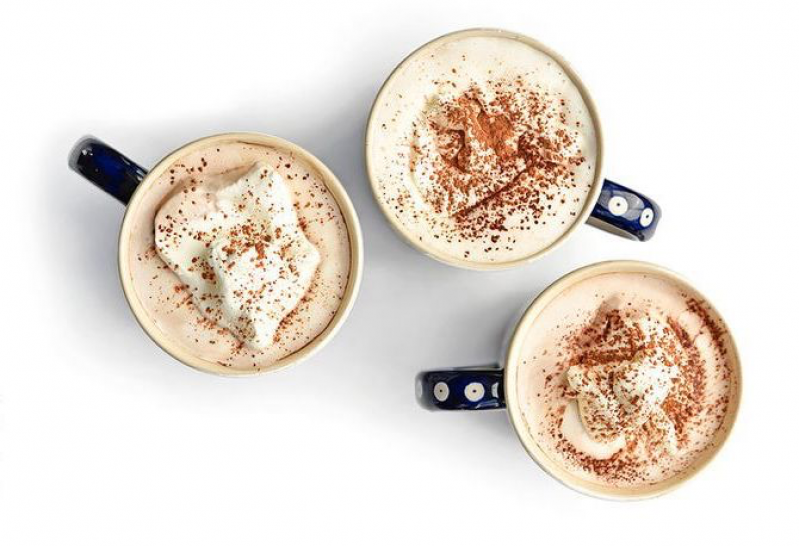 Ingredients:
150ml whole milk (obviously you can sub this for any milk you prefer and no surprises: coconut milk works a treat!)
25g white chocolate, chopped
25ml coconut-flavoured rum
1 tsp finely grated dark chocolate
1 tsp coconut flakes, toasted (optional - but chances are you have a bag of desiccated coconut in baking draw, next to the food colouring and dozens of mis0matched birthday candles)
Freshly whipped cream (optional but vital if you wanna be mega indulgent)
Method:
Pour your milk of choice into a small pan and place over medium heat til it starts to simmer. You gotta watch that sh*t so it doesn't burn - no-one wants burnt milk. Remove from the heat and add the white chocolate and stir. Once the chocolate has melted (which won't take long) place the pan back on the heat to warm through. Add the coconut-flavoured rum and pour into your favourite mug. Whack a big dollop of freshly whipped cream on the top (you can totally get it from a can but fresh tastes amazing!) Garnish with the dark chocolate and chuck on a few toasted coconut flakes if you're feelin' fancy. 
Chocolate Margarita
You know what tastes great with chocolate? Citrus. And you know what tastes f*cking awesome with citrus? TEQUILA, BABY! We've combined all three for this next-level margarita recipe for the most delicious three-some you've ever tried.
Ingredients:
Ice
50ml Blanco Tequila
25ml Chocolate Liqueur
25ml Single Cream
Splash of Orange Juice
Splash of Lime Juice
Splash of Chocolate Bitters
Shaved chocolate to garnish
Powdered Sugar & Cocoa Powder for the rim
Method:
Mix equal parts icing sugar and cocoa powder in a bowl til combined. Wet the rim of your margarita glass with a piece of citrus by running it around the edge. Roll the wet rim in the cocoa sugar to get an even coat all the way around.
In a blender, add the ice, tequila, chocolate liqueur, cream, and bitters. Squeeze in a splash each of orange and lime juices for a bit of zing. Blend until smooth and then pour into your prepared glasses.
Image by S&C Design Studios 
Chocolate Orange Negroni
A Negroni is a solid BarChick fave and one of the easiest cocktails to make, like, ever. We've taken it to an extra indulgent level and pimped it with a super easy to make chocolate-orange syrup for some extra bitter-sweetness. Your crew will be mega impressed when you whip these up at your next dinner party. 
Ingredients:
25ml Gin
15ml Sweet Vermouth
25ml Campari
15ml Chocolate Orange syrup 
To make the Chocolate Orange Syrup:
¼ cup Natural Brown Sugar
¼ cup water
1 tbsp Special Dark unsweetened cocoa powder, or cocoa nibs, ground into a powder
½ tsp orange extract 
Method:
Heat the sugar, water, and cocoa powder in a small saucepan over a medium heat so it all dissolves together, then bring it to the boil and remove from the heat (you don't want that sh*t to burn so keep an eye on it). Now stir in the orange extract (you can get this is most big supermarkets in the baking area) Let the syrup cool completely. Store in an air-tight container in the fridge for a week. 
Now you can build your Negroni, and it probably couldn't be more simple. Add all the ingredients to a glass filled with ice and give it a stir. BOOM. If you wanna be fancy, garnish with a segment of the Terry's Chocolate Orange you've had in your cupboard since Christmas.
Image & recipe by Zestful Kitchen