BarChick loves a good train journey: there's no limit on boozing, phones are allowed, no traffic and if you're lonely, there's the chance to meet lots of new friends down in the buffet cart. True, the delays are a downside - but with this guide to epic bars near London's stations, you'll never mind a delay again. In fact, you might even want to catch a later train...
Waterloo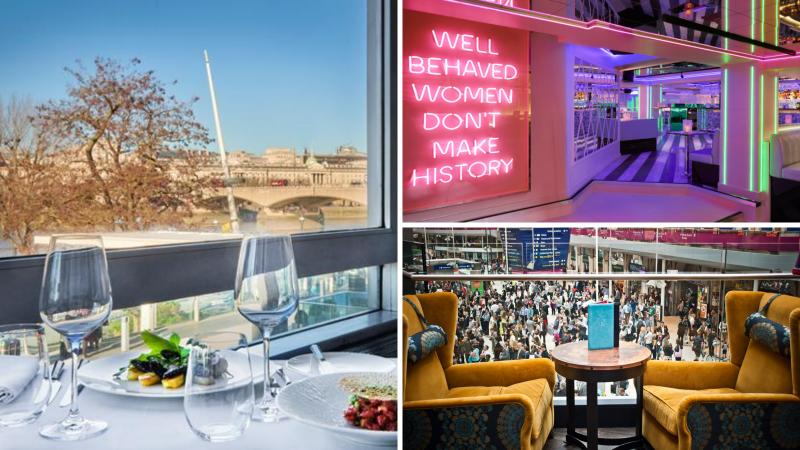 If you're on your way over the Waterloo Bridge to the station, make a worthy detour to the bar at Skylon for a killer cocktail complete with incredible views of the Thames. Only a seven-minute walk to the station, it's the perfect calm before the madness of rush hour. 
Belvedere Rd, Royal Festival Hall, London SE1 8XX
Wanna go "out-out" but still catch the last train home? This is your end-of-the-night pit-stop. It's round the corner from the station so you can go from finishing your cocktail and snapping a selfie in front of *that* neon sign to strutting down the platform to your train in less than 10 minutes.
111 Waterloo Rd, South Bank, London SE1 8UL
If you're at the station, head upstairs to this Orient Express-style carriage that's been fashioned into a bar. Settle in at the marble top bar or sink into a Chesterfield. There's a self-service wine machine and great cocktails.
Waterloo Station, Waterloo Rd, South Bank, London SE1 8SF
Hidden behind a phone booth within the massive BrewDog pub that's accessible through the station, this speakeasy serves up wickedly inventive cocktails from the mind of the one and only Rich Woods, AKA The Cocktail Guy. 
Unit G, Waterloo Station, 01 The Sidings, London SE1 7BH
Blackfriars
Blackfriars, in our humble opinion, is of the coolest stations in London (it's literally on a bridge over the Thames). So it's fitting that it's got one of the very best bars in London as its neighbour. Strut your way five minutes along the south bank of the river to find Lyaness, which was named the World's Best Bar at 2022's Tales of the Cocktail awards. Grab a seat in the window and you'll be able to watch the trains roll in and out of the station while you sip a cocktail made with their Willy Wonka-esque ingredients (never had death in your drink before? Now's the time). 
20 Upper Ground, South Bank, London SE1 9PD
On the pull? Guaranteed success can be found here, just six minutes from the station... but only 'cos this is a pub where you can literally pull your own pints. With a beer tap at your table, you just hook up your credit card to the table's iPad and it'll charge you for the liquid you add to your glass. You can also build your own burger while watching whatever game is on (there's always a game on) - the future is here, lads, and we're living in it.
62 Stamford Street, London SE1 9LX
Exited the station on the north side of the river? You're in City territory now, baby. Plenty of pubs knocking about around here, but if you want something a little different, the City of London Distillery has its own killer cocktail bar that overlooks the copper stills that bubble away to make their gin, and it's only a four-minute walk away.
22-24 Bride Ln, London EC4Y 8DT
Paddington
There was a time when the best Paddington had to offer was a Yo Sushi belt (RIP) and a series of sub-par neighbourhood pubs filled with lonely businessmen. But over the last few years, Paddington has seen a glow-up, especially down by the canal basin, so if you're chilling down that way, bee-line towards Lockhouse for some cool pub vibes (with plenty of alfresco seating).
Merchant Square, Paddington, London W2 1JZ
In the mood for some vino? Tap up Vagabond Wines for a few sample-size glasses before choosing a bottle to go all the way with.
Sheldon Square, London W2 6EZ
Looking for a space to hit with your colleagues before that commute back to the 'burbs? This is covered alfresco dining spot can cater to bigger groups whatever the weather.
4 Kingdom St, London W2 6PY
King's Cross & St Pancras
With Coal Drops Yard a 12-minute walk from St Pancras, there's plenty of joints nearby for a drink before jumping on your train, but you don't even need to go that far, as German Gymnasium is a couple of steps from the station entrance and serves up a glossy menu of cocktails and some fly dishes from their kitchen.
1 King's Blvd, Kings Cross, London N1C 4BU
Even if you find yourself cutting it close for time at the end of the day, Booking Office 1869 is literally inside St Pancras, so you can still grab a quick Martini. Oh, and did we mention this is one of the city's most beautiful bars? It's worth missing the train for, tbh. 
St Pancras Renaissance Hotel, Euston Rd, London NW1 2AR
Or if you're jetting off to Paris, get that French feeling early by hitting up Searcys, with its leather-lined banquettes and "press for Champagne" buttons to summon a chilled glass (or bottle) of Veuve Clicquot. Ding dong! 
St Pancras International, Kings Cross, London N1C 4QL
A three-minute walk from King's Cross and a quick trip 10 storeys up in The Standard hotel's acid trip of an elevator, Sweeties brings major disco vibes and naughty riffs on classic cocktails. Be prepared to boogie. 
10 Argyle Street, London, WC1H 8EG
Victoria Station
Victoria isn't really an area you're likely to hang out in unless you're hitting up the theatre or planning on popping in for tea with the royals, but that doesn't mean they haven't catered for an eating and drinking sesh. If you don't wanna veer too far from your platform, a two-minute quick walk over the road will get you to Market Halls Victoria, which has a cool terrace for a bit of outdoor dining with a load of food and drink choices from a bunch of bad-ass vendors. We're all about the reuben sandwiches from Monty's Deli. Oh mamma.
191 Victoria St, Westminster, London SW1E 5NE
If you're up for going a little further (like, a minute further), trot over the road and grab a table outside at Rail House Cafe. With heaters on hand to keep the chill away, get involved with their famous brunch menu on the weekend, including signature buttermilk pancakes with berry compote cream, and wash it down with one of their next-level cocktails.
8 Sir Simon Milton Square, Westminster, London SW1E 5DJ
Liverpool Street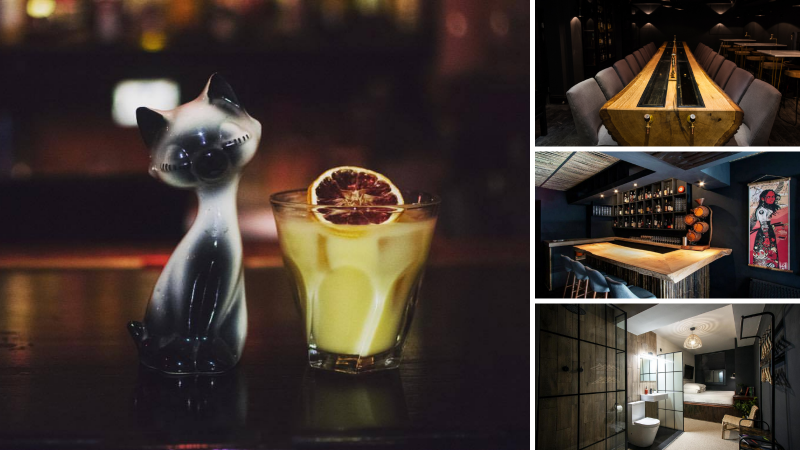 For a sneaky underground drink before boarding, hotfoot it six minutes from Liverpool St, duck into the Breakfast Club and then sneak through the Smeg fridge and downstairs into London's cutest speakeasy, The Mayor of Scaredy Cat Town. Cocktails are their thang, and their DIY Bloody Marys are legendary.
12-16 Artillery Ln, Spitalfields, London E1 7LS
If a stiff drink is what you're after before a long journey to wherever, Black Rock is a six-minute walk from the station and serves up several epic floors of whisky, with a dark, sultry basement for laid-back dram sipping; the ground-floor Black Rock Tavern with chill Japanese izakaya vibes and a focus on Highballs; a cool blending room for the whisky education experience above that, and then (in case you miss that last train home) a set of ultra-cool lodgings provisioned with king-size beds, smart TVs, WiFi, shower and loos.
9 Christopher Street, London, EC2A 2BS
Just a quick hop across the street from the station, this swanky bar (part of the Pan Pacific hotel, but located in a building just next to it) will make you feel like a high roller, with sleek AF interiors and beautifully minimalist cocktails. Pro tip: order the Toasted Cream & Peach. 
3rd Floor, Devonshire House, 3 Bishopsgate, London EC2M 4JX
Clapham Junction
You'd be mistaken if you thought Clapham J was all about Wetherspoons, kebab shops and a myriad of confusing train platforms. There's a lot of that sh*t. But there's also some decent watering holes a short walk away if you need to decompress after the long walk between your platform and the exit. A seven-minute walk up St John's Hill from Clapham Junction Station you'll find Colonial-esque PDK. Have a homemade ginger beer, or work your way through their enormous beer selection.
147 St John's Hill, London SW11 1TQ
Seven minutes in the other direction is one of BarChick's fave party places. You can't go wrong with a trip to Northcote Records for hot bar staff, epic live bands and a party-hard crowd who love a good make-shift limbo.
8-10 Northcote Rd, London SW11 1NT
Charing Cross
Before you head off on your own adventure, submerge yourself in this underground adventure basement, a quick three-minute stroll from the station. With wanderlust-inspired cocktails and a goddamn mechanical Negroni-making machine churning out the goods that you can then drink in a replica train cabin, the real thing can wait. 
1A Bedford St, Covent Garden, London WC2E 9HH
Ever been on a Bumble date? Then we'd bet our entire booze collection you've already been to Gordon's. Yeah, it's always rammed, but there's a reason: This place is an institution - the oldest wine basement in London with a killer bottle list, a cool outside terrace, romantic candlelight, and plenty of dark corners... and it's about 20 steps from Charing Cross station. Perfect for stretching a date out as long as you can before needing to head home. All aboard the love train!
47 Villiers St, Charing Cross, London WC2N 6NE
London Bridge
There's so much going on around this station that missing your train definitely is not the end of the world (unless it's 1am, in which case, enjoy staring longingly through the window of the closed Greggs, babe). If you're looking for a place to chill with the ultimate beer garden vibes, skip three minutes away to Vinegar Yard. Picnic tables for all your alfresco chilling are surrounded by top food vendors, plus two kick-ass mezzanine cocktail bars. Especially good if you're with a group of mates who are all on a different foodie flex, or if you want to make an all-day sesh of it. 
72-82 St Thomas St, Bermondsey, London SE1 3QX
For a swift half while you wait for the cheaper off-peak trains to roll in, Bunch of Grapes is the kinda pub that always has people spilling out onto the pavement on a warm evening. No room out the front? Hit up the garden in the back. They've got Camden Hells on tap and TV for the sporty type things that happen.
2 St Thomas St, London SE1 9RS
Wanna go get high? We know a place. Head out the Joiner Street exit of the station and look up at the iconic skyscraper above ya. You're going 30+ storeys up that bad boy to a swish lounge where the cocktails are simple but the flavours bold. Make sure you grab a seat by the window so you can wave to that train you should be on. You ain't going anywhere anytime soon. Better order another.
32 London Bridge St, London SE1 9SG
It's classic Swift style, south of the river. This top-notch bar is a six-minute jaunt from the station, with relaxed, bright and breezy vibes upstairs and a cosy, dark, romantic feel downstairs. Take your pick depending on your mood - and be sure to get involved with their epic seasonal menus, featuring ingredients from nearby Borough Market.
66 Borough High St, London SE1 1XF
Euston
The beer lovers' haven that is The Euston Tap right outside Euston Station is not to be missed. Set in a stone lodge, it's small but perfectly formed, so settle in for some pints. But be warned: the spiral staircase can be lethal when tipsy, or if attempted with your wheelie bag.
190 Euston Road, London, NW1 2EF
Neon, kitsch and cheap: the Simmons bar formula has everything you want for passing the time when your train has been cancelled due to leaves on the track. With a five-hour long happy hour, you'll soon think better about composing that angry tweet to National Rail and just let the good times roll. 
31 University St, Bloomsbury, London WC1E 6JL
Going somewhere? Check out our guide to the best bars on the Elizabeth line.
Updated 13/04/2023