Hot 'n Fresh
He was crowned the UK's best bartender and went off to Cape Town to represent us for the Global title for Diageo World Class coming in 4th place in the whole damn world. Boom. It certainly doesn't hurt that he's got mad good chat and loves a nightcap or three. Track him down at Hawksmoor in Spitalfields.
Talking Point – Old Fashioneds. His are so damn good he could teach you a thing or two about them.
What to order – Old Fashioned - it takes a bit to make, which means you get an extra dose of banter.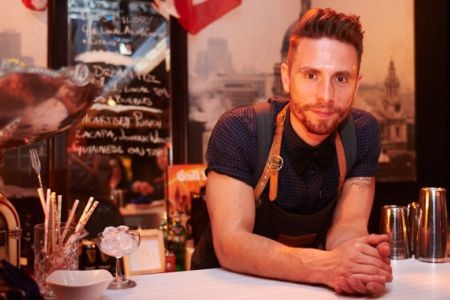 Hard to Get
He's the like freaking Gandalf of the cocktail world designing drinks through science and magic, plus he' rarely bartending so if you can get him to make you a drink you're winning. Catch him hanging around White Lyan and Dandelyan or traveling the world being awesome.
Talking Point – his trainer collection. But if you're a hot redhead chick, he'll be doing the talking. He's a sucker for the fiery ones.
What to order – whatever his latest obsession is. Last time we checked he was sticking trees in his drinks.
Silent but deadly
Taking things to another level entirely, Tony C is like the wizard behind the curtain creating a wonderful world of drinks that transport you to another time and place. He's pretty much never behind the stick, but you can taste his handiwork at 69 Colebrooke Row, Bar Termini, Zetter Townhouse, and The Grain Store.
Talking point – His lab, the Drinks Factory.
What to order – a Twinkle, he invented it. A Prairie Oyster or whatever new flavour he's into that week...ink?
Award Whores
Alex Kratena & Simone Caporale
With more "Best Bar in the World" awards then just about anyone, plus Best International Bartender," "Best International Bar Team," and many more, these guys created a very crowded shelf at The Artesian filled with well earned trophies. Although they recently departed for a new project, keep your eyes peeled. We doubt they'll be off the radar for long!
Talking point – Their Tattoo's. Under all that black tie is some serious ink.
What to order – Whatever they recommend, but those Pina Coladas are awesome and make sure it comes with the lifesize Parasol.
Party Animal
When BarChick wants to get down and dirty, we head to one of JJ's empire as The London Cocktail Club is always where it's at. Bringing together the best cocktails with the party you always wanted to be at, this is where the music is loud, the clientele hot and the drinks extremely downable.
Talk to him about – His TV career (he'll love it).
What to order – The Bacon & Egg Martini or a Jaeger Bomb if you're feeling cheeky.
Yorkshire King
Jake Burger
This guy is a bit of a legend with bars up in Leeds and London, plus of course the ever awesome Portobello Road Gin. With a mind for puns, and a sense of hospitality that varies between grumpy and charming, he's the one to go find when you've craving that northern kind of banter. The Portobello Star, is all business by day and rock 'n roll by weekend, so try to find him there or upstairs in the Ginstitute.
Talking Point – Great British Bake off, his weekly breakdowns on his Facebook are the stuff of legend. Or gin, he's like the Brian Cox of booze.
What to order – Probably something gin based.
Smooth as Silk
This gent is all Italian charm and impeccable good looks and can make a seriously mean cocktail. Shaking up the world of hotel bars for the last five years at The Connaught, he earned his stripes at Montgomery Place, Dusk and Salvador & Amanda and certainly knows how to party, in style of course.
Talking point - He does Yoga daily and really can't function without a morning coffee
What to order - Have him bust out his Martini trolley. It's epic.