There's only one thing worse than a bad Bloody Mary: a Virgin Mary (or as the Aussies say, a Bloody Shame). BarChick is big on brunch with all the bar hopping we do, so a healthy start to the day (with a little hair of the dog) is essential. Much more fun than a multivitamin/Berocca fix – BarChick washes her milk thistle down with a Blood Mary. Always open to experimentation with this British classic, just don't try and fob us off with a bottle of Big Tom.
 Keeping it Classic Mary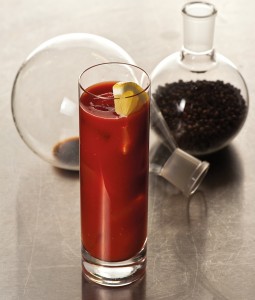 Sometimes you want a straight forward BM fix, sure they can dabble in infused vodkas but when it boils down to the nitty gritty, keep the over the top frills to a minimum.
If its classic excellence you're after then head to Hawksmoor on Air Street for a Bloody Mary that is nothing short of perfection. These guys don't mess around and when it comes to steaks or their BM and their classic, Bloody Mary No.4,  is one of the best. A perfect level of spice and sympathy is blended into the drink but if you can handle something a bit more hearty then why not try the No. 7 - which has horseradish-infused gin.
West does it best. Jake can shake 'em at Portobello star like the best and his award winning Bloody Marys rock. He's not fussed about the tomato juice he uses, it's the orange juice and the HP Sauce that are his trump cards… nice!
Mega mixologist Tony C at 69 Colebrooke Row never disappoints, especially when he uses a homemade horseradish vodka, his very own homemade pepper sauce and some pepper distillate (whatever that is), this seriously does the job. As does The Red Snapper at Hix, another damn good choice if you're wanting a pick me up. With Beefeater London dry gin poured with Sundance tomato juice, lemon juice, Tabasco sauce and Mark's Mary mix, this is the hair of the dog you've been looking for.
Want to hide from the pram pushers and crying kids in Borough Market? Roast has one of the best looking BMs in town, and the seed infused vodka is a revelation! Get the drink in and enjoy. Headed East? Take a trip to The Zetter Townhouse, it has its own horseraydish vodka and homemade tabasco, which they can make meat or veg friendly so everyone's happy, plus, both are delicious.
Quirky Mary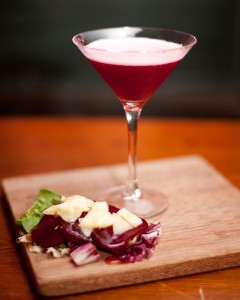 Another quirky take on the BM is hidden in a block of flats. Barts speakeasy have launched a Bloody Mary menu with some very alternative takes on the hangover drink. Some with Bloodshot vodka but no tomato juice, more of a Martini style if you wish. Try the Bloody Liability, a heady mix of Belvedere vodka, Bloodshot, fresh beetroot, lemon juice and honey. Garnished with green salad topped with beetroot and parmesan shavings… your hair of the dog is served!
Meaty and Fishy Mary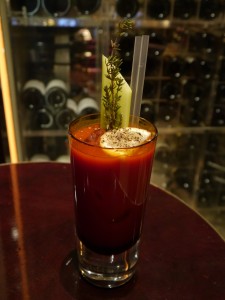 The guys at Powder Keg Diplomacy make a damn good Bloody Mary! We loved the Bloody Caesar made with house cured maple bacon infused vodka, classic spice mix, lemon, Clamato juice, tomato juice and clam broth, garnished with a strip of crispy maple cured bacon. If you want to beef things up some more then check out the Meaty Mary which uses vodka infused with Sunday's topside of beef plus a splash of the Sunday roast gravy – mmm, a meal in itself.
After something a little more swish? Go for a posh picnic at The Mandarin Oriental, their Bloody Caesar is amazing, Clamato central. Love this stuff, and it's not as heavy as some tomato juices. There are plenty of other options though, a great prelude to popping downstairs for a burger at Bar Boulud.
The Big Boys
If one bloody Mary isn't enough for you then you've got to head down to The Lost Angel on a Sunday. These guys are offering you an all you can drink deal for 15 quid… bargain. But go slow, these will catch up on you, especially as you can head over to the bar and add whatever the hell you like to them! Plus for an extra tenner you can get a roast too, Sundays will never be the same.
Liking that DIY flex? Then make your way over to The Mayor of Scaredy Cat Town they've got the same vibe going on too with over 21 ingredients for you to chuck into the mix, enjoy
The Rivington Grill could really fit in any category with their 6 strong Bloody Mary menu ready to sort out you and your hangovers. Their "I'm Not Bloody Sharing" is perfect for a group of mates (serves 2-3 people!). The damn spicy "Some Like it Hot" is so killer it's served with a shot of milk for the brave, and their Bloody Ceaser is the best we've had anywhere (and is served with a shell and tiny lemon peel fish). All look banging and taste awesome. Go get some.
Garnished Mary
If you're into your garnishes then the Bonnie Mary at Bonnie Gull will be for you (if you like fish that is) their Marys come with locally infused vodka (or gin or tequila if you'd prefer) and are garnished with an oyster… fancy! Even if you don't usually eat them, take a deep breath and get involved, as oysters go, these ones will be some of the best in London.
Spicy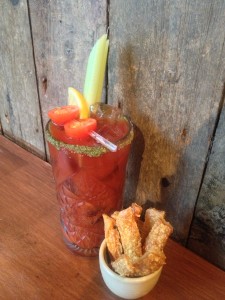 The Breakfast Club like to say theirs is hot and spicy like Helen Mirren, so if that's how you like it then drop it like it's hot and get involved! With Absolut vodka, tomato juice, Worcestershire sauce, tabasco, horseradish, lime, celery salt, black pepper and their secret ingredient (intriguing). Team it up with some eggs or their amazing pancakes and maple syrup… BOOM.
Award Winning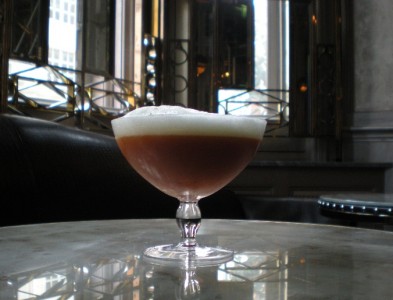 The Artesian at The Langham Hotel are always top of the game and their Bloody Mary is no exception (bartender Roman Foltan even won the Tabasco British Bloody Mary challenge). Get their Smoked Bloody Mary with Ketel One vodka infused with lemongrass smoke (nice!) mixed with their signature spiced tomato with a side of pickles and oyster leaves (known as the vegetarian oyster, the saltiness reflects how those fishy beauts taste) a snack too, hell yes!
Or, of course, The Connaught are always winning awards, those guys really know their stuff and their Bloody Marys are seriously fancy! With a mix of tomato juice, lemon, coriander, salt, pepper and a touch of the hottest chilli in the world (the naga jolokia). It's served with what they call "celery air", by running the celery through a juicer, then foaming it, they are able to get a full aroma of celery… nice! Then they add a light grating of nutmeg… Bloody Mary = DONE.