Whether you love it, hate it or become a complete disaster when drinking it; there is always time for glass (bottle) of bubbles. Here are London's most impressive bars to celebrate/impress/show off/or just spank some cash in. Enjoy!
Got a hot date to plan? Let BarChick Concierge book you in - (but we'll let you take the credit).
FOR GLAMOUR
If it's good enough for Duran Duran's supermodel filled 'Girl Panic' video, then it'll be just fine for us! The Savoy Hotel's shining has over 27+ Champagnes by the glass and the biggest/baddest selection of vintage Crystal you'll find in London (yes Puff Daddy). If you can't find what you like amongst the boutique Grower Champagne and vintage Louis Roederer, there are plenty of over-the-top Champagne cocktails and free nightly cabaret acts to keep you entertained. Don't be standing around, get BarChick to book you in.
The Savoy Hotel, 189 Strand, London, WC2R 0EU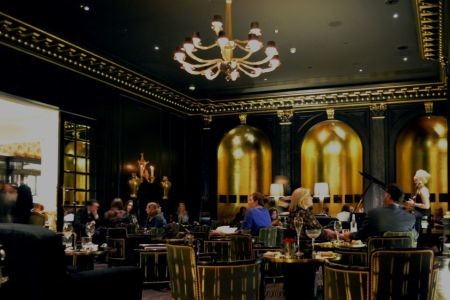 THE STAR STUDDED
Where the bankers come to compare Rolexes and impress Louboutin clad ladies-who-lunch (and spank cash). The cocktail menu and Champagne selection is aimed at these big dogs, with the balls to serve rare drops, like the 1971 vintage Salon by the glass, why not? Even the waitresses wear designer gear, so dress up and come for some special occasion.
Brook Street, Mayfair, London, W1K 4HR
ONE FOR THE ROAD
Start your holiday/ work trip/meeting/Parisian affair here with a flute of Champagne at Europe's longest Champagne bar, and epic views of the whole station terminal, so get ready to train spot yourself silly. Available by small/ large glass or bottle, with a mix of affordable labels, plenty of the obvious ones and a selection of big bottles all the way up to a 15L badboy cuvée. Your booth even comes with its very own Champagne button. It's chilly in here, but they've equipped you with clever little built-in blankets and under-table heaters for cosy sipping.
Upper Concourse, St Pancras International Station, London, N1C 4QL
THE AFFORDABLE ONE 
If you live West and are looking for a glass of Champagne it doesn't get much better than Amuse Bouche. The atmosphere is chilled and friendly, and the guys behind the bar know how to have a good time, so stay late and settle in for the night as the music gets louder and the Champagne flows. They have six Champagnes available by the glass, many for less than £10. If you're starting to lose composure, pop up stairs to Claude's Kitchen, the delicious food will more than sort you out. PS. a pianist takes over on Friday nights. Don't miss out on the action - get BarChick Concierge to book you a table.
51 Parsons Green Lane, London, SW6 4JA 
THE MOST UNUSUAL
Champagne and hotdogs? A combination that once sounded barking mad is now completely normal to London foodies, thanks to the chef/husband/sommelier/wife duo who brought into our lives. If you're worried that tucking into a hotdog will take the romance out of your classy glass of bubbly, you need not! Don't expect to see any Jeroboams of Ace of Spades in here though, they favour the more boutiquey Grower Champagnes. Their menu of hot dogs, from an ex Noma chef, includes some fancy creations like the BLT dog, with bacon, truffle mayo and caramelised lettuce. Get in us.
70 Charlotte Street, London W1T 4QG
CALLING IN SICK?
If the date's gone well, but you need more time to seal the deal, head up to Duck & Waffle for 24 hour cocktails, food and a decent Champagne menu. There's nothing quite as indulgent as popping a bottle at 4am from your perch high above a sleeping city. Bring your appetite along too as the food is as good as the views. Careful though, the air is thin up this high and those bubbles go straight to your head. Everyone wants a bit of this sky high action, so get BarChick Concierge to book you in.
Heron Tower, 110 Bishopsgate, London, EC2N 4AY
THE REALLY HIGH ONE
Up on the dizzying 42nd floor, you'll find this small Champagne bar. With unrestricted views of the city, it's the highest bar around - so no surprises it's comes with a sky high price tag to boot. Warning, it can get a bit touristy at times, so stick to a window seat (we'll book you in) and suck up that view.
Tower 42, 25 Old Broad Street, EC2N 1HQ
THE AWARD WINNING
The man behind the list, Xavier Rousset, won the title of UK sommelier of the year at the fresh age of 23. His Champagne list reflects this, with fun wines from smaller growers (think Jacques Selosse and Jacquesson) mixed in with the more famous big brands. There's 140 Champagnes by the bottle, with five by the glass. Swot up on the history, cultivation and creation process of each Champagne selection with notes on each glass. The best part? For every budget-busting rare vintage there's a fair priced bottle under £100. Bargain… well kinda. Don't risk disappointment, ping BarChick Concierge and we'll sort your booking. You're welcome.
34 Portman Street, London, W1H 7BY
THE CELEB HANGOUT
They'll either be hanging on the walls, or they'll be shucking oysters on the next table - celebs are everywhere in this legendary seafood restaurant. Jude Law, Kate Moss, The Beckhams - they're all regulars. But you're just here for the Champagne bar right? And the prices are pretty affordable for such a hot spot. With glasses starting at £9.50, and bottles at £45. If you can beat yourw ay through the paps we'll see you in there! P.S get BarChick Concierge to book you in (we'll try and save you a place next to Bradley Cooper).
THE SWISH ONE
If Harrods is how you roll for your Christmas or weekly shop, stop by for a quick refresh at this slick Champagne Bar - all white and shiny, like some kind of futuristic space ship. The bar's has an exclusive Champagne provider - Hostomme and with them have created their own unique collection collection here, from Harrods NV, to the Rosé, Grande Réserve to the Vintage 2004. Save your spot, book up with BarChick Concierge. 
You should also check out:
50 bars for a perfect first date
Our awesome free BarChick Concierge booking service (and sexy new app)