Celebrating a birthday? Found yourself on the receiving end of a proposal and hoping to get everyone together to marvel at the rock? Got a new outfit and wanna gather your crew to tell you how fly you look? (Any excuse for a party is valid - we don't judge.) These Central London spots have special occasion written all over them.
We love a good brothel-turned-bar, and Blacklock fits the bill. Chops are the speciality here, cooked on a grill that the team made themselves and scorched with 1,800 hot vintage irons that were made in a foundry called Blacklock in the deep South. This place was set up by a guy who learned his sh*t at Hawksmoor, so you know it's gunna be good stuff. Plus you can go "all in" when you're rolling with a group, which means for £24 a head you'll get all the meat and a side each. WIN. Cocktails come in at around £7.50, and there are a bunch of epic non-alc options if you're off the sauce.
24 Great Windmill Street, London W1D 7LG 
Chef Nuno Mendes' Fitzrovia restaurant is spot-on for a cosy date night featuring a lush bottle of red from Lisboa and dreamy plate of bacalao, but now that this Portuguese spot has opened its private dining room, The Adega, it's also great for more lively affairs. Tucked away on the lower ground floor next to the massive wine cellar, The Adega can fit up to 10 of your nearest and dearest. Order White Port & Tonics all round before moving onto wine, then get stuck into the seasonally shifting sharing menu. Oh, and heed our advice - if the pork fat custard is on offer, order it. 
30 Charlotte St, London W1T 2NG
Jason Atherton (Gordon Ramsay's protégé) is behind this place, so you know you can expect good things. It's on the pricier side, around £60 per head before booze, but you can be certain it'll be worth it. Make sure you make a trip downstairs to check out their awesome secret bar, The Blind Pig afterwards.
58-59 Poland Street, London W1F 7NS 
The restaurant is accessed through a sex shop around the corner, so it's sure to stir up some chat with your colleagues. Down here you can more than drink yourself happy - the tequila selection is huge. Food-wise, it's all about Mexican cuisine. Say yesss to the tacos and wash it all down with a few Hibiscus Margaritas.
16 Moor Street, London, W1D 5NH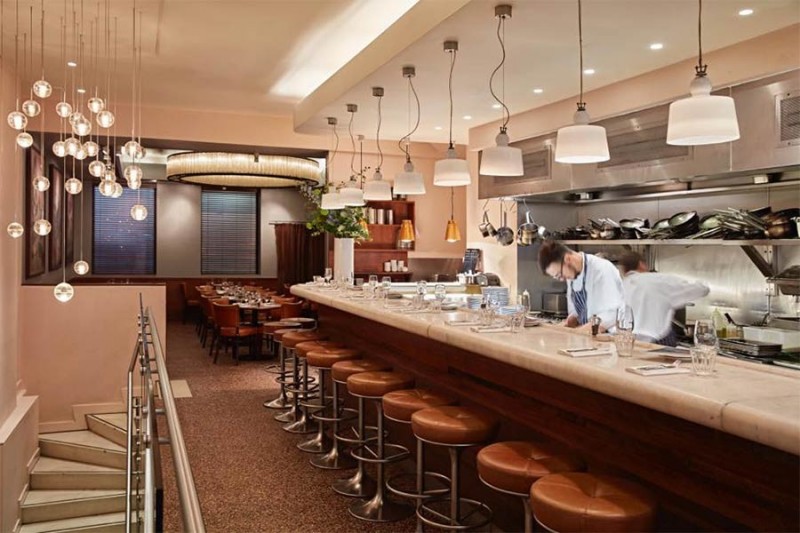 Italian cooking at its very best: from raw sea bream and slow roast duck to risotto with Prosecco and oysters, they've got it handled. The private and beautiful Remus Room can seat 12-32 for lunch or dinner, so no need to worry about space.
12 Archer Street, London W1D 7BB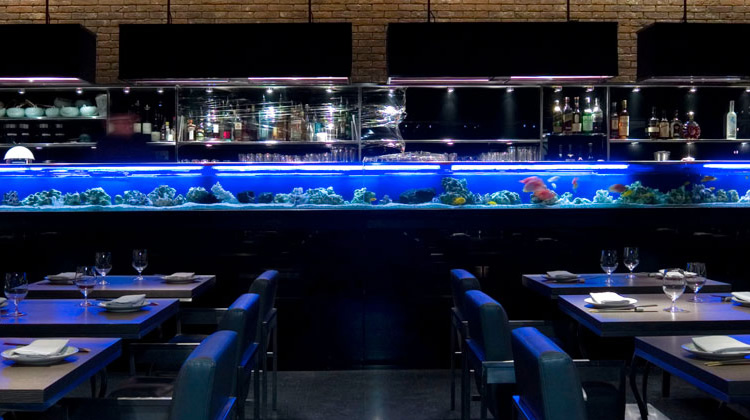 This place is heaven for dim sum and it's also very sexy, with its dark wood panelling and sultry ambience. Head to the bar at the back, because no matter how good the food, the cocktails are pretty special too. Drink the Lamachee Martini, made with Belvedere Vodka and plum wine - it's transcendent.
15-17 Broadwick Street, Soho, London, W1F 0DL 
Probably the poshest pub in town, the clue's in the six massive shiny barrels that greet you when you enter off Berwick Street. Welcome to Alan Yau's (Hakkasan, Yauatcha, Busabai etc) first "Chinese pub" concept bar. Our verdict? It's working. There's an epic restaurant upstairs where you can chow down on sexy versions of Chinese classics.
90 Berwick Street, London, W1F 0QB
A proper piece of London history right here, this place has been serving up fish and chips to shoppers for over 100 years. Come here for fresh oysters, grilled fish and steaks from around the British and Irish isles - you know it's gonna be good, 'cos Michelin-starred chef Richard Corrigan has taken the place over for the past decade. Grab a few juicy molluscs at the oyster bar, tuck into some lobster spaghetti, or go for the fish pie if that's your vibe. 
11-15 Swallow Street, W1B 4DG
For smart, cool restaurant vibes that will suit a varied crowd, this could be the one. Big and airy with mismatched patterns, bright colours and funky chairs. It's a Med-style menu with fresh British produce. FYI - they've got a private cinema and bowling alley downstairs if you want to plan an awesome after-dinner activity.
1 Ham Yard, London, W1D 7DT 
This place has a reputation for its amazing food from chef Jason Atherton (Michelin starred within his first year, NBD). Meat heads, this is the one, with British produce like suckling pig from Cumbria and Buccleuch beef from Dumfries and Galloway - though veggies dishes aren't a throwaway thought, with a full meat-free menu. Baked aubergine with miso and espelette pepper, yes please. Make sure you check out the bar, too - it's just as impressive, with all sorts going on.
Pollen Street, W1S 1NQ 
The room is all retro orange booths, reclaimed furniture, wood-panelled walls and stuffed squirrel light fixtures. It's a bit like a sexed-up ski lodge. The creativity ain't just in the decor - they do beautiful dishes, too. Go for full-on dinner plates (they have pretty much every type of cuisine on here, from burgers, to tagines, to steaks), or snack on tapas bits if you want a more relaxed dinner-party vibe. They also have an impressive selection of beers, wines and ciders, plus the cocktails are great (or they wouldn't get a look in).
43-51 Great Titchfield Street, London, W1W 7PQ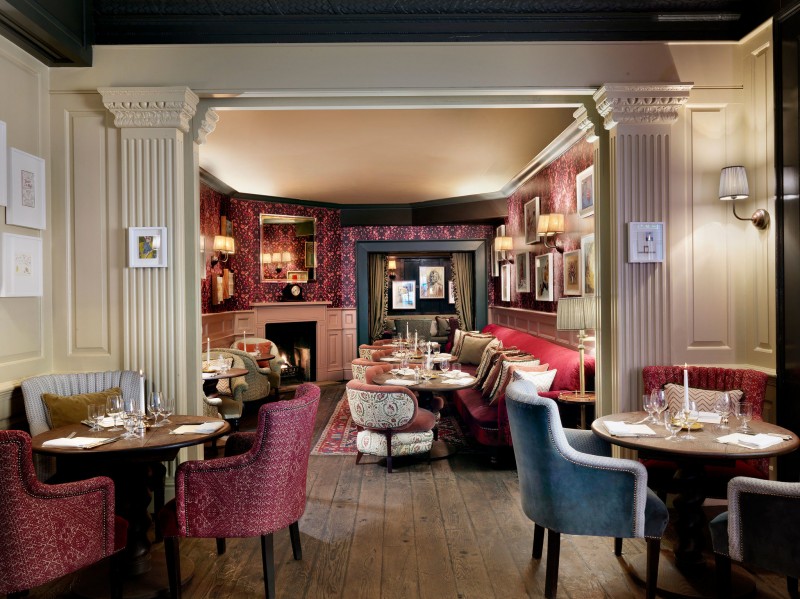 This spot is from the Soho House Group, so you know it's gonna be something pretty spesh. Set in a Georgian townhouse from the 1730s, stepping in here is like time travelling. Food-wise, game is big here, so get a bird in. Book the Snug, a lil' room that can fit 14 people (it lives up to its name). And just make sure you head to the bar after dinner - it's all dark wood and red leather. They have plenty of cocktails to choose from, but ask the barman to shake up something special for ya and you might be better off. PS - if you're freestyling and end up hitting the restaurant after 11pm and if they've got a free room, it's all yours for £50. Winner.
69-71 Dean Street, London, W1D 3SE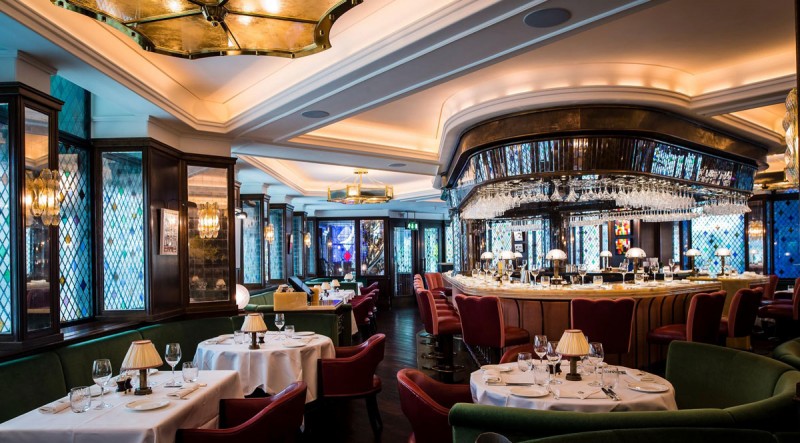 Going all out? This is your place. There's a private dining room which seats up to 60. Envision a room of harlequin stained glass, oak panelling, handwoven camouflage carpet and a bespoke bar, and there's your very lavish abode for the night. The menu can be whatever suits your personal taste (within reason, that is) and the music will come in the form of a baby grand piano, jazz trio or string quartet. Fancy. 
1-5 West St, London WC2H 9NQ 
Set in a 6,000-square-foot four-storey townhouse, this resto is all about Vietnamese street food. Expect dishes such as pork grilled on lemongrass skewers served with caramel sauce, massive prawns in flaming hot pots and (best of all) slow-cooked kobe beef pho. It's insane. Think marble tables, open kitchens and peeps who are willing to shell out £40 for a main - but don't let that put you off, 'cos they've got snacks, dim sum and bottles of wine that'll sort even penny pinchers with a full belly and a boozy buzz. The private dining rooms upstairs are seriously hot, so if you're rolling with a crew make sure to book into one. Meet BarChick in the secret wine room on the first floor.
1 Percy Street, London W1T 1DB    
Head downstairs to this delicious low-lit cave of messy meaty shares plates, soft bao buns and killer cocktails. If you're in a crew, grab a booth. If you're in a group of four, a round table is perfect for sharing and very sociable - or make friends on the long feasting table.
41 Earlham St, London WC2H 9LX
The London edition of NYC's legendary French/American brasserie. On this side of the pond, the drinks are far from plain. It's a collection of classic drinks with French twists, epic Bellinis and Bloody Marys and a load of Champagne to choose from. Now onto the food: all the New York favourites are here and are executed perfectly. French onion soup, steak frites, the frisee egg salad and the chicken paillard will not disappoint. In fact, little will here. They even have a bathroom attendant to make you feel at home.
4-6 Russell St, Covent Garden, WC2E 7BN
When your get together calls for some serious party vibes, Coya's the place. Head downstairs towards the authentic thumping music into a dimly lit room with bright turquoise walls, long marble tables and grand gold details. Going all out? Nab the chef's table - a private room out the back for 12 people. Swanky.
118 Piccadilly, London W1J 7NW
Looking for cocktails, sashimi and the best tempura prawns BarChick has ever tasted? Course you are. Set back from the craziness of Oxford Street, you'll find Roka (and a vast collection of Japan's finest whiskies). In a group, go for one of the tables and try all the delicious food. We recommend watching the chefs do their thing at the seats around the robata grill.
North Audley Street, London, W1K 6WW
Named after the infamous 18th-century courtesan, Kitty Fisher's is the spot to slip into a velvet bench and do some time travelling. The menu is all about French/British classics like grilled langoustines, lardo and rosemary, and grilled strawberries, crumble and clotted cream ice cream. Closed on Sundays and Mondays, FYI. 
10 Shepherd Market, Mayfair, London, W1J 7QF
Inspired by colonial Indian gymkhana clubs, where members of high society came to socialise, dine, drink and play sport, this spot oozes elegance and temptation. Rick Stein said the Indian food here is "the best he's had in London". If it's good enough for him, it'll do for us, too. Book one of the vaults if you want your own private party.
42 Albemarle Street, W1S 4JH
If you're looking for the best of British game and seafood, then look no further. Boasting a bevvy of awards, there aren't many places as civilised, and that demonstrate such fine food and service, as Mr Corrigan's establishments. There's four snazzy private dining rooms too, if you're planning a posh birthday or epic Christmas dinner. 
28 Upper Grosvenor Street, London, W1K 7EH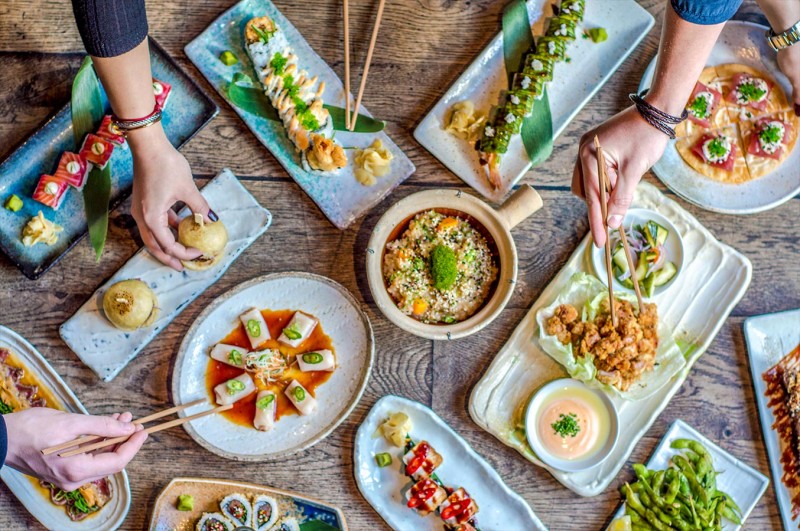 Some say it's Japanese pub vibes, we say it's laid-back dining with tons of sake and killer food. The staff all know their sh*t. Behind the food menu is Scott Hallsworth, ex-head chef at Nobu, so come hungry. Divided into sushi, snacks, cold raw and Japanese junk food, there's a lot to think about so take your time. The cocktails are awesome - light, fresh and all with an Asian twist. We loved the Sake Caipirinha with fresh lychees, limes, Meijou futsu shu and plum-infused sake.
17-20 Kendal Street, London, W2 2AW 
If you've got the budget, this legendary restaurant should be on your radar. From the crew behind J Sheekey and Sexy Fish, this place is all about the seafood - with the finest oysters, fish and crustacea, and (allegedly) the best caviar in town baby.
20 Mount Street, W1K 2HE
The clue is in the name: it's sexy and the fish is epic. There's a waterfall, 20 insane Frank Gehry fish lamps swim above the bar, and if you can get into the private dining room, you'll be surrounded by floor-to-ceiling aquariums. Seafood is the name of the game here, obvs; we stuck to the sashimi which was delicious, but whatever you do, don't neglect the tuna belly tartare. And don't miss a chance to take a seat at the world-renowned bar - it took the title of Best International Restaurant Bar at the 2022 Tales of the Cocktail awards, after all. 
Berkeley Square House, Berkeley Square, London W1J 6BR
Travel to a land where contemporary Chinese meets French rococo meets 1950s New York. And at 15,200 square feet, with the ability to accommodate up to 350, it is glorious and epic. BarChick's still salivating over the Peking duck, caviar, soft shell crab, Angus beef short ribs and the like; it's everything that decadence strives to be and more.
17 Berkeley St, London W1J 8EA
This spot in Mayfair's hedgefund heaven has sexy dark styling set over two floors: the bar on the ground floor and the restaurant below. In terms of food, we're talking dim sum and beautifully delicate squid. The vegetarian chicken is a wild card, but boy does it work. The cocktail list is long, with plenty of Asian influences, and there's a good selection of well-crafted non-alcs here too. Bangin'.
17 Bruton Street, London, W1J 6QB
This place is one sexy steak house. The meat here is some of London's finest, take your pick from the menu and don't miss the specials board filled with cuts that are fresh from the ageing room. If you're out to blow some serious cash, kick off with a Japanese Wagyu starter (£40) or a serious steak for mains.
24-26 Maddox Street, London, W1S 1QH
Want more ideas for celebrations? You should also check out these: Epic Hen Do Ideas / Where To Throw a Party / The Best Party Bars