SPITALFIELDS
££
Head to this much-raved-about Italian restaurant for delicious dishes from an open plan kitchen (v. buzzy) that'll run the gamut from Portland crab arancini to short rib Rossini with autumn truffles, leeks and roast cabbage. Booze wise, be prepared for cocktails/aperitifs that'll boast retro Italian flavours. BarChick opts for heady glass of red as you can't ever go wrong with that. £48.50 for an Italian take on a roast plus 2 other courses.
21 Artillery Lane, Spitalfields, London E1 7HA
Hawksmoor, Spitalfields
££
Come here for the best steak in town in sexy leather surroundings. The wine list is awesome but it's the cocktails that'll blow your mind, don't leave without trying a Shakey Pete's, it's the stuff of legends. You'll be in and out the door for around £50 - 70 unless you hit the cocktails hard or rack up the wine bottles then it's easy to hit £100+
157a Commercial Street, London E1 6BJ
LIVERPOOL STREET
££
The BBQ legends have moved over to the city – there's more space, more booze, more BBQ AND they take reservations now - boom! Think street-food BBQ masters teamed up with the Executive Chef from Hawksmoor… yup, finger licking goodness!  The small, daily changing menu of beef ribs, beef neck, and brisket, is divine. We challenge you to leave the place without BBQ sauce smeared over your face.
1 The Avenue, Devonshire Square, London, EC2M 4YP
£££
Great Gatsby, eat your heart out. Up on the 24th floor, this Art Deco inspired paradise is chic beyond belief and just begs to sweep you off your feet. The swankiest of Jason Atherton's empire, you know the food is going to be awesome while still in keeping with the chilled out feel of the other spots.
Tower 42, Old Broad Street, London, EC2N 1HQ
££
Up on the 40th floor of The Heron Tower is the highest restaurant in the UK and a banging bar that has it all: sky-high killer views, possibly the most iconic brunch dish in town (duck, waffle and poached eggs – genius) and killer cocktails to wash it all down with. Did we mention you can get all of this 24 hours a day? P.S The Christmas menu sounds insane - from bacon wrapped dates for starters, to spicy ox cheek doughnut and chocolate fondant for dessert with peanut butter ganache - we're totally in.
Heron Tower, 110 Bishopsgate, London, EC2N 4AY
£££
Perched near the top of the dizzying Heron Tower lies Sushisamba: home to incredible views and delicious food. Having already made its mark across the US of A, it's now decided to shake up London's eating scene (and skyline). It's colourful and quirky; things seem to spiral out of control everywhere and there is an odd mix of shapes and textures, but it works so feast your eyes as well as your belly.
Heron Tower, 110 Bishopsgate, London, EC2N 4AY
£
Just a stumble away from Liverpool St station is this classic pub. It's a great shout for a more (very) laid-back dining affair. There's a number of rooms available for private hire for anything up to 80 people. There's also a choice of 3 course menus, sharing boards and a buffet option plus a well-stocked selection of craft beer. Cheapskate boss = happy.
9-11 Folgate Street, Spitalfields, London, E1 6BX
££
Slide into a red banquette under the vaulted ceiling, meat hooks and watch the action in the open kitchen. You're here to get your game on; eat the signature jugged hare or a three bird roast with all the trimmings… brains, hearts, kidneys, don't be shy. Thanks to their awesome wine dispenser they can dish out fine wines by the glass, go on and drink like a baller. Grab a three course menu for £60 and they'll also throw in cocktails on arrival if you book for a Monday Or Tuesday. Pow.
49 Chiswell St, London EC1Y 4SA
MOORGATE
The Modern Pantry - Finsbury Square
££
White-washed, high-ceilinged, light-flooded space. BarChick loves it for its understated yet elegant decor as much as for its sherry and innovative approach to tapas. The Botanical Room seats up to 24 on a single table or larger groups of up to 40 on smaller tables. The Christmas menu is beautiful, wholesome and veggie friendly. £45 for a set three course meal. Wine bottles start at £24.
The Alphabeta Building, 14 Finsbury Square, London, EC2A 1AH
£££
These guys have a private room that can seat up to 22 people - great option for an office of meat eating carnivores with a bit of cash to splash. The steaks are insane and the cocktails off the scale. Start with a round from the Disco Drinks menu (the Nuclear Banana Daiquiri ought to get the night off to a flying start).
10 Basinghall Street, London, EC2V 5BQ
££
This big industrial space is the answer to any of city life's worries, and now they've sorted your private dining woes. With a private room that seats 65 or 100 people standing. Tuck into their £45 set menu - or throw in some fizz for £60 - (don't be that tight a*s boss). With sweets in the bathrooms and skinny cocktails, even the lettuce eating secretary will be happy.
58 Gresham Street, London, EC2V 7BB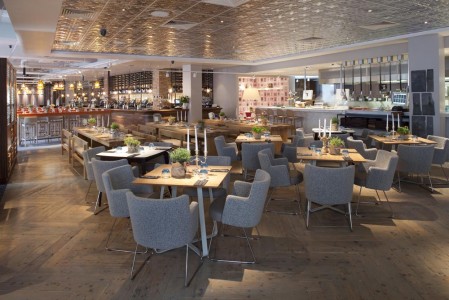 ST PAUL's
£££
With industrial piping, huge frames of black and white photography and leather booths this place is one sexy steak house. The meat here is some of London's finest, take your pick from the menu and don't miss the special's board filled with cuts that are fresh from the ageing room.
11 Old Jewry Street, London, EC2R 8DU
££
THE hangout in St Paul's, decorated all vintage sexy glam with chandeliers and low slung chairs and epic windows looking straight out at the cathedral. Expect crazy sh*t when it comes to cocktails, like the Goldfish In A Bag with gin, mandarin vodka, rhubarb bitters and pink grapefruit served in a goldfish bag with a straw. Casual. For Christmas there's a range of traditional dinner menus, starting at £32 per person. Or include booze for £60 per head.
1a Ludgate Hill, London EC4M 8AJ
FARRINGDON
Shosaru + Kisetsu
££-£££
Part of Jason Atherton's epic restaurant empire. This one sees him turning all Japanese. Head Chef Alex Craciun (ex Pollen Street) is at the helm and having studied at Japan's Kyoto Culinary School, you know his spread's legit. If you wanna pull out even more stops, they've only gone and hidden a swanky Japanese restaurant inside this one. Kisetsu is small and perfectly formed, with the kitchen smack bang in the middle you can high five the chef from your seat.
Turnmill Building, 63 Clerkenwell Road, London EC1M 5NP
You should also check out:
Where to book your (epic) Christmas party